Experts Explain Why Ho Chi Minh City Sees Sharp Rise in Covid Cases
The Ministry of Health said that the sharp rise in Ho Chi Minh City's new cases was the result of mass testing, while some experts stated that many citizens did not strictly comply with current social distancing orders.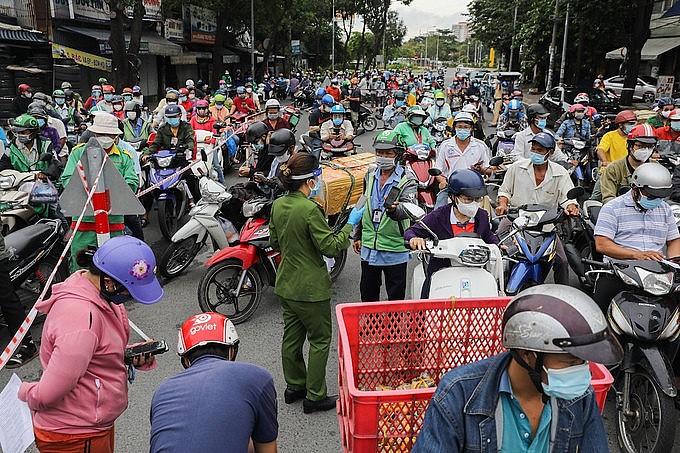 Photo: VN Express
According to Ho Chi Minh City's Covid-19 news portal, the city recorded 3,559 new positive cases, 2,568 of which were community infections, equivalent to 72% on August 17. The situation happened in most districts. Notably, 11 out of 24 districts reported a community infection ratio of 80-90% on August 18.
Explaining the situation, the Department of Health said on August 18 that the city was carrying out mass testing to detect F0 in time for treatment, asses the danger in each infected zone, and widen the Covid-free green zones. A process to 'sweep' all areas to assess the risk of infection in each took place from August 15 to August 22, leading to the high number of new positive cases reported each day.
Sharing the same opinion, Deputy Health Minister Nguyen Truong Son said that Ho Chi Minh City took advantage of the social distancing month to increase testing, determined to find F0 in the blockade areas and in the community. Good control over positive cases will reduce the load on medical systems as well as ensure citizens' safety.
'The rise in community cases may be worrisome, yet the health sectors will do its best to detect all cases,' Son said.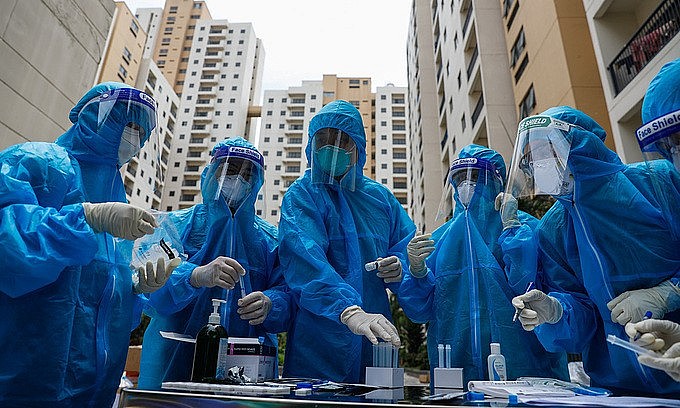 Photo: VN Express
Community infections discovered in recent days mainly concentrate in places with high population density, such as small alleys, close-knit neighborhoods. District 1 recorded an outbreak in the Cho Ga area, where people live crowded. Based on that, experts pointed out another reason for the increase of new cases: citizens' lack of vigilance in complying with anti-pandemic regulations.
Doctor Tran Van Khanh (director of Le Van Thinh Hospital) said the number of cars on the city roads increased over the past few days and many people still went out for unnecessary reasons, even though the city was still under social distancing. Moreover, the southern city has a crowded living situation and the region's humidity cause the disease to quickly spread throughout residential areas.
Doctor Truong Huu Khanh (advisor of Children's Hospital No.1) and doctor Calvin Q Trinh (Hospital 1A) both said that the city had already prevented cross-province and cross-district travel, but people living in an alley still had much contact.
Prof. Dr. Nguyen Huy Nga (Ministry of Health) shared a different perspective as saying that the number of infections in August seemed to decrease compared to that of late July. New cases mostly are F1, F0 already under self-monitoring, and self-isolation. In addition, people actively and quickly contact medical staff to take samples for testing if they find any symptoms, which is a good sign.
Regarding citizens' non-compliance with anti-pandemic regulations, Huy Nga said many of them struggled to earn money, so they had to go out looking for jobs, food, and medicine. 'The city's leaders need to find ways to ensure that people do not lack food or shelter. They should issue policies to support them with money and food,' he said.