Explore The Wild Beauty Of Si Ma Cai In Lao Cai
Si Ma Cai is a remote district of Lao Cai Province. The land is bordered to the north and the west by Muong Khuong, to the south and northeast by Bac Ha, and to the northeast by Ha Giang and China. This is also a destination that attracts a lot of tourists coming to explore because of its wild, unspoiled beauty.
Si Ma Cai is a highland district of Lao Cai province, located in a mountainous area with an altitude of nearly 1,500m, about 95km northeast of Lao Cai city center above sea level.
The township of Si Ma Cai, the capital of the district, is 30km from Bac Ha Town and 350km from Hanoi. Tourists can travel to Si Ma Cai from Hanoi by train which you get off at Pho Lu train station. Another way to travel is that they can get to Si Ma Cai by car which takes about 5-6 hours.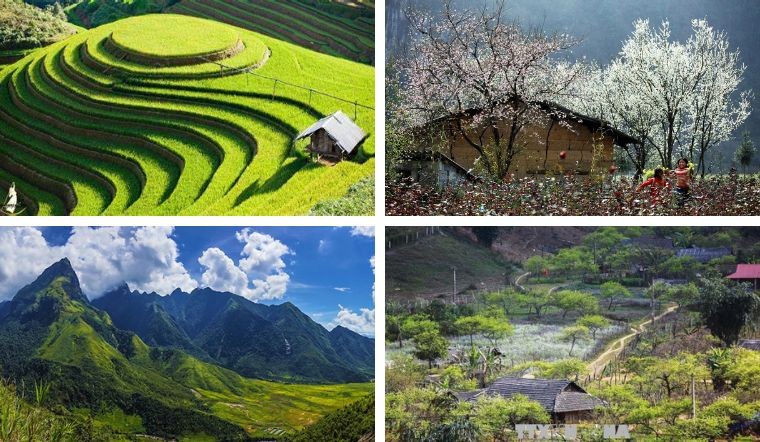 Photo: Bach hoa XANH
Lesser known than it is, Si Ma Cai is not visited much by travelers. Most would only visit Can Cau Market briefly on Saturday morning. Some travel through Si Ma Cai in between Bac Ha or Lao Cai and Ha Giang.
The local communities have market gatherings at different communes on different days of the week, but the most colorful of them is Can Cau Market. Local people refer to the market at Can Cau which is on Saturday morning as a water buffalo market. But people can find lots of things at the market from agricultural produce, goats, and dogs to traditional brocade.
Starting from the Bac Ha plateau, in less than 10 minutes of driving, visitors can reach the endless flower fields of Lu Than commune, Si Ma Cai, and Lao Cai. This place is famous for its purple-pink buckwheat flower fields stretching across the slopes and hills. The emerald green of the leaves blends with the cool green of the mountains and forests, complemented by the gentle purple of buckwheat flowers, all creating a colorful picture of nature.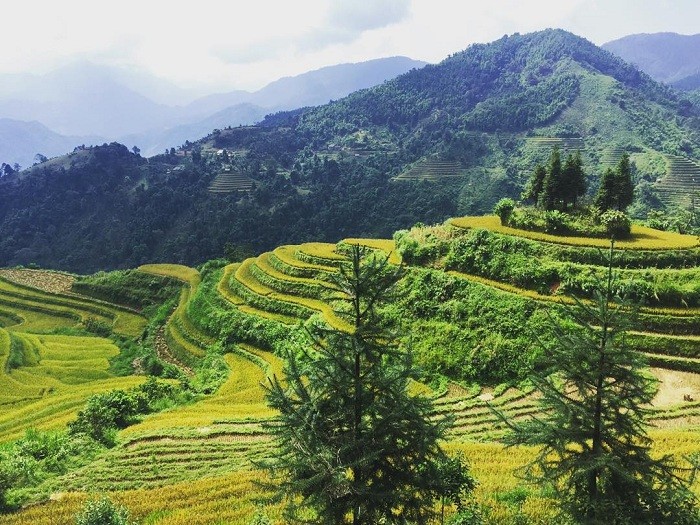 Photo: Luhanhvietnam
Si Ma Cai still retains its wild, rustic features that are very typical of the ethnic minorities here. Most tourists come to Si Ma Cai in the fall from September to November. The weather is dry during this time of the year, with the clear sky and the beautiful buckwheat flower hills.
Si Ma Cai is also famous for its endless gray stone forests. There are countless rocks lying in the soil and hidden under streams, but the gray rock forests in San Chai commune attract tourists because of their overlapping layers of rocks submerged in the midst of the Northwest.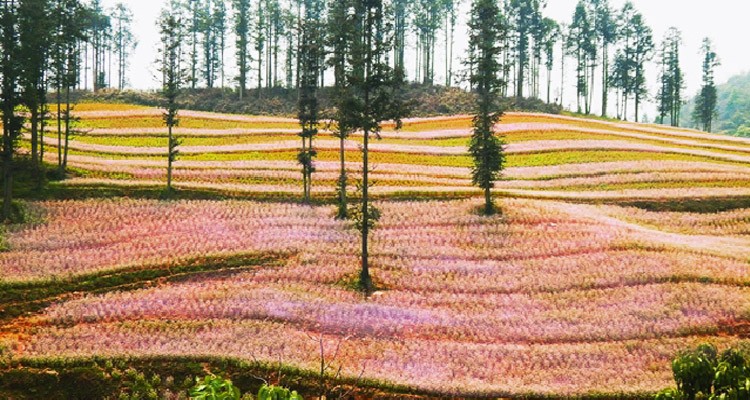 Photo: wecheckin
Stopping at Thao Chu Phin and Nan Sin communes in Si Ma Cai district, visitors will explore the vast sandalwood forests. This place is full of green forests with an extremely diverse and rich natural ecosystem.
The name Simacai means " horse market" in the H'mong language and old people said that It was the biggest horse market in the region. However, life is changing fast and horses are not the only purchasing objects nowadays.
The marketplace is simply a large ground near the recently developed town of Simacai District with some thatched huts built to accommodate shops and food stalls.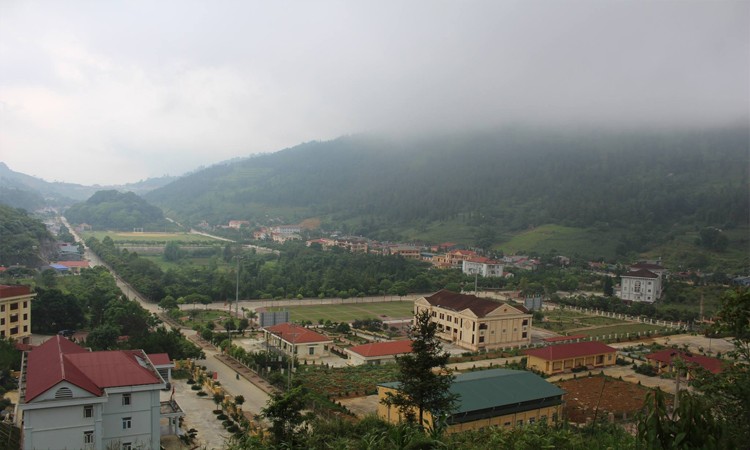 Photo: Nem TV
Every Sunday, Simacai market attracts thousands of Flower Hmong, Zao, and Phu La people from villages in the region come to shop, enjoy themselves, and meet friends and relatives…after hard working days. They spend most of their time at the market talking, chatting, and also drinking a lot.
Pear flowers in Quan Ho Than commune bloom seasonally, usually from mid-March to late March every year. 2022 is the first year Si Ma Cai District has organized the Le Flower Festival in Quan Ho Than commune. The flowers are in full bloom, showing off their beauty in the spring sunshine, spreading golden yellow all over the villages, hillsides, and gardens.
Photo: Baodantoc