Best Places To See The Ripening Rice Season In Vietnam
The end of August to September is the time when the ripening rice season starts and creates a gorgeous natural scenery, attracting many tourists who come to Mu Cang Chai, Sapa, and Pu Luong.
Vietnam is one of the world's leading producers and exporters of rice. It forms an integral part of their cuisine, with noodles spring roll wraps to sweet buns being made of rice. The real beauty lies in witnessing the rice terraces transform from lush green to gold as Vietnam goes through its rice harvesting seasons. These depend on the weather and rain, both of which are tricky in Vietnam.
Sapa
In 2009, Sapa terraced fields were recognized as the most beautiful and magnificent terraced fields in Asia with winding curves, and layers creating a wonderful natural scenery.
The most beautiful time of the day to take beautiful pictures with Sapa terraced fields in the ripe rice season is sunrise and sunset. Tourists can see ripe rice fields stretching all the way to Sapa town. This will create the most wonderful experience for young travelers and photographers coming here.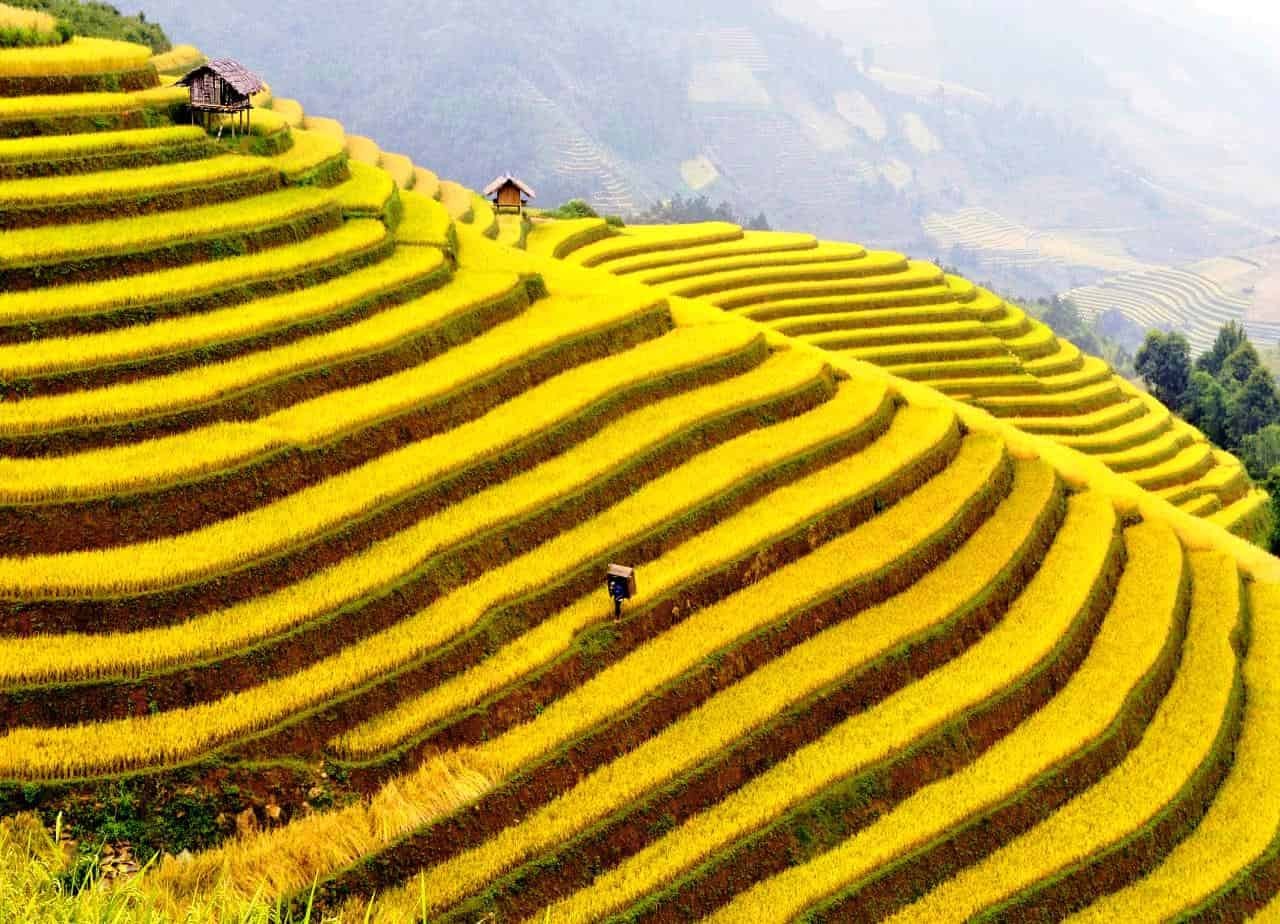 Photo: Vntrip
The terraces are all man-made, curving into the earth with every dip and bend, making it seem like it harmoniously blend in with the landscape. The month of April in the north is hot and sees mostly brown landscapes. This is when locals plow their fields with their buffaloes, in order to plant the rice saplings in May and June. The month of August is one of the monsoonal months, and trekking on the slippery paths is generally not recommended. The rice then gets harvested in September, lasting from beginning to mid-September. The lush gold rice terraces are a majestic sight to behold, making September an ideal month to witness it.
Mu Cang Chai
Mu Cang Chai, a mountainous District of Yen Bai Province, some 300 kilometers away from Hanoi, is colored in yellow by ripe paddy fields, attracting a large number of tourists who also came for the area's incredibly diverse terrain of imposing mountains, deep valleys, rivers, streams, and winding mountain passes.
The end of September is when the terraced fields in Mu Cang Chai start to ripen and create wonderful natural scenery. The ideal time to visit Mu Cang Chai terraced rice fields is the watering season in May and June and the ripening rice season in September and October.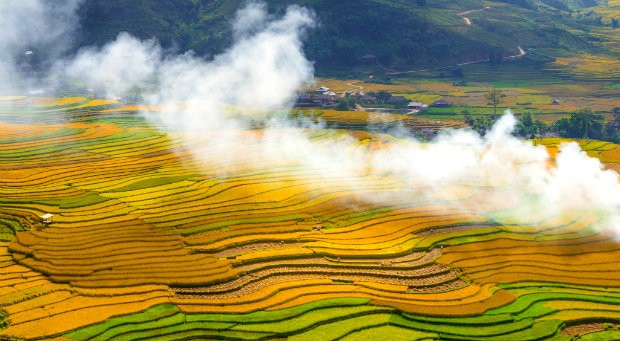 Photo: VietNam Booking
Every year, the first rain falls, and the terraced fields have a trickle of water that washes away the harsh, dry cover to make room for new clothing. After washing, terraced fields mix seamlessly with the afternoon sun, producing a distinct beauty.
During the planting season, the fields act as a mirror reflecting the world. Sometimes the entire field reflects the blue sky, with H'Mong females in colorful costumes planting and working.
Hoang Su Phi
Hoang Su Phi is a border district located in the west of Ha Giang province. The terraced fields here have been recognized as a national monument. The best time to visit Hoang Su Phi is from September to October when the rice changes to golden color. There is a harvest in October. You can also visit the region between March and May during the water season. This means that all fields are placed underwater so that you see fields sparkle and reflect.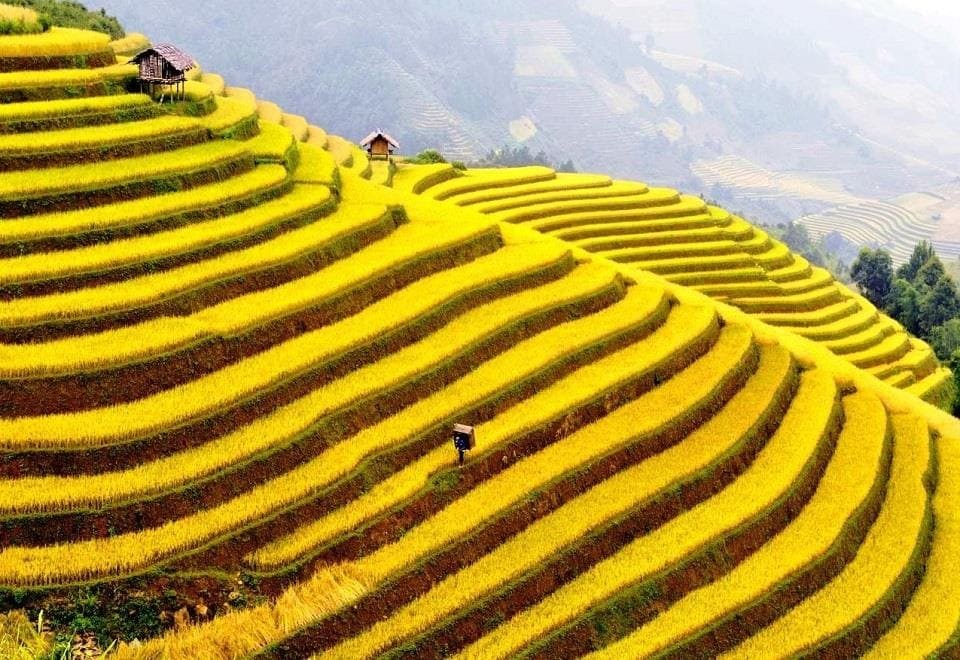 Photo: Phuotvivu
Hoang Su Phi is best known for its picturesque rice terraces and majestic natural landscape. The work on the terraces is carried out from top to bottom with simple tools.
Ha Giang
One of the northernmost places in Vietnam, Ha Giang is similar to Sapa in terms of weather patterns. Come mid-September, the fields are emerald green with the rice just about beginning to ripen.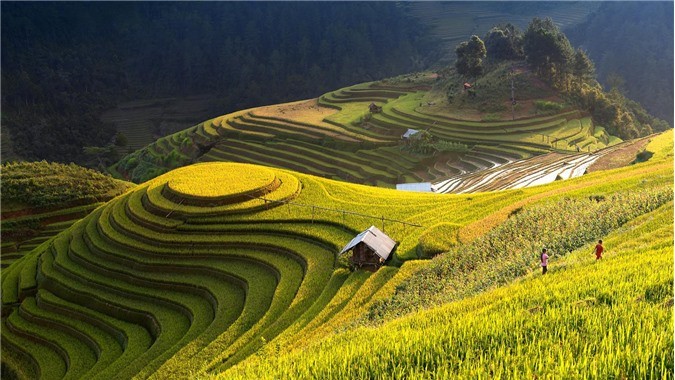 Photo: Bao Ha Giang
As it ripens over the next two weeks, the fields turn to shades of yellow and gold. It's a six-hour drive from Sapa, so tourists can choose to cover either one or both of these destinations, making it easy for them.
Pu Luong
Located behind the forests and surrounded by large mountains, Pu Luong Valley is one of the destinations attracting tourists in recent years. Pu Luong has a cool climate and peaceful scenery, suitable for nature lovers.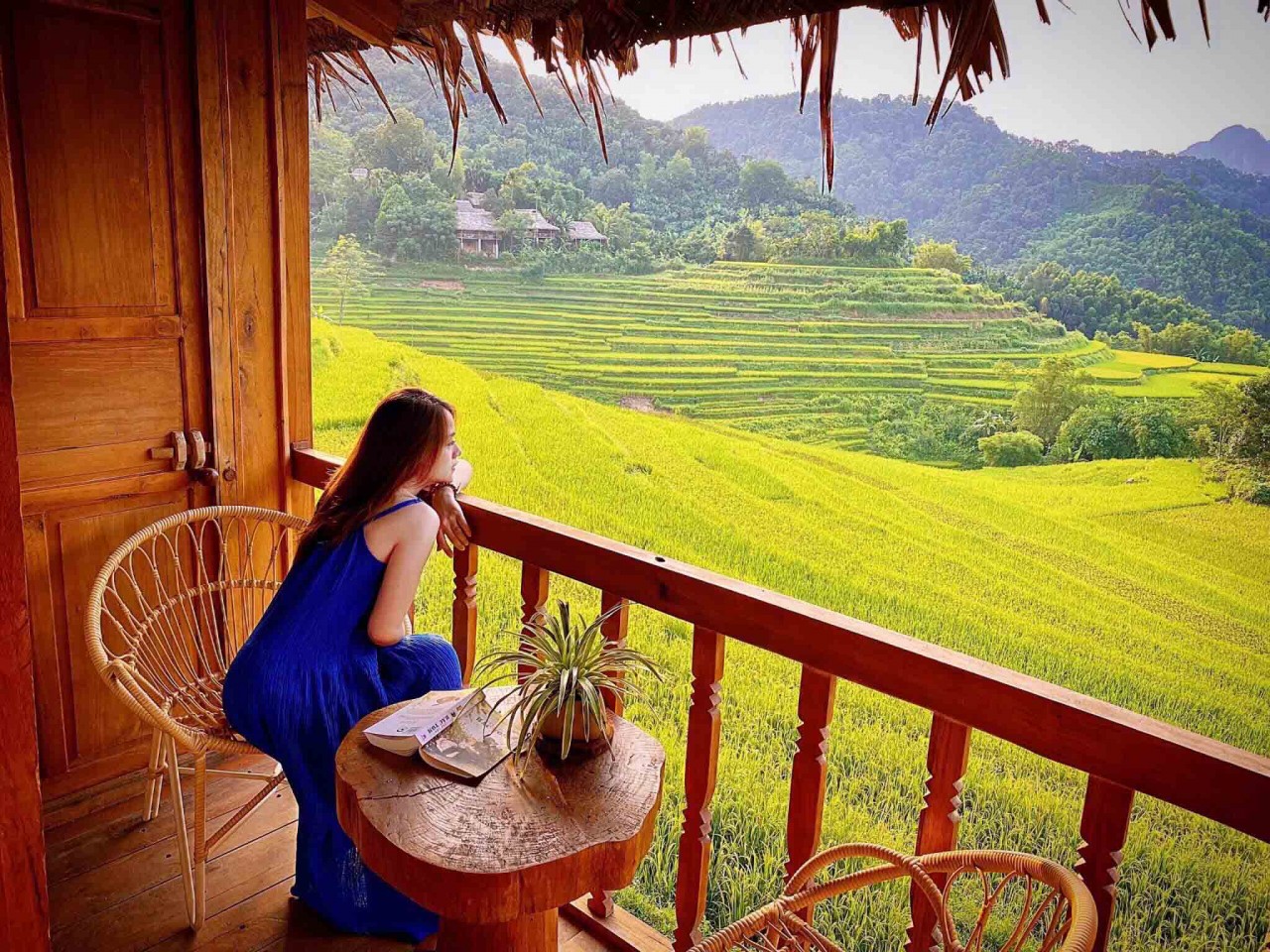 Photo: sgtt
Pu Luong has two ripe rice seasons in May-June and September-October. Unlike other famous rice season viewing locations in the northern mountains, Pu Luong rice season is usually later and lasts longer. And when the weather is cool, the sun is golden like honey, and this place attracts a lot of tourists.