Explore Top 7 Wonderful and Must-Visit Wildlife Hot-Spots in Southeast Asia
From Komodo National Park in Indonesia to Ba Be National Park, these wonderful places have some of the world's most facisnating wildlife that will amaze first time visitors.
From the Tonkin monkeys of Vietnam to the leopards of Sri Lanka, South and Southeast Asia has an abundance of incredible wildlife to draw in tourists. The tarsier sanctuaries on Bohol in the Philippines are protected enclosures, but large enough for the tiny creatures to feel wild. National parks offer a chance to see animals in their wild and natural state. In some places, such as the Cardamom Mountains of Cambodia, wildlife tourism can even contribute to preventing poaching, protecting the environment and the local wildlife.
Any animal lover will want to experience these amazing creatures without doing them any harm.
1. Komodo National Park, Indonesia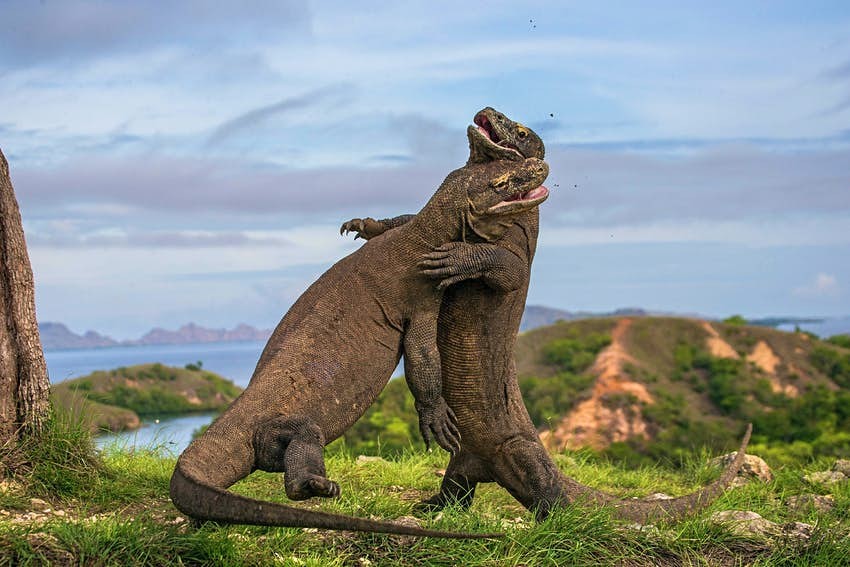 Lonely Planet
Komodo National Park is a national park in Indonesia located within the Lesser Sunda Islands in the border region between the provinces of East Nusa Tenggara and West Nusa Tenggara. The park includes the three larger islands Komodo, Padar and Rinca, and 26 smaller ones, with a total area of 1,733 km2 (603 km2 of it land). The national park was founded in 1980 to protect the Komodo dragon, the world's largest lizard. Later it was dedicated to protecting other species, including marine species. In 1991 the national park was declared a UNESCO World Heritage Site.
Komodo National Park has been selected as one of the New7Wonders of Nature. The waters surrounding Komodo island contain rich marine biodiversity. Komodo islands is also a part of the Coral Triangle, which contains some of the richest marine biodiversity on Earth.
Komodo National Park was established in 1980. It was declared a World Heritage Site and a Man and Biosphere Reserve by UNESCO in 1991. The park was initially established to conserve the unique Komodo dragon (Varanus komodoensis), first discovered by the scientific world in 1912 by Lieutenant J. K. H. van Steyn van Henbroek, the Civil Administrator in Reo, Flores Island. Since then conservation goals have expanded to protecting the entire biodiversity of the region, both marine and terrestrial.
The majority of the people in and around the park are fishermen originally from Bima (Sumbawa), Manggarai, South Flores, and South Sulawesi. Those from South Sulawesi are from the Suku Bajau or Bugis ethnic groups. The Suku Bajau were originally nomadic and moved from location to location in the region of Sulawesi, Nusa Tenggara and Maluku, to make their livelihoods. Descendants of the original people of Komodo, the Ata Modo, still live in Komodo, but there are no pure blood people left and their culture and language is slowly being integrated with the recent migrants.
Little is known of the early history of the Komodo islanders. They were subjects of the Sultanate of Bima, although the island's remoteness from Bima meant its affairs were probably little troubled by the Sultanate other than by occasional demands for tribute.
2. Minneriya National Park, Sri Lanka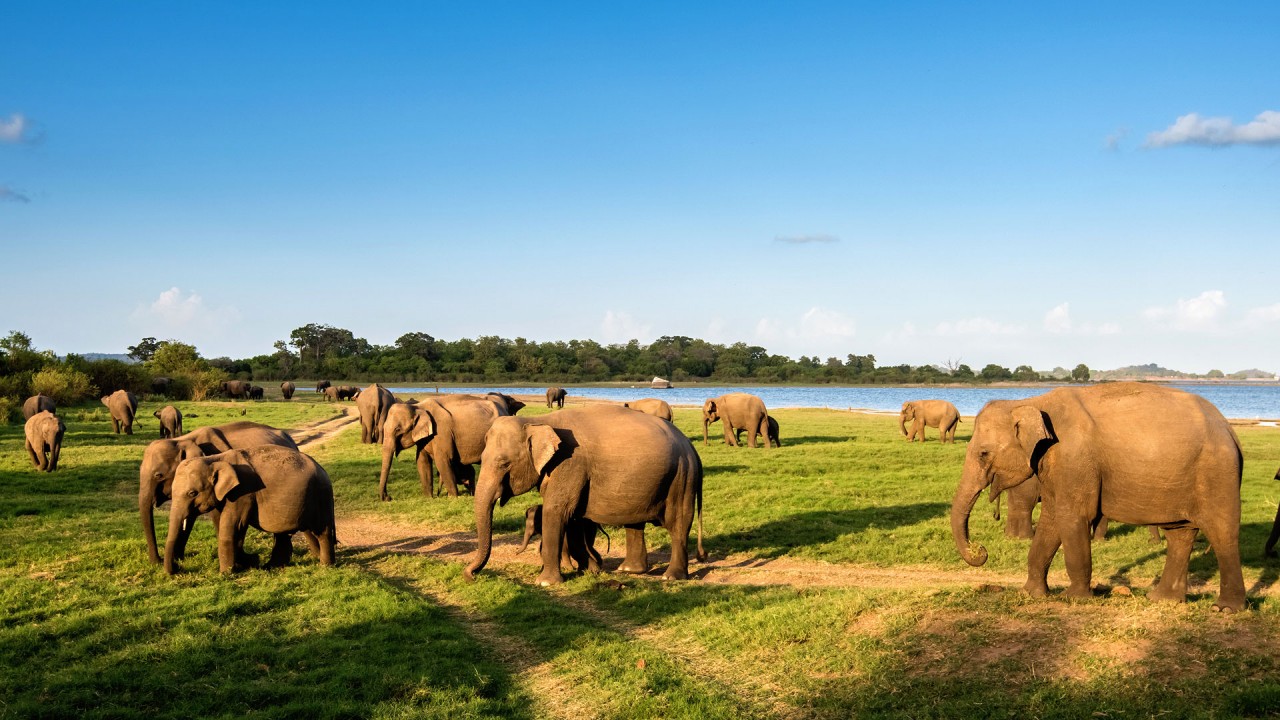 Natural World Safaris
Set in the heart of the popular cultural triangle of Sri Lanka, Minneriya National Park is mostly known for its incredible elephant migration, which is one of Asia's finest wildlife experiences. During the drier months of June to September, as many as 300 elephants congregate in the Minneriya National Park around the ancient Minneriya water tank (which dates back to 3rd Century AD), taking advantage of the receding waters that provide an important water source.
Covering an area of 8,890 hectares, Minneriya is around 4 hours from the capital city of Colombo and is close to other local attractions. For example, the UNESCO world heritage site of Polonnaruwa is just 20 kilometres away and Habarana and Sigiriya are also close-by, making it possible to combine cultural and wildlife experiences into one itinerary. The topography of the park is comprised of scrub plains and mixed evergreen forests alongside rocky outcrops and wetlands, providing a range of habitats to suit a variety of critters.
The gathering of the elephants is a wildlife enthusiast's joy and photographer's dream. Small herds gather around the water tank, forming one giant mass of elephant grey. Watching the playful jumbos drink, bathe, jostle and hustle is heart-warming and a great memory within what will be a varied itinerary of contrasting highlights. Not just a playground for jumbos, you may also catch sight of some of the other 24 mammals that make their home in the park, including toque macaque monkeys, spotted deer, sambar deer, wild buffalo, porcupine, wild boar and mongoose. Leopards are also found in the park, although less prolific than those found in Yala.
3. Cardamom Mountains, Cambodia
Cambodia's Cardamom Mountains and its endangered flora and fauna may well be under threat from illegal logging and poaching, but the vast blanket of tropical rainforest remains one of Southeast Asia's most pristine expanses of wilderness. Thanks to recent improvements to access and the development of community-led projects, visiting the area is getting easier.
Spanning more than 4.4 million hectares of rainforest in southwestern Cambodia, the Cardamom Mountains remains Southeast Asia's largest remaining rainforest. Inhabited by a swathe of endangered wildlife, the expansive woodland is also home to about 25,000 people, many of whom are ethnic minorities.
As with the rest of Cambodia, the area comes with a bitter recent history and was not so long ago one of the last strongholds for Khmer Rouge soldiers. After the fall of the Pol Pot-led regime in 1979, many of the soldiers fled to the forest, continuing to fight their battle with the few pockets of locals living there.
The mid-1990s brought with it peace, with the final Khmer Rouge fighters giving up their battle in 1994. However, many remained living in the remote jungle for several years. With peace restored, this paved the way for the start of rampant logging and poaching – issues that continue to threaten the future of the forest today.
Despite this, the Cardamoms remain home to a vast array of rare animals and tropical flora. And thanks to the recent upgrade of roads and more community-based tourism projects cropping up, the tourist stream is starting to slowly trickle into the remote area.
4. Taman Negara National Park, Malaysia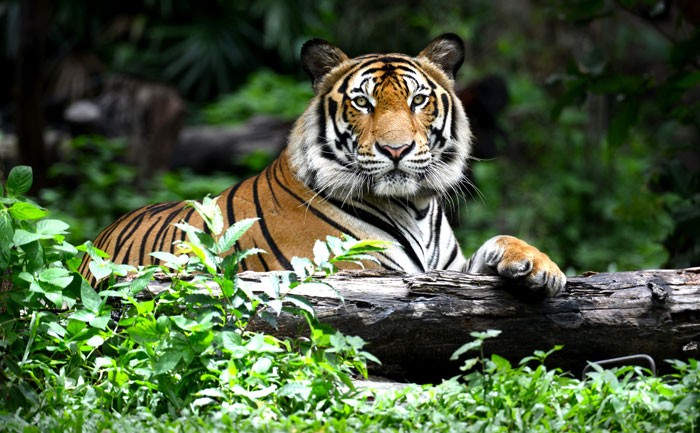 Travel Trolley Blogs
Taman Negara is the oldest primary rainforest in the world. Research has shown that this rainforest has never been influenced by ice ages and other big changes in time. With 4343 square kilometers it is the biggest National Park in Malaysia, spread out over three states at Peninsular Malaysia; Pahang, Terengganu and Kelantan. Should you stay in Peninsular Malaysia; make sure you pay a visit to this National Park; it is only a 4 hour drive to the park entrance. Taman Negara is the place for the best jungle experience in Peninsular Malaysia; perfect for those that don't have the option of visiting the jungles of Borneo. Within the park there are numerous resorts, ranging from basic guesthouses to nice resorts. There are many activities to do in the park, like hiking, night walks, rapid shooting and fishing. Because of its location you can easily combine a visit to Taman Negara with a trip to Cameron Highlands or even some of the east coast islands (like Perhentian Island).
Once in the park there are many fun things to do. Walking excursions are usually under accompaniment of a guide, he will take you into the jungle. There's also the famous Taman Negara Canopy Walk; this is a 510 meters long suspension bridge between high treetops (arguably the longest in the world). You can walk over it, and enjoy spectacular views at heights of over 45 meter. A night walk is a very nice to-do at Taman Negara; but make sure you wear mosquito repellant and clothes with long sleeves and long trousers. Special socks against leeches are not really necessary; you can always pull them off you bottom legs after your trip (unless you cannot handle some minor blood). Other activities and attractions within the national park are bird watching, staying overnight in one of the wildlife observation hides, adventurous cave explorations (i.e. Gua Telingga, Gua Kepayang, Gua Luas, Gua Landak and Gua Tumpat) river cruises, Lata Berkoh with its waterfalls, fishing (Taman Negara offers great fishing opportunities for anglers), enjoying the scenic views after climbing to the summit of Mount Tahan (multi-day jungle trek) and visiting the Orang Asli (Batek and Semokberi) people in their villages.
5. Sepilok Rehabilitation Centre, Malaysia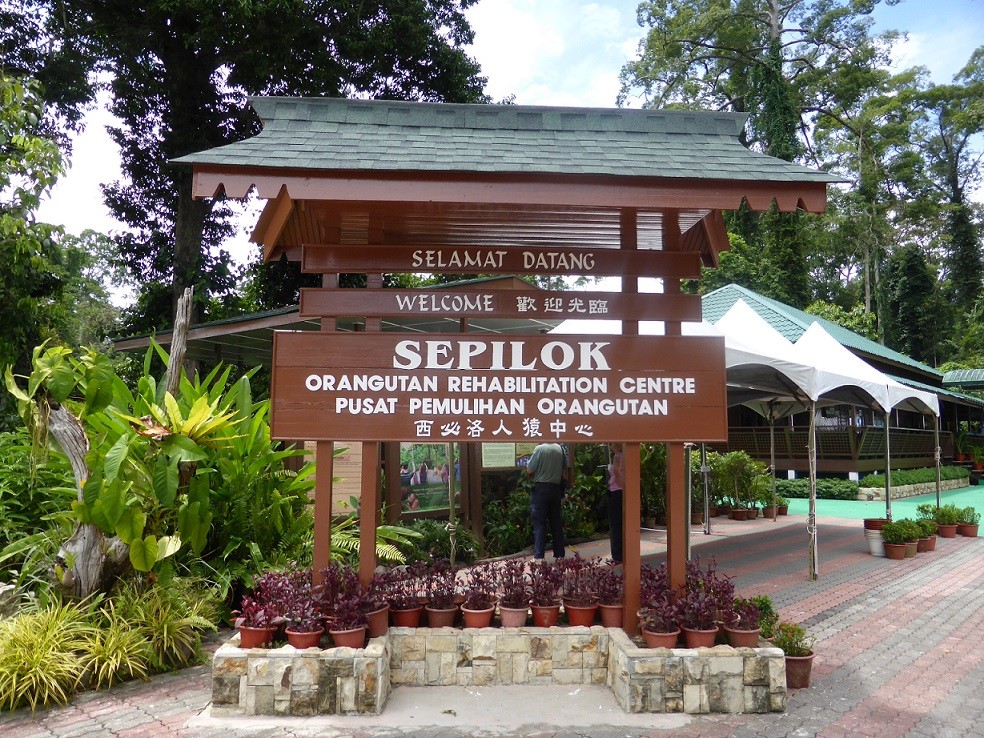 Orangutan Appeal UK
Close to the city of Sandakan, nearby the small town of Sepilok, you will find Sandakan's biggest (and Sabah's 2nd biggest) tourist attraction; Sepilok Orangutan Rehabilitation Centre (SORC). The rehabilitation center was founded 1964 with the aim of returning orphaned, injured or displaced orangutans into the wild. The ground where the rehabilitation centre is located is part of the 4,300-hectare Kabili-Sepilok Forest Reserve. The Sepilok Orangutan Rehabilitation Centre falls under the administration of the Wildlife Department of Sabah. Have you always dreamt about a close encounter with an orangutan? At this centre you're able to see the orangutans in their rehabilitation programs. At Sepilok the orangutans are divided in groups. The most independent ones are released in the wild after a certain period of time; you can watch them during feeding-time. Today up to 75 orangutans are roaming freely in the reserve.
In October 2014 the centre opened a new section where visitors can view the nursery area where the younger Orangutans first learn to be outside and play on a large climbing frame. This consists of 2 large indoor seating areas (one with air conditioning and one with fans only) with a large window that overlooks the play area. There is no additional charge to enter this part of the centre.
6. Donsol, The Philippines

Photo: Bamboo Travel
There's a good reason why swimming with whale sharks is on many travellers' Bucket Lists: sharing the water with a spotted fish as big as a truck is an absolutely unforgettable wildlife experience.
Donsol Bay in the Philippines, off the laidback fishing island of Luzon, is one of the world's whale shark capitals, with sightings all but guaranteed.
Boat tours cruise the bay, with spotters high up on the deck or rigging looking for whale sharks. Once spotted, it's time to quickly put on masks and snorkels, and go for a memorable swim with the mighty behemoth. Over the course of three or four hours out in the Bay, you could swim with three, four or more whale sharks.
WWF Phillippines has been in the area since 1998, helping local authorities run the tours as community-based ecotourism, though the rules limiting the number of swimmers around a whale shark at any time are, as with lions in Kenya, not obeyed as strictly as they should be.
The whale sharks usually arrive in the local waters between November and June, with the peak season from February to April.
7. Ba Be National Park, Vietnam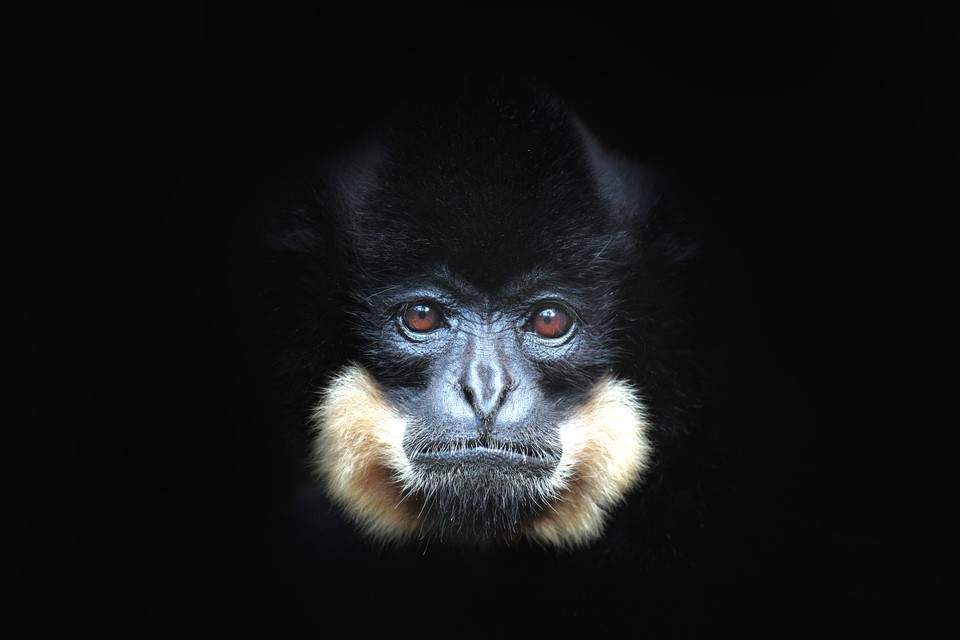 Photo: Dreamstime
This national park in remote northeast Vietnam, also known as Ba Be Lakes, was set up in 1992, becoming the country's eighth national park.
100 square kilometres of land are populated by limestone karsts, mountains in height, glistening lakes and lush green forests, all of which are home to an array of wildlife species, including the unique and endangered creatures such as the pangolin, the Vietnamese Salamander and Tonkin snub-nosed langur monkeys.
Slow loris, leopards, tigers, black bears, gibbons and crocodiles live here, with common macaque monkeys one of the most frequently sighted critters.
There are more than 550 known plant species in this rainforest region, and more than 220 bird species, of which it's worth looking out for the likes of serpent eagles, the oriental honey buzzard, herons and colourful flocks of parrots. More than 350 butterflies, more than 100 species of fish and four different kinds of turtle add even more colour and life to the park.
Boat trips offer the opportunity to visit local caves, waterfalls and some of the 13 different tribal villages, including Hmong and Tay minorities.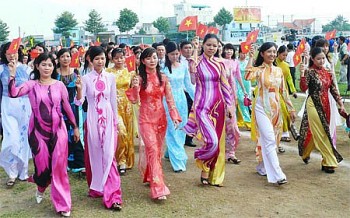 Viet's Home
Vietnamese women have always been paramount in shaping culture and protecting the homeland. To honour their sacrifices and celebrate Vietnam's Women's Day, Vietnam Times has complied a brief list of several amazing Vietnamese throughout the country's lengthy history in an American journalist's eyes.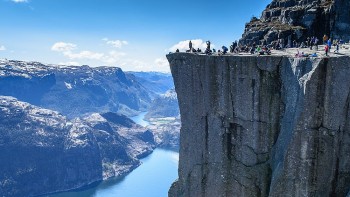 Travel
The Sverd I Fjell, an prominent monument created be the Norwegian sculptor Fritz Røed, are giant swords in stone located in Hafrsfjord, a suburb of the city of Stavanger in Norway.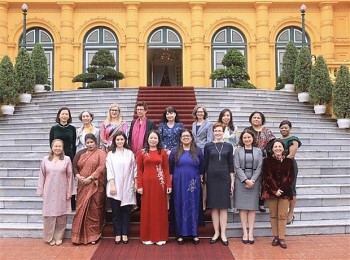 Viet's Home
Vice President Vo Thi Anh Xuan has urged female foreign ambassadors and chargés d' affaires to further contribute to facilitating travelling and trading between Vietnam and other countries.