Exploring the Charming Village Influenced by 3 Asian Cultures
At this special village, Thai, Vietnamese and Chinese cultures collided.
Ban Rak Thai village (Mae Aw) is nestled in the highest area of ​​Mae Hong Son province, in northern Thailand. This is an hidden area 1,776 m above sea level. This beautiful tranquil village is also known for its multi-cultural charm, resembling not one but three different destinations.
In the past two years, the village has also begun to open and gradually welcome visitors, mainly from Thailand. Villagers are mostly of Chinese descent, they communicate using Chinese instead of Thai. Only the younger generation know Thai.
Traveling to Ban Rak Thai is like teleporting between Thailand, China, and Vietnam. This characteristic attracts many young people, even overseas tourists.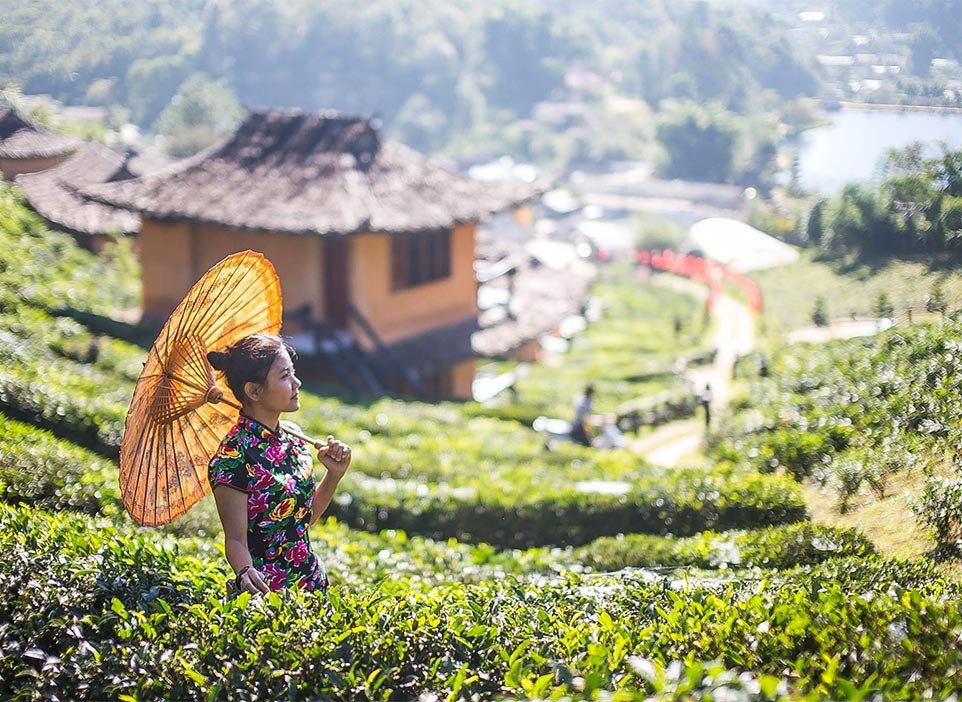 Ban Rak Thai village in Chiang Mai, Thailand. Photo: Chiang Mai Traveler
A combination of Thai - Viet - Chinese beauty
Thanks to the location in the middle of the deep mountains in the northern part of Thailand, people here grow and make tea for a living. There are more than 1000 villagers who are tea farmers, which made up almost the entire population. This place is especially famous for the image of immense green tea hills.
This place is especially famous for the image of immense green tea hills. Photo: VTC
The old houses with signature Chinese architecture, red lanterns and yin and yang tile roofs, are spotted between the green tea hills. Standing by the riverbank, you will see the image printed on the water surface and sense a peaceful feeling in front of such beautiful scene. Hence, Ban Rak Thai is called "Old Phoenix town of Thailand".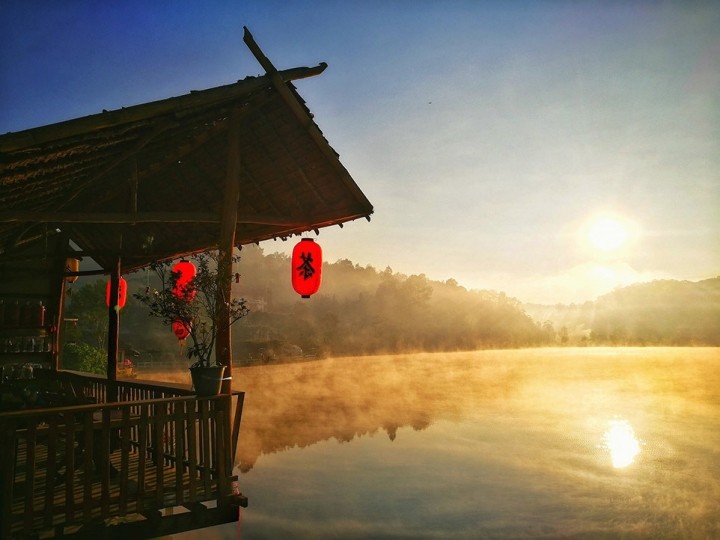 Photo: Chiang Mai Traveler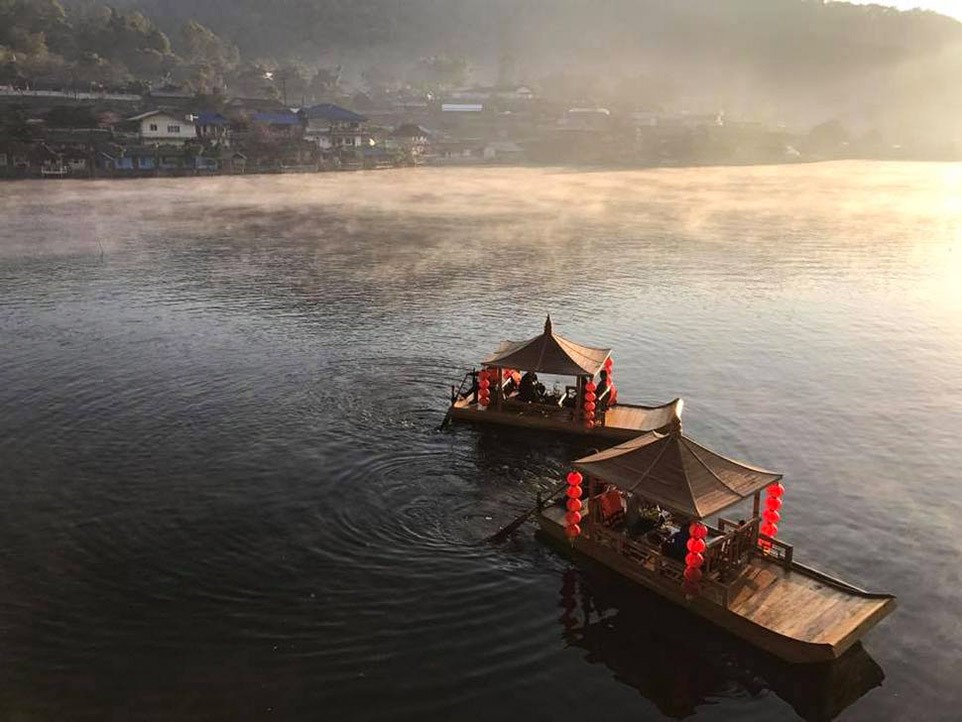 Its other name is "Old Pheonix town of Thailand". Photo Chiang Mai Traveler
Ban Rak Thai village is only 1km from the Thailand - Myanmar border, but quite far from the center of Thai cities.
Mae Hong Son is also called Sa Pa of Thailand. This is the "land of fog" when the temperature sudden change and the heat transfers down to 0 degrees Celsius from about November to February every year.
Stoping by a cafe on the road, you can fully enjoy the beauty of the mountain when sunset. Immersing in the music and sipping a cup of coffee or a cup of hot tea (Green Tea, Milk Tea...) in the chilly atmosphere of twilight, you can watch villagers light up the lanterns one by one by the river. The water sparkles as the night falls, creates a marvelous treat for the eyes.
For accommodation, Lee Wine Rak Thai resort is recommended by many tourists. If you are not guests at the resort, you can still come to be acffe and enjoy the afternoon tea slope with the view of precarious and impressive small houses.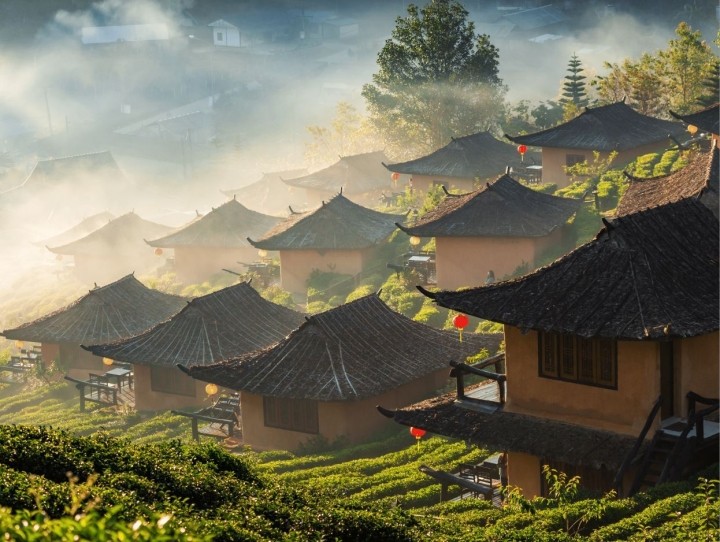 Sa Pa of Thailand in the fog. Photo: VTC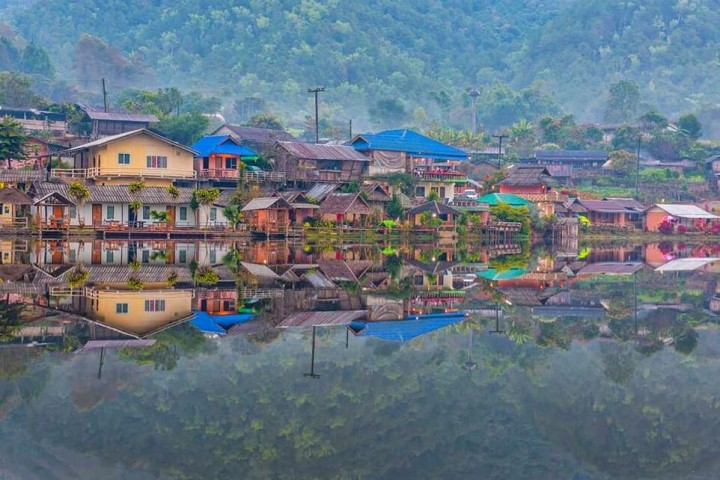 The old houses has signature Chinese architecture. Photo: VTC
Timing is everything
Afternoon tea time surrounded by mist. Photo: Chiang Mai Traveler
Each season at Ban Rak Thai brings a different beauty for you to discover. The most beautiful season is from March, April, or September and October. If you are here from December to early February, you can be in time for the cherry blossom season.
November, December every year comes dense fog in Mae Aw. You should also avoid coming here in July, because there are usually heavy rains through out the month.
This place is quite isolated and not very popular with many international tourists. But for Thai people, this is one of the ideal vacation destinations because of its unique ancient beauty.
If you have to depart from Bangkok, you can choose a flight to Chiang Mai, then continue traveling by bus (it takes about 5-6 hours), to Mae Hong Son and then rent a motorbike to ride to the destination. You can enjoy the journey to nature with beautiful scenery. Another option is to take a taxi or bus to get to Ban Rak Thai.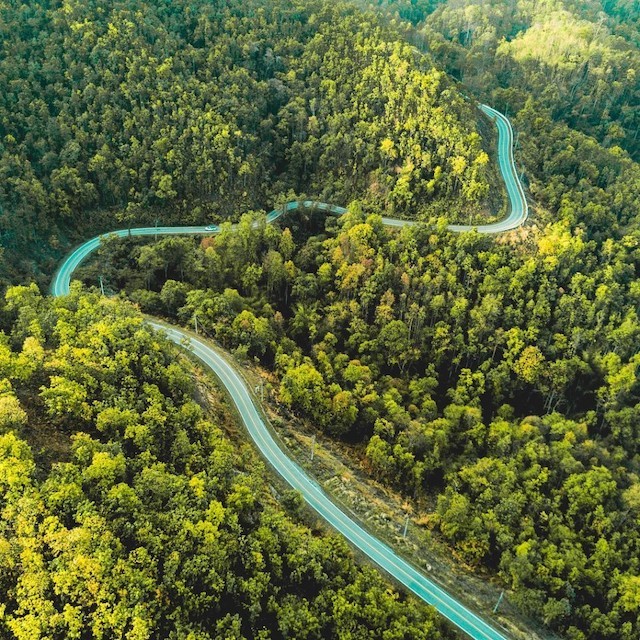 You can enjoy the journey to Mae Aw with beautiful scenery. Photo: Chiang Mai Traveler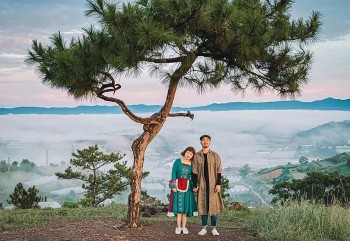 Travel
Three local cities are set to be presented with the ASEAN Clean Tourist Awards 2022.