Family fights on despite horrors of Agent Orange
"Happiness is simply staying with the children longer"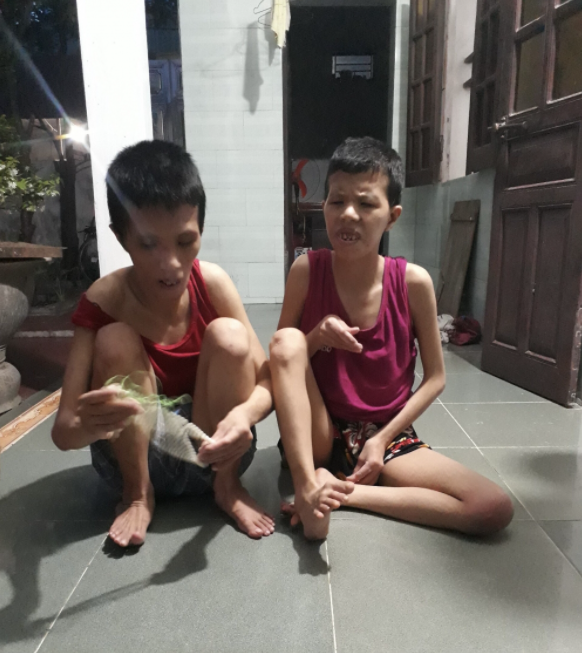 Hoang Thi Van and Hoang Thi Nhung suffered serious health effects from Agent Orange.
Hoang Cong Uan and Pham Thi Le of Nam Dinh province have two daughters that both have to live with the severe consequences of the deadly chemical Agent Orange.
During the American War, Hong Cong Uan joined the defensve front in Tay Nguyen against the United States, and his wife Pham Thi Le was a young female volunteer in the Central Highlands battlefield for about three years.
The two people who spent their whole youth protecting the country,but after leaving the battlefield full of bombs and bullets, they fell in love and married each other. Three daughters were born as the fruits of their love.
Two of his daughters, Hoang Thi Van (born 1986) and Hoang Thi Nhung (born 1992) were weak and kept crying during the days and nights after the birth. At first, the family did not know that Agent Orange was the reason behind their children's weak health. Over the last 30 years, his two daughters have suffered from a series of complications such as cerebral palsy, intellectual disability, epilepsy, constricted limbs and inability to speak.
It was not until 1999, with the help of another veteran, that Uan and his wife got tested for Agent Orange exposure. The family received the first support of VND 48,000 (US$ 2) per month. However, because at that time, their injuries level were not classified on record they did not recieve an adequate pension.
The two daughters are seriously and constantly ill, with all their personal activities conducted by the elderly couple. The girls, who are over 30 years old, still have to use diapers most of the time, can't feed themselves, and must have their food well chewed before they can eat. Occasionally, recurrent epileptic seizures caused the two girls to smash the house, torture themselves, causing injuries to their hands or fainting.
In 10 years from 1961 to 1971, the U.S. military carried out 19,905 sprays with 80 million liters of toxic chemicals on 26,000 villages and hamlets with an area of more than 3 million hectares, equal to nearly one-quarter of South Vietnam. Over 60% of this was Agent Orange, containing 366 kg of dioxin. More than 4 million people have been exposed to dioxin, of which nearly 3 million have been infected with dioxin in Vietnam. Hundreds of thousands of victims have died, and hundreds of thousands of others are struggling with serious illnesses.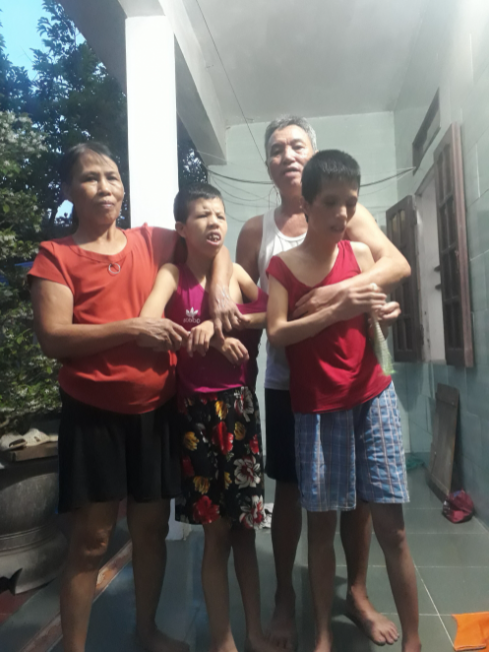 Uan, his wife, and two daughters are still fighting the illness every day.
"When leaving the hospital, the two of them couldn't talk or describe their condition, so it was difficult for the doctor to examine and treat them. At home, we old couple also treated themselves according to our instinct, and we also did not know where their pain came from," Le said. Sometimes we treated their pain wrong. When the stomach hurts, I think it's a toothache, so there was a time because the child was so fussy that I had to pull out the tooth."
Illness not only torments the children, but the couple also suffer from many health problems. Le had gallstones and cholecystitis and had to undergo cholecystectomy last year. Currently, she suffers from cardiac arrhythmias, which makes living and taking care of the two children more difficult. Uan also suffers from frequent headaches, sinus problems, kidney stones, and allergies. In 2000, Uan had an accident that resulted in broken femur and seven ribs, making his family's life even more difficult.
Despite the difficult situation, Uan and his wife stay optimistic and happy. They have always worked hard. A few years ago, with local support for a breeding cow, Uan put effort into castle-breeding and farming. However, because he has to spend a lot of time taking care of the girls, he had to sell the cow. Le also sold vegetables at the market to make ends meet.
The first daughter (born in 1983), fortunately was not affected by Agent Orange, now has a family of her own with two healthy children. This is the only consolation of the couple. However, she is a worker with a low salary, so each month she can only send her parents and two sisters a few hundred thousand dong.
The family of four depends largely on the allowance of VND 2 million (US$ 87) for Uan and VND 1.5 million (US$ 65) for his two daughters. His family was supported by relatives. They built a temporary house to live in, but the family wants their children's injuries to be re-evaluated so that they can enjoy better benefits.
"My two children are girls, so taking care of them is more inconvenient and difficult. No one can replace my wife and me to take care of our two children. My biggest wish is just for us to be healthy. My wife and I are old and weak, we just want to be with our children for a long time," Uan said.
Agent Orange/dioxin can cause diverse and complex damage to all physiological systems of the body, such as skin, liver and thyroid cancers, diabetes and neurological illness. Dioxin is an important factor in causing mutations in genes and chromosomes, thereby causing birth defects and reproductive complications. Common diseases in children and grandchildren affected are deformity and schizophrenia. It has prevented many couples from becoming fathers and mothers, and millions of couples have disabled, unconscious or seriously ill children.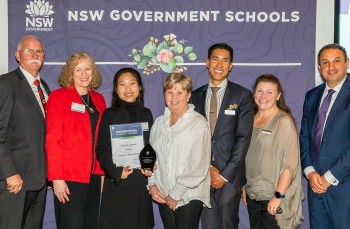 Overseas Vietnamese
The award for international students studying at New South Wales state schools (Australia) honors excellent ones from many countries, including a Vietnamese female student.