Musician defies challenges caused by Agent Orange
The deadly chemical has severely impeded the health of many generations of Vietnamese people, but they still strive to achieve great things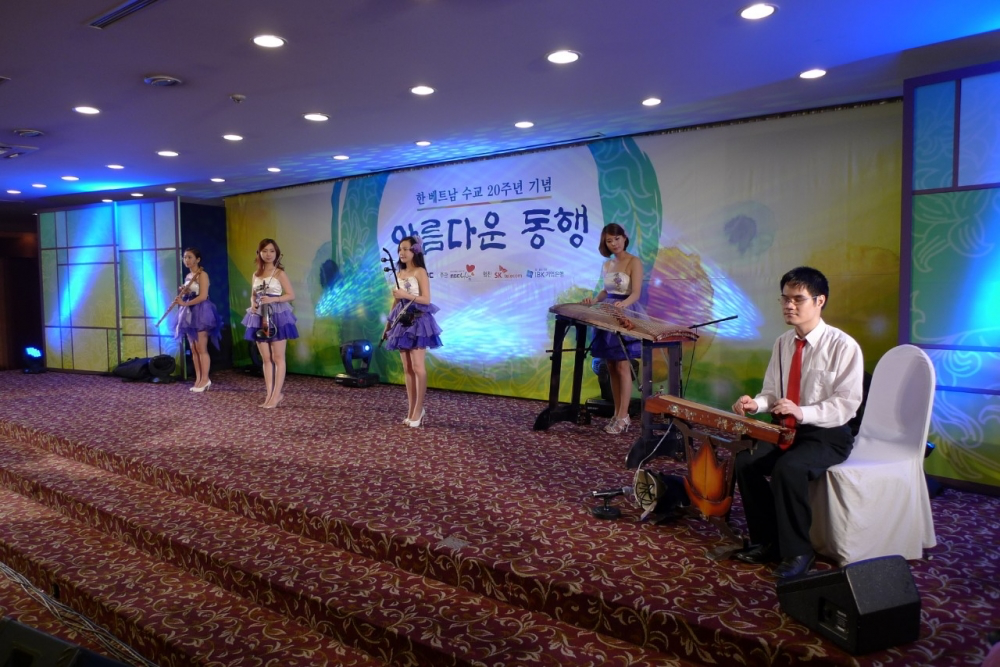 Nguyen Thanh Tung in an exchange performance in Korea.
During and after the war, Agent Orange seriously affected the environment as well as the health of many generations of Vietnamese people. However, the victims are resilient, overcoming their circumstances to live happily and help other victims. One such character is musican Nguyen Thanh Tung.
Tung lost his eyesight due to Agent Orange. During the war Tung's father Nguyen Thanh Son was infected by the chemical, causing both his children to have health problems. Son's daughter Nguyen Thi Phuong Thuy suffers from a series of problems such as deafness, blindness, epilepsy and intellectual disability. Son said that Phuong Thuy is the name of a tunnel crossing the river in Quang Tri province when he joined the resistance in 1972. The name is meaningful because it is also the name of a female martyr.
Tung has been fond of music since childhood, but being born into a family of soldiers, not artists, made his path to becoming a musician difficult, with many hardships along the way.
He remembers first hearing the sound of the monochord (an ancient music instrument with just one string) when he was just 4 years old. He found it interesting but did not recognize the music. Seeing this, his grandfather made him a monochord with old household items such as milk cartons, bamboo sticks and a bicycle brake line. From this 'toy,' Tung played his first lines of music and simple children's songs. At the age of 7, he participated in a contest by the Hanoi Children's Palace for children with artistic talents, and won a prize. Since then, he has participated in several activities at Hanoi Children's Palace.
"It was from the competition that gave me confidence in art. Those first steps may have created a shift in the thinking of the people around me," he said. "My parents love me very much, but it takes reality, and for my family members to know and believe that this boy can completely absorb all the knowledge of the art."
Later Tung passed the entrance exam FOR the Vietnam Academy of Music and studied traditional music, majoring in monochord and composition theory. He would Vietnamese music, traditional with international friends from Korea, France, Switzerland Germany and beyond.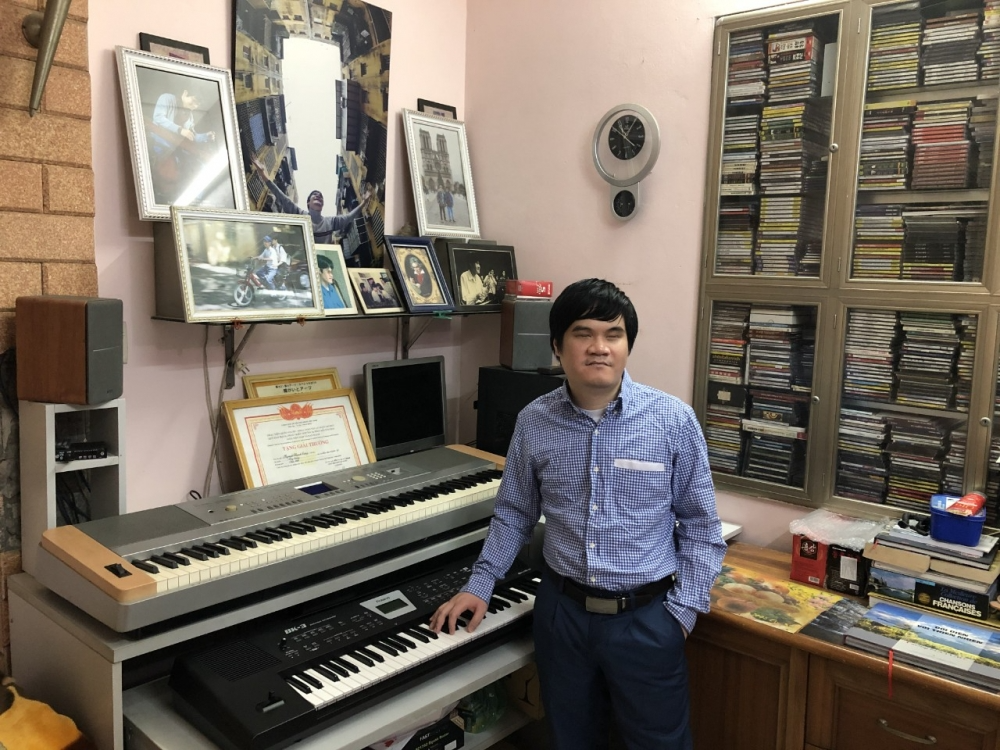 Nguyen Thanh Tung's composing corner.
"In the past, a student with disabilities would have to go through many difficulties, not only because of the learning conditions but also the prejudices of people around," he said. "At first, many teachers and friends were hesitant. But later that reticence gradually diminished and became sympathetic. This is a huge motivator to fuel my aspirations. Later, standing on international stages, I can confidently introduce that I am an artist from Vietnam.
Tung is always learning, and thanks to the development of technology such as text reading software on phones and computers, he can send messages and email, and even compose music and read books. He also regularly updates his social networks with pictures and new music.
Tung shortens the distance from people by integrating with the flow of modern life. His desire is simply to be active, and not dependent.
"People with disabilities are just not favored in terms of health, but they can still contribute in many fields such as painting, translation, and design," he said. "The community will gradually have a fuller awareness, prejudices will be erased and only warm feelings and recognition of the labor achievements of the Agent Orange victims will remain. Only when I receive the results and recognition from my own ability will I feel completely happy."
Tung believes that optimism is what helps him overcome his difficulties, so he uses his love of music as well as belief in the victims of Agent Orange and his listeners to chanel his success. For him, the happiest thing is that despite all the difficulties, he continues to walk the artistic path and receives love and affection from his audience.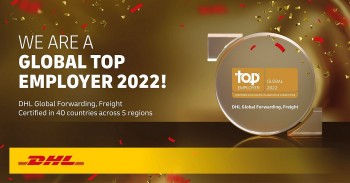 Economy
DHL Global Forwarding, the air, ocean and road freight specialist of Deutsche Post DHL Group, has again been certified as Top Employer 2022 in Asia Pacific.