Famous and Most Memorable Streets in Hanoi's Old Quarter
There is one thing you can not miss when you visit Hanoi: It is the Old's Quarter. Since you can easily get lost in the maze of all the streets, here are some familiar and most memorable streets of Hanoi's Old Quarter for you to explore.
Hanoi, Vietnam's capital lies in the North of the country and is one of the country's top tourist hot spots. It offers French-colonial architecture, a rich food culture and a long history (the city celebrated its millennium in 2010.) The most well known and important districts in Hanoi are Ba Dinh District (aka the French Quarter) where the government offices are located and Hoan Kiem District (aka the Old Quarter) which is considered the city's business hub and main tourist destination.
Get lost in the Old Quarter jungle? It's fine; as locals, we do too. You might be dazzled by the chaos of Hanoi's Old Quarter but make sure you find your way to these below mentioned streets to make your trip even more memorable.
1. Lan Ong Street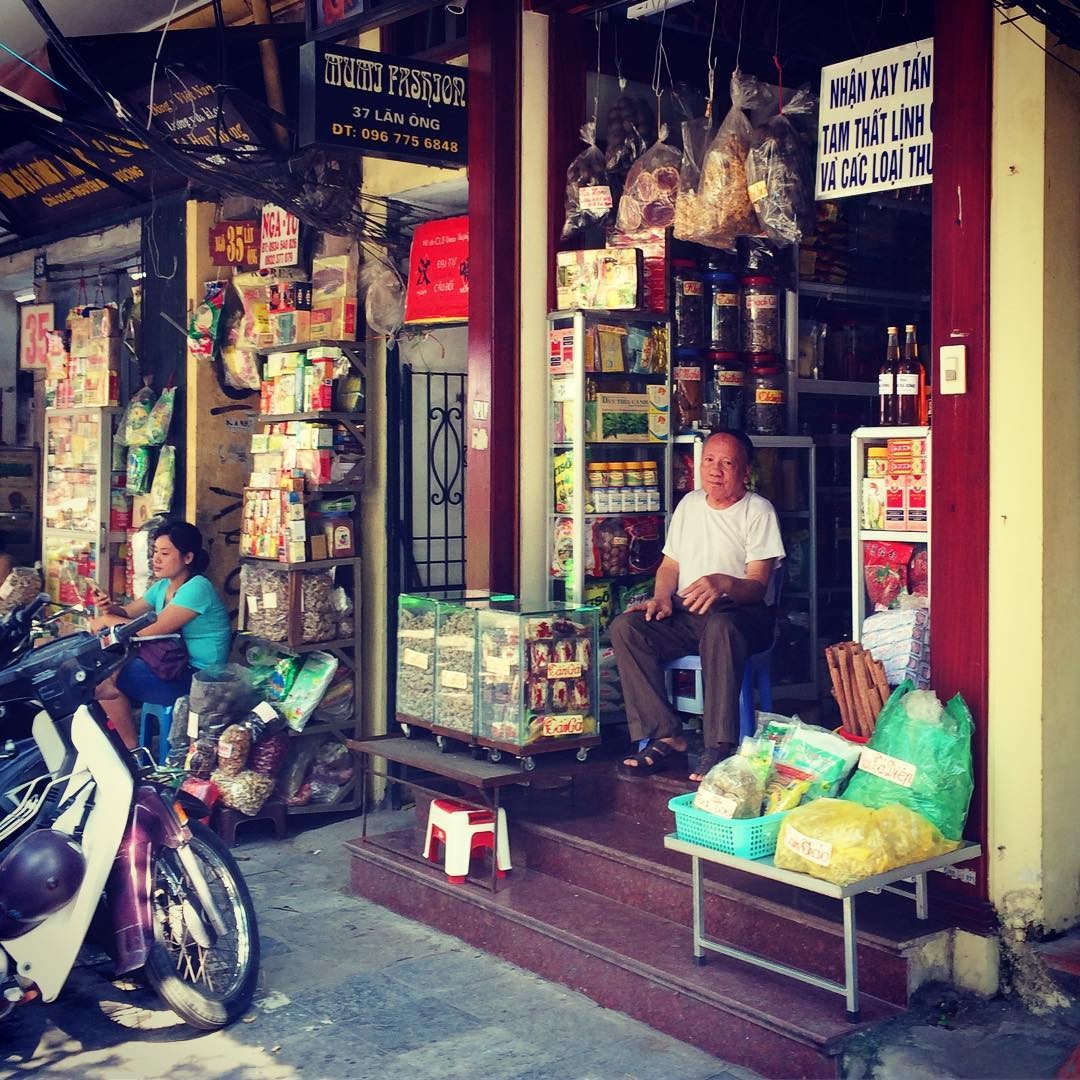 Photo: @lauraslaney
Lan Ong which means Lazy Old Man in Vietnamese, is one of the many criss-crossed streets in the Old Quarter. Although its name doesn't start with the word 'Hang' or 'Merchandise', you can immediately guess what the street offers as soon as you arrive in the beginning of this road. Just by standing on the street, you can inhale the typical smell of herbs spreading through the air which can be either pleasant or smelly depends on different people. Unlike some other streets in the Old Quarter, most shops here still keep the traditional craft to sell medicinal herbs despite the time's gone by and changes of the country's economy. Shops in the street close together offer various kinds of medicinal herbs which are either displayed in shop windows or packed in big nylon bags. In the past, sellers often used precision scales to make up a prescription of galenical medicine but now change into Roberval balance. The herb processing has also become easier thanks to the application of electric-motor cutting machine. Thanh Nga, a veteran owner of a shop in Lan Ong Street says 'I've been involved in the craft for 30 years and handed down from generation to generation. You can find any kind of herbs of the Oriental medicine in the street'.
Apart from selling Oriental medicines, the street is famous for traditional doctors and pharmacists. An experienced physician is the person who only needs to feel a patient's pulse to prescribe a medicine. Previously, almost all physicians practiced the medicine by learning from the family members. Now physicians often experience professional training courses or even study abroad to do the job.
2. Hang Giay Street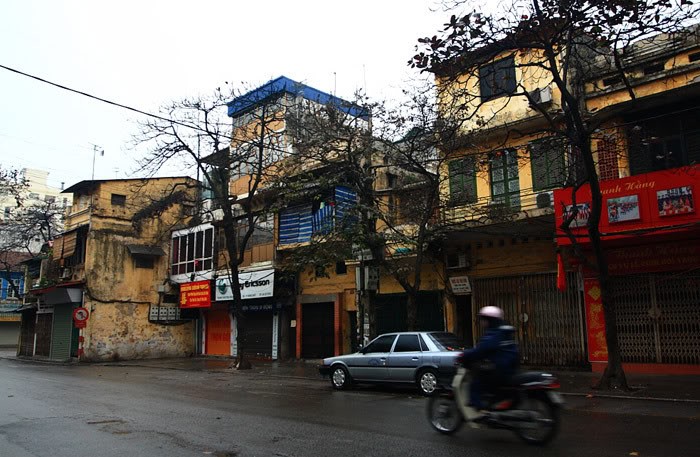 Photo: Dulich24
Hang Giay did not see much development until early 20th century, when the French colony started putting up a few luxurious building.
Hang Giay did not see much development until early 20th century, when the French colony started putting up a few luxurious building. Adjacent to Dong Xuan market, Hang Giay street still remains its calmness even until today. By day, there are a few inexpensive restaurant that serves Bun and Che. Towards the end where it faces Hang Đau, you can find sleepers of all kinds. Hang Giay is also famous for its jerk beef- one can find more varieties of jerk beef than imaginable here.
3. Hoan Kiem Street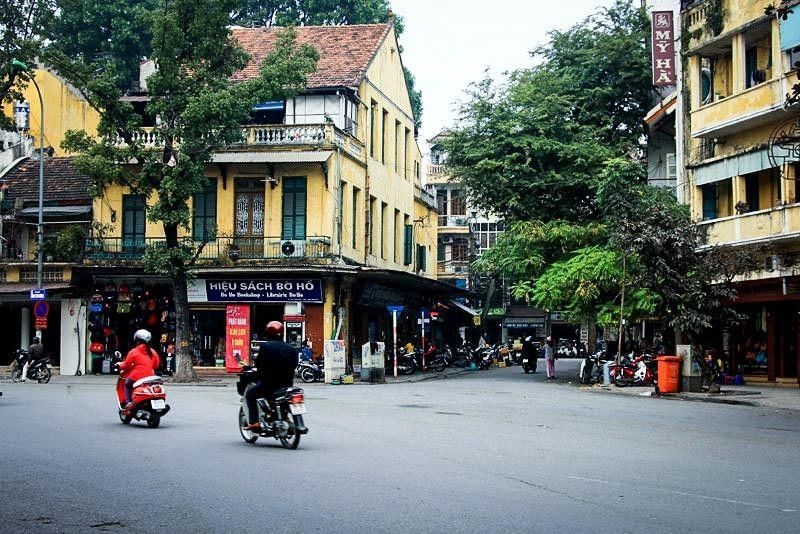 Photo: Mytour.vn
Along with famous destinations like Ngoc Son Temple, Hoa Lo prison historical relic site, and Bach Ma Temple, the pedestrian zone around Hoan Kiem Lake in downtown Hanoi has become an attraction that lure throngs of visitors to the capital on the weekends. At present, the Hanoi pedestrian street around Hoan Kiem Lake has been gradually becoming one of the capital's tourist attractions, a place for people to go out, play, and slow down between the roads.
The pedestrian is so crowded especially during the weekends, and roads surrounding the area are blocked with barricades so that the pedestrians can freely walk around on the streets on Saturday and Sunday.
According to the Hoan Kiem district People's Committee, after two years of operation, the pedestrian street has become a magnet for both domestic and foreign visitors, with some 3,000VND - 5,000VND arrivals during daytime, and 15,000VND - 20,000VND in evening.
Streets around Hoan Kiem Lake such as Dinh Tien Hoang, Le Thai To, Hang Khay, Hang Bai, Trang Tien, Dinh Le, Nguyen Xi, Le Lai, Le Thach, Tran Nguyen Han, Hang Dau, Lo Su, Luong Van Can and Bao Khanh have been turned into walking space on the weekends.
4. Hang Quat Street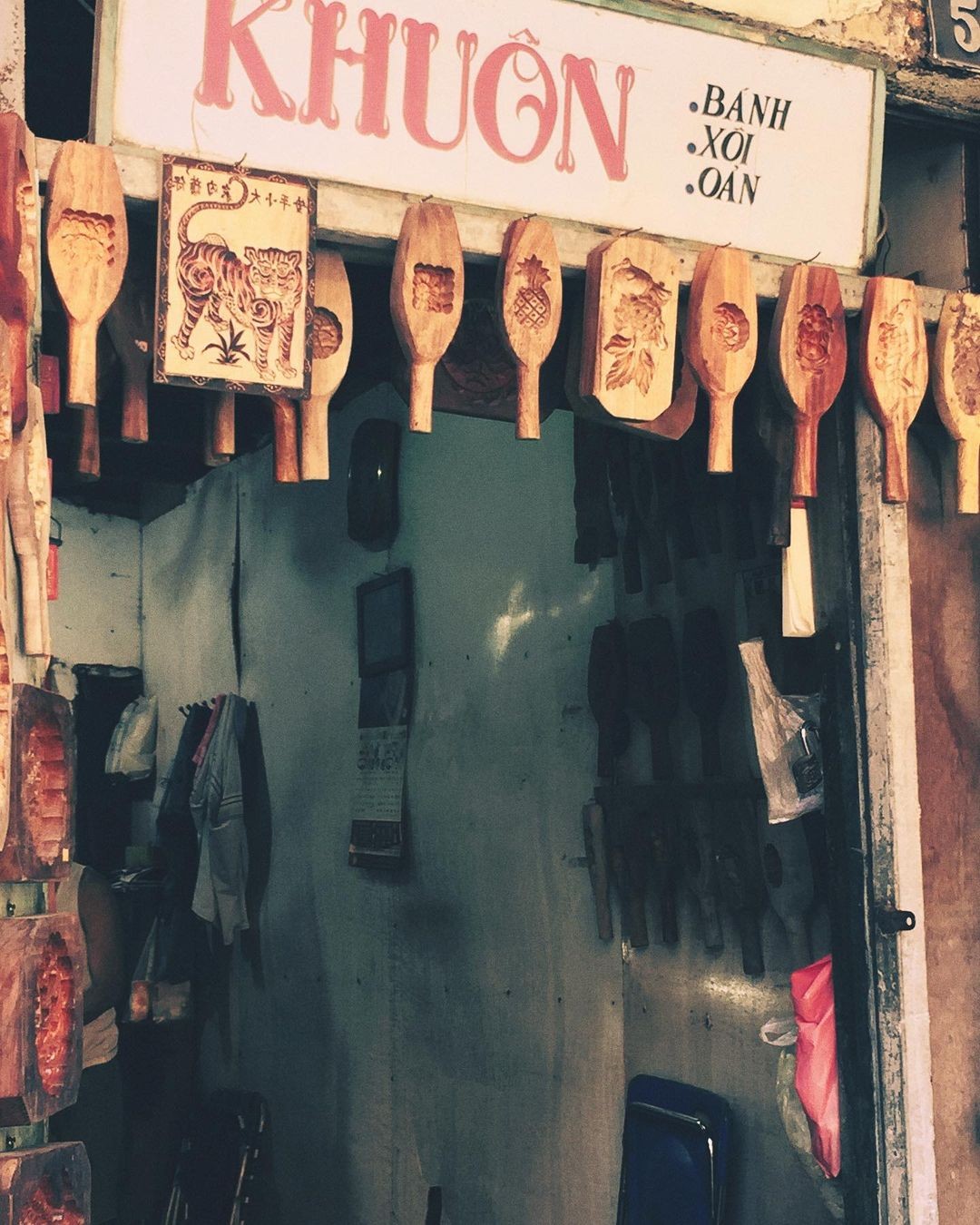 Hang Quat Street - Photo: @xuantienne
Hang Quat street spreads about 200m, belonging to Hang Gai ward, Hoan Kiem, Hanoi.
The street turns to West-east direction and it is the connection of Luong Van Can street and Hang Non street. In the French colonial time, the street brought the name Rue Des Eventails ( Street of Fan) and this name has been officially in use after August Revolution till now. As we could know it by name, Hang Quat street is the manufacturing site of fans as well as purchasing fans from other places for reselling.
The fan-making craft owns its birth to villagers of Dao Xa (also known as Dau Quat), An Thi commune, Hung Yen province. They came here and settled down, making their livelihood with fan craft, building a temple to worship their craft ancestor at house number 4 under the name " Xuan Phien Thi" (Spring Fan Market).
The fans on the street might come from various sources like Kim Lu village ( Thai Tri, Hanoi), Hai Yen village ( Hung Yen province), or Canh Hoach village ( Thanh Oai, Hanoi). Fans came in many different kinds: paper fan, silk fan, ivory-framed fan, bamboo fan, goose-feather fan,etc.
Paper fans were artfully pricked by the needle to make beautiful patterns when spreading all its width in the light. Nowadays, Hang Quat street no longer sells fans as household switched their trade to selling altar, embroidery pictures and other stuffs for decoration. It would be a big miss without mentioning a small but well-known Bun Cha stall at number 74, which is always conspicuous with clouds of odorous meaty smoke at lunch time everyday.
5. Hang Bac Street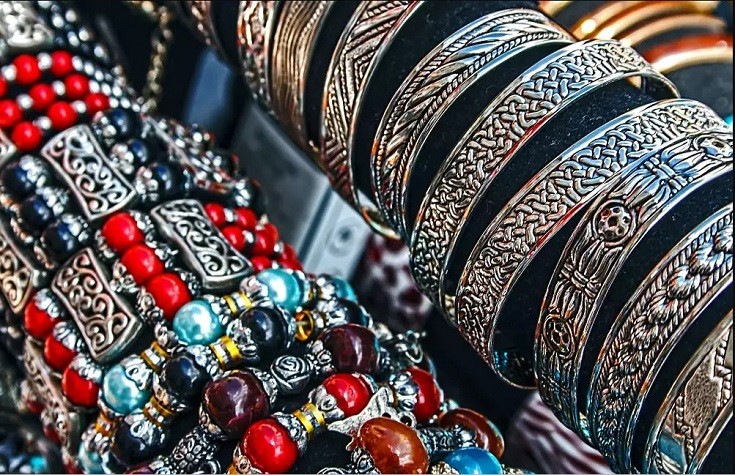 Photo: Vietnam Discovery
Hang Bac Street is one of 36 traditional trade streets in Hanoi that each featured a profession shown by its name in the past such as Hang Muoi (salt) Street selling salt, Hang Manh (curtain) Street selling bamboo curtains, Hang Duong (sugar) Street selling sugar and honey products, Hang Giay (shoe) Street selling shoes, among others. Among them, Hang Bac Street seems the "richest" one selling silver jewelry.
Hang Bac today is only about 0.5 kilometer long but hundreds of large and small shops are located here. The traditional trade of making jewelry and gold and silver products still remains from experienced craftsmen as well as their young generation who succeed the traditional trade of the family.
Although most of the shops today have been equipped with new advanced technology, some families still keep the handicraft tools of their ancestors.
Admitting the making of gold, silver and jewelry products today is now supported by modern machines and advanced technology, none of them can be compared with the sophistication and uniqueness of the jewelers' hands.
With handicraft tools, the jeweler in Hang Bac street has made many exquisite products, especially jewelry.
A variety of jewelry with diverse designs have been found here such as earrings, rings, necklaces, bracelets, ornaments and so on.
There are two main categories of products here. One is plain items such as rings, earrings and bracelets, for women or children. The other is carved ones - the most famous products of the craftsmen in Hang Bac.
There are popular decorative patterns to carve. Four Asian sacred animals (dragon, unicorn, turtle, and phoenix) are the most favourite ones. Particularly, the dragon comes with various themes, thanks to the skillful hands of the craftsmen.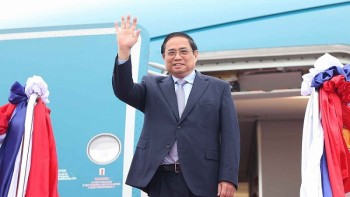 National
Vietnam News Today (Feb. 6): PM Chinh to pay official visits to Singapore, Brunei; Vietnam attends ASEAN+3 Tourism Ministers Meeting; Exports in 2023 and high demands from new generation FTAs; Digital technology to spearhead Vietnam's drive for Industry 4.0.