Famous Indian Actress Experiences Rice Noodle Making In Hanoi
Avika Go, the Indian actress who plays Anandi in the TV series "8-year-old Bride," had an experience of rice noodle making in Hanoi.
Many Indian actors and directors were on a visit to Vietnam to attend the 2023 Welcome Vietnam Festival organized by the Indian Consulate in Ho Chi Minh City. This event was held in Ho Chi Minh City, Da Lat, and Tuy Hoa (Phu Yen) from August 12 to 17.
On the afternoon of August 19, the group of artists including actors Yuvika Chaudhary, Helly Gautam Shah, actor Rahat Kazmi, Tariq Mehmood Khan, and actress Avika Gor - who is known for her role as Anandi in the "8-year-old bride" TV series - went to Hanoi and had interesting experiences about the stages of making Vietnamese hand-rolled rice noodle.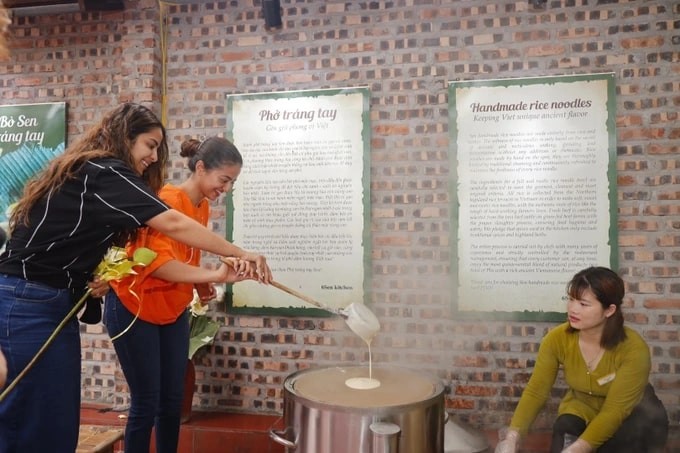 Actor Avika Gor - who plays Anandi in the movie "8-year-old Bride" (left) - and model Helly Shah (right) hand-made rice noodles in Hanoi (Photo: Organizing Committee).
"8-year-old Bride" revolves around the life of the character Anandi – one of the victims of child marriage in many poor rural areas of India. The film resonated not only in India but also in many Asian countries, gather a large international audience.
In Viet Nam, "8-year-old Bride" set a record when it broadcast 1,224 episodes and became the longest-running TV series broadcast on Vietnamese television. At the time of filming, Avika was only 11 years old, but she already showed her acting ability.
For Vietnamese audiences, she is also loved when she appears in the film "The Battle of the Brides". The 26-year-old actress also acted in some famous Indian productions such as Uyyala Jampala (2013), Cinema Choopistha Mava (2015), and Raju Gari Gadhi 3 (2019).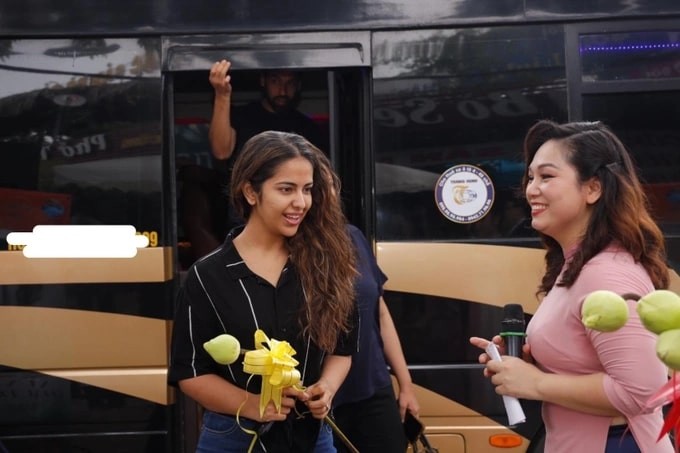 Avika Gor and Le Ha (on the right) - founders of Sen's noodle soup (Photo: Organizing Committee).
Avika was honored to receive two awards of Best Child Actor and Best Actress in a Drama category at the awards ceremony of the 8th Indian Television Academy Awards.
Avika Gor appeared with a simple look and smiled friendlily with everyone. Although she has just gone through a busy schedule when traveling to many places in Vietnam, the actress still had a lot of energy and communicated with her fans.
The actress said that Vietnamese people and landscapes are very impressive. She likes the land of Phu Yen because there are many beautiful beaches here. She hopes to have a house in Vietnam in the future and bring her family to travel often.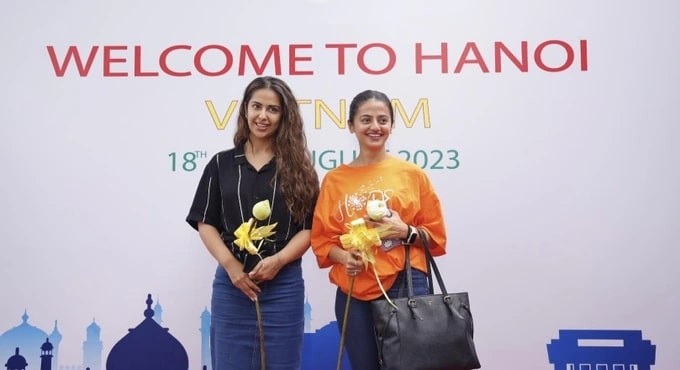 Avika Gor and Indian artists are happy to be welcomed in Hanoi. She plans to make films in Vietnam in the near future (Photo: Organizing Committee).
Le Ha - the founder of hand-coated pho - introduced the special in making traditional pho by manual method with the ingredients of rice and water. The toughness of the noodle is only based on the secret of delicate and meticulous soaking, grinding, and tempering, without the need for any additives or chemicals.
Actress Avika Gor added that in September, she will return to Vietnam with new events. She and her team are preparing a few film projects in Vietnam. Besides that, she also wants to develop a brand of cosmetics, hair care, or maybe an Indian restaurant.
About her private life, Avika is dating actor Milind Chandwani, a famous actor in the reality TV show. MTV Roadies Real Heroes. On Instagram, the couple often shows off sweet, happy moments and receives blessings from fans.
Two Actors From Famous 'Gaoranger' Visit Hanoi

Takeru Shibaki (GaoBlue) and Noboru Kaneko (GaoRed), two Japanese actors from the film "Hyakujuu Sentai Gaoranger," delighted Vietnamese fans by sharing their experiences during their ...