Famous Vietnamese poem to be adapted into TV series
One of Vietnam's most famous literary works, masterpiece Truyen Kieu (The Tale of Kieu), will be adapted into a TV series by renowned film director Luu Trong Ninh.
One of Vietnam's most famous literary works, masterpiece Truyen Kieu (The Tale of Kieu), will be adapted into a TV series by renowned film director Luu Trong Ninh.
Film director Luu Trong Ninh (L) is seen at an audition for actors for his upcoming TV series in Hanoi. (Photo: vtc.vn)
Ninh, who is known for several award-winning movies and most-watched TV series, including Ben Khong Chong (Wharf of Widows), Canh Bac (The Gamble), Hay Tha Thu Cho Em (Please Forgive Me), Doc Tinh (Give You All My Love) and Hoa Co May (Flower of Grass), recently held auditions for actors in the series in Hanoi and Ho Chi Minh City. Auditions will continue to be held in other provinces until the director finds the best cast.
Talking about the series, the 62-year-old director said he was motivated by his late father, well-known poet, writer and playwriter Luu Trong Lu.
"Actually, I never thought I would throw myself in this challenging project. However, I always kept in my mind the words my father said to me when I graduated from the University of Cinematography in the 1990s. He said, 'Ninh, do something with Truyen Kieu. It is the worthiest'."
But there is another reason that has urged Ninh to adapt the poem.
"Although we have had such a literary masterpiece for decades, Vietnamese cinema has never approached it. I am a vanguard and I may fail in this project. But I believe someone can do better after me," Ninh said.
According to him, the series will focus on the time when the tale's heroine Thúy Kieu spends a part of her life at a brothel.
"As it will reflect my own perception about Kieu and her ups and downs in life, there are several details unlike the original. I am open to feedback," he said.
The filming of the series is expected to start in June.
A scene in the play The Tale of Kieu staged by Vietnam National Drama Theater. (Photo: www.nhandan.com.vn)
The Tale of Kieu is a 3,254-line classic verse poem written in luc bat (six-eight metre), a traditional verse form of Vietnamese poetry. The poem recounts the life, trials and tribulations of Thúy Kieu, a beautiful and talented young woman who had to sacrifice herself to save her family.
The 19th-century poem, which was translated into more than 20 different languages, including French, Chinese, English, Russian and Japanese, was recognised in 1965 by the World Peace Council as one of the world's celebrated cultural works.
Its author, Nguyen Du, was also recognised by the U.N. cultural agency UNESCO as a World Cultural Celebrity in 2003.
In 1923, The Tale of Kieu was adapted into a film for the first time by the French. The movie, which cast a group of tuong (classical drama) artistes of the Quang Lạc Troupe in Hanoi, is the first feature film of Vietnamese cinema. However, it was not well received by the public. The media attributed this to the acting skills of the cast, which was similar to their performance on the stage, as well as the costumes, which were also similar to the ones from the classical dramas./.
VNF/VNS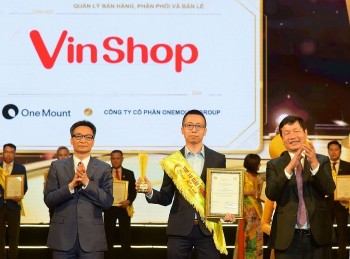 Viet's Home
The One Mount Group was recently been honored by Google as the industry's best practice in digitally transforming logistics and supply chains in 2021 at the Google Cloud Customer Award. This is also the only business in Southeast Asia to receive this award.