Festival Vietnam Promotes Vietnamese Culture at La Plagne in France
The second Vietnam Festival took place recently in the center of the town of La Plagne in the Alps, promoting the most unique cultural features of Vietnam.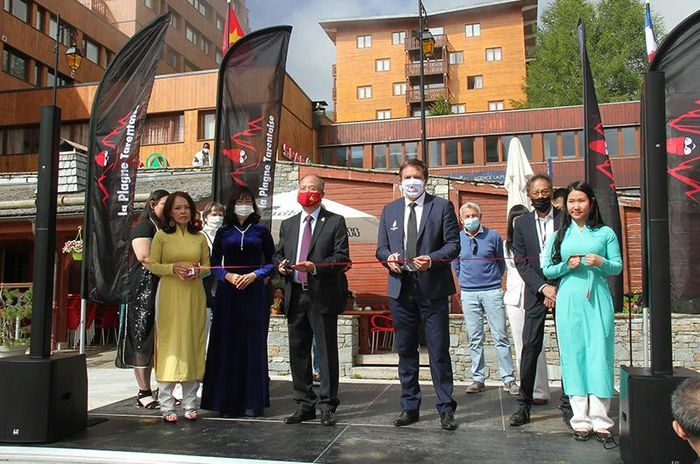 Ambassador Dinh Toan Thang and Mayor Jean-Luc Boch cut the ribbon to open the festival. Photo: NDO
The Vietnam Culture Festival is an event organized by Asia New Generation Vietnam. The festival was held for the first time in July 2019 in Lyon, France's third largest city in the Southeast. After a year of delay due to the Covid pandemic, the festival was held for the first time in an alpine region in France.
The opening ceremony was held in the central square of La Plagne town with the participation of Vietnamese Ambassador to France Dinh Toan Thang, Ambassador, Permanent Representative of Vietnam to UNESCO Le Thi Hong Van and Stephanie Do, president of the France-Vietnam Friendship Parliamentarians' Group.
The mayor of La Plagne Jean-Luc Boch expressed his delight at the presence of Vietnamese people. This is an area not only for skiing, he said, but also welcomes a lot of tourists to resort in the summer. The organization of the Vietnam Festival is of great interest to the local government and is part of a plan to develop vibrant cultural activities for the Paradiski resort. This year, Vietnam is the only and honorable guest from the Asia region.
Introducing Vietnamese products at the festival. Photo: NDO
Speaking at the opening ceremony of the festival, Ambassador Dinh Toan Thang emphasized that Vietnam and France had many historical and cultural ties. Leaders and people of the two countries always want to strengthen cooperation and friendship.
According to Ambassador Dinh Toan Thang, in recent years, cooperation between localities of the two countries has been continuously expanded and has become a defining feature of Vietnam-France relations. Therefore, the Ambassador said he appreciated La Plagne town government's decision to host the Vietnam Cultural Festival. Residents as well as tourists come here to enjoy the fresh air of the mountains and forests, and can learn about the culture, country and people of Vietnam. Such activities will help open up many opportunities to strengthen cooperation and friendship at both local and national levels.
During the festival, people in La Plagne and tourists can participate in activities imbued with Vietnamese national identity such as lion dancing, ao dai performances, water puppet shows, handicrafts and traditional martial arts. The food court is an indispensable part of the festival, and always attracts a large number of guests.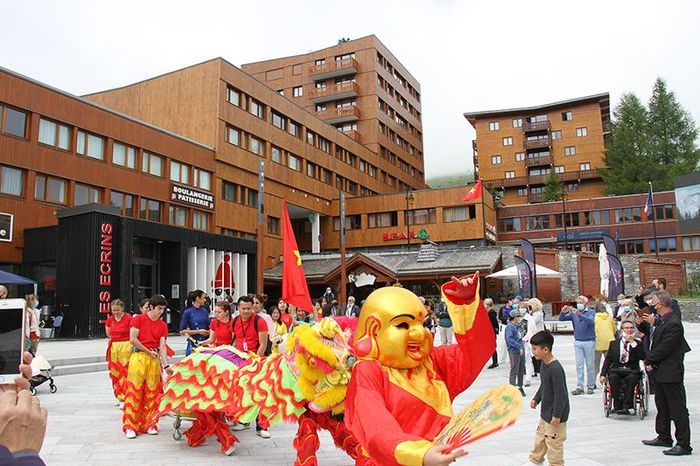 La Plagne town square is vibrant with Vietnamese cultural performances. Photo: NDO
On the afternoon of July 16 at the Tourist Information Center of La Plagne Tarentaise town, Mayor Jean-Luc Boch received the delegation of the Embassy and representative agencies of Vietnam in France led by Ambassador Dinh Toan Thang.
At the meeting, Mayor Jean-Luc Boch expressed his desire to connect and seek cooperation opportunities with cities and localities of Vietnam. He believes that such cooperation, if agreed in principle, will be implemented "quickly and in the long term."
Ambassador Dinh Toan Thang said that with its potential and strengths, La Plagne Tarentaise had many prospects to cooperate with localities in Vietnam, sharing experiences in developing commercial and tourism services, planning resorts and training human resources in this field.
Located 2,000 meters above sea level, La Plagne Tarentaise is a mountain town in the Savoie region in southeastern France, in the majestic Alps. With a population of 3,700 people, living in 12 villages with a total area of 19 square kilometers, this town is famous as the largest winter sports resort in the world.
Not only skiing in the winter, the town is also home to many summer sports and resort activities such as walking, sailing, cycling, paragliding. Not only that, La Plagne Tarentaise also attracts visitors with its natural beauty, rich history, cultural diversity and cuisine.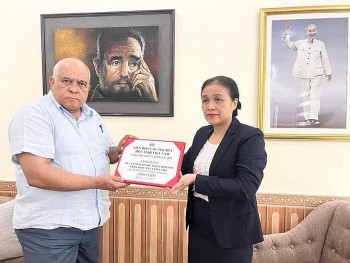 Focus
According to Cuba's News Agency Prensa Latina, on August 16, President of Vietnam Union of Friendship Organizations Nguyen Phuong Nga said that Vietnamese people will always stand by and support Cuba no matter what difficulties our friend is facing.