Fireflies Abound in Cuc Phuong National Park
Young photographer Nguyen Huu Thong captures a natural show in Cuc Phuong National Park.
Visitors can go to Cuc Phuong National Park to see a magical dance of friendly fireflies. In the summer, when the sun disappears behind the forest trees and night falls, the fireflies begin to "dance".
Nguyen Huu Thong (born 1987) from Tien Son, Viet Yen, Bac Giang is a photographer, specializing in life in the Northern mountainous areas. He has won over 40 domestic and international awards. Thong also shoots portrait and landscape photos. Recently, his photo series of fireflies in Cuc Phuong made a deep impression on netizens.
Cuc Phuong National Park was established in 1962. It is located 120 km south of Hanoi, in the territory of three provinces of Ninh Binh, Hoa Binh and Thanh Hoa, with a total area of ​​22,408 hectares deep in the Tam Diep mountain range. Cuc Phuong has become an ideal eco-tourism destination for tourists because of its natural landscape and biodiversity.
In the summer from April to August, the weather is mostly sunny, suitable for watching insects. The forest corner in Bong hamlet, located 20 km from the gate, is a spot to view and take pictures of fireflies.
The blinking light of fireflies around the ancient tree. Thong dedicatedly took this photo series with the support of photographers from Japan and Bulgaria.
"In 2020, I and my team carried out the shooting location survey. In 2021, I went to shoot photos 3 times, but the first photo series was not good enough, it was rainy at the second time so we couldn't take photos, and we completed the photos at the third time", said Thong.
The dim light in a corner of the forest. These "flying stars" create an enchanting space, like in a light festival or in a fairy forest.
Fireflies "dance" near puddles, around dead tree stumps in the forest
"The challenge of taking the photos is to know the behaviour of fireflies. They often show up in deserted places where is far from human habitation," said the young photographer.
Fireflies are soft-bodied insects. They have a pair of hardened wing cases like other beetles. They can glow yellow-green light due to a special chemical reaction in their abdomens. Fireflies light up to lure prey and more importantly, to attract partners during the mating season.
While exploring fireflies in Cuc Phuong National Park, photographers can also capture the Milky Way on clear and moonless nights.
The Milky Way combines the light of fireflies on the grass.
To observe fireflies, visitors must follow basic rules including no music, no insect repellent, no lights and no mobile phone use as artificial light will affect the light show.
It is necessary to equip a tripod, a wide-angle lens camera, a large aperture setting and exposure photography techniques to capture fireflies. Currently, the use of pesticides and rapid urbanization have led to a sharp decrease in the number of fireflies in Vietnam.
"I want to bring the magical light of fireflies and raise awareness of environmental protection through this photo series", Thong said.
Source: VnExpress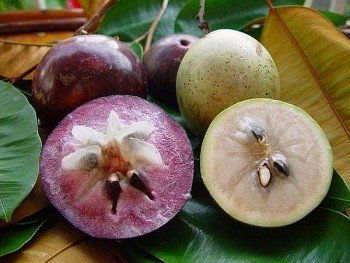 Travel
In 2022, Vietnam Record Association nominates 5 most famous and unique specialties, including Lo Ren star apple (Tien Giang), Luc Ngan lychee (Bac Giang), Khanh Hoa Salangane nest, Ly Son garlic, and Phu Quoc sim wine, to promote the value of Vietnamese cuisine and specialties to the world.