"Going Home" - Animal release debuts at Cuc Phuong National Park
"Going home" - a newly-launched free tour would allow tourists to release animals back into the Cuc Phuong National Park forest, and to help spreading the message of nature conservation widely among the people.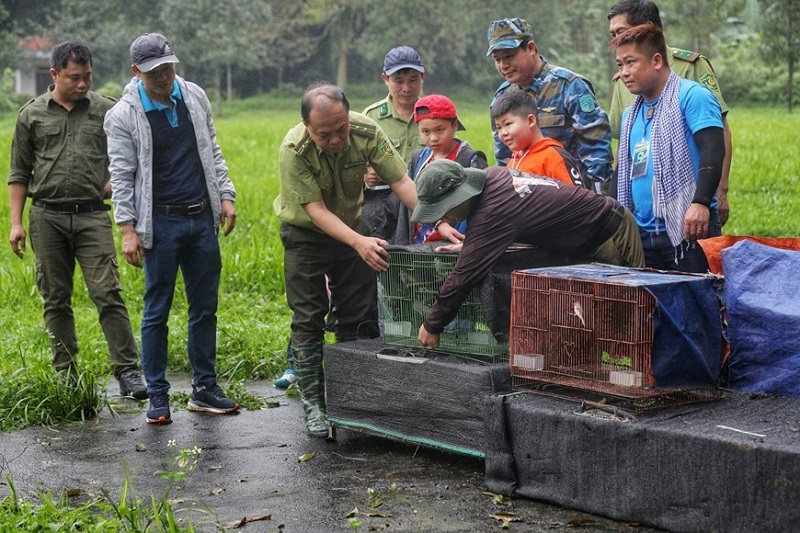 Cuc Phuong National Park's activity of releasing the rescued wildlife back to nature is introduced for the first time. Photo: VNA
Each visitor to Cuc Phuong National Park will become an "ambassador" to help the national reserve to spread the message of nature conservation widely among the people.
Cuc Phuong National Park (in Ninh Binh province) has recently launched the "Going Home"- the first ever tour service of its kind in Vietnam that allow tourists to release rescued animals back to nature by themselves, according to Hanoitimes.
On the first day of the service inauguration on March 20, some visitors to the Cuc Phuong National Park were invited to participate in the release of 92 individuals of 17 wildlife species to their wild home.
Among them, there are many pythons, snakes, birds and monkeys rescued from illegal wildlife trade and transport in the area. After being rescued, cared for and trained to restore their wild instincts, all these healthy animals will be freed and sent back to the primary forest at Cuc Phuong National Park.
Over the years, thousands of wild animals of different species have been released to nature in Cuc Phuong primary forest and many other national parks and nature reserves across the country. However, for the first time, this exciting experience is presented to visitors.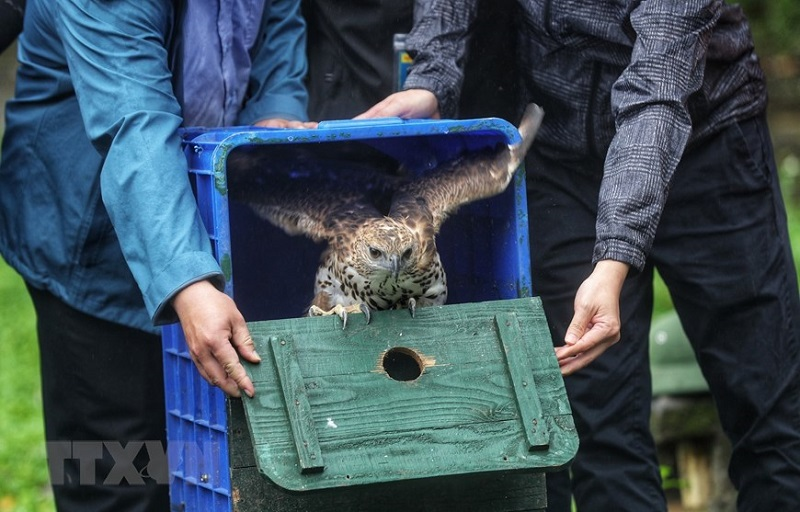 The moment which a wild animal is released to the nature will bring a positive feeling to people. Photo: VNA.
On March 20, about 50 tourists, including reporters and families, participated in the release of 92 animals from 17 species.
Pham Kien Cuong, director of the Center for Environmental Education and Service in Cuc Phuong National Park, said in the past, release drives had taken place in secret to avoid animals being recaptured.
Thanks to tightened management and stricter penalties, the park has recently decided to allow visitor participation to raise awareness on the protection of wild animals and primary forests, VnExpress reported.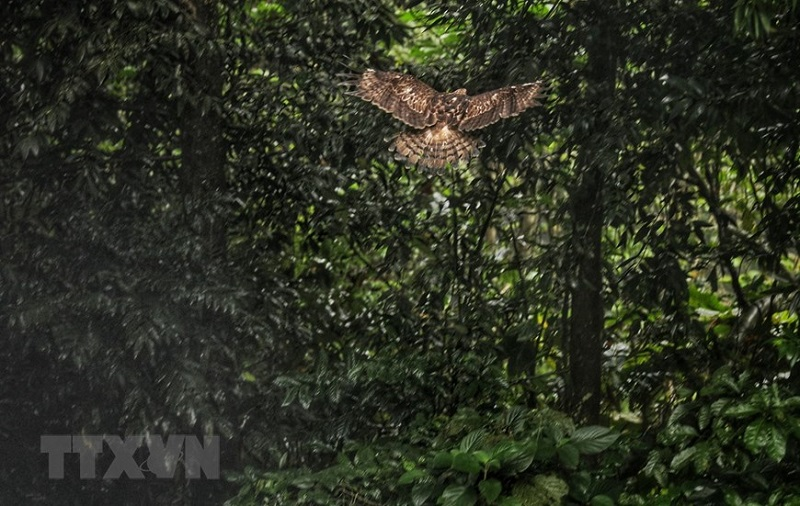 It is the time for flying home. Photo: VNA
The national park covers an area of 22,408 hectares with mainly tropical rain forest. It is the natural habitat of 300 species of birds, 110 species of reptiles and amphibians, 65 species of fish, nearly 2,000 species of insects and 117 species of mammals.
Tourist activities available here include primary forest trekking, ecotourism, and wildlife viewing tours at night.
Cuc Phuong National Park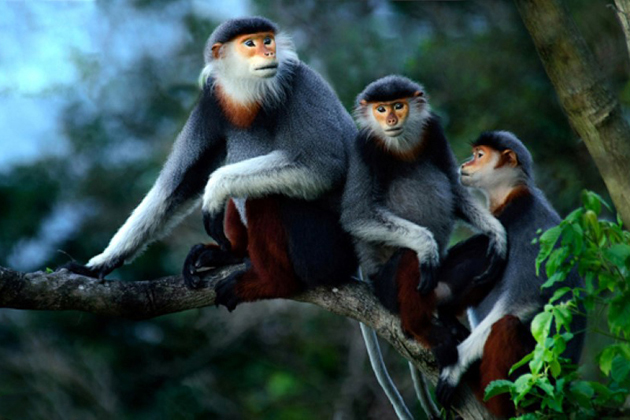 Photo: Internet
Established in 1962, Cuc Phuong is the oldest national park in Vietnam. The park is located around 120km southwest from Hanoi and nestled in the conjunction of three provinces of Ninh Binh, Hoa Binh and Thanh Hoa.
Cuc Phuong Park boasts an engaging cultural and wildlife heritage and enchanting scenery with magnificent limestone mountains rise up majestically from the green rice-terraces and traditional stilt houses of the Muong ethnic minority people.
Covered in a dense forest, this landscape forms the habitat for some of Asia's rarest animal and plant species. It is no wonder that researchers, naturalists, enthusiasts and conservationists alike are drawn to this corner of the world.
A falcon released into the wild in Cuc Phuong National Park on March 20, 2021. Photo by VnExpress/Ngoc Thanh.
Cuc Phuong has the area of 22.000 hectares, of which three quarters are limestone with height from 300 meters to 600 meters above sea level. Here, there has May Bac mount with 648.2 meters. The climate in Cuc Phuong is kind of tropical monsoon climate, average annual temperature about 24.70C. Especially, there have many caves, beautiful landscape and historical natural remnants such as: Trang Khuyet Cave, Chua Cave, Thuy Tien Cave, Nguoi Xua, Cave, Con Moong grotto, San Ho Cave…
In the Park, there has hot spring 380C. The flora is various with 1.944 species. Diverse fauna includes 71 species of mammals, 300 species of birds, 33 reptiles and 16 amphibians. Besides, there has many animals such as: bears, horses, boars, tigers, leopards, ferrets, squirrels, monkeys… The half natural breeding area has deer, yellow monkey, Delacour's langur and flying squirrel… which serves the research of scientists and tourists can have opportunity to see animals as in the nature. Cuc Phuong is also the home of hundreds of birds, beautiful and strange butterflies.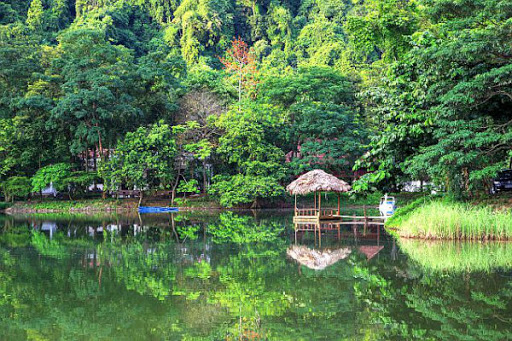 Photo: Hanoi Green Tour
Currently, Cuc Phuong National Park has become a center providing rare plant species have high economic value for serving forestation programs in the region and the nation-wide. This place has the national breeding for the species. In the future, Cuc Phuong will built and expand experimental basis to provide more varieties of medicinal plants, rare plants to areas.
The best time to explore Cuc Phuong National Park is in the dry season, from December to April. The way lead to Cuc Phuong National Park is very convenient. An old-growth forest with tropical forest ecosystem diversity are protected, it also located on the route of many attractions such as: Bich Dong, the ancient capital of Hoa Lu, Sam Son beach… attract many tourists and scientists coming to visit and research. In the Park, there have a number of programs such as hiking, adventurous travel, climbing…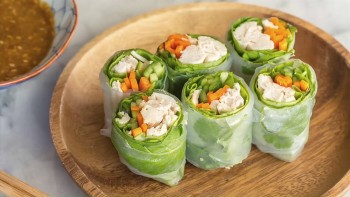 Travel
Rolls are a easy-to-make dish that is loved by many Vietnamese diners as well as Korean stars.