Top ten most stunning national parks in Vietnam
The Culture Trip, a London-based website providing travel rating and tourism recommendation, has recently published an article featuring ten best national parks in Vietnam.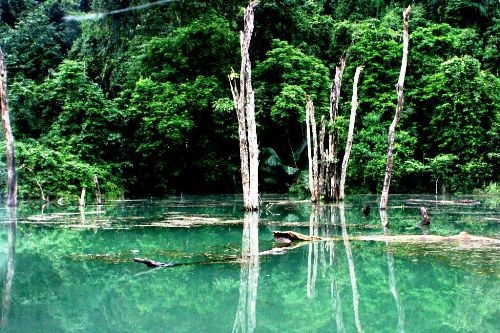 Cuc Phuong National Park in Ninh Binh province is one of ten most stunning national parks in Vietnam. Photo VOV
Vietnam is famous for not only its high-ranking beaches but also for the national park system which impresses a lot of international tourists. Let's take a look at ten best national parks mentioned in a recent article of The Culture Trip.
Sam Roth, the article writer, described national parks in Vietnam through the images of limestone peaks which fall over meandering rivers, and snaking caverns twist into dense jungle canopy.
"This is nature at its best in Southeast Asia," he said.
Phong Nha-Ke Bang National Park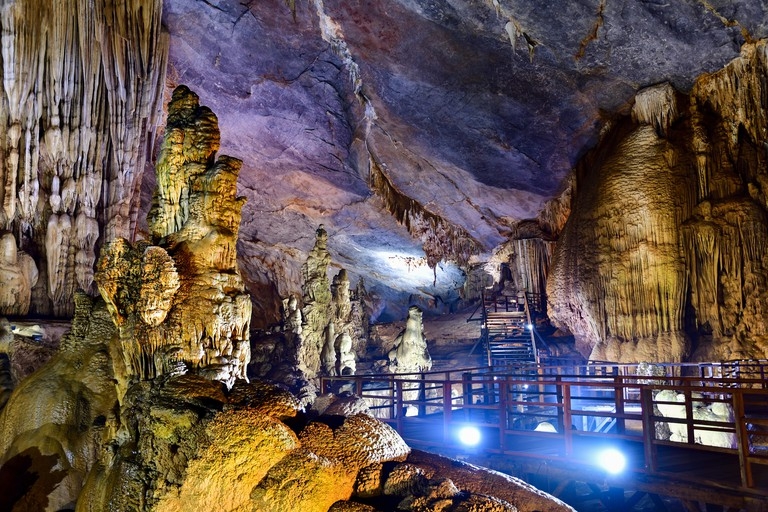 Photo The Culture Trip
Phong Nha-Ke Bang National Park is located in the middle of the Annamite Mountain Range in central Quang Binh province and home to some of the largest caves in the world.
According to the Culture Trip, the national park is "perhaps the most naturally stunning and well-preserved area in all of Vietnam".
The park shares a border with Hin Namno Nature Reserve in Laos, covers an area of nearly 900sqkm (347sqmi) and is often a stop for those following the Ho Chi Minh Highway.
Many of the caves in Phong Nha-Ke Bang national park are open to tourists. Son Doong cave is the world's largest cave. Hang En cave is the world's third largest. The cave's stalactites are masterpiece of nature's art. It is a complicated business to explore these two extraordinary caves.
Son Doong cave. Photo CNN
"Gibbons and macaques roam the forests, yet it's the sprawling karst cave systems that have earned Phong Nha a spot on the UNESCO World Heritage list. Hundreds of miles of underground labyrinths run beneath limestone giants as they tower towards the sky," Sam Roth wrote.
Phu Quoc National Park
A gem nestled in the northwest corner of the most popular and unfortunately most overdeveloped island in Vietnam, Phu Quoc is home to more than 1,000 species of plants and 200 species of animals. Increasingly rare old-growth forests run throughout the park, and dipterocarp trees climb to over 30m (100ft) in height.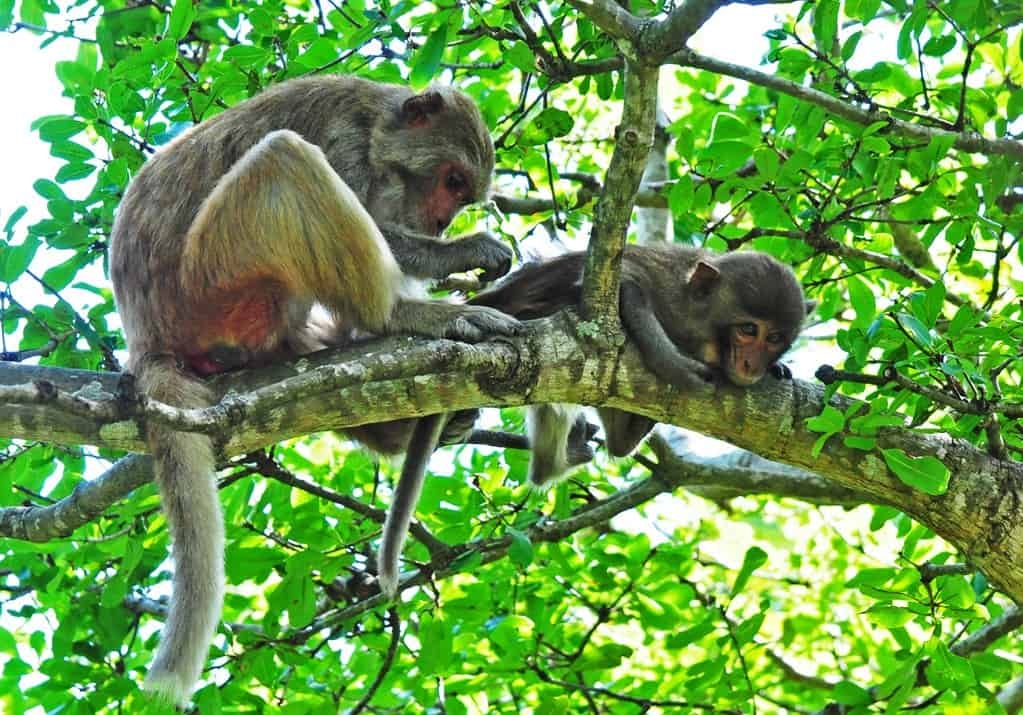 Photo Vietnam Discovery
Hiking and camping are easily accessible from Ganh Dau village. There are 2 trekking trails available for you to choose. Ganh Dau Trail is considered to be the simplest and most popular trail in Phu Quoc as the entrance is seen clearly and you can explore by motorbike or even on foot. Along the 5-km long trail, you will also have a chance to witness the beauty of Ganh Dau fishing village, which is famous for fish sauce throughout the country.
Meanwhile, Phu Quoc National Park Trail is narrower and is covered with lots of trees. It is suitable for morning trail.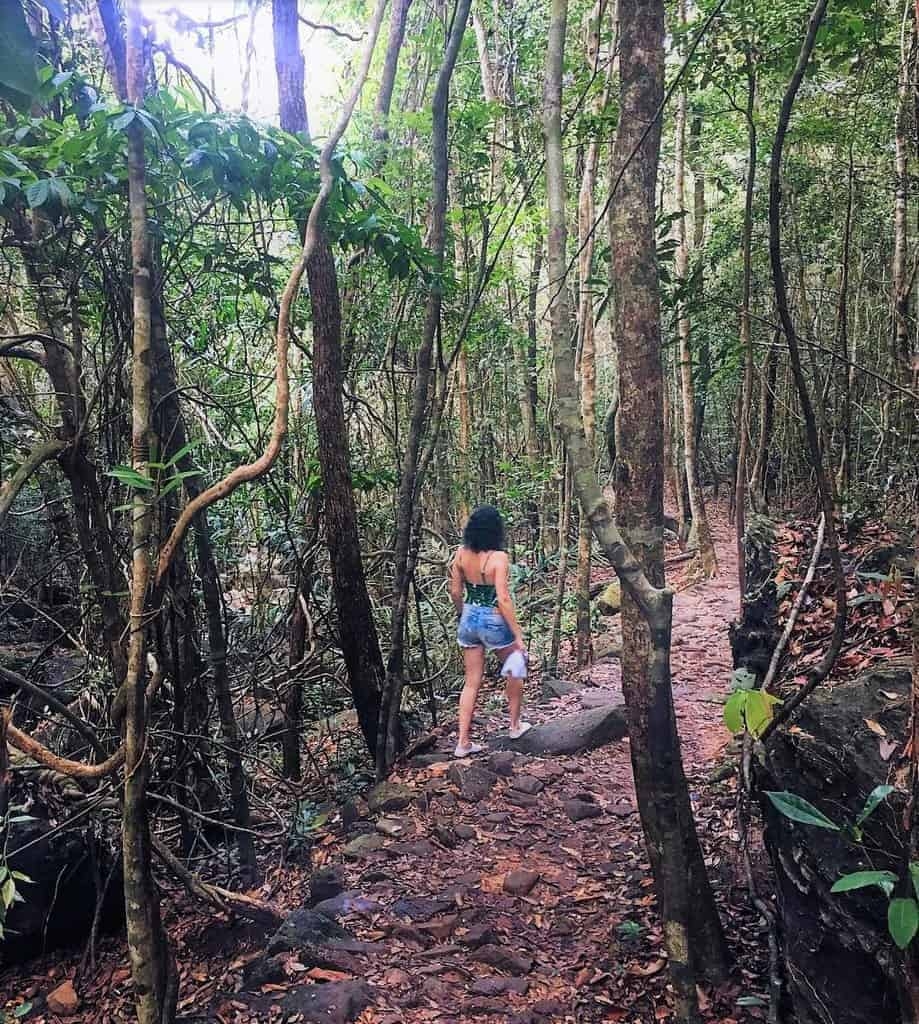 A trekking trail at Phu Quoc National Park. Photo Vietnam Discovery
Tips when traveling to Phu Quoc National Park:
-Make a careful plan before taking a trip to Phu Quoc National Park
-Bring necessary equipment with you such as water, sunscreen, protective tools and well-equipped first aid kit along your track.
Once coming to visit Phu Quoc island and Phu Quoc national park, you should not skip some of the most typical food:
1. Ken Noodles
This may be a unique food that you can't find anywhere outside Phu Quoc. The special broth is made of fish broth, shredded fish, curry powder and coconut milk. A completed bowl of Ken noodles will include thin noodles, bean sprouts, sliced cucumber, raw papaya, cilantro, basil and a little bit of fish sauce.
2. Raw Herring Salad
So as to make this dish, people will mix sliced raw herring, shredded coconut with onion and mint. Next, wrap them with fresh vegetables in the rice paper. The sauce to dip the food is made of authentic Phu Quoc fish sauce along with chopped chilli, roasted peanuts, shallots and garlic. People can also squeeze lemon on the fish to enhance the flavor.
3. Slipper Lobster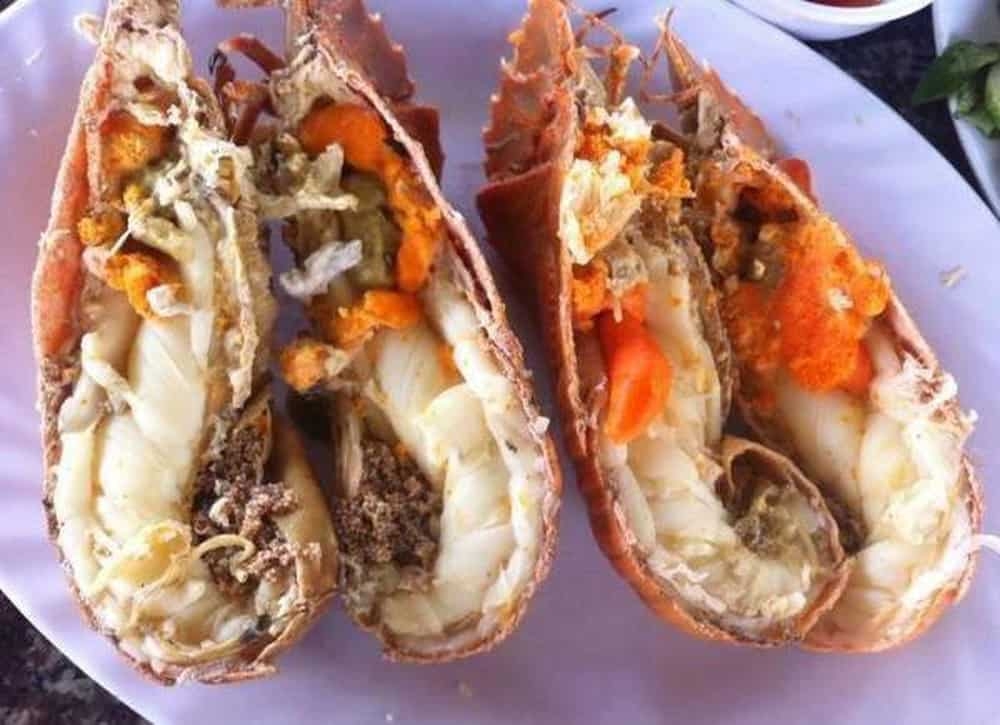 Photo Vietnam Discovery
There are 2 ways to make this dish. The first way is to boil the lobster to enjoy the freshness and sweetness of its thick meat and delectable fragrance when eaten with a combination of lime juice and black pepper salt. The second one is to grill the lobster with cheese, then stir-fry it with garlic, butter and spring onion.
Nui Chua National Park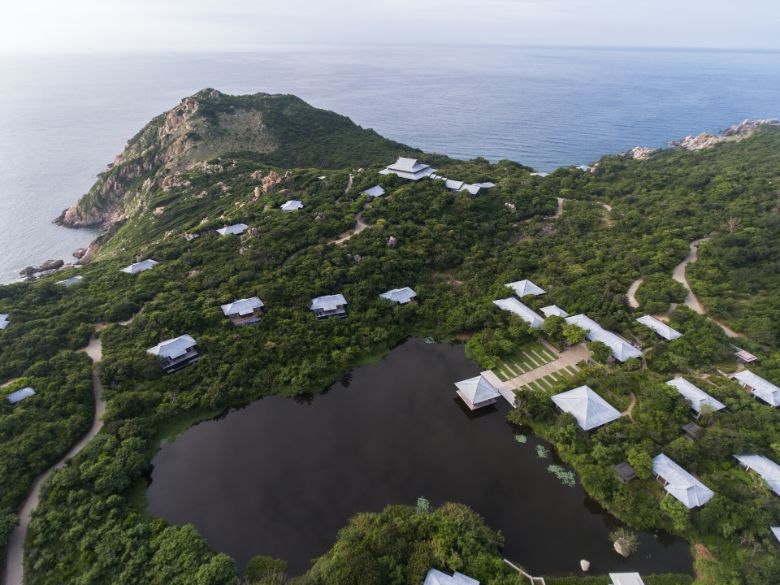 Photo Meetings and Conventions Asia
Nui Chua is set on the eastern edge of the Annamite Mountains, overlooking one of the cleanest and best preserved stretches of coastline on the East Sea. The region, like much of Vietnam, is best visited by motorbike and is fringed by one of the most beautiful coastal roads in the country. Within the confines of the semi-arid park, bears and primates roam the hillsides, while bats and birds soar through the skies. The shoreline is of particular importance as it's home to the nesting grounds of a number of endangered turtle species.
Cat Tien National Park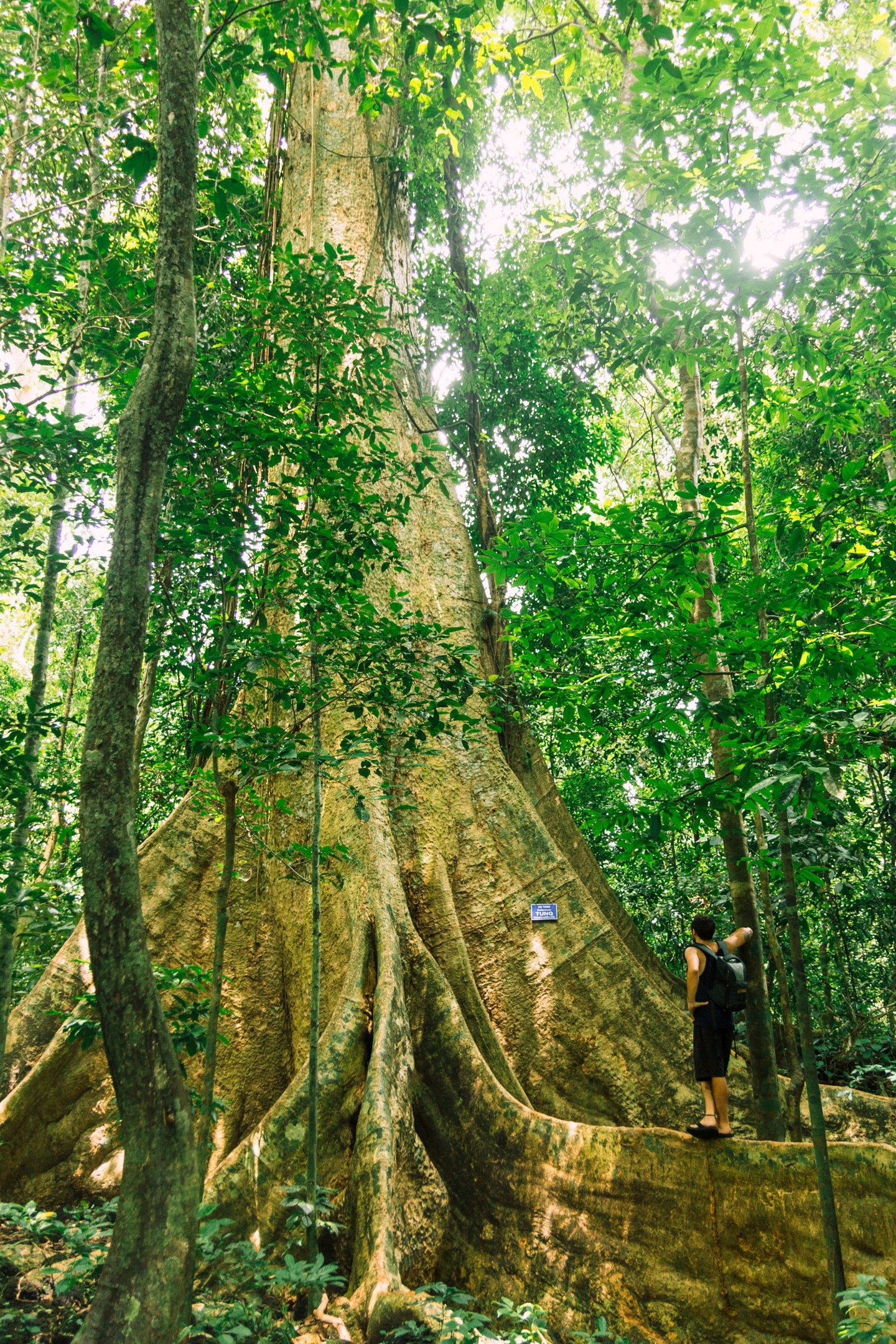 Photo The Culture Trip
Cat Tien is the closest national park to Ho Chi Minh City and an oft-overlooked gem. The lowland forests are the largest and most important in the country, home to gibbon, deer and wild boar. The nature trails are extensive and well maintained, and most can be completed without a guide and on bicycle. An excellent variety of lodging, from campsites to riverside bungalows, makes the park a great place to escape from the concrete madness of Saigon.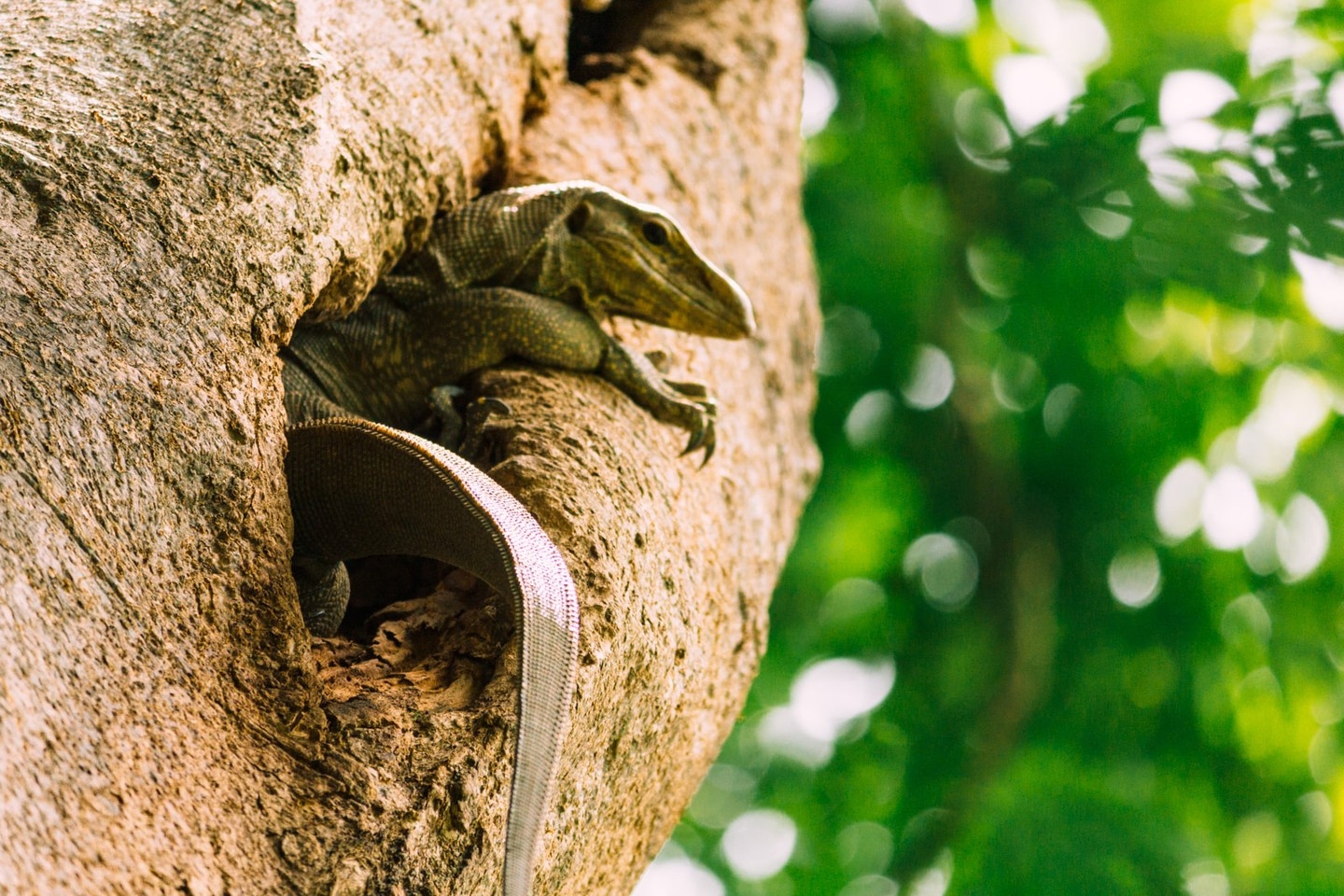 Photo The Culture Trip
A guide to visit Cat Tien National Park

Located north-east of Ho Chi Minh City, the park can be reached in 3-4 hours by car. Visitors can stay overnight, or for a number of nights, in accommodation that ranges from simple bamboo huts to luxurious lodges. Much of the accommodation is set amid the forest itself, providing ample opportunities for watching the park's many wild inhabitants.

With such an array of wild inhabitants, it's easy to assume that Cat Tien National Park is only of interest to wildlife-lovers, but this is definitely not the case. The park provides ample actives for adventure-lovers, including some of the best trekking, biking and boat trips in south Vietnam. For those who enjoy learning about foreign culture, there are also a number of local communities living within the National Park that can be visited, including the Chau Ma and Stieng people.
Cat Ba National Park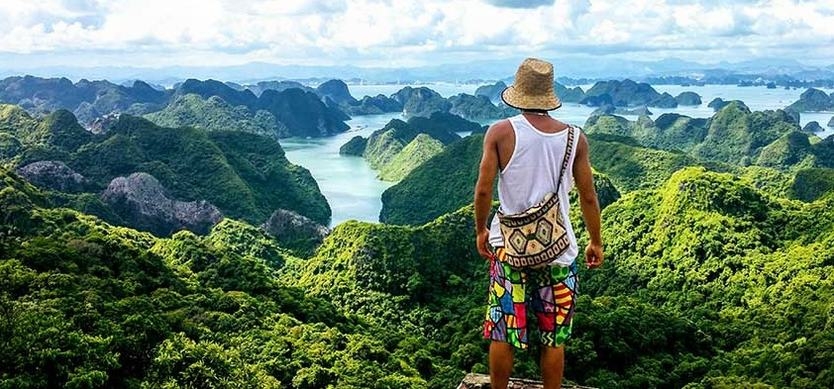 Photo Vietnam Group Tour
Floating in a sea of limestone peaks, Cat Ba serves as a focal point of iconic Ha Long Bay. It should be a stop on any northern excursion. Much of the region resembles something out of Jurassic Park, as jungles shoot skywards into the mist. A number of beautiful treks of moderate difficulty lie in the confines of the park. Cat Ba is also home to the majority of the world's remaining white-headed langurs.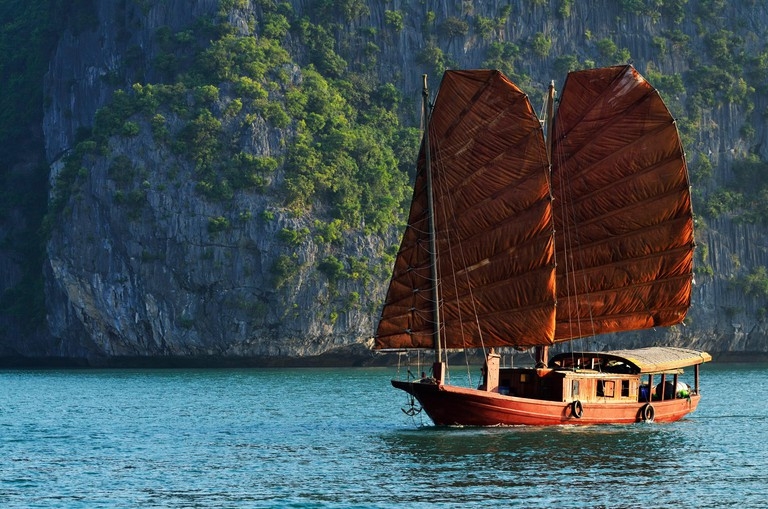 Photo The Culture Trip
How to get to Cat Ba National Park
From Hanoi
The easiest way to travel from Hanoi to Cat Ba is by bus. Daily buses are departing from Hanoi, and the journey takes approximately 3.5 to 4 hours.
From Hai Phong
There are frequent ferries traveling from Hai Phong to Cat Ba island. You can book online ferry tickets.
From Cat Ba town
Getting to Cat Ba National Park is very easy.
You should rent a scooter from our hotel, and the road trip was fantastic. Following Nui Ngoc street back to the middle Cat Ba road, the beautiful scenery opened in front of our eyes.
If you cannot ride a bike, you can hire a local bike driver for a day.
Cat Ba National Park entrance fee
The ticket price for Cat Ba national park is 80,000 VND for adult and 60,000 VND for a child.
What to pack
Below are some items that I highly recommend that you should have:
Water
Good hiking shoes
Insect repellent
First aid kit
Ba Be National Park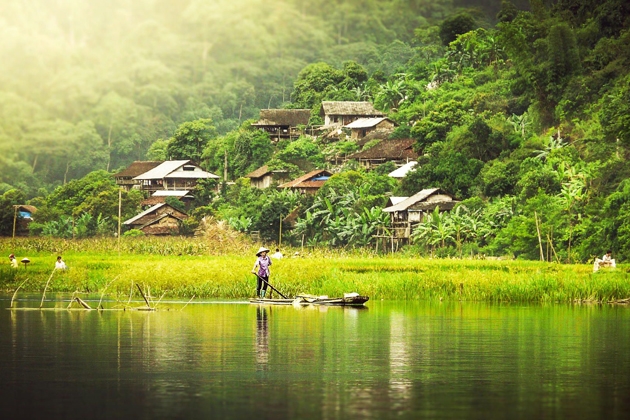 Photo Viet Vision Travel
Ba Be National Park is home to a number of ethnic minorities, including the Tay, Dao and Hmong, and offers travellers the opportunity to experience life in traditional homestays. The park is made of towering limestone mounts that crash down to pounding waterfalls before settling in Ba Be lake, the largest in Vietnam.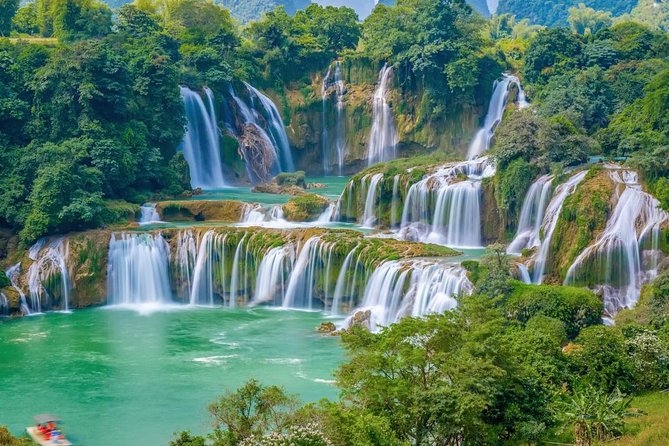 Photo Lonely Planet
Trekking in the region is superb and can be arranged via most homestays or guesthouses. Cavernous limestone grottos, hidden along the water's edge, should be explored by boat as well.
Yok Don National Park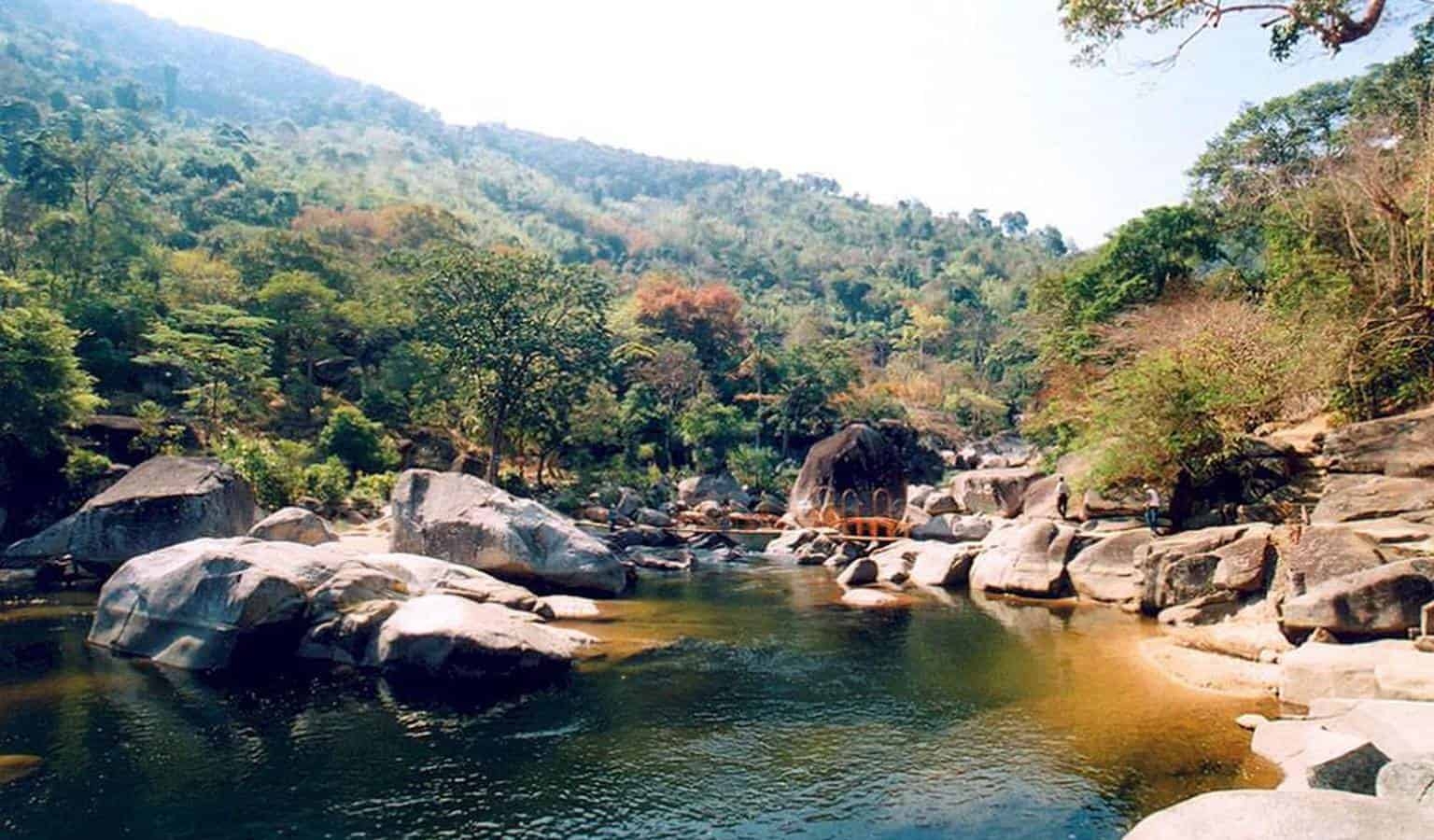 Photo Vietnam Discovery
The largest of all the national parks in Vietnam, Yok Don also happens to be home to some of the last remaining wild elephants and leopards in the country. However, over the years, poaching and illegal logging have decimated their populations, dropping the chances of seeing one to pretty much zero. Nevertheless, the park retains an off-the-beaten-track feel and is seldom visited by foreign tourists. Guided day and overnight treks through the dry forests are a great way to see it all.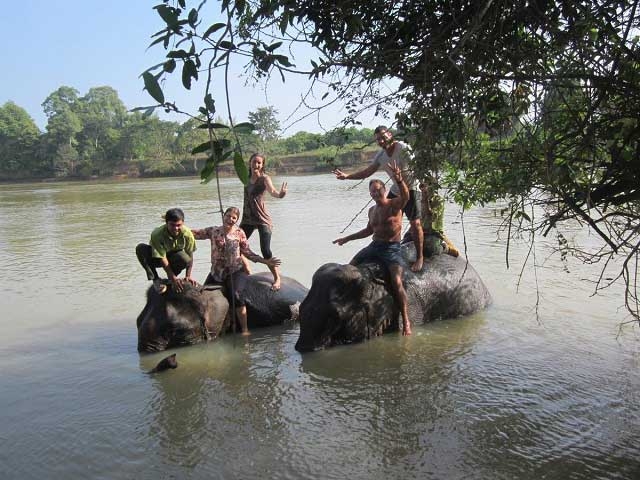 Rising elephants is a must-try activity at Yok Don National Park. Photo Threeland Travel
Cuc Phuong National Park
Cuc Phuong is one of the most accessible parks Vietnam has to offer, lying just over 100km (62mi) from Hanoi. The region can be explored on foot, motorbike or bicycle and is best travelled over two or three days. Minority villages dot the lands and can be visited on a number of guided treks. The park is also home to a vast array of flora and fauna, including some of the most endangered turtles in Thailand.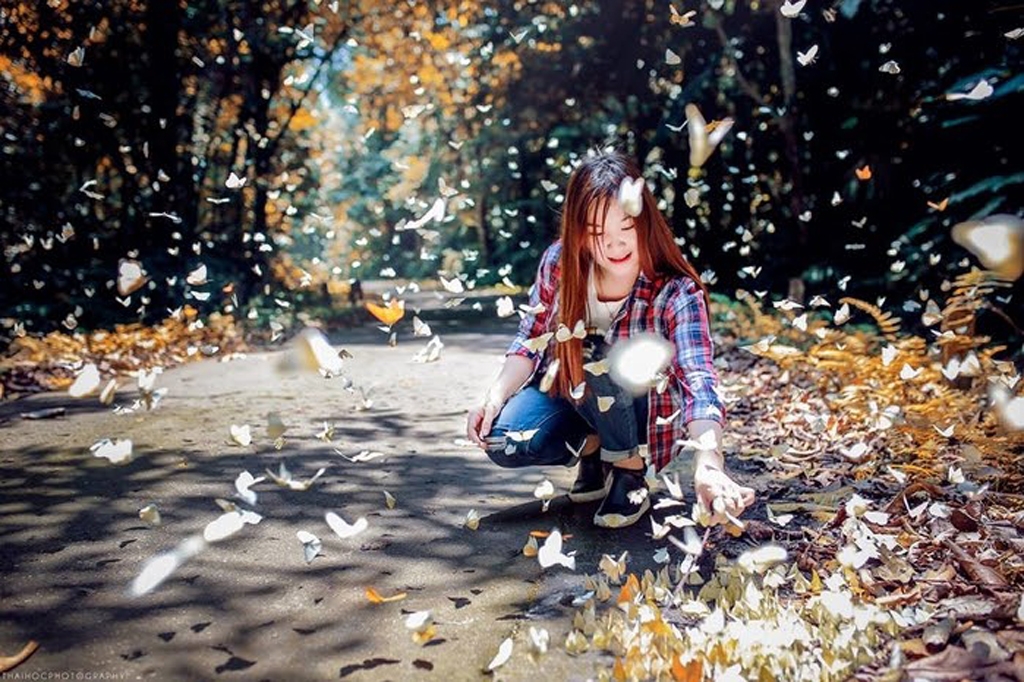 Photo Vietnam Tourism
This year The Cuc Phuong National Park in the northern province of Ninh Binh has been named Asia's Leading Destination by the World Travel Awards for the second consecutive year.
The ideal time for visitors to explore the Cuc Phuong National Park is in the dry season (from November to May next year). Especially in April or May, visitors will have an opportunity to get a better view of colourful butterflies with more than 400 species.
With its rich and diverse ecosystem, the Cuc Phuong National Park has become a popular destination among domestic and foreign tourists in the past few years.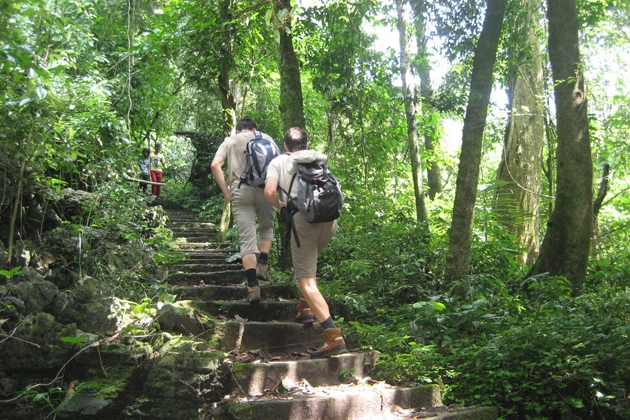 Photo Viet Vision Travel
Con Dao National Park
In a country experiencing rapid growth and popularity, it's no real surprise that pristine natural areas are diminishing by the day. Con Dao National Park remains an outlier. Located 80km (50mi) out into the East Sea, this unblemished archipelago of green is reached by ferry from the Mekong or via plane from Ho Chi Minh City. The national park lies on the main island, Con Son, and encompasses some of the most untouched coral reefs and white-sand beaches in the country. Endangered sea turtles nest along the shorelines, while the strange and friendly dugong, a cousin of the manatee, lounges in the clear waters of the park.
Photo The Culture Trip
Con Dao has the influence of the tropical climate. The weather here is divided into two distinct seasons is the rainy season and the dry season. The rainy season usually takes place from May to October while the dry season lasts from November to April next year.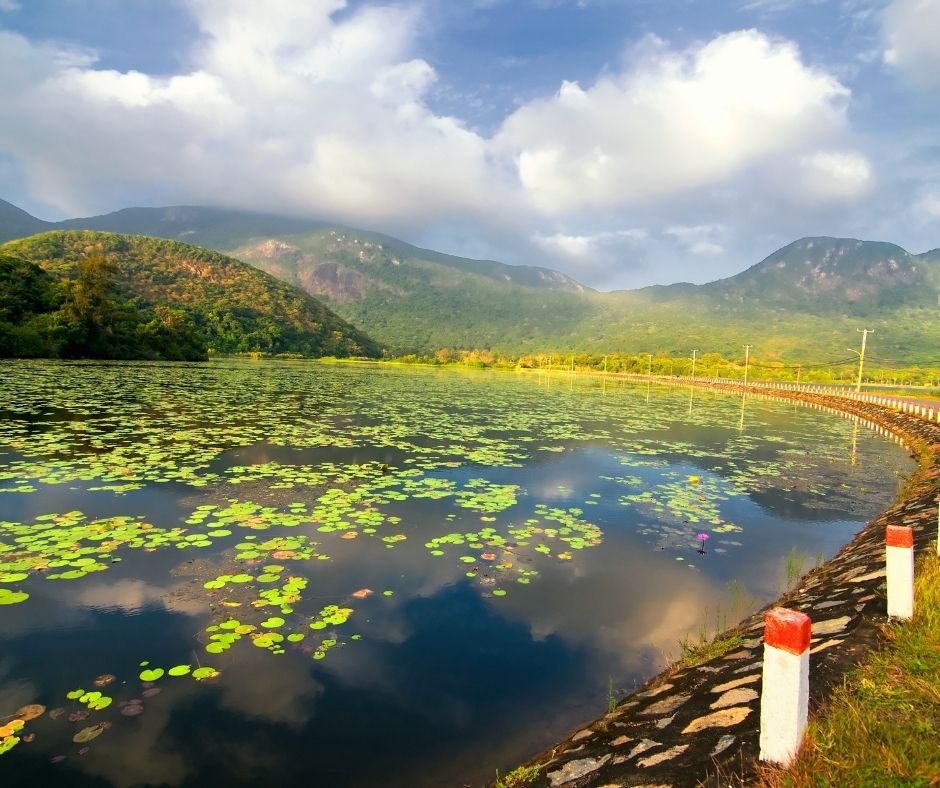 Photo Origin Vietnam
According to the experience of visiting Con Dao National Park, you should come here in the period from April to October every year. Although this is the rainy season, the sea in Con Dao is quite mild and the weather is cool. In particular, you also have the opportunity to see turtles lay eggs that are extremely interesting for the island trip.
Entrance fee to visit the national park: 60,000 VND each person
Bach Ma National Park
Location: Phu Loc, Thua Thien Hue
Entrance fee: VND40,000 (US$1.7) per person
Bach Ma lies hidden just west of the imperial capital of Hue, near the central coast of Vietnam. Dilapidated French villas, overrun by pine forests, peer out through the wilderness as mile-high peaks float in the distance. The park is home to some of the most dense and pristine ribbons of jungle in central Vietnam.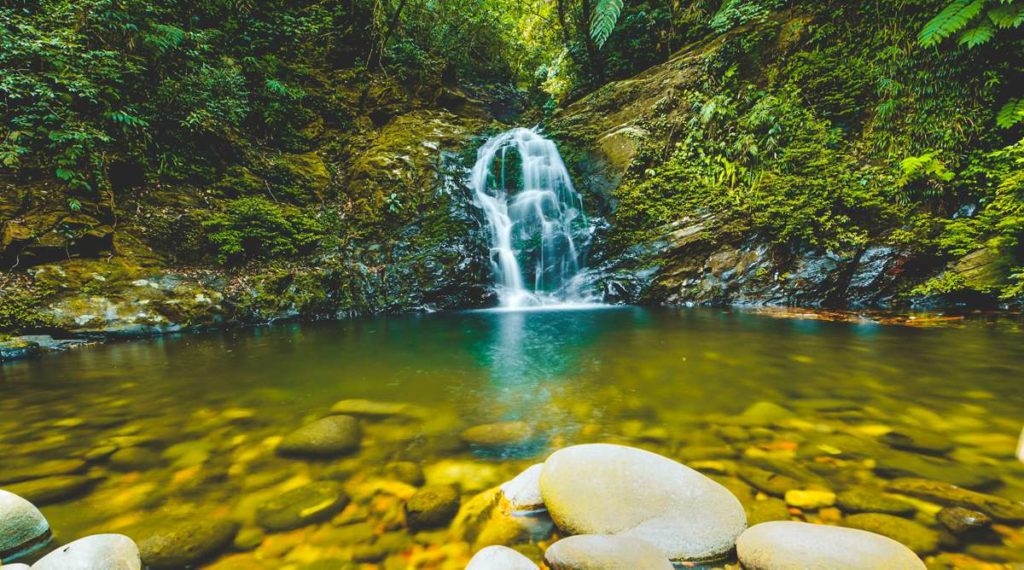 Ngo Ho lake in Bach Ma National Park. Visitors can have a swim in the lake to cool off during their trekking. Photo Local Vietnam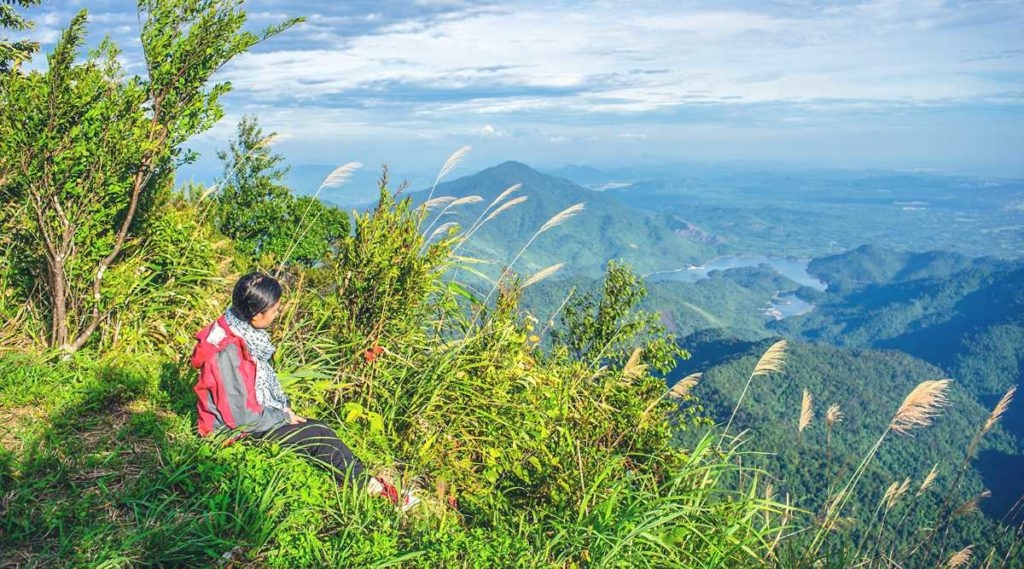 Photo Local Vietnam
Best time to visit
Bach Ma National Park is a forest with a great collection of animal species, therefore, the best time to explore is from December to April (dry season). This period has low rainfall offering the perfect stretch of jungle walk.
How to get to Bach Ma National Park?
Bach Ma National Park is halfway between Da Nang and Hue, therefore it is easily accessible from both cities. Most popular is taking a tour to Bach Ma National Park, because there is no hassle of getting there and it include a guide that can you you the best trails. If you like riding motorbike, you can rent one, which is a good way to explore the area. If you are staying in Hue, you may consider finding those rental shops along Hung Vuong Street. Another option is going by tour.
Getting around Bach Ma National Park
You can rent a 4WD at the entrance if you do not have your own transport. Motorbikes and cyclists are not allowed to ride the entire route. If you are on foot you must inform well in advance how long a certain hike will last. Always bring enough water.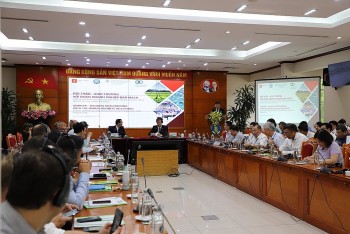 National
A Danish agriculture and food delegation visited Hanoi and Ho Chi Minh City on August 16-19 to exchange opportunities for cooperation and making business with their Vietnamese potential partners.