First Shipment of Vietnamese Cao Phong Oranges Departs to UK
RYB Joint Stock Company, Cao Phong Hoa Binh Liability One Member Limited Company held a ceremony to export the first shipment of Cao Phong oranges to the UK, weighing nearly 7 tons.
On January 5, the People's Committee of Cao Phong district in collaboration with Hoa Binh's Department of Agriculture and Rural Development, RYB Joint Stock Company, and Cao Phong Hoa Binh Liability One Member Limited Company held a ceremony to depart the first shipment of Cao Phong to the UK.
At the ceremony, Deputy Secretary of the Hoa Binh's Party Committee, Chairman of the province's People's Council Bui Duc Hinh emphasized that the event marked 40 years that Cao Phong oranges were once again reaching out to the global market.
Hoa Binh's agricultural industry has had many agricultural products exported to the European market, receiving good feedback from customers, and promising bigger orders for the next years. At the same time, the export also creates a positive effect on the domestic market, contributing to the development of provincial agricultural products.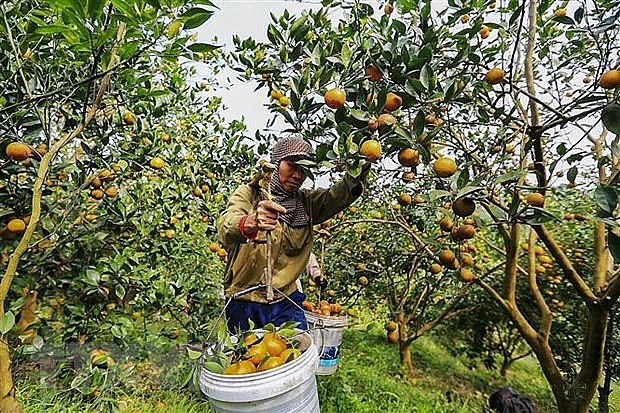 Harvesting Cao Phong oranges. (Photo: Trong Dat/VNA)
Nguyen Huy Nhuan, Director of Hoa Binh's Department of Agriculture and Rural Development said that in the coming time, the province's agricultural sector would continue to support and improve the capacity of cooperative groups to grow oranges, especially in the stage of organizing production, preliminary processing, packaging, product preservation, changing thinking in trade and product consumption.
The province works towards turning orange farmers into skilled workers in preliminary processing, packaging, and preserving products, having good skills in commercial development. The agricultural sector of Hoa Binh continues to support businesses that invest in purchasing and processing products. In addition to fresh orange products, it is necessary to develop multi-valued oranges from Cao Phong oranges.
Accordingly, it will combine the development of production areas with diverse types of tourism and the development of processed products such as orange essential oil, marmalade, orange juice, and orange wine. It will also focus on trade promotion activities, and search for domestic and foreign markets.
Quach Van Ngoan, Chairman of Cao Phong People's Committee, said the district is constantly making efforts and effectively coordinating with departments and agencies in advertising, trade promotion, and product consumption support. Currently, the district has an area of 1,744 ha to grow citrus trees, in which, the area of oranges and tangerines is 1,358ha with an output of over 20 thousand tons. The district has 7 products of fresh fruit and products made from oranges which have been recognized by OCOP at levels 3 and 4. 536 hectares of its citrus fruit trees are VietGAP certified.
Nguyen Thi Thanh Huong, Director of RYB Joint Stock Company, said that in monitoring the cultivation process to ensure food safety, Cao Phong orange samples had analytical results from the most modern laboratory in Vietnam. The results of all the samples tested did not detect any active ingredients of nearly 900 active plant protection drug substances that were required to be analyzed according to European standards. Sample packages sent to the UK were also cleared of any problems with food safety and origin.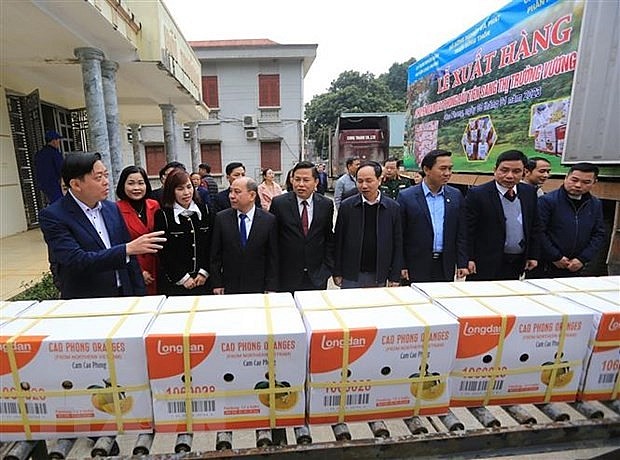 Delegates visit the Cao Phong orange production line. (Photo: Trong Dat/VNA)
In 2022, many agricultural products of Hoa Binh kept their traditional export markets and opened new markets, such as bamboo shoots, vermicelli, cassava, and nutritious porridge. Products such as white sugarcane, purple sugarcane, longan, red pomelo, and pomelo were exported to high-end markets such as the US, Korea, UK, EU for the first time
The first shipment of nearly 7 tons of Cao Phong oranges exported to the UK this time will be a source of encouragement and encouragement for farmers in Hoa Binh province to continue to have shipments of other agricultural products to be exported; making export become one of the consumption channels for key products of Hoa Binh province in the coming time.