First Vietnamese Lunar New Year Week Held at French Supermarket
A program to promote Vietnam's Tet culture and cuisine recently kicked off at Carrefour Ormesson hypermarket in the Ile de France region of France.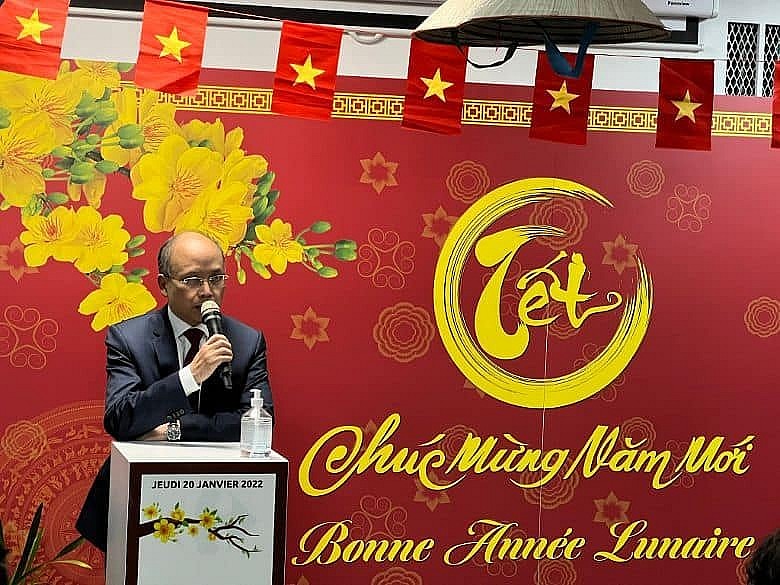 Ambassador Dinh Toan Thang spoke at the ceremony.
This event is part of tripartite cooperation activities between the Vietnam representative office, the importer and the retail distributor.
Carrefour first organized the Vietnam Lunar New Year Week on its hypermarket chain to introduce Vietnamese cuisine to a large number of French consumers.
Ambassador Dinh Toan Thang joined the leaders of Carrefour and the Mayor of Ormesson to cut the ribbon to start the Week.
Speaking at the event, Ambassador Dinh Toan Thang praised the initiative to organize the first Vietnamese Lunar New Year Week at Carrefour system, an important event marking economic cooperation and exchange between the two countries.
The Ambassador said that with the exquisite cuisine of Vietnam, it would be a good opportunity for Carrefour to conquer the consumer segment.
Agricultural products are displayed with a variety of options, not only meeting the needs of Vietnamese people far from their hometown but also targeting French consumers who are unfamiliar with the traditional dishes of Vietnam.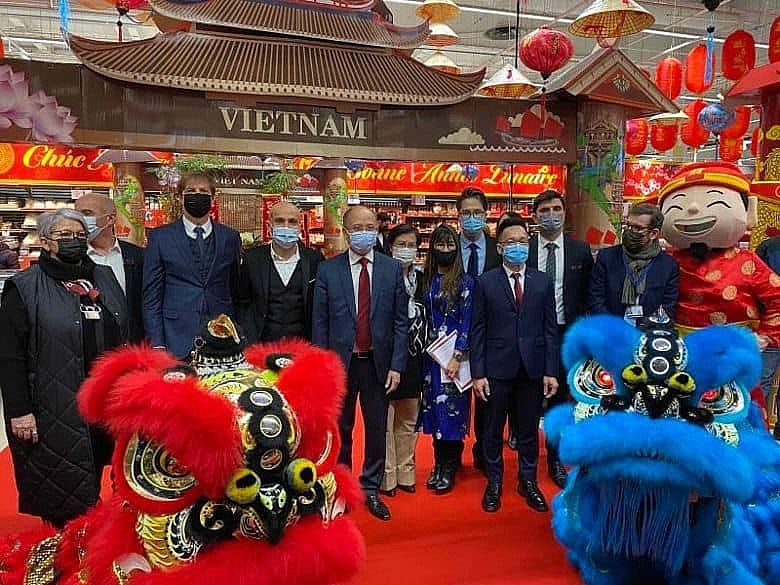 The first Vietnamese Lunar New Year Week was held at a French supermarket system. Photo: Embassy of Vietnam in France
Ambassador Dinh Toan Thang said that with the famous Carrefour hypermarket system, Vietnamese businesses have more opportunities to consume goods in France, promoting the benefits from the EVFTA and the commercial potential of the French and EU markets.
With a professional and sustainable development strategy, the Ambassador hoped that Vietnamese businesses would be able to appear more in the "playground" of European hypermarkets.
CEO Carrefour France Rami Baitieh said the values of Vietnamese cuisine were shared not only at the national level but also between businesses.
Carrefour is honored to be one of those businesses and share these values with Vietnamese customers so that they can find familiar products of their homeland cuisine in France, and French customers can make their own favorite Vietnamese dishes.
Vietnamese products in France.
Khiem Thanh Nhat, CEO of TTFoods, the main partner participating in the event, expressed his gratitude for the support of the Vietnamese Embassy in France and Carrefour Group to make the event a reality.
This was great encouragement for the current business activities, which are supplying Asian food to supermarkets in France, especially Vietnamese food and agricultural products.
Since the EVFTA came into effect on August 1, 2020, in addition to the benefits in tariffs for goods, Vietnam's high-quality commitments have raised the country's good image and reputation with international partners.
Currently, partners who are supermarkets and retail chains in France have plans to increase the proportion of Vietnamese goods in their system.
This is a good opportunity for Vietnamese goods to reach a large number of potential French customers, creating a premise for building a Vietnamese national brand and penetrating the European market.