Vietnam Among EU's Top 10 Largest Goods Suppliers
Vietnam is one of the top 10 largest suppliers of goods to the EU market, with wo-way trade hitting EUR43.2 billion last year.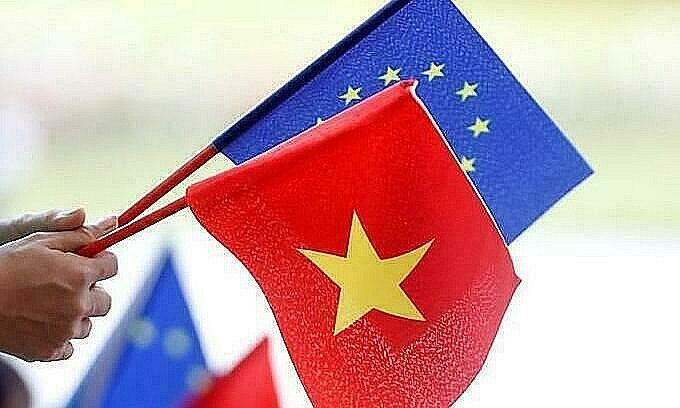 European Union and Vietnamese flags are seen at the signing ceremony of EU-Vietnam Free Trade Agreement at the Government Office in Hanoi, June 30, 2019. Photo: Reuters
One year after the EU-Vietnam Free Trade Agreement (EVFTA) came into force, the bilateral trade reached US$54.87 billion, a rise of 12.1% from the same period last year, of which exports and imports expanded by 11.3% and 14.04%, respectively, heard a forum in Hanoi on October 27.
The Vietnam - EU Trade Forum 2021 was co-hosted by the Ministry of Industry and Trade and the European Chamber of Commerce in Vietnam (EuroCham).
Despite adverse impacts of the Covid-19 pandemic, two-way trade has posted positive growth, standing at US$ 41.3 billion, up 13.4% year-on-year.
Deputy Minister of Industry and Trade Dang Hoang An. Photo: VNA
In his remarks, Deputy Minister of Industry and Trade Dang Hoang An said a number of local businesses have optimised incentives presented by the EVFTA through the use of certificates of origin (C/O).
The competitiveness and market share of Vietnamese goods have also improved significantly in the EU market, he added.
With a strong commitment to ensuring transparency, openness, and convenience in the current business climate, Vietnam has attracted high-quality investments from the EU, including high-tech projects.
An said the pandemic has caused changes in consumption trends, leading to the development of digital transformation and e-commerce. Given this, the Governments of several countries globally have put forth solutions to promote the digital economy, particularly e-commerce, opening up bright prospect for cross-border trade channel in the near future.
At the forum, domestic and foreign experts expressed their optimism about prospects for economic recovery and growth of EU-Vietnam trade and investment relations in the new normal. They also took note of challenges in the time ahead.
Vietnam shoul build scenarios matching the latest situation in a flexible and effective manner, optimise all possible resources for economic recovery and growth, and address bottlenecks for businesses, they suggested.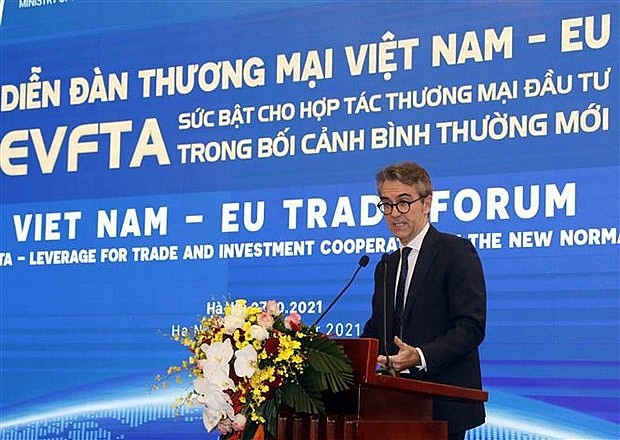 Ambassador Giorgio Aliberti, Head of the EU Delegation to Vietnam. Photo: VNA
Ambassador Giorgio Aliberti, head of the EU Delegation to Vietnam, said the EVFTA is set to give a boost to the export of Vietnamese fruits and farm produce to the EU. However, firms have been facing obstacles in entering the EU market due to complicated procedures.
EuroCham Chairman Alain Cany suggested the two sides closely cooperate in addressing current issues, saying with various advantages, Vietnam has chances to attract new investment inflows from European investors who are seeking a stable, safe, prosperous and competitive destination./.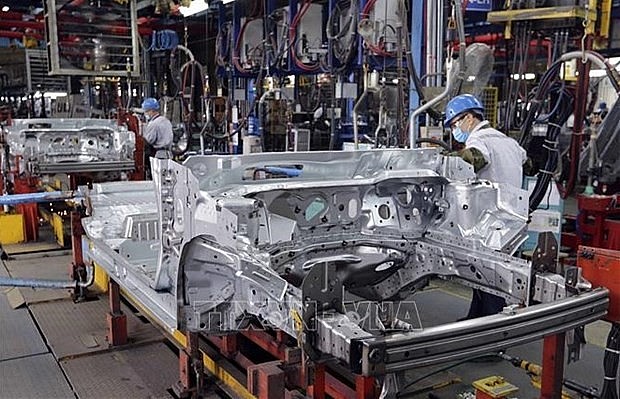 One year after the EU-Vietnam Free Trade Agreement (EVFTA) came into force, the bilateral trade reached US$54.87 billion. Photo: VNA
The EVFTA came into force on August 1, 2020 after eight years of negotiations. Under the deal, Vietnam will eliminate 99% of its import duties over 10 years and the EU will do the same over seven.
The trade deal is a comprehensive and mutually beneficial agreement that is in line with the provisions of the World Trade Organization (WTO).
The EU will gradually eliminate 99.2% of tariff lines, accounting for 99.7% of Vietnam's exports, over the next seven years. As for the remaining 0.3 percent, it will give Vietnam tariff quotas with import duties of zero percent.
The EVFTA is the EU's second deal with an ASEAN country, after Singapore, and one of few with a developing country.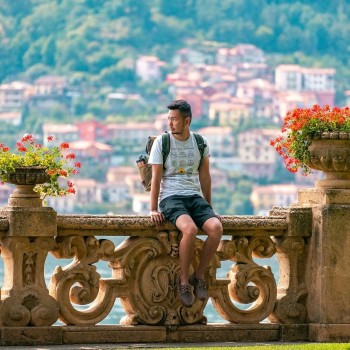 Travel
If you have the opportunity to visit Hoi An at the end of the year, these are some of the best recommendations for fun activities you can do from Peter R – a Thai travel blogger.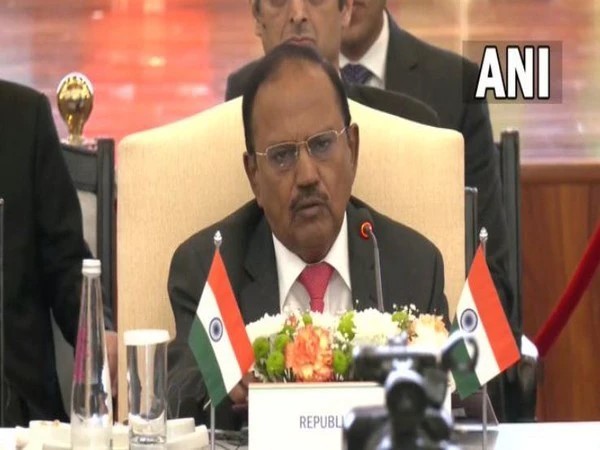 Economy
Flagging the persistence of terrorist networks in Central Asia, including in Afghanistan, National Security Advisor (NSA) Ajit Doval on Tuesday emphasised on making countering of terror financing a priority for India and other countries in the region.
December 07, 2022 | 13:58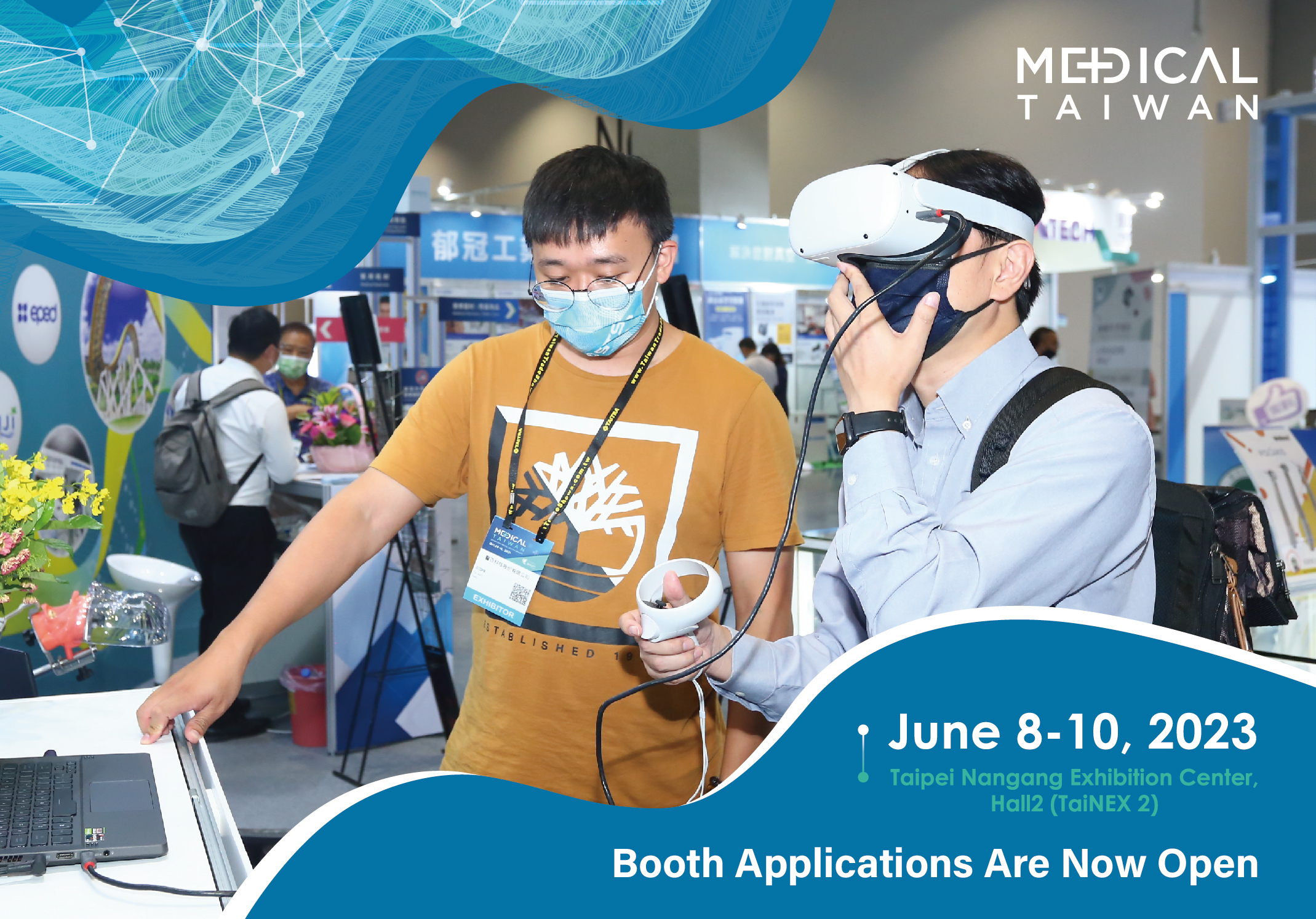 Economy
TAIPEI, TAIWAN - Media OutReach - 7 December 2022 - According to BMI Research, the global market for medical devices was valued at US$454.3 billion in 2021, a 6.3% increase from 2020, and is expected to reach US$535.2 billion by 2024, with a CAGR of approximately 5.6% from 2021 to 2024.
December 07, 2022 | 10:15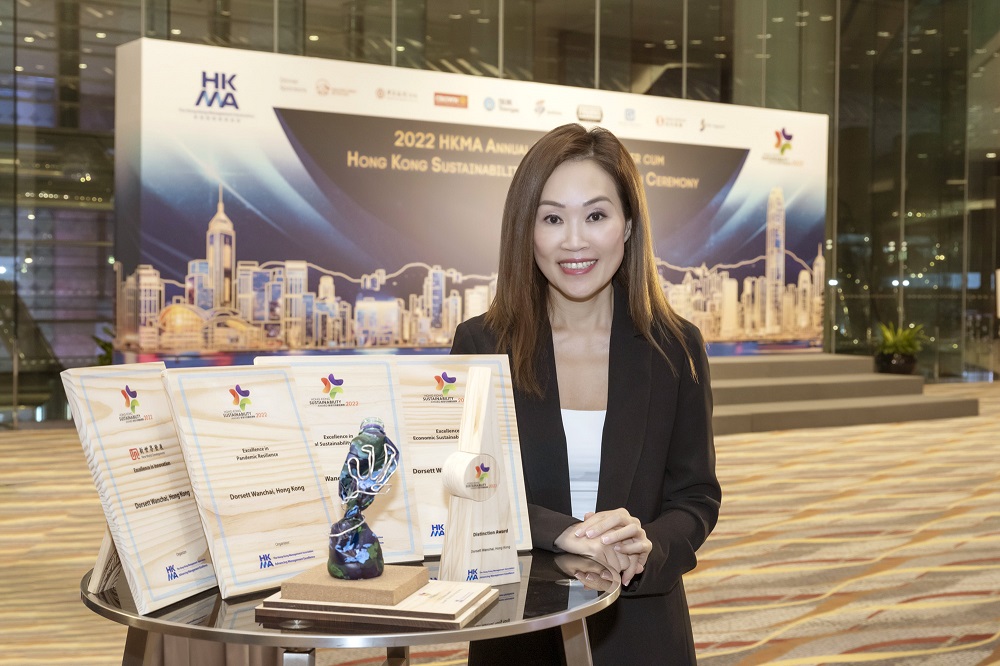 Economy
HONG KONG SAR - Media OutReach - 7 December 2022 - The 4.5-star Dorsett Wanchai, Hong Kong under Dorsett Hospitality International, has swept the board at the Hong Kong Sustainability Awards 2022 Presentation Ceremony held on 22 November, 2022 by the Hong Kong Management Association (HKMA).
December 07, 2022 | 10:00