First Vietnamese Temple in Sri Lanka Filled With Loving Kindness
Located in the Ambakote region, about 20 km from the ancient city of Kandy, Truc Lam Monastery - the first Vietnamese temple in Sri Lanka, is always warm with love, filled with the voices and laughter of Vietnamese language classes.
Truc Lam Monastery was built by monk Phap Quang - who has many years of living and studying in Sri Lanka. Its construction began in 2020.
With a kind heart and always wanting to bring joy to everyone, monk Phap Quang has initiated and made many contributions to volunteer work along with activities to spread good cultural values as well as kindness of Vietnamese people abroad.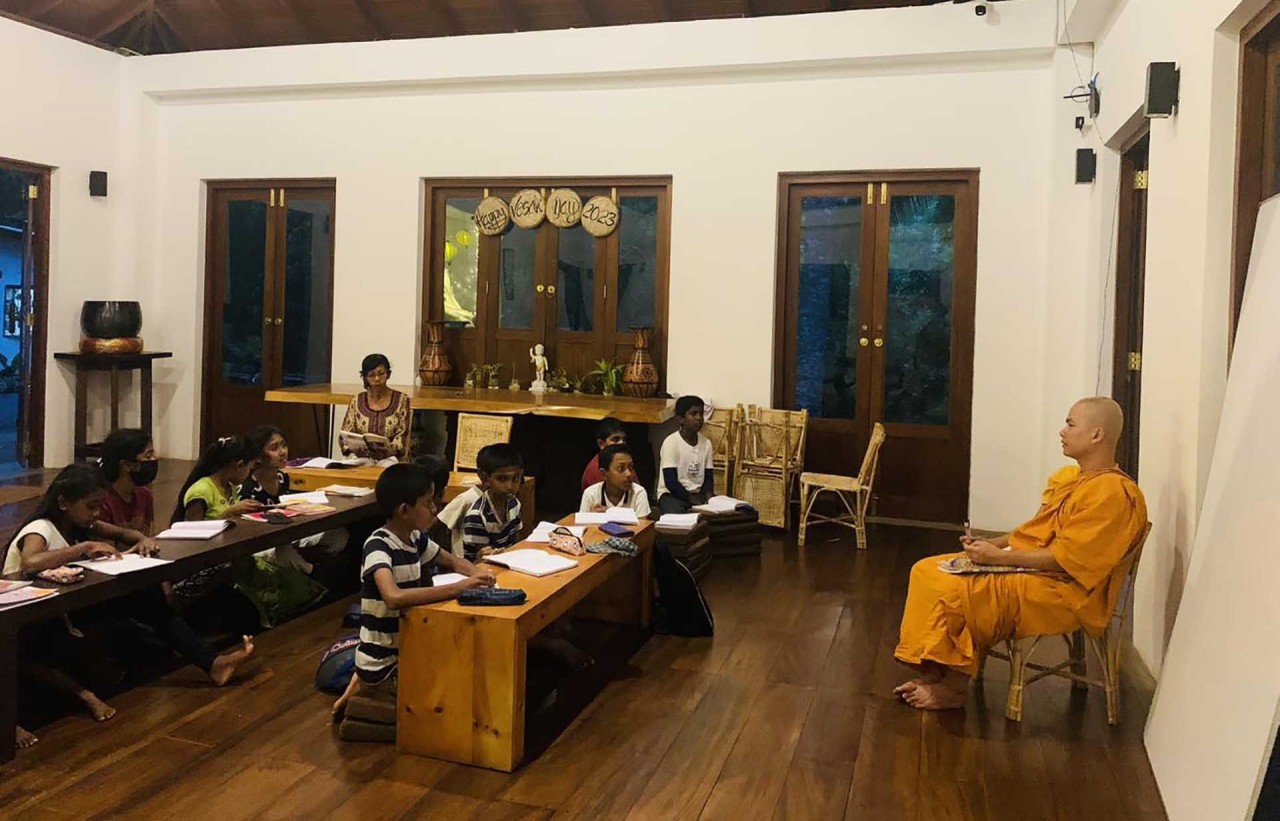 Vietnamese language class for the Vietnamese community and Sri Lankan people. Photo provided by the Monastery
A place to share love
Born at the right time when the Covid-19 pandemic broke out with mounting difficulties, Truc Lam Monastery has contributed to creating good things, bridging people with compassionate hearts, when people of the host country and the Vietnamese community in Sri Lanka are in need of both material and spiritual support.
Along with rice distribution activities to relieve hunger, on full moon days of every month, monks often connect with sponsors to donate about 200 meals to homeless people living at bus and train stations, hospital here.
In particular, during the annual Vu Lan season of filial piety, Truc Lam Monastery does good deeds in Sri Lanka by giving gifts including rice and dry food to people in difficult circumstances.
Ambakote region often experiences water loss during the hot season and people are always worried about having enough clean water to use. Last June, the first water well was built by monks accompanying a charity group in a newly established village in Ambakote, helping more than 60 households have clean water for daily use.
A few months later, a second well was built at Ambakote. Water from this well was pumped into a tank by Truc Lam Monastery so that people around the village could use it when there was a drought.
Along with paying attention to material life, monks spend time opening meditation retreats on Sundays to create trust, optimism, and happiness for local people.
Spreading Vietnamese language and culture
In addition to volunteer work, the monks at the temple have successfully connected and built a Vietnamese language teaching program for the Vietnamese community and local people here.
The class will be held from June 2022 to spread the beauty of traditional Vietnamese culture and help Vietnamese expatriates whose children have lost their roots or wish to learn Vietnamese.
Not only does it create a Vietnamese learning channel for those who need to use the Vietnamese language, the class also becomes a bridge for compassionate hearts who want to contribute to creating good things in life.
Master Phap Bao, a teacher at Truc Lam Monastery, said Vietnamese classes are conducted through two channels including teaching via Zoom application, taking place on Mondays, Wednesdays, and Fridays of the week, and offline teaching at the Zen Hall, from Monday to Friday of the week.
The class is divided into two levels, each level is about three months for those new to the Vietnamese language and students who have passed the basic course exam.
Regarding teaching methods, monks teach students correct phonetics and pronunciation, basic grammatical structures, expand vocabulary and focus mainly on listening and speaking skills.
Monks also organize practical activities and games to enhance communication skills and apply Vietnamese in life; Introducing Vietnamese culture, history, cuisine, culture; teaching through songs with topics such as love of homeland, solidarity, love of family.
Through a practice method combining tradition and modernity, students handwrite exercises and practice conversations with each other.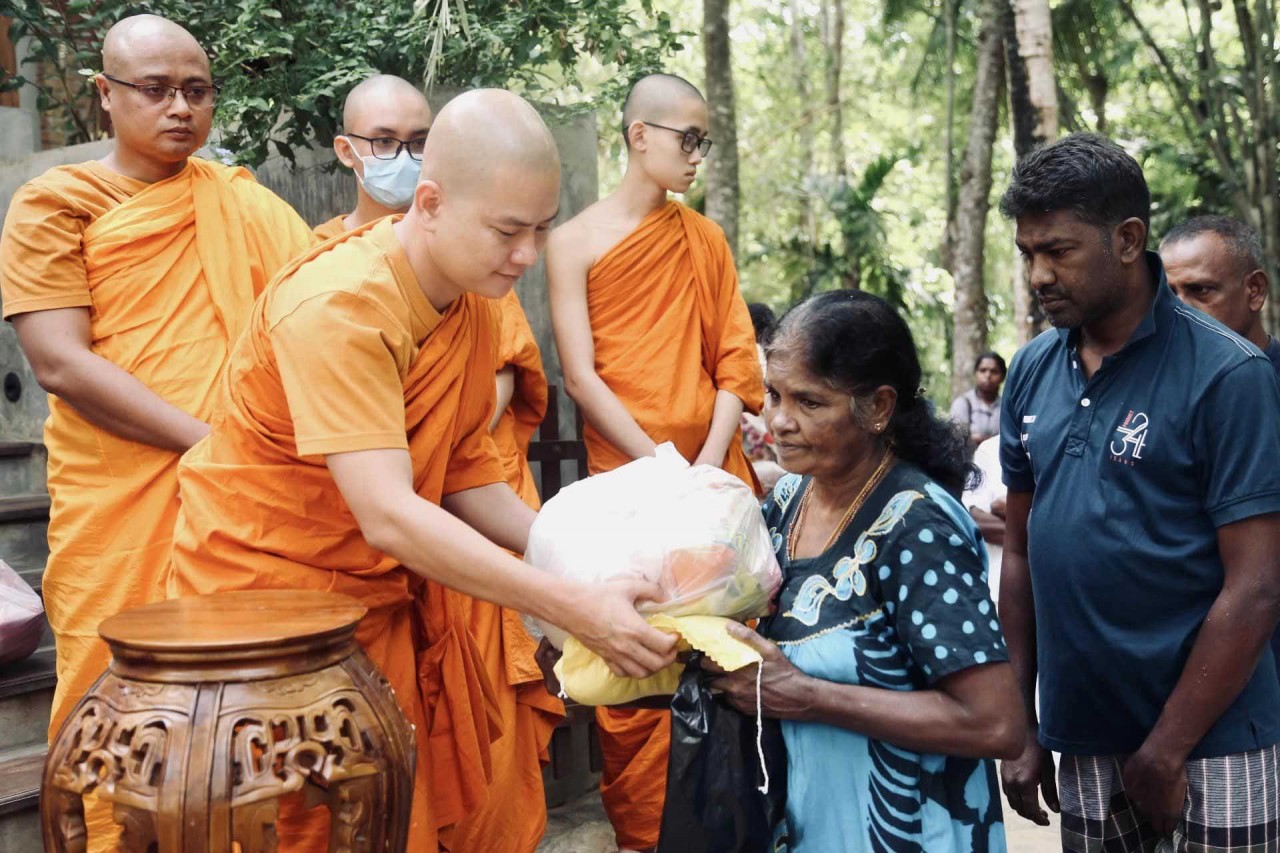 Volunteer activities of monks at Truc Lam Monastery. Photo provided by the Monastery
In addition, Truc Lam Monastery also creates conditions for students to have the opportunity to meet and interact with the Vietnamese community living and working here and pilgrimage groups visiting Sri Lanka. Students with high academic achievements or difficult family circumstances are also awarded scholarships and study materials.
Monk Bao Phap shared that currently, they still do not have official Vietnamese teaching documents for foreigners as well as teaching experience. The curriculum is still based on understanding the people and country here and referencing the Internet to draft it most appropriately.
On the other hand, economic conditions in the area are not good such as weak network connections, rudimentary learning tools, limited lighting due to frequent power outages, and fuel shortages; teaching facilities are not adequate to meet the increasing number of students.
However, with many years of living and studying in Sri Lanka, the teachers' method of communication is very easy to understand. Teachers can also communicate in the local language, English - a very convenient tool for teaching a combination of languages.
The special thing is that this free class always brings a friendly and sociable environment for students. With that open heart, the monks are always loved and supported by the people in all activities.
When Sri Lankan children come to Truc Lam Monastery to study, they will be given Vietnamese names, for boys, the middle name is Lam, for girls, the middle name is Truc.
On the occasion of Vietnam's National Day, Sri Lankan girls also wear Vietnamese ao dai and conical hat dance. Despite the pressure of studying, the local children are very eager to learn, still diligently go to the temple to meditate and maintain Vietnamese classes.
Strengthening the connection between the two countries
It is the support of local people and the students' passion for learning that has motivated the meaningful activities of Vietnamese monks at Truc Lam Monastery.
Since the beginning of construction and coming into operation until now, although there are still many difficulties in terms of facilities, the monks have always been interested in propagating the Dharma and carrying out volunteer activities to help the poor in Sri Lanka.
Realizing the importance of preserving their native language abroad, the monks hope that the work of teaching Vietnamese in Sri Lanka will be developed and spread more, creating more good values. for life.
In addition to promoting Vietnamese language teaching, Truc Lam Monastery also expands other activities such as teaching English and computers, creating a common home for the elderly and disadvantaged children to rely on...
To further strengthen the connection between the people of Sri Lanka and Vietnam, monk Phap Quang and the co-founders of the Social and Cultural Foundation will have more charitable, social, tourism and educational activities. next time.
Monk Phap Bao emphasized that good deeds always meet the support and cooperation of good hearts. They were fortunate to receive a lot of companionship from the Vietnamese community at home and abroad and respect from the local people.
With the spirit of wishing to bring the language and good values of Vietnamese culture to the international community, he affirmed will continue to maintain promotional activities, helping the international community understand more deeply. about Vietnamese culture.