Food 'Ambassador' to Promote Vietnamese Culture to the World
Over the years, food has become the quickest way to introduce and promote Vietnamese culture to international friends.
During the visit of Australian Foreign Minister Penny Wong to Vietnam from June 26-28, in a Facebook post on June 27, the Australian Embassy in Vietnam wrote: "The Ambassador was delighted to share her favorite Pho Ga (chicken noodle soup) with Senator the Hon Penny Wong, Foreign Minister, and Chef Sam Tran during the Minister's visit to Vietnam."
The Australian Embassy in Vietnam also said that Foreign Minister Penny Wong was introduced by Chef Sam to the history and significance of Pho and how to eat Pho in the traditional Hanoian style.
The Australian Embassy also posted a picture of Foreign Minister Penny Wong in a casual outfit enjoying Pho Ga with Ambassador Robyn Mudie and "the three shared views on Australia and Vietnam's strong people-to-people links".
"A simply wonderful way to start the Foreign Minister's visit", the Australian Embassy commented.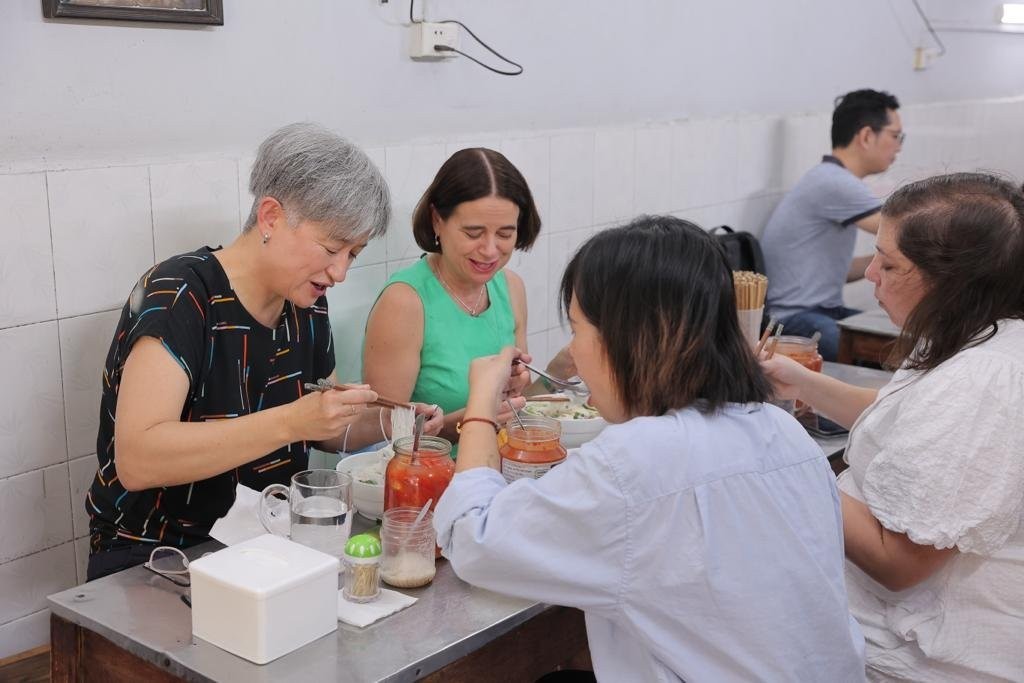 Foreign Minister Wong (black shirt) enjoying chicken noodle soup with Ambassador Mudie (blue shirt). (Photo: Le Trang)
Egg coffee is another vivid example that cuisine plays a role as a special "ambassador" to promote the image of Vietnam to the world. During the US-North Korea Summit held in Hanoi in 2019, international and domestic reporters who participated in the event were served Giang egg coffee, a Hanoi's nearly 70-year-old drink.
At that time, thousands of cups of egg coffee were brought to the International Press Center every day. To ensure deliciousness and hotness, coffee was prepared directly at the press center's food court. After tasting the splendid drink, many reporters posted pictures of this specialty on their personal pages with comments praising its uniqueness.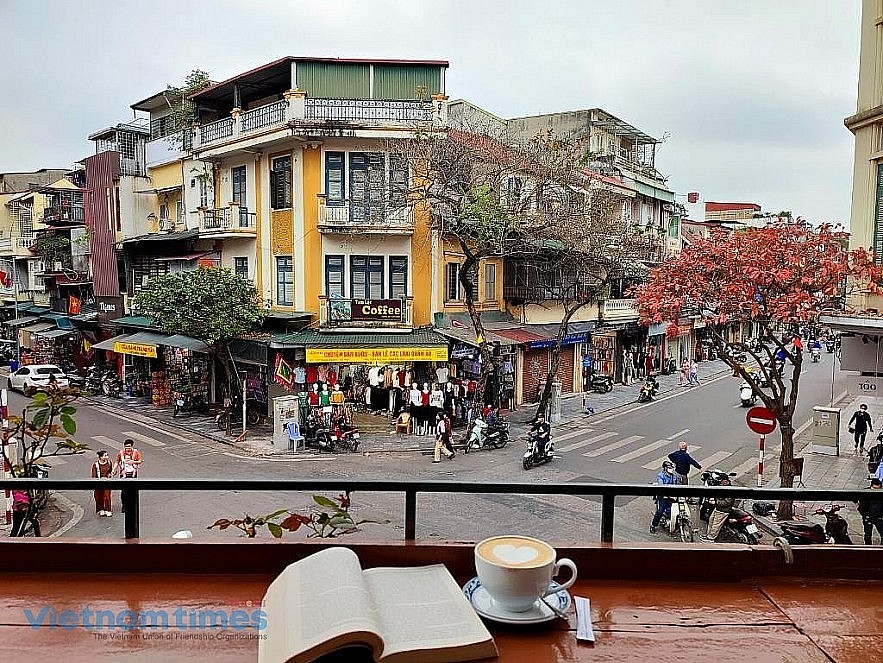 The view from Coffee A's balcony. Photo: Ollie Le Nguyen
At the seminar "Tasks and solutions to improve the effectiveness of the foreign information work of the Vietnam Union of Friendship Organizations" on June 14, Le Thi Thu Hang, Assistant to Foreign Minister, Head of the Department of Press and Information said that the Press Center has become a place to promote Vietnamese dishes. Hang also said that after the US-North Korea Summit, Vietnam's egg coffee is famous all over the world and many tourists come to Vietnam for this specialty.
According to Hang, the US-North Korea Summit is not a political-diplomatic activity of Vietnam, but we have built a communication campaign and have been very successful in promoting the image of the country and the Vietnamese people. After this event, we are known as a country with friendly, hospitable people who sacrifice for the common benefit of the community, and as a country rich and diverse in cuisine.
In many other international events, Vietnam has introduced the country's cuisine, thereby promoting Vietnamese culture to the world. During his trip to Vietnam in 2016, US President Barack Obama had the opportunity to enjoy Bun Cha and Hanoi beer with famous chef Anthony Bourdain at a popular restaurant on Le Van Huu Str., Hanoi.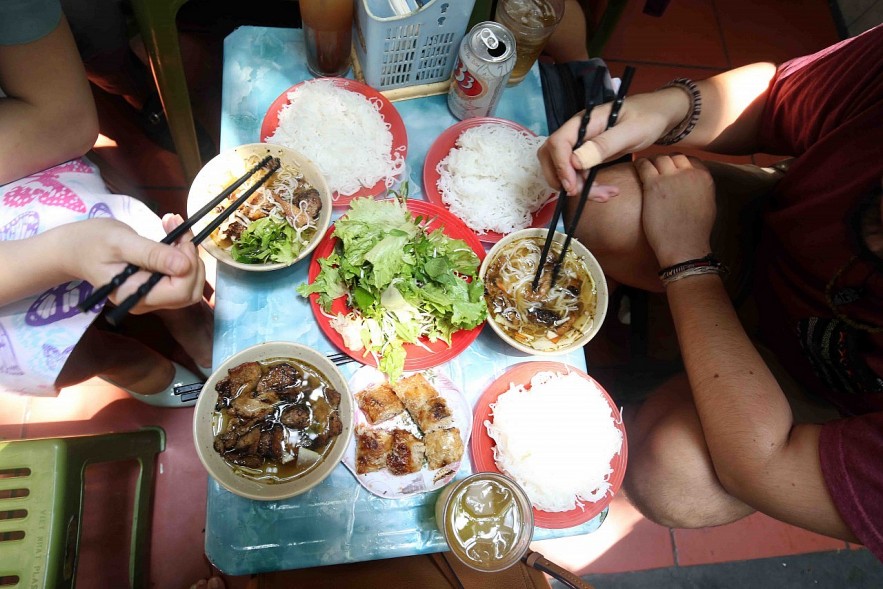 Bun cha is loved by foreigners (Photo: Zoey Nguyen)
CNN then broadcast a clip of President Obama using chopsticks properly, eating and praising the food. That image conveys a valuable message about a close, peaceful but very attractive Vietnam. When that clip went viral, a large number of foreign press, television, and international guests came to discover the special dish of Hanoians.
Many similar examples can be listed, for example, British Prince William enjoying coffee in the old quarter; Former French President Francois Hollande drinking coffee on Ma May Str., Hanoi in 2016; Former Australian Prime Minister Malcolm Turnbull enjoying Banh Mi on the sidewalk in Da Nang in 2017; Former South Korean President Moon Jae-in and his wife trying Pho Bo (beef noodle soup) at a shop in Hanoi in 2018; Former President of Argentina Mauricio having coffee at a sidewalk cafe in 2019...
More than just stories about the eating and drinking of Heads of State and diplomats, these images are evidence to show that cuisine become a weapon of Vietnamese cultural diplomacy and is the easiest way to get into people's hearts.