Food from the Heart, a humane initiative in Singapore
Wealth gap is widening worldwide. And Singapore is not an exception. In the country, many are still struggling to make end meets. Food from the Heart therefore was founded to make sure these needy are not coping with their difficulties alone.
Wealth gap is widening worldwide. And Singapore is not an exception. In the country, many are still struggling to make end meets. Food from the Heart therefore was founded to make sure these needy are not coping with their difficulties alone.
Food from the Heart's journey by number. Photo: FFTH
Founding story
In 2003, Food from the Heart (FFTH) was founded by an Austrian couple, Mr Henry and Mrs Christine Laimer who were motivated by their wish to help the underprivileged in Singapore while minimizing wastage of precious leftover food that would otherwise be discarded.
With the support of generous donors and tireless volunteers, their little idea grew into a systematic programme of food redistribution that helped to ease the burden of many needy families and inpiduals. Encouraged by the response, FFTH expanded into delivering food packs to families in need, as well as providing toy donations, and organizing birthday celebrations and special excursions for underprivileged children.
Who are the beneficiaries of Food from Heart?
Based on a study commissioned by FFTH by Bain & Co, and NUS's Centre for Culture Centered Approach to Research and Evaluation (CARE), 12% households living in Singaporean HDB ( apartments built under the government's published housing program) live on a monthly household income of less than S$1,500 (USD 1,080)
Food from Heart beneficiaries are low-income inpiduals and families who are residents of welfare homes, as well as those staying in the housing estates. (Their per capita income typically falls below S$690 (USD 483).
How FFTH help?
FFTH reaches out to the less privileged inpiduals and families through a food distribution programe, distributing surplus bread and non-perishable food items (rice, biscuits, oil, sugar, salt, condensed milk, sardine, baked beans and beverages every month. Donors can make donation process hassle free, consider ordering online from supermarkets like NTUC FairPrice and have the items delivered to Food from Heart's warehouse.)
Besides food, FFTH also distribute toiletries such as shampoo, shower gel, toothbrush, toothpaste to beneficiaries, to reduce their cost of living.
Through a collaborative effort with NTUC FairPrice Co-operative Ltd, FFTH collects packaging-damaged and near-expiry items from all NTUC FairPrice supermarkets. These items are often still in very good condition, and can range from non-perishable food products such as canned food, to household items like laundry detergent.
Distribute food to the needy. Photo: FFTH
These items are brought back to FFTH warehouse where they are carefully sorted and packed by volunteers, and then redistributed to welfare homes and those under the Community Food Pack programme.
FFTH also gives these otherwise discarded items a new lease of life by re-directing them to welfare homes and needy families, who welcome the much-needed food supplies and necessities to help offset costs, thereby reducing their financial burden.
To identify the needs of the less-fortunate, FFTH works with residents' committees and family service centres to identify and supply essential food items and other rations on a regular basis. At present, FFTH has set up Self Collection Centres all across Singapore, providing immediate assistance to people by helping put food on their tables, giving them much needed encouragement as they venture towards gaining self-reliance.
Especially, since 2015, FFTH has increased efforts to provide food items of higher nutritional value. In addition to eggs, FFTH embarked on distribution of fruits in 2016 to encourage healthy eating.
Donating toys to poor children.Photo: FFTH
In addition to necessities donation, FFTH also raises fund to sponsor cash for needy families, students as well as brings joy through the distribution of toys and birthday celebration activities.
Get involved in FFTH
There are several options for the public to join hand with FFTH to brighten the life of the less-fortunate. For example, the Adopt a Family' initiative, just $660 supports a family for a whole year, and $33,000 supports a school of 50 students
Volunteers help with logistics work. Photo: FFTH
The contribution to FFTH can also made by becoming a volunteers in the organization. FFTH volunteers are a mix of local and expatriate professionals, students, housewives, retirees and blue-collar workers.
It is simple to work as a volunteer. For example, if one has a car, he/she can collect bread from a bakery or hotel the same time every week, deliver it to one of FFTH welfare homes, senior activity centres or self collection centres, then update the management through the Delivery Monitoring System./.
In the past 15 years, the number of partners and volunteers of FFTH has been growing sharply. For instance, there were only 27 partner bakeries at the beginning. Now the number has grown to over 100 bakeries and major hotels.
In the year it was kick started, FFTH had 120 volunteers. As of 2017, the number of volunteers have risen to 1,700, helping FFTH reach to 35,500 beneficiaries across Singapore.
More information of FFTH:
https://foodheart.org/
https://www.facebook.com/foodheart/
( VNF )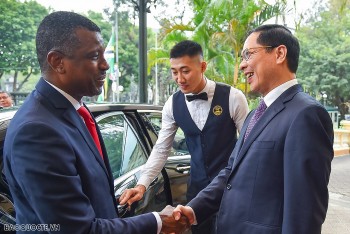 National
Dominican Minister for Foreign Affairs, International Business, Trade and Energy Vince Henderson is currently on a five day official visit to Vietnam. The five day visit is at the invitation of Vietnam's Foreign Minister Bui Thanh Son, and comes as Vietnam and Dominica are celebrating the 10th anniversary of the establishment of diplomatic relations between the two countries.