Four Paws: Journey to stop dogs and cats meat trade in Vietnam
More than five millions of dogs and cats killed for consumption in Vietnam each year, and this horrifying reality has made it a top goal for local animal welfare oragnisations to change people's perception on dogs and cats meat trade, and FOUR PAWS is on its way to improve the walfare of these animals in Asia countries.
On a cold drizzly day at the end of 2020, while everyone was rushing to complete the unfinished work of the old year and preparing to start anew in 2021, around a dozen members of animal protection organisations in Vietnam were assisting the owners of a dog and cat meant restaurant in Thai Binh city remove the signboard and bring the 25 dogs and cats into special care.
Ninh Thi Phuong Thao, programme advisor at Four Paws, an international animal protection organisation with branches in 15 countries, said the success in Thai Binh has been a special turning point for not only Four Paws but also other animal protection organisations because this was the first time they managed to persuade the owner of a dog and cat restaurant to quit. The victory was made even sweeter for it taking place in Thai Binh – the citadel of cat meat trade in Vietnam.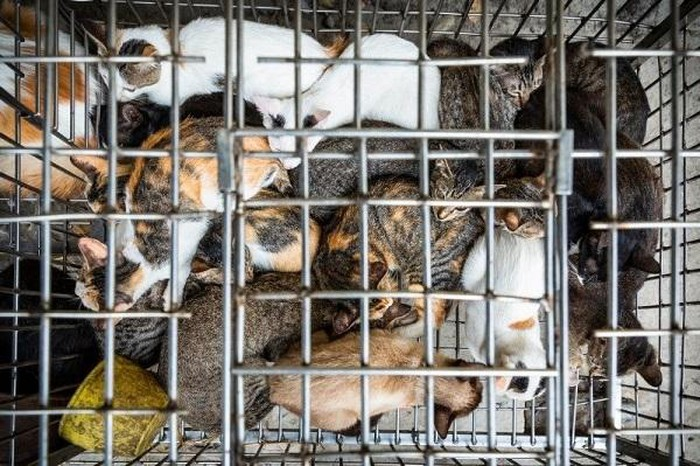 Illustrative photo
25 animals rescued before brutal slaughter in the country's so-called cat meat capital
Global animal welfare organisation FOUR PAWS succeeded in shutting down a cat meat restaurant and associated slaughterhouse in Vietnam for the first time ever on 15 December, 2020, rescuing 25 animals including five dogs also waiting for slaughter. The restaurant was located in the city of Thai Binh, notorious for cat meat consumption, and claimed to serve around 240 animals a month, the majority of them cats. FOUR PAWS took the rescued cats and dogs to its bear sanctuary in Ninh Binh, where vets provided the animals with urgent medical care. After initial treatment and rehabilitation, they will be put up for adoption. Every year, around five million dogs and one million cats are brutally slaughtered for their meat in Vietnam, many of them stolen pets.
Unlike the trade in dogs for meat, the cat meat trade goes unreported despite being considered a delicacy in Vietnam, making the trade highly lucrative. According to FOUR PAWS research, a kilo of dog meat fetches between €6 ($7.30) and €9 ($10.90). Cat meat, on the other hand, can cost up to €11 ($13.30) per kilo – in the case of a black cat, even up to €20 ($24.30).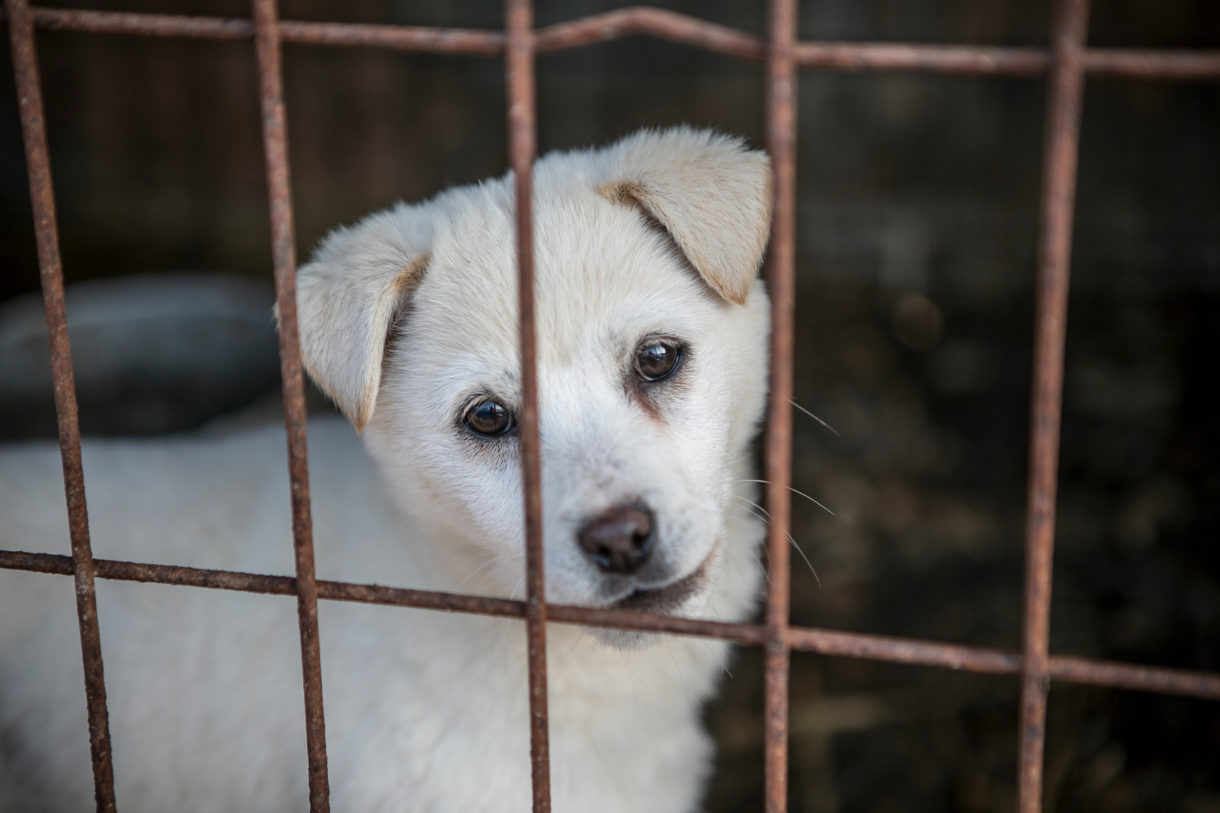 Photo by Jean Chung/For HSI
The unsanitary conditions during transport as well as in slaughterhouses and restaurants, which often keep a wide variety of species for slaughter, encourage the emergence of zoonotic diseases, like COVID-19. In addition, the trade is linked to outbreaks of rabies and cholera. Dr Polak adds: "If Vietnam is really serious about protecting public health and fulfilling its commitment to end rabies in the country, the government must finally put a stop to the dog and cat meat trade."
Popular cat meat restaurant turns into motorbike shop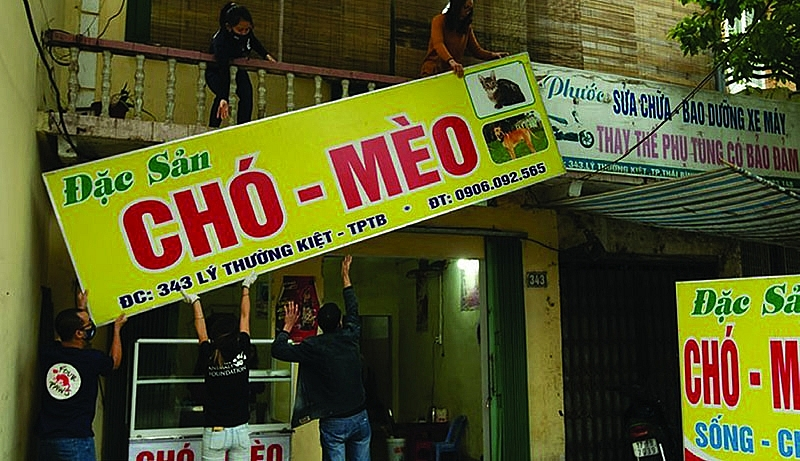 Photo: Vietnam Investment Review
Located in the city's Tran Lam ward, Pham Van Duong's restaurant was well-frequented by locals and tourists alike, who came to enjoy a dish considered the local specialty: cat meat. Although the store opened only a year ago, Duong has seven years of experience in trading dog and cat meat and has owned two large restaurants dealing in these types of meat in Thach That district of Hanoi.
Duong said that every day he got up at 4am to slaughter the animals and begin preparing the meals for patrons. "I studied music and my wife studied accounting, but we both ended up slaughtering and selling dog and cat meat. For seven years, I never thought I would do this job for long because it was cruel. Every time I have to slaughter an animal, I always ask myself: Why do I kill it? Yet to maintain our lives and raise two children, I could not give it up."
Each month, about 240 animals were consumed at his shop, mostly cats, fetching him VND40-50 million ($1,700-$2,200) a month. While this business helped secure the life of his family, it has also inflicted him with tremendous psychological trauma and has come at the expense of his personal life. The holidays, which are a time for spending quality time with their children, are the busiest days at the store when he has to slaughter the most animals, Vietnam Investment Review reported.
The most taxing, however, is the fear that his two children would walk in on their father doing the job of an executioner. "I cannot let my children see that scene, it would scar them forever," he said.
The Four Paws volunteers arrived to tilt the scales of his emotional turmoil, gently urging them to change business model.
"Four Paws helped me make up my mind once and for all. Just five days after their visit, I announced that the store would be closed, to the surprise of my friends and customers."
With both physical and mental support from the volunteers, Duong's restaurant was turned into a shop selling electric and used motorbikes, which opened in January. At the end of December, the signboard of the restaurant "Specialty Dog - Cat" hung by his own hands more than a year ago was removed and smashed to pieces. "I feel happy and a bit emotional. This is a sacred and meaningful moment for me," Duong confided.
Although not the first case, Duong's restaurant was the first specific one widely mentioned by the media. Before that, nearly 50 dog meat stalls running along Nhat Tan street in Hanoi's Tay Ho district also closed even though they were doing very well. From a famous street which was "the capital of dog meat" with 30-year-old restaurants lying close together and attracting diners from far and wide – now Nhat Tan has only one dog meat store. According to many people living in Nhat Tan, in recent years as land in the area increased in price, most dog meat shop owners sold land to switch business or move elsewhere to live.
In 2018, Hanoi proposed to eventually limit people from eating dog meat, and many urban districts of Hanoi could see a complete ban in the trade, causing the "Nhat Tan dog meat brand" to gradually fade into the past.
Cruelty of dogs and cats meat trade in Vietnam: Pets stolen, drowned, bludgeoned and boiled as appetite grows for animal flesh
More than a million cats are killed in Vietnam for their meat every year in a secretive, brutal and growing trade that risks spreading diseases to humans, an undercover investigation has found.
Pets and strays are stolen from the streets and even from people's homes, trafficked across the country without food or water, and slaughtered in unsanitary and agonising ways, according to campaigners, Independent UK reported.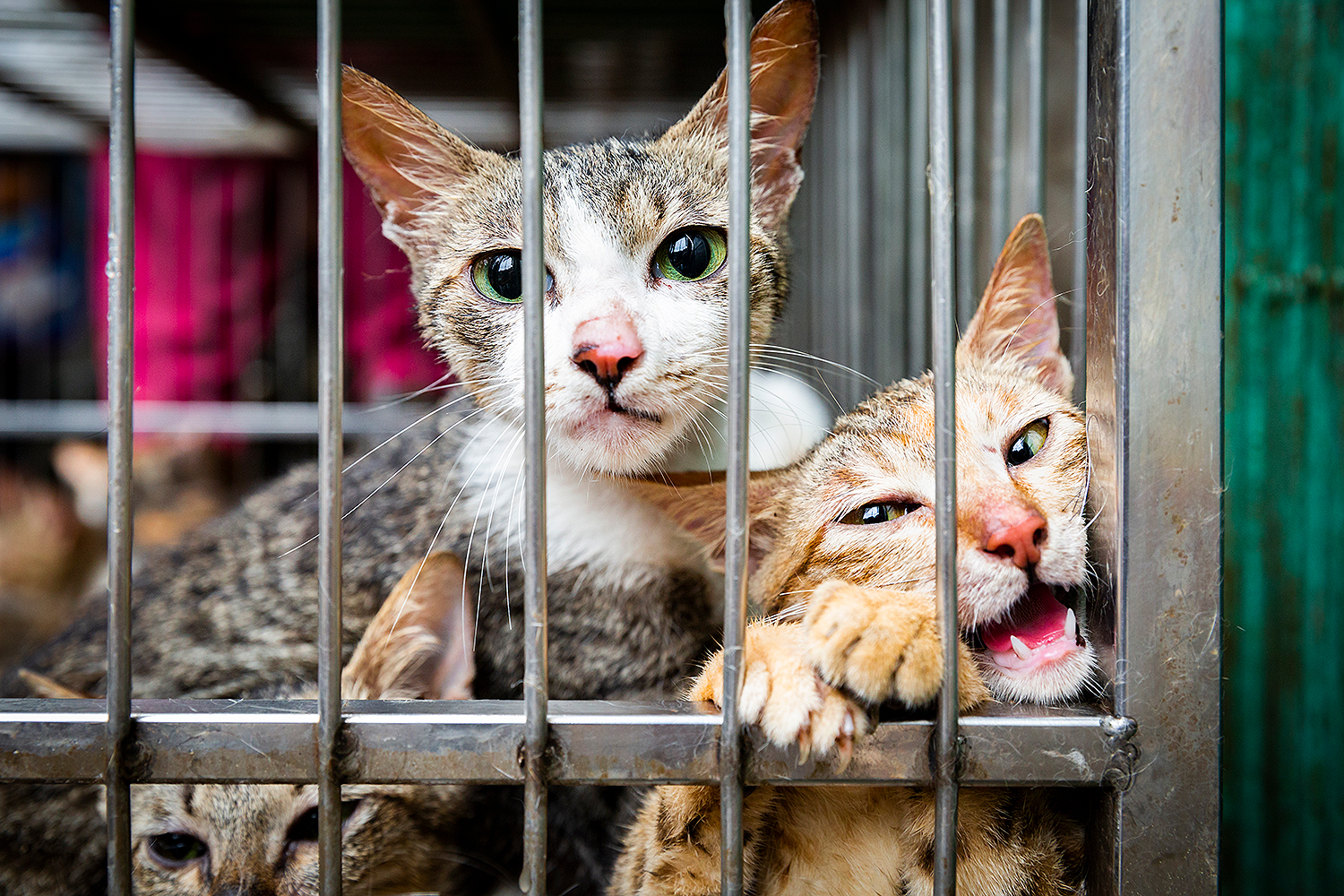 Photo: FOUR PAWS
Thieves have even clashed violently with cat owners, and in some cases have been reportedly killed in brawls.
The animals may be drowned, bludgeoned with a hammer, boiled alive or electrocuted, investigators for the Four Paws animal welfare organisation said. Their findings are based on months' worth of surveillance of holding areas, traffickers and restaurants, and speaking to traders.
A live cat is sold for around £5 a kg, and 1kg of raw meat costs £6.50. Restaurants offer dishes prepared with cat meat for about £5, the research found.
Black cats are worth even more: traders sell them alive for £6.50 a kg, and their meat can fetch £16.50 a kg.
Four Paws and the UK-based Change For Animals Foundation, which collaborated on the research, say cat meat dishes, known as "Little Tiger", are growing in popularity despite increasing pet ownership in Vietnam.
Some restaurants buy animals directly from thieves and slaughter them on site, but most buy from wholesalers or slaughterhouses, according to the researchers. They believe the coastal tourist resorts of Da Nang and Hoi An in central Vietnam are hot spots for cat thefts.
"At the wholesalers we discovered many cats with collars — a clear sign that they were pets. During our research, we also met many pet owners who were desperately looking for their stolen cats," said Katherine Polak, a Four Paws expert and vet in Southeast Asia.
"Authorities usually turn a blind eye because they are often involved in the trade, either profiting from bribes or are consumers themselves."
Lola Webber, co-founder of Change For Animals Foundation, said: "In holding areas, wholesalers keep cats crammed into cages for days until they have enough to cover transport costs.
"Over hundreds of kilometres the cats are transported without water, food and sufficient ventilation to slaughterhouses scattered throughout Vietnam. Some wholesalers even use luggage compartments on regular passenger buses for the trafficking."
Up to 200 cats have been seen in cages on buses.
Many cats die of exhaustion, heat stroke, dehydration or injuries caused by their capture and transportation. After they are inhumanely killed, their fur is removed and the skin burned, before the carcasses are gutted and frozen.
The investigations identified northerly Hanoi and the Thai Binh province, with high numbers of restaurants, as popular places for eating the meat.
"We also know that many cats, often pre-killed and frozen, are coming in from Southern China as the cat population is decimated in Hanoi due to the trade," Dr Polak said.
"While the consumption of dog meat in Asia is increasingly being discussed in public, the equally brutal cat meat trade is still relatively unknown."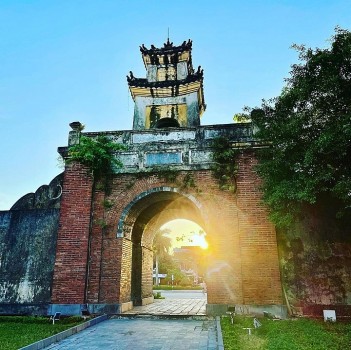 Travel
Quang Binh has many natural wonders as well as magnificent man-made architecture, one of which is Quang Binh Quan