France Remains as Important Partner of Vietnam
France has always been one of the most important partners for Vietnam in the European Union, said Vietnamese Deputy Foreign Minister Le Thi Thu Hang at the 234th Anniversary of the National Day of the French Republic taking place in Hanoi.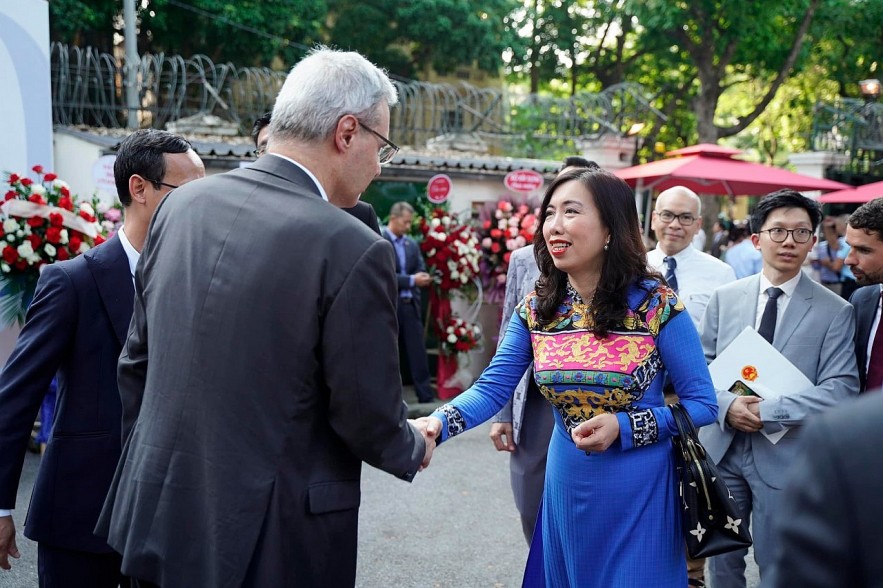 Deputy Foreign Minister Le Thi Thu Hang congratulated the French leaders and people, the Ambassador, and French citizens living and working in Vietnam on the occasion of National Day. Photo: French Embassy
According to Le Thi Thu Hang, deputy minister of Foreign Affairs of Vietnam, France's National Day celebration in Vietnam this year is also the 50th anniversary of the two countries' establishment of diplomatic relations and 10 years of strategic partnership.
After half a century, the relationship between Vietnam and France made important changes, with the cultivation and cooperation of generations of leaders, and people of the two countries.
On behalf of the Government and people of Vietnam, Deputy Minister Le Thi Thu Hang thanked the French Government for timely donating 5.5 million doses of the Covid-19 vaccine to help Vietnam overcome difficulties caused by Covid-19.
Le Thi Thu Hang believes that the strategic partnership between the two countries will be strengthening in the coming time, especially when the EU-Vietnam Free Trade Agreement (EVFTA) is effectively implemented, and the Investment Protection Agreement (EVIPA) is ratified, helping promote, increase investment and trade - the mainstay of Vietnam-France relations.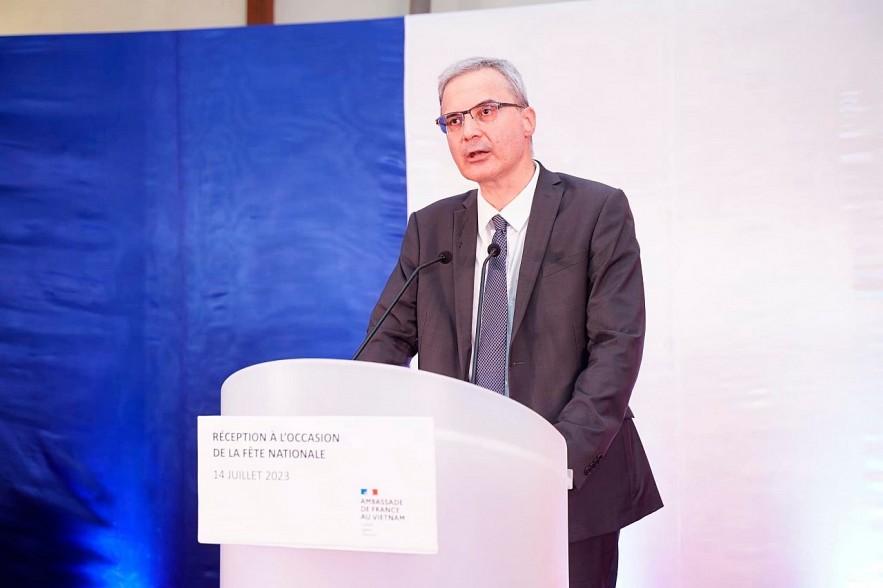 French Ambassador to Vietnam Nicolas Warnery spoke at the celebration. Photo: French Embassy
Speaking at the ceremony, French Ambassador to Vietnam Nicolas Warnery approves that France attaches great importance to relations with Vietnam, and is ready to strongly strengthen and develop the strategic partnership.
The Ambassador hoped that the anniversary year and the opportunities brought by the Free Trade Agreement between the European Union and Vietnam would be the driving force in promoting cooperation projects of the two countries.
Those projects include putting into operation Metro Line 3, projects in the fields of space, aviation, infrastructure, urban transport, and sustainable cities.
Ambassador Nicolas Warnery said that his term of office in Vietnam is coming to an end. Looking back at the past four years of service, he does not regret a single day, even the most difficult days during the Covid-19 pandemic. Ambassador Nicolas Warnery will bring with him beautiful memories in Vietnam when he returns to France.