French Master Chef tour in Hanoi: Food - Friends - Fun
(VNF) - Huynh Khanh Ly, Master Chef of France season 2015 was in a tour promoting French culinary arts in Hanoi since Mar 17.  Many fans of the French culture have grabbed the chance to see the Master Chef in person and in action. 
The Master Chef's one-week visit follows the invitation of the French Embassy in Hanoi and the French Institute in Vietnam L'Espace, as part of the International Francophonie Day celebration.
Last weekend, Khanh Ly spent her Saturday morning with students of the French language and culture from the University of Language and International Study (ULIS), Vietnam National University (VNU).
In the school campus, Ly dedicated her culinary skills to guide the attendees to prepare the French Toast, a simple yet authentic French dish, which is famous across the globe.
The pavilion "Coffee of Flowers" in ULIS campus, where the French toast was made and then ready to be served (photo: Eva Nguyen Binh)
Despite it was the first time the guest from France and the hosts from Hanoi met in person, the shyness quickly disappeared, as the topic about food is one among the best "icebreaker" tools.
In addition to the cooking show in VNU, on March 21, Ly gave a private cooking lesson at O'douceur bakery and coffee shop.
In the workshop, the lady chef took her time to bring to participants special techniques in dealing with French pastries. The workshop was perceived as highly useful and inspiring to people who are fans of French flavors, and particularly students who wish to pursue cuisines major in France.
Ly impresses people by her sincerity, gentleness and dynamism - a delicate mix of the West and East's culture. (source: The French Alumni in VN)
Born and grew up in France, the 26 year-old girl is fluent in French, English, can understand Vietnamese and express simple ideas in the language as well.
With frequent glowing smiles and a friendly way of talking to everyone, Ly easily mingled with the newly-made Vietnamese friends after a short while.
In addition to demonstrating her amazing cooking skills, during the tutorial, Ly did surprise the trainees by her attempt to communicate in Vietnamese. Casual phrases like "ăn thử miếng" (try a bite) or "có thèm không" (do you want it) uttered in sweet Saigon accent was a lovely unforgettable 'trademark' of the Vietnamese French girl.
Ly's schedule in Hanoi has been hectically packed with bundle of press interviews and cuisine-related events, including cooking at the French cuisines festival Gout de France at the French Embassy in Hanoi on Mar 22. Nevertheless, the young talented chef seemed to be full of energy all the time, as she was super excited discovering the motherland's perse culture.
The young master chef is planning to return to Vietnam in May for new cusines-related projects./.
*Memorable moments in Khanh Ly's Hanoi tour :
Here it is, the French toast! (photo: Eva Nguyen Binh)
Let's have a wefie (photo: Eva Nguyen Binh)
French pastries are something you must TRY! (photo: O'douceur coffee and bakery)
Huynh Khanh Ly was born in 1991 in France in a Vietnamese family. Studying a gastronomy non-related major (Law) in college, Ly worked in the business of selling luxury apparels and accessories before truly falling in love with the kitchen.
She became the Master Chef of France in 2015 with the Vietnamese-style sweet & sour fish soup.
One of the key reason for Ly to choose culinary arts instead of the lucrative industry she was working in is "When I see my parents cooking, I feel it is the moment that is worth living."
( Phi Yen )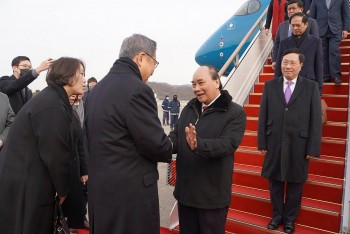 National
Vietnam News Today (Dec. 5): Additional 204 Covid-19 cases recorded on December 4; State President warmly welcomed in Seoul on RoK visit; Vietnam, Venezuela boast potential for fishery cooperation; Northerners feel chill as cold wave intensifies.