Germany Closely Cooperates with Vietnam in Protecting International Law
Deputy Ambassador Monsignor Simon Kreye mentioned Vietnam in a speech for German Reunification Day.
The following is a transcript of Deputy Ambassador Monsignor Simon Kreye's remarks during the German Reunification Day reception:
"The COVID-19 outbreak prevented us from hosting the German Reunification Day celebration for three years. Fortunately, most aspects of life have returned to normal thus far, due in large part to the effective vaccination program, but the pandemic has not yet been contained. Worldwide, illnesses and fatalities continue. So let's remember the countless Covid victims—those who perished, those who had to deal with its aftereffects, and those who experienced the epidemic's various effects, from psychological to economic.
The pandemic has had an impact on bilateral cooperation as well. It was unable to have a lot of crucial face-to-face interactions. A significant portion of our planned initiatives, like the 45th anniversary of the start of diplomatic relations or the 10th anniversary of the Strategic Partnership, have not been implemented.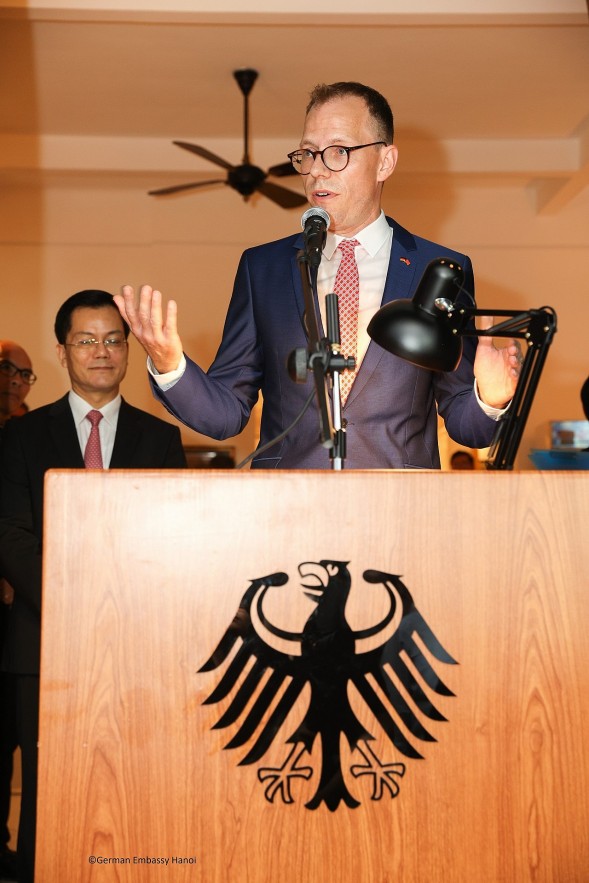 Deputy Ambassador of the Federal Republic of Germany, Simon Kreye. Photo: German Embassy in Vietnam.
However, we have actively worked together in a new way throughout the pandemic. For instance, Germany has provided Vietnam with essential medical equipment, including life-saving machinery, and more than 10 million doses of vaccinations. We'll keep working together in this manner. Therefore, it may be claimed that as a result of the pandemic, Germany and Vietnam moved closer rather than farther apart. The pandemic has demonstrated the friendship between Germany and Vietnam.
That encourages us, as the pandemic is one of the global challenges facing humanity today and can only be overcome by nations together. Another challenge is climate change. In this area countries also depend on international cooperation.
We commend Vietnam for its ambitious plans to achieve climate neutrality by 2050 and phase out coal power by the year 2040, as stated by Prime Minister Pham Minh Chinh at the COP26 last year. Germany is prepared to use all available means to help Vietnam achieve those objectives. We aim to collaborate with Vietnam together with other members of the "Justice Climate Change Partnership" mechanism. As a result, Germany maintains its long-standing partnership in development cooperation, concentrating on energy and environmental protection.
Both foreign assistance and the full mobilization of Vietnamese resources are essential. In addition to governmental organizations and the business sector, resource mobilization also refers to the collective or individual efforts of a large number of individuals in support of an NGO's operations. Their participation is essential to reaching the objective, but it also extends beyond that.
I also want to bring up a third worldwide issue in addition to the Covid-19 pandemic and climate change. That is disrespecting and breaking the rules of the global system of laws and regulations. The Russian invasion of Ukraine is now the most significant crisis. It is a battle that affects the entire world, not just the local area. For instance, we notice it in the growing cost of food and electricity. Asia and Africa were among the nations that suffered as a result of the Russian conflict.
The laws broken here are part of the fundamental guidelines for international coexistence. The issues at hand include territorial integrity, sovereignty, the rule against using force, and the rule for resolving conflicts peacefully. These standards serve as the foundation for the entire world, not just for Europe. If such norms are not upheld in Europe, there is a chance that they will not be upheld elsewhere. We are aware that Vietnam upholds international law, and we desire to collaborate closely with Vietnam in this regard.
Fortunately, in the past few months, the travel between our two countries has improved again, including the exchange of official delegations. That facilitates many face-to-face meetings. One example I would like to give is the visit to Germany by Minister of Foreign Affairs Bui Thanh Son last week. Besides Minister of Foreign Affairs Baerbock, Minister Bui Thanh Son also met with Federal President Steinmeier and Federal Council President Ramelow. High-level meetings will follow in the coming weeks and months.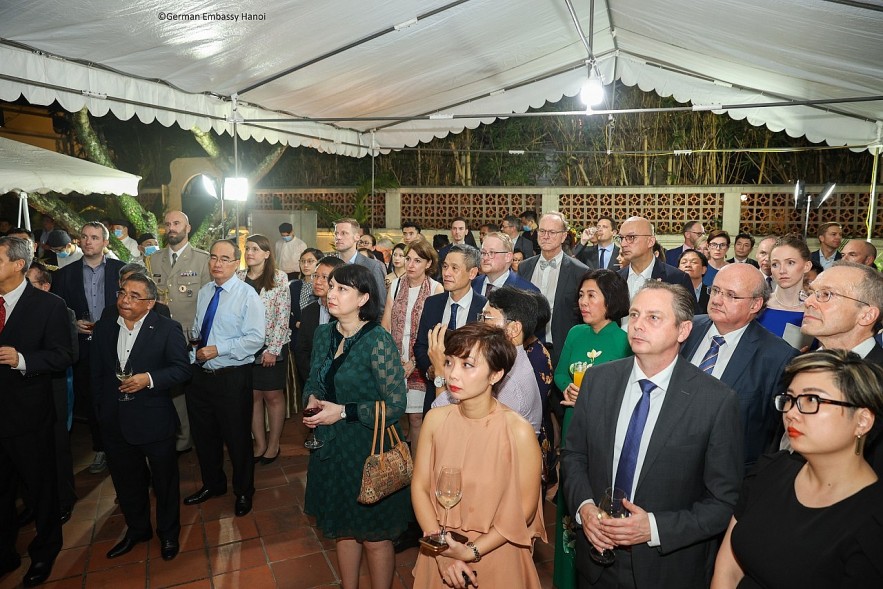 Guests attending the event (Photo: German Embassy in Vietnam).
The development of economic ties has been excellent. On this issue, I'd also want to offer a helpful illustration. To commemorate 25 years of operation in Vietnam, the German Messer Group, which specializes in industrial gas production there, opened a new facility in Thai Nguyen two weeks ago. This particular firm has contributed more than 400 million euros to Vietnam over the previous 25 years.
More than 350 German companies have invested close to 3 billion euros in Vietnam, resulting in the employment of more than 50,000 individuals.
The investment interest of several corporations in recent weeks alone shows that the trend is favorable.
As you can see, German-Vietnamese relations are on a good development path. That gives us confidence in the future."