Vietnam Eyes Deepen Strategic Partnership with Germany
At the invitation of Minister of Foreign Affairs of Federal Republic of Germany Annalena Baerbock, Minister of Foreign Affairs Bui Thanh Son paid official visits to the Federal Republic of Germany from September 26 to 27.
Foreign Minister Bui Thanh Son has affirmed the nation's recognition of the great importance of the strategic partnership between Vietnam and Germany, going on to express his pleasure that bilateral ties have developed well across a variety of fields.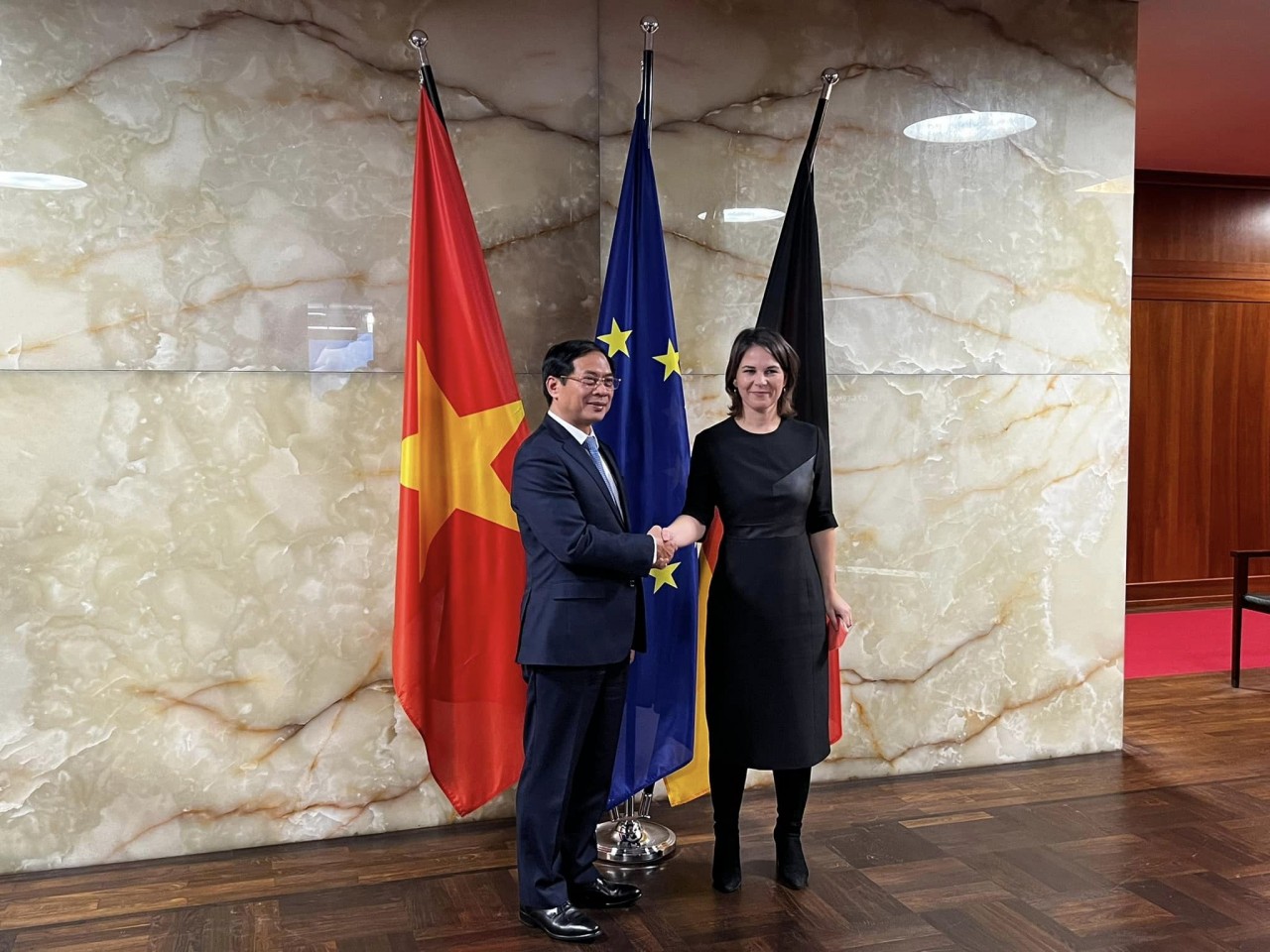 Minister of Foreign Affairs Bui Thanh Son (L) and his German counterpart Annalena Baerbock. Photo: VNA
Minister of Foreign Affairs Bui Thanh Son paid an official visit to Germany from September 26-27 at the invitation of his German counterpart Annalena Baerbock, VNA reported Wednesday.
During the visit, Son held talks with Baerbock, paid courtesy calls to German President Frank-Walter Steinmeier, President of the Federal Council Bodo Ramelow, Minister-President of Hessen state Boris Rhein, State Secretary at the Federal Ministry for Economic Affairs and Climate Action Michael Kellner.
During the meetings, Son affirmed that Vietnam always treasures the strategic partnership with Germany. He suggested both sides expand cooperation to further deepen the contents of the bilateral strategic partnership.
The minister thanked the Government and people of Germany for providing Vietnam with the Covid-19 vaccine and medical equipment, thus helping Vietnam early contain the pandemic and resume socio-economic activities.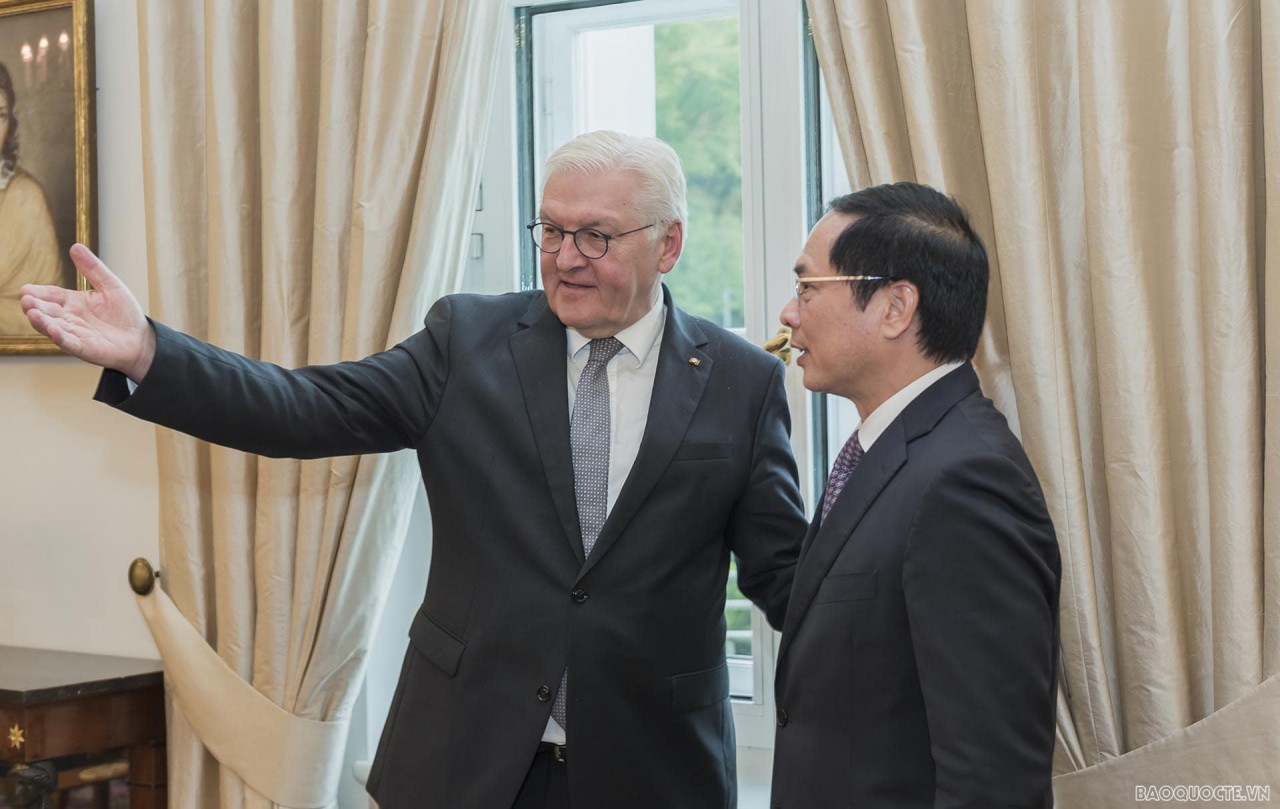 Minister of Foreign Affairs Bui Thanh Son and German President Frank-Walter Steinmeier. Photo: TG&VN
German leaders described Vietnam as an important partner of Germany in Southeast Asia and Asia-Pacific. They once again thanked the Vietnamese Government and people for offering masks to Germany when Covid broke out in 2020.
President Frank-Walter Steinmeier conveyed his regards to President Nguyen Xuan Phuc and Vietnamese leaders and expressed his wish to visit Vietnam soon.
Regarding economic-trade ties, the Vietnamese minister proposed the two sides continue to effectively implement the EU-Vietnam Free Trade Agreement (EVFTA). He hoped that the German Parliament will soon complete the ratification of the EU-Vietnam Investment Protection Agreement and that the German Government will support the early removal of the European Commission's yellow card warning on Vietnam's aquatic products for export, thus facilitating bilateral trade and investment activities.
Both sides agreed to intensify coordination in new fields such as climate change response and renewable energy, contributing to seriously and fully delivering on commitments at the 26th United Nations Climate Change Conference (COP26) as well as dealing with global issues.
President Steinmeier and President of the Federal Council Ramelow said both sides still hold the potential for cooperation in Germany's strong fields such as sci-tech, environment protection, climate change response, vocational training, labor, and locality-to-locality cooperation. They also vowed to tackle difficulties in bilateral trade.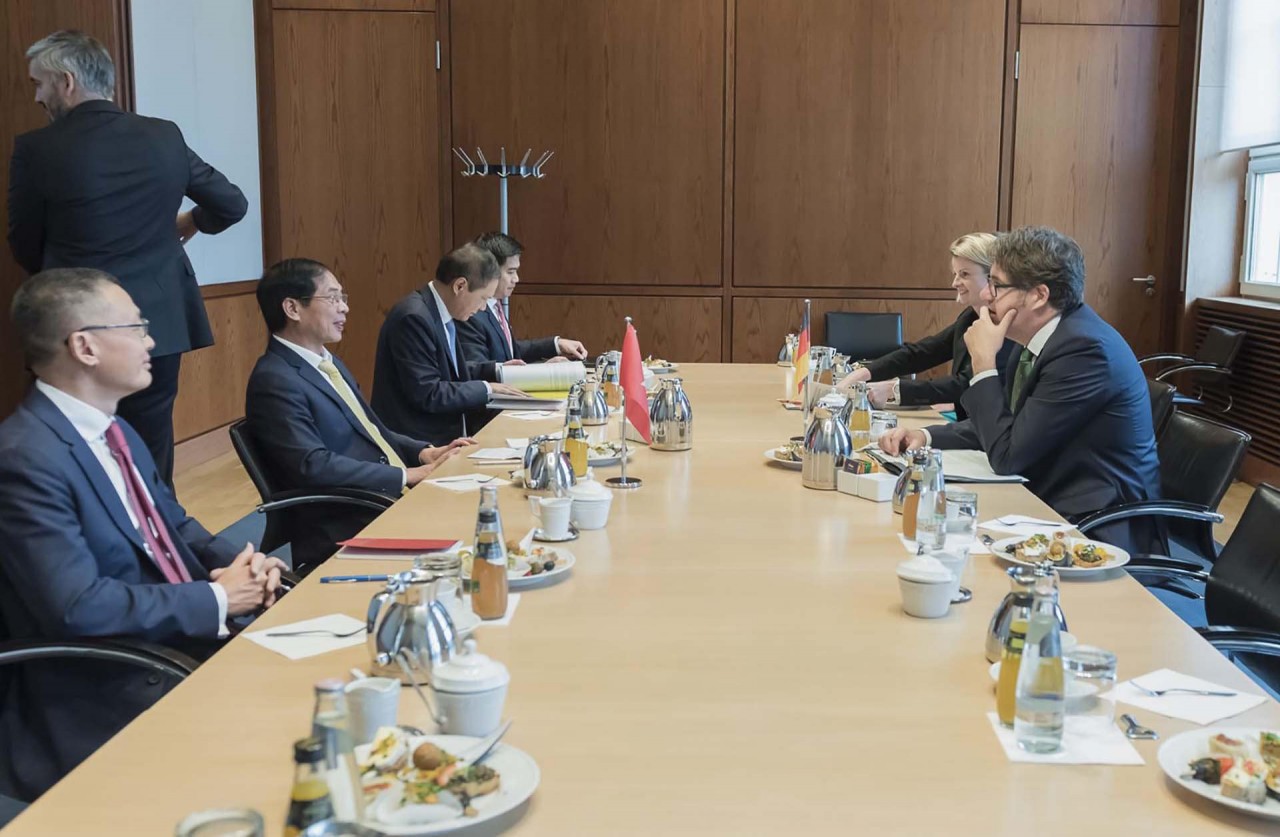 Both nations have huge potential and plenty of room to step up cooperation moving forward. There will be a particular focus on investment and trade, as well as on areas where Germany has strengths such as science-technology, environmental protection, climate change adaptation, vocational and labor training, and local co-operation.
On regional and global issues of shared concern, hosts and guests consented that the two countries will continue effectively working together and offering mutual support at multilateral organizations and forums, including cultivating ASEAN-EU ties.
Regarding the Bien Dong Sea issue, they shared a stance on ensuring peace, stability, security, cooperation, and development in the region, settling disputes by peaceful means in line with international law and the UN Charter, particularly the 1982 UN Convention on the Law of the Sea.
Son wished that Germany would create more conditions for the Vietnamese community to integrate into the host country, thus contributing to German socio-economic development and the Vietnam-Germany ties.
Statistics of the General Department of Vietnam Customs that showed trade turnover between Vietnam and Germany topped USD 10 billion last year, up 11% compared to 2020. The figure hit nearly USD 7.3 billion in the first seven months of this year, a year-on-year increase of 18.5%.
There are over 300 German enterprises doing business effectively in Vietnam, including many large corporations such as Siemens, Mercedez, Adidas, Bosch, and Braun. The total registered foreign direct investment of Germany in Vietnam reached USD 2.3 billion with 417 valid projects as of January this year.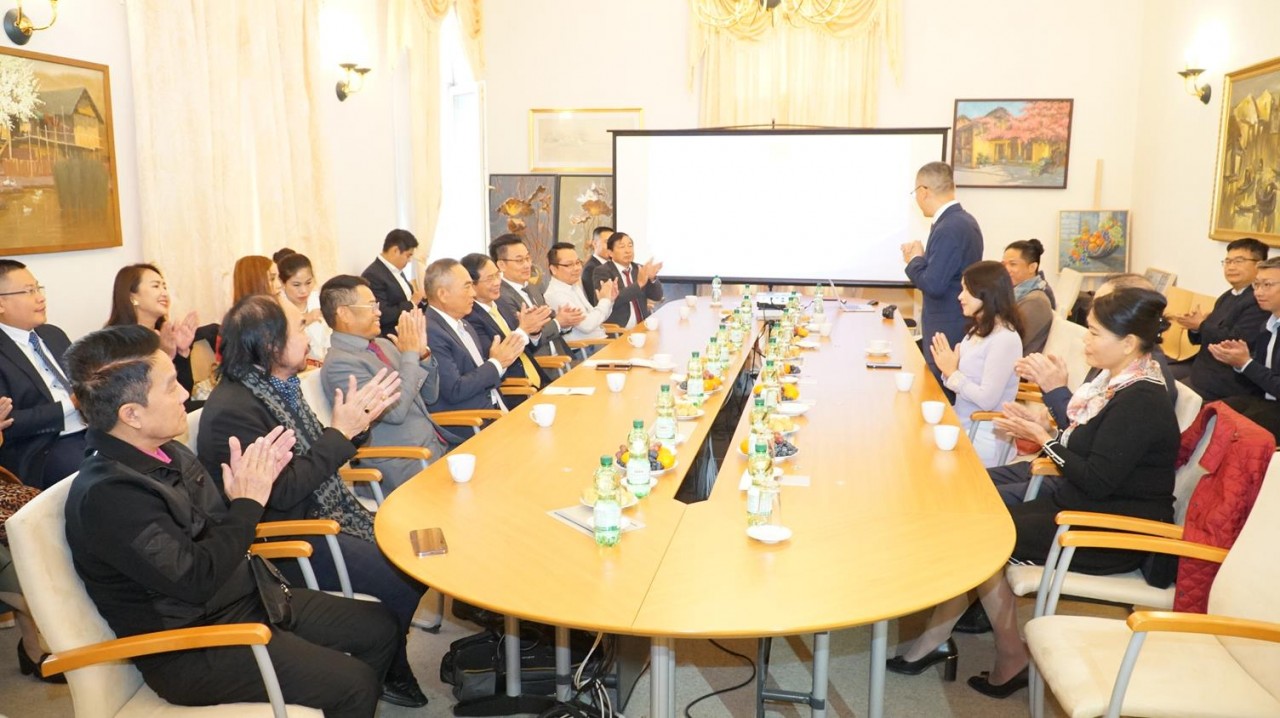 Minister of Foreign Affairs Bui Thanh Son meets representatives of the Vietnamese community. Photo: Huy Thang
During the visit, the FM had a working session with the Vietnamese embassy and met with representatives from the Vietnamese community in the European country.
Attending the meeting were Ambassador Vu Quang Minh, his spouse, and officials of the Vietnamese Embassy in Berlin.
On the community side, there were Nguyen Van Hien, head of the Preparatory Committee for the establishment of the General Association of Vietnamese in Germany together with representatives of a number of Vietnamese associations in Germany, and some enterprises.
At the meeting, Minister Bui Thanh Son acknowledged the positive and great contributions of the Vietnamese community in Germany, wishes and hopes that the establishment of the General Association of Vietnamese people in Germany, will help the community grow stronger, unite and have more positive activities.
On this occasion, Minister Son awarded certificates merit and certificates merit to a number of collectives and individuals with outstanding achievements.
After Germany, Minister of Foreign Affairs Bui Thanh Son will pay an official visit to the Republic of Austria from September 28 to 29.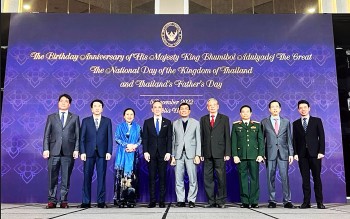 Friendship
The Royal Thai Embassy organises the reception on the occasion of celebration of the Birthday Anniversary of His Majesty King Bhumibol Adulyadej the Great, the National Day of the Kingdom of Thailand and Thailand's Father's Day on 2nd December 2022 in Hanoi.