STEAMese Festival 2023
Given Equal Access to STEAM Education for All Children
Children, young people, parents, and teachers gather in a STEAM Discovery Festival to exchange advanced knowledge of STEAM and mobilize forces for girls' access and participation in STEAM education
STEAM for Vietnam, the United Nations Children's Fund (UNICEF) in Vietnam, and the American Centres (US Embassy & Consulate in Vietnam) on August 27 launched the STEAMese Festival 2023 to reimagine education in the country through the power of STEAM (Science, Technology, Engineering, Arts, and Mathematics).
The first in-person STEAMese Festival, organized at the Hanoi-based Phenikaa University, promotes the importance of early and equal STEAM education for children and adolescents, especially girls – starting at the preschool level.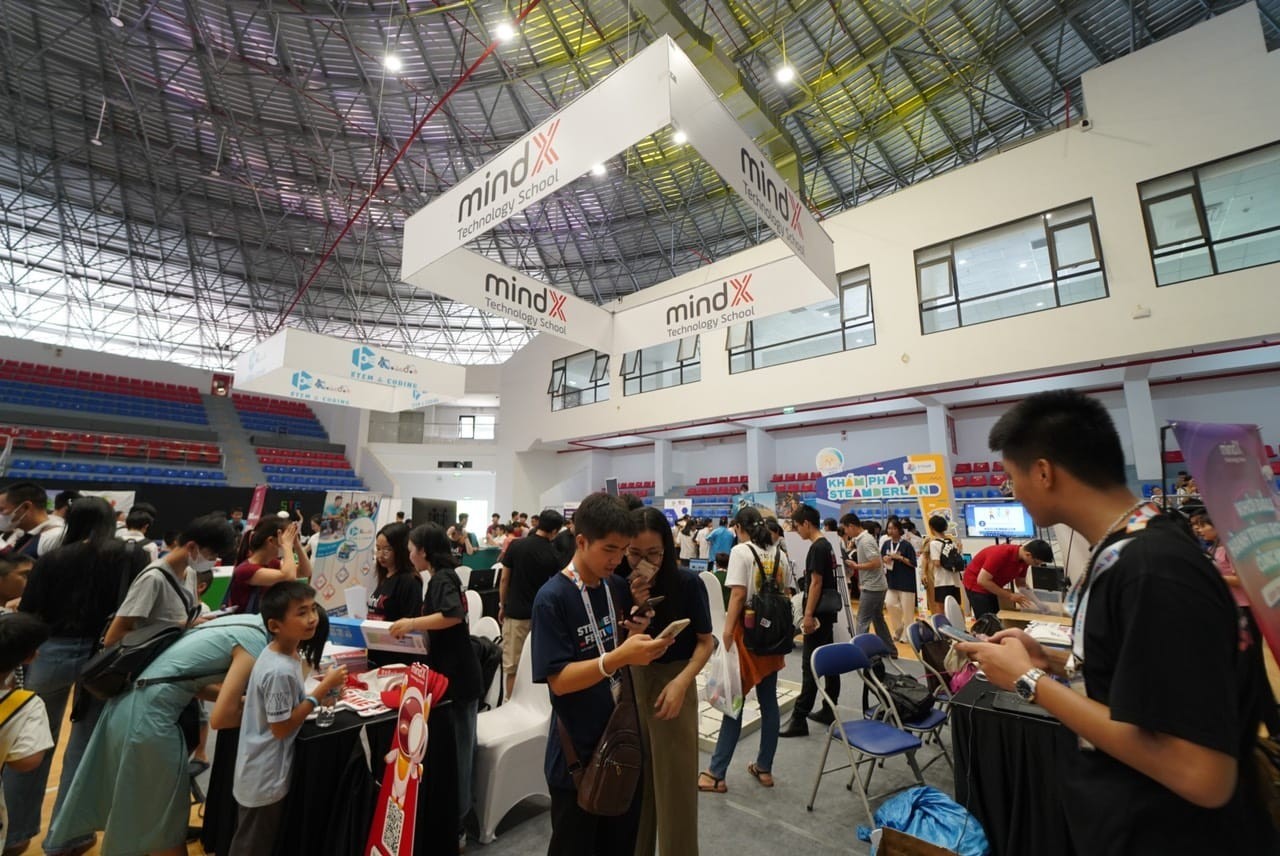 Experiential and explorative activities at the Phenikaa University as part of the STEAMese Festival.
East Asia and the Pacific is home to 277 million adolescents accounting for 23% of the world's adolescent population, an incredible cohort of youthful energy, ideas, capacity, and drive. At the same time, young people face various challenges to access quality and relevant education, in their transition into decent work opportunities, and to meaningfully participate in community and policy-making processes.
The climate crisis, coupled with the recent pandemic has accelerated the digital transformation of economies and education systems, as companies and governments rapidly deploy digital services and increasingly innovate in response to resource scarcity.
In this context, young people, governments, and business leaders across the region often report a severe skills gap within STEAM. Likewise, surveyed employers across Vietnam have observed that transferable skills around problem-solving, communication, and creative and innovative thinking, are not being found in school graduates – boys or girls.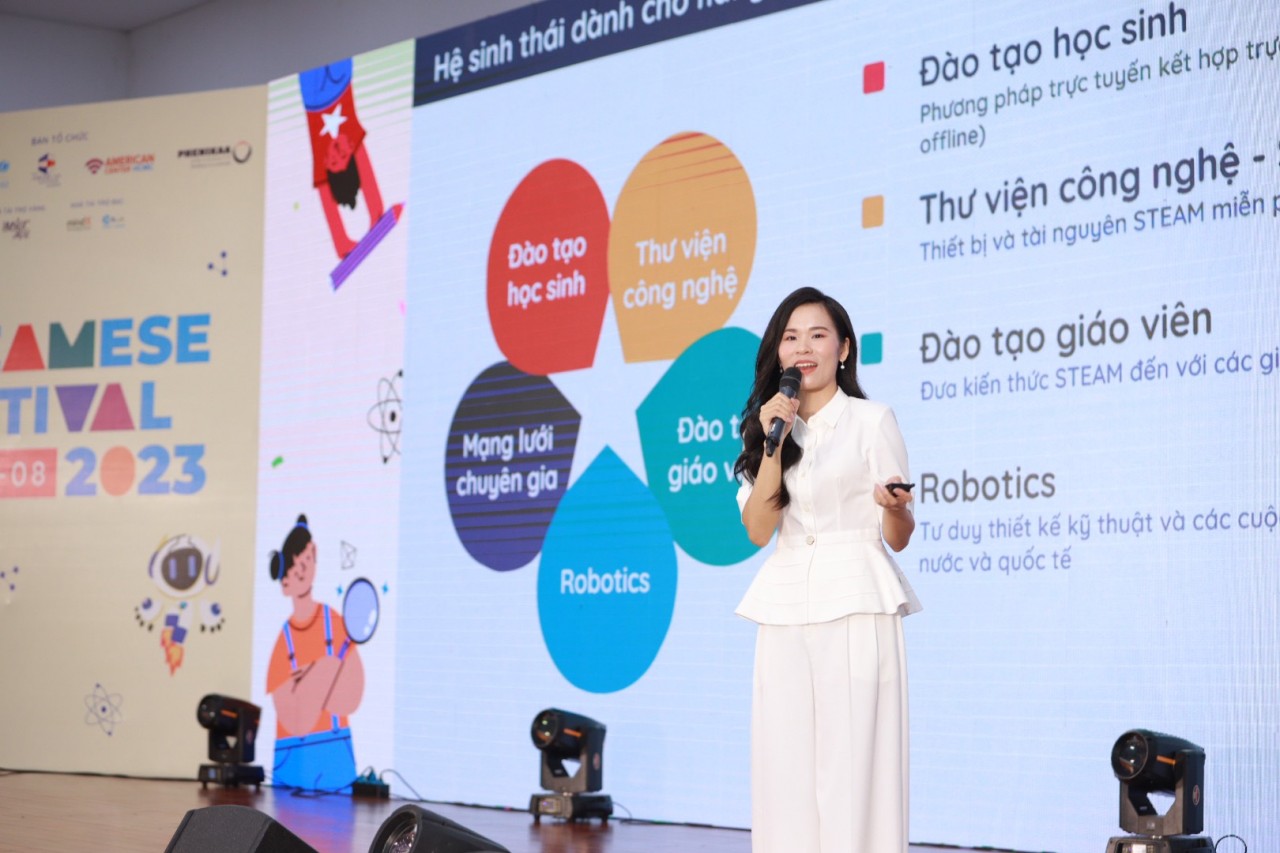 Nguyen Phuong Thuy, Co-founder of STEAM for Vietnam Foundation delivers the opening ceremony.
Speaking at the launching ceremony on August 27, Nguyen Phuong Thuy, Co-founder of STEAM for Vietnam Foundation stressed that quality and equal STEAM education for all children, especially girls, is of absolute importance.
She expressed her confidence that the solid foundation of STEAM education will play a vital role in the success of the country's next generations in the global market. Their mission is to bring advanced STEAM education to Vietnamese children aged six to 18, building on cutting-edge technologies, innovative educational models, and enhanced teachers' capacity.
"This festival is a highlight in our journey to promote equal access for all children to free STEAM education of international standards," Thuy highlighted.
Meanwhile, Kate Bartlett, Cultural Affairs Officer, US Embassy, affirmed that the US Mission in Vietnam is committed to supporting Vietnam's efforts to improve the quality of its higher education and produce a 21st-century workforce ready to engage globally.
"By working closely with like-minded partners, we can achieve so much more. Vietnamese youth are energetic, talented, and ambitious global citizens. There is no limit to their potential", said Bartlett.
Le Anh Lan, UNICEF Vietnam Education Specialist talks about the importance of STEAM for children and young people and STEAM for girls. "Advancing and investing in STEAM education and transferrable skills is a key priority for Vietnam, and one which UNICEF is deeply committed to – for both boys and girls."
According to her, the evidence points to specific challenges for girls and young women as gender differences begin even before birth, and similarly, gender gaps in STEAM begin early and must be tackled throughout schooling, starting in preschool, rather than through catch-up policies or programs once a young woman enters the labor market. Encouraging girls' aspirations in STEAM is critical, as is supporting a holistic approach to skills, career exploration, and pathways to employment that are responsive to adolescent girls and young women.
With the experience of manually installing Robots and using them for an exciting football match, the students have certainly learned and practiced many useful skills, thereby nurturing their passion for STEAM gradually growing.
The STEAMese Festival 2023 was curated with a wide range of edutainment and exploratory activities drawing hundreds of children, young people, parents, and teachers from various geographical areas including Hanoi, provinces of Lao Cai, and Soc Trang.
The space is creatively designed for participants to enjoy, create, and interact, building on the concepts of computational thinking, growth mindset, and transferrable skills, applied via programs such as Scratch and Robotics, tournaments with VEX Robotics, and science discovery.
The event also hosted talk shows and discussions among national and international experts, policymakers, and schools, sharing lesson design methods and teaching materials with teachers so that they can foster their teaching knowledge and learn from experiences in curricular design.
"STEAMese Festival 2023" is an opportunity for teachers, school representatives, parents, and students to connect, exchange and learn new knowledge about STEAM from international and domestic experts. The program inspires students to learn and love STEAM subjects and teachers are equipped with the knowledge, skills, and resources to prepare for the new school year.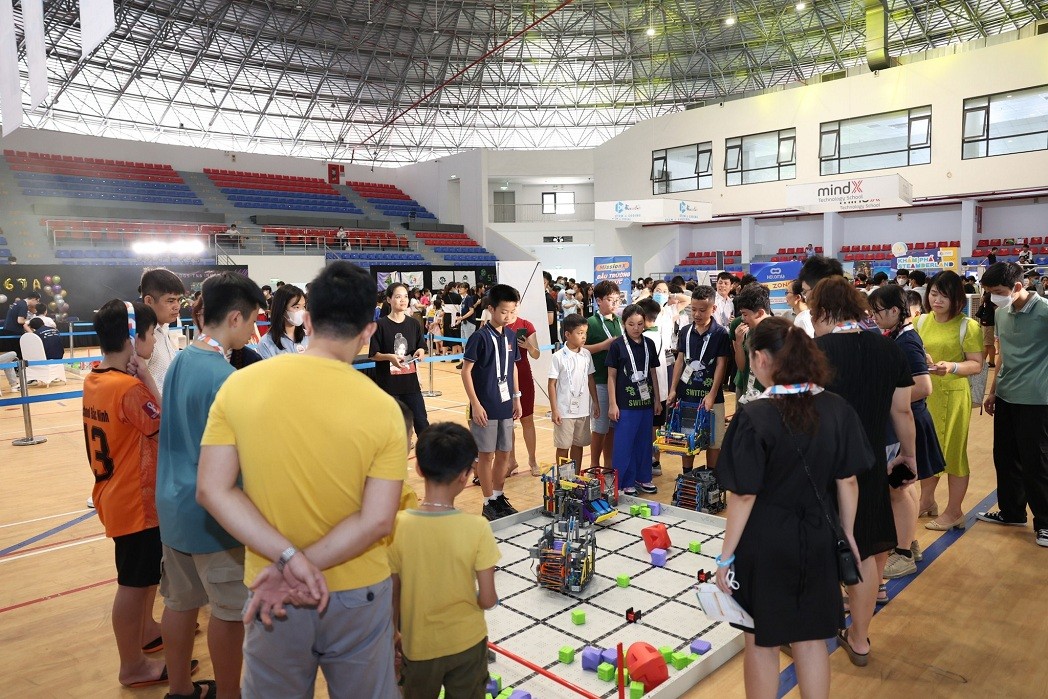 Although it took place only in a single day, the 2023 VEX IQ Robotics Friendly Tournament brought many valuable lessons. Through this miniature tournament, students have been equipped with the necessary knowledge and skills to reach large-scale domestic and international Robotics arenas.