Ha Tinh farmer takes advantage of technology into irrigation works
Vietnamese farmers gradually  get used to applying technology in their farming work in general and irrigation in particular. Thanks to using auto irrigation system, Le Thi Hien, a farmer in Ha Tinh save a lot of time and effort for her gardening works.
Previously, to irrigate 2,000 m2 of crop it took a lot of time, many workers, but now, Hien's family only needs to use one worker to irrigate the entire crop area.
With a 3,000 m2 garden, Ms. Le Thi Hien, a farmer in Ha Tinh used 1,000 m2 for construction, the remaining 2,000 m2 is for planting fruit trees such as custard, jackfruit, grapefruit, and other short-term crops. Previously, watering plants against drought took her family a lot of effort, with long hot years, she had to hire more people to water the trees.
After learning gardening experiences from other districts, earlier this year, Hien bought a remote control device via internet application to install an irrigation system. Remote control devices via internet applications are self-analyzing sensors that make decisions according to the programmed settings. Thereby, helping users to manage and operate the system as desired through devices such as smartphones, computers connected to the Internet.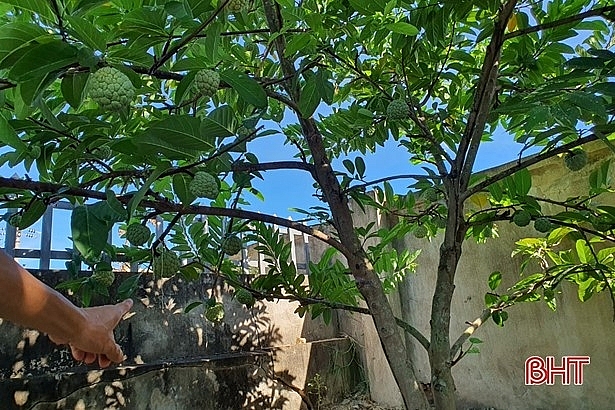 Thanks to regular watering, the plants in Ms. Hien's garden are lush and fruitful
This device is from Thailand, the installation is very easy, especially the price is very cheap, only about VND 1 million. The total cost of installing the irrigation pipe system for 2,000 m2 of fruit trees is around VND 15 million. Ms. Le Thi Hien said: "Since installing the remote control device via internet application into the watering system, I find it very easy to water the tree against drought. I do not need to stay in the garden but still easy to control the irrigation system. Using this device is not only convenient but also helps my family save a lot of water. Previously, it took with 10 cubic meters of water to irrigate 300 m2 garden, but after installing this device, 10 cubic meters of water will irrigate 3,000 m2 of plants, 10 times higher than before. "
It is known that in Loc Ha district, up to now, there have been 2 households applying this advanced irrigation technology. Apart from Mrs. Le Thi Hien's family, there is also Mr. Mai Trong Vien (Hong Loc commune) who has just installed and started to use it. Mr. Ho Sy Giang - Chairman of Farmers Association of Hong Loc Commune said: "The model of watering plants with remote control is very economical, optimal for areas where water is scarce; especially effective for hilly land, very large farms to minimize water loss.
We have had experiments many times in Ms. Hien's garden and will invite members of the commune to study and replicate this model to improve the efficiency of local agricultural production. "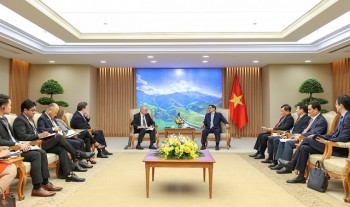 National
Vietnam News Today (Dec. 6): Vietnam records 427 new Covid-19 cases on December 5; PM hosts USABC, US corporation leaders in Hanoi; Proper investment needed to develop night-time economy; Vietnam welcomes New Zealand investors for win-win partnership.