Hanoi-Fukuoka Cooperation Contributes to Vietnam-Japan Friendship
Nguyen Thi Tuyen, standing deputy secretary of the Hanoi Party Committee, said the relationship between Hanoi city and Fukuoka prefecture is a demonstration of cooperation for mutual development for common benefits, based on the trust and affection of close friends and brothers.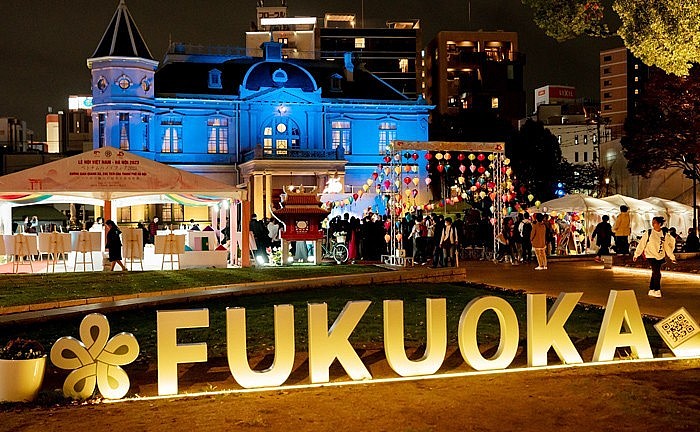 Vietnam-Hanoi Festival in Fukuoka attracts a large number of visitors.
A delegation of Hanoi led by the Standing Vice Secretary of the municipal Party Committee Nguyen Thi Tuyen visited Fukuoka prefecture and attended activities marking 15 years of the two localities' friendship within the framework of the working trip to Japan from November 10-12.
Nguyen Thi Tuyen said that the relationship between Hanoi and Fukuoka Prefecture is a testament to the mutual development of relations for the common benefit of the two countries.
Through discussions on directions to promote the effectiveness of cooperation between the two localities, leaders of the two sides agreed on the need to maintain and strengthen exchange activities and delegation at all levels and expand cooperation in fields such as education training, investment promotion, and trade.
Following the successful official visit of Hanoi city leaders to Fukuoka this time, the Governor of Fukuoka prefecture and Chairman of the Fukuoka Prefectural also announced that they will visit Hanoi in January 2024.
This trip aims to concretize the content of discussions on promoting relations between the two localities as well as the signing of a new Memorandum of Understanding on strengthening cooperation in the field of education and training.
Highlights in Hanoi-Fukuoka cooperation
With the bilateral agreement in 2008 and the Memorandum of Understanding on strengthening cooperation in 2010, 2013, 2018, Hanoi city and Fukuoka prefecture achieved effective results, typical in the fields of economics, culture-arts, agriculture, education-training, environment, contributing to the development of each locality.
Regarding the environment, the waste landfill construction project using Fukuoka semi-aerobic landfill technology at Xuan Son Waste Treatment Facility (Son Tay, Hanoi) started construction in 2014 and was put into use since June 10, 2015.
The treatment area with a receiving and processing capacity of about 240 tons/day and night operated effectively in waste treatment and environmental protection.
The agricultural sector is another highlight of collaboration, marked by events such as the Hanoi-Fukuoka Agriculture Promotion Workshop in 2018 and a training program in the same year for Hanoi district leaders to learn from Fukuoka's experiences. Additionally, annual high-tech agricultural development exchange activities in Fukuoka and agricultural technical training courses organized by Fukuoka for Hanoi contribute to this cooperative effort.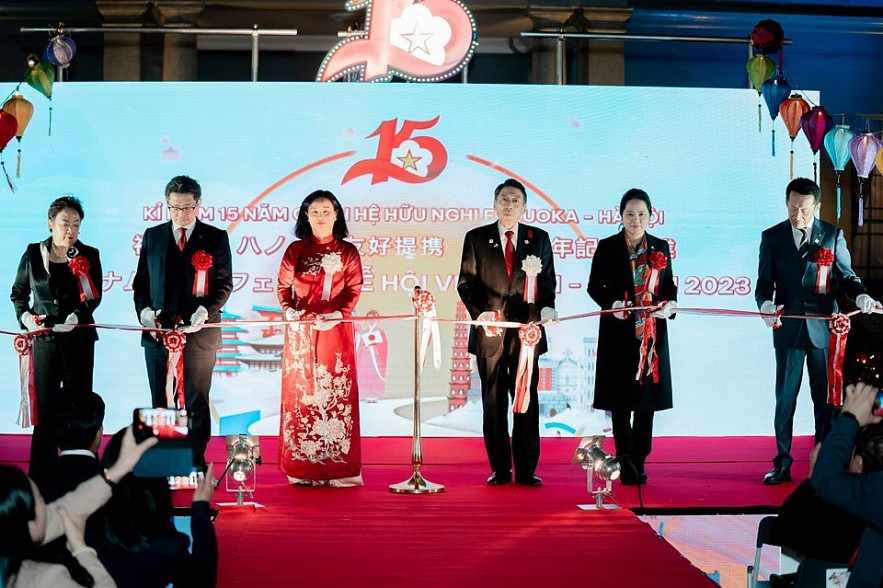 Hanoi and Fukuoka leaders at the "Vietnam-Hanoi Festival" 2023.
In education and training, an agreement between the Hanoi Department of Education and Training and the Fukuoka Provincial Private Education Association, signed in September 2011, facilitated student exchanges. Since 2012, Hanoi hosted 40-60 Fukuoka students annually and reciprocated by sending 20 Hanoi students to Japan for study and cultural exchange. This program serves as a meaningful collaboration to foster understanding and cultural exchange among the younger generations of both regions.
Hanoi and Fukuoka also signed an agreement on promoting exchanges and friendship on April 25, 2014, marking comprehensive cooperation between all levels of the two sides.
On November 10, the "Vietnam-Hanoi Festival" 2023 in Fukuoka (Japan) jointly organized by Hanoi city and Fukuoka prefecture opened at Tenjin Central Park, Fukuoka.
This is a cultural and artistic exchange activity organized to enhance understanding, and sharing, and cultivate the foundation of friendly relations connecting the people of the two countries and two localities.
This year's festival lasts for three days, including performances combining traditional Vietnamese music and dance along with special performances from Japanese friends, booths promoting culture, introducing traditional handicraft products and the quintessence of Vietnamese cuisine.
This is an opportunity to bring the unique features of culture, cuisine, and image of the people of Vietnam and Hanoi city closer to the people of Fukuoka prefecture.
Quang Ninh And Hokkaido Beef Up Relations

Over the past 50 years, the friendship and cooperation between Vietnam and Japan have been continuously strengthened. The achievements of 50 years of strategic cooperation ...