Quang Ninh And Hokkaido Beef Up Relations
Over the past 50 years, the friendship and cooperation between Vietnam and Japan have been continuously strengthened. The achievements of 50 years of strategic cooperation between the two sides continue to be the driving force for Quang Ninh province to establish strong and extensive relations with Japanese localities, including Hokkaido.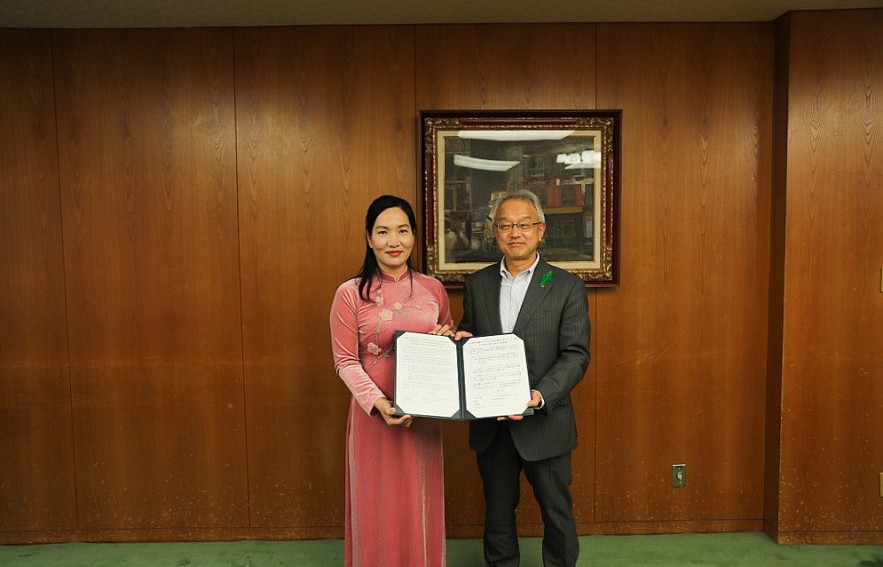 Leaders of Quang Ninh (Vietnam) and Hokkaido (Japan) provinces presented a memorandum of understanding to organize the Hokkaido Festival in Quang Ninh in 2023. Photo: Viet Anh
Hokkaido Festival
With the close relationship between the two countries, cultural activities and people-to-people exchanges have become an extremely important foundation.
After many practical and effective meetings between the two local governments, Quang Ninh and Hokkaido agreed to organize Hokkaido Festival in Ha Long with the theme "Quang Ninh - Hokkaido: Rich cultural integration" taking place from November 17-19.
Within the framework of the Hokkaido Festival in Ha Long, there will be many activities, such as the event to sign a memorandum of cooperation between Quang Ninh and Hokkaido province, Quang Ninh-Japan investment promotion conference in 2023, seminars on green growth agriculture, cultural exchanges, tourism and human resource development, Vietnamese-Japanese culinary space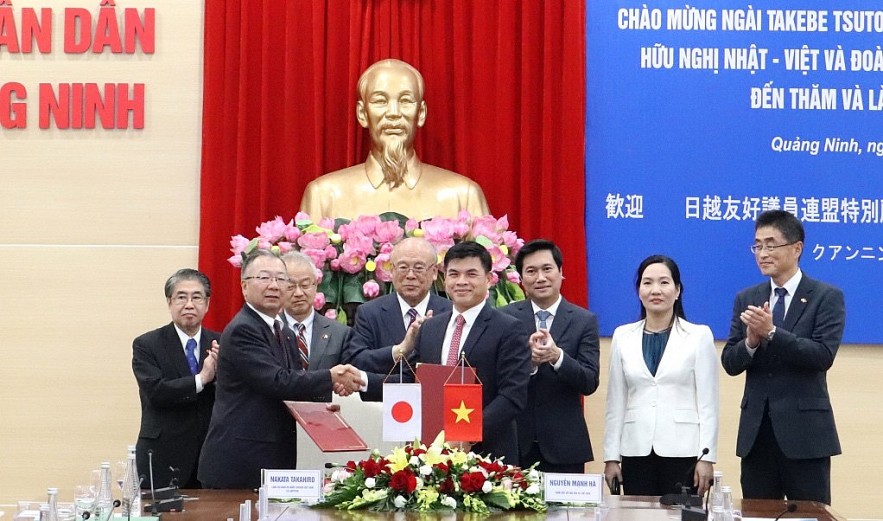 Quang Ninh and Hokkaido signed a memorandum of agreement on the establishment of the Hokkaido Festival Organizing Committee in Ha Long City in October 2022.
The Vietnam-Japan culinary space will have about 100 booths from Hokkaido (Japan), Quang Ninh province, and some provinces and cities of Vietnam.
The booths introduce typical products and cuisine of Hokkaido and Quang Ninh provinces, display equipment, machinery, services of Japanese businesses and corporations, and potential tourism and trade products of Quang Ninh province.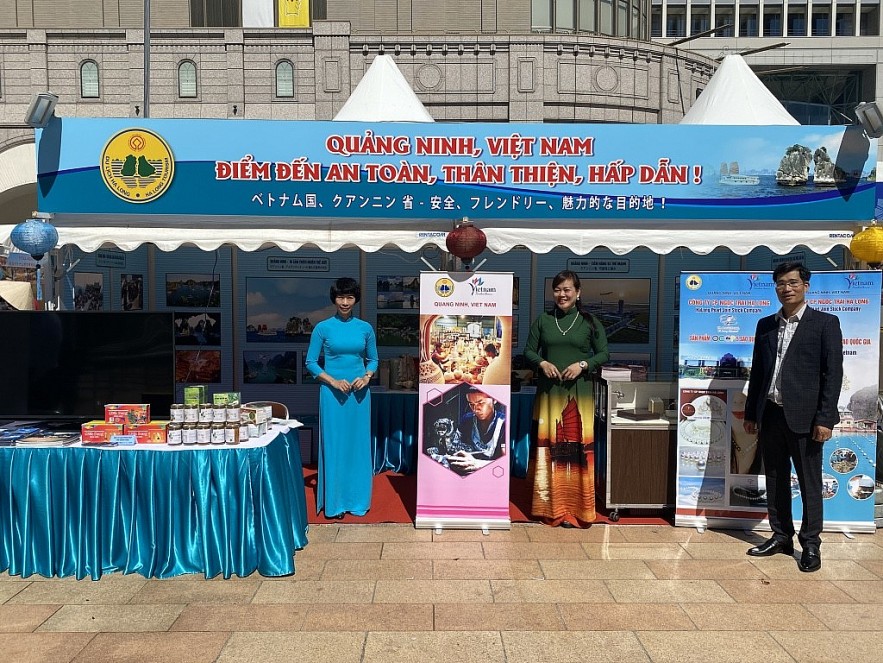 The display booth introduced Quang Ninh province and typical OCOP products at the Vietnam Festival in Sapporo in 2022.
This is a meaningful event, contributing to concretizing the joint statement "Towards opening a new phase of the extensive strategic partnership between Vietnam and Japan for peace and prosperity in Asia".
The event creates conditions for people and tourists to experience the cultures of Vietnam and Japan.
Businesses from both sides also have the opportunity to connect, exchange, promote investment and trade, and stimulate tourism demand.
Takebe Tsutomu, special advisor of the Japan-Vietnam Friendship Parliamentary Alliance appreciated the drastic direction of the leaders of Quang Ninh province in implementing the work discussed by the two sides in the highest sense of responsibility.
Regarding the event's activities, special attention should be paid to the preparation as well as the content for the Quang Ninh-Japan Investment Promotion Conference.
The two sides need to prepare for a seminar on green growth agriculture and an event on cultural exchange, tourism and human resource development. These are also two meaningful conferences for Quang Ninh province in the current context.
Looking forward to the future
Hokkaido and Quang Ninh have similarities in tourism, agriculture, and economics, creating favorable conditions for investment cooperation between the two localities.
Tsuchiya Shunsuke, Hokkaido's vice governor, said that Quang Ninh has synchronously invested infrastructure, making it convenient for investors to come to Quang Ninh to do business.
Hokkaido also wishes to cooperate closely with Quang Ninh province in fields such as tourism, education, culture and trade.
He affirmed that Hokkaido will create conditions for tourism promotion, cultural exchange and training programs between universities of Quang Ninh and Japan to take place smoothly.
To strengthen cooperative relations, the Provincial People's Committee requested central agencies to create conditions for Quang Ninh and Hokkaido (Japan) to study and promote the signing of a Memorandum of Understanding to establish friendly cooperation by the end of 2023.
Regarding investment and trade, the two sides research and coordinate to organize investment, trade, and tourism promotion programs in Quang Ninh and Hokkaido to strengthen friendly relationships, and trade connections, and introduce and promote culture and tourism.
They support market information for businesses, thereby promoting the export of Quang Ninh province's strong products to the Japanese market and vice versa.
Regarding tourism, Quang Ninh will create conditions and have appropriate policies for enterprises to cooperate with Hokkaido businesses and organize travel programs to Hokkaido, especially the policy of prioritizing charter flights connecting Chitose Airport (Hokkaido) and Van Don International Airport (Quang Ninh).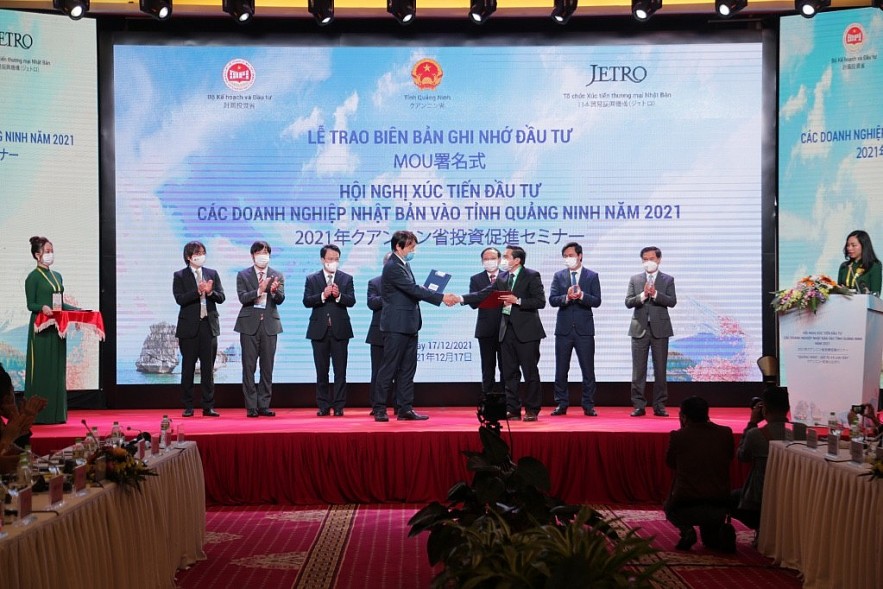 Representatives of Amata Group in Quang Ninh and representatives of Marubeni Group (Japan) presented a memorandum of cooperation at the Investment Promotion Conference of Japanese enterprises in Quang Ninh province, December 2021.
The two localities also want to increase the exchange of experience, and application of modern Japanese science and technology on environmental protection in Quang Ninh.
They introduce and connect organizations, corporations, and businesses operating in the fields of seaports and logistics to exchange experiences, learn more about cooperation and investment opportunities in Quang Ninh province.
Based on practical cooperation, the two sides study the possibility of signing a provincial-level memorandum of understanding to establish friendly cooperative relations. This creates a basis and favorable conditions for departments, branches, organizations and businesses of the two sides to implement specific cooperative activities.