Hanoi Pride 2023: Vibrant Events to Honor Diversity and Equality
Running from September 15 to September 24, Hanoi Pride 2023 offers a series of more than 20 colorful and exciting events, from career discussions, talks, to art performances, to celebrate freedom of expression and love regardless of sexual orientation or gender identity.
Cheerful attendees at the Hanoi Pride 2023 opening ceremony.
With the theme "Generations of Pride," this year's Hanoi Pride encourages participants to look back and celebrate the proud milestones of individuals as well as the LGBTQI+ community in the past decades.
The Opening Ceremony was held on in COMPLEX 01, Hanoi, on September 18, with the participation of diplomatic representatives, NGOs, members of the LGBTIQ+ community, and young people across the capital.
Julien Guerrier, Ambassador-Designate of the European Union to Vietnam, at the event.
In his opening remarks, Julien Guerrier, Ambassador-Designate of the European Union to Vietnam, said: "The EU accompanies Vietnam in its efforts to promote equality and justice for the LGBTQI+ community, supporting the establishment of a foundation so that they can access the full range of services, as well as the necessary opportunities to realize their dreams and aspirations."
The EU diplomat expressed his satisfaction that activities such as Hanoi Pride 2023 showed queer people that they are well accepted by the community.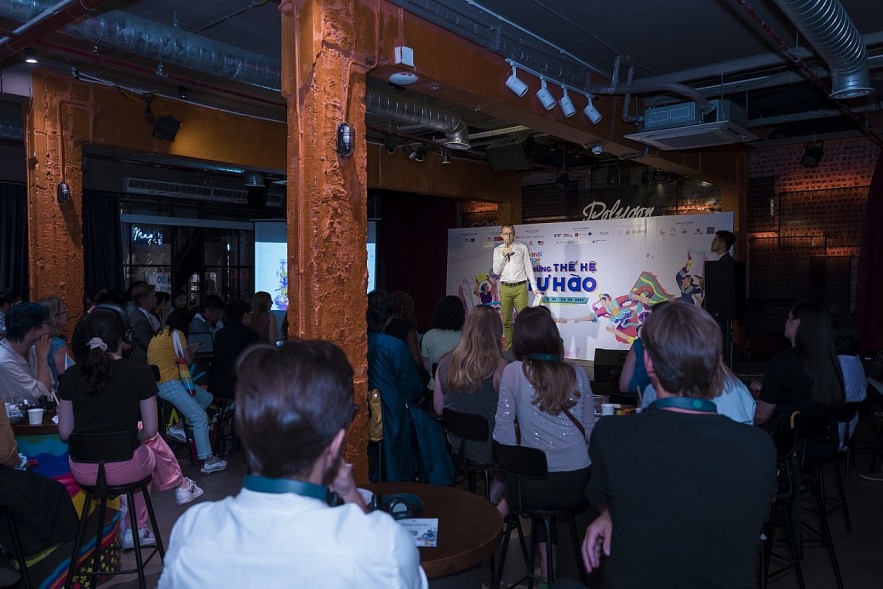 Simon Kreye, Charge d'Affaires of the German Embassy in Hanoi at the event.
According to Simon Kreye, Charge d'Affaires of the German Embassy in Hanoi, Hanoi Pride 2023's events play an important role in raising awareness and creating conditions for queer people of different generations to share their stories and emotions, thereby ensuring the cohesion and durability of the movement, while demonstrating shared responsibility towards past and future generations.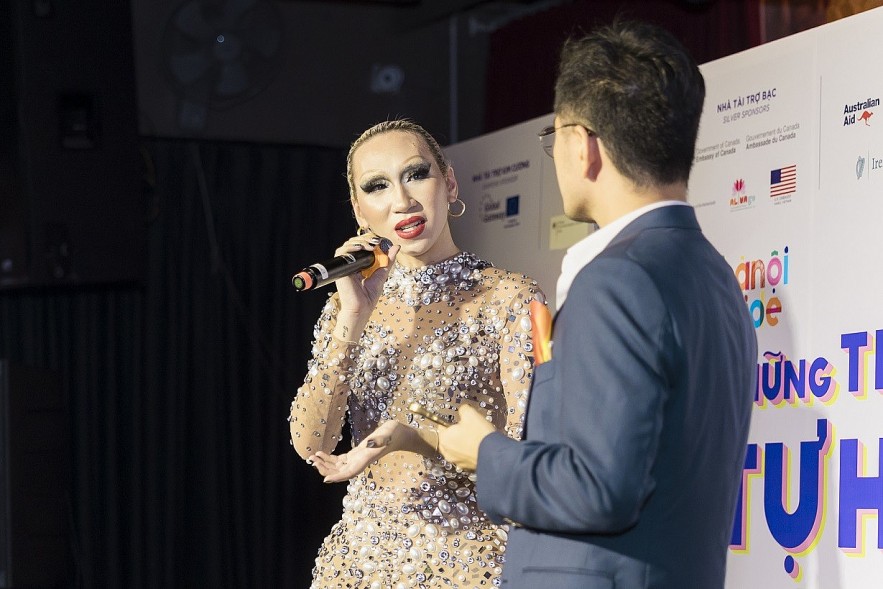 Betty Queen (L) talks to the audience after her enthusiastic performance.
The opening ceremony featured art performances associated with queerness in Vietnam. Betty Queen, a well-known drag performer, heated up the atmosphere with attractive dance moves and sparkling outfits. Betty, who has been doing drag shows since 2015, was optimistic about the changes in public opinion towards the LGBTIQ+ and drag performers in Vietnam.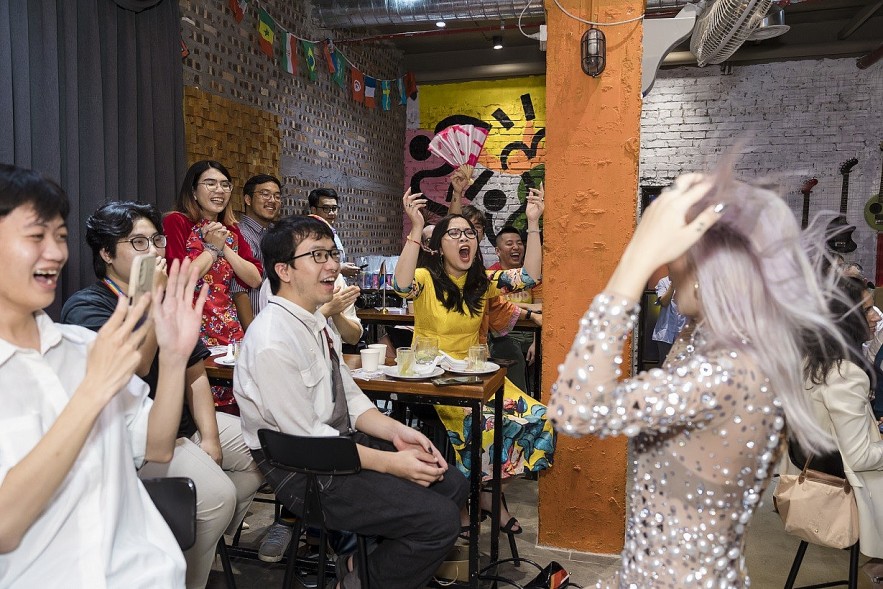 The audience cheers to Betty Queen's performance.
"When I started, drag was not very well-perceived in the traditional society in the North. The community was small, there were not many people who understood and performed the art. We were short on financial resources. It was difficult to run a team, or a "haus," as we call it. A "haus" is usually led by "mothers" and "fathers" who provide guidance and support for their "children," said Betty Queen.
"I have my own haus, VicTeam, where I am the "mother". It was founded in 2014 as a circle for transgenders in Hai Phong to support each other. Now, the "children" are all grown up, and I join another haus, too, as a "grandmother."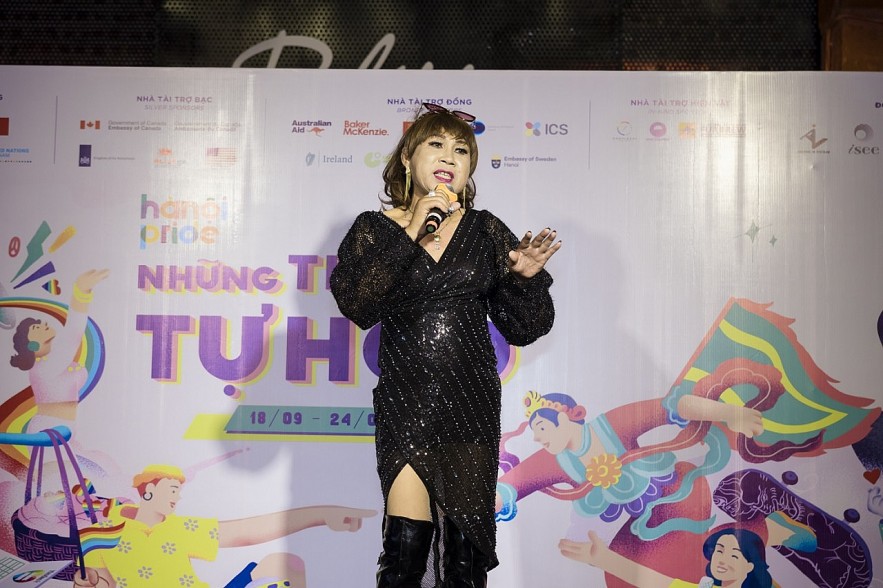 Phung, a Lo To artisit.
Phung brought to the opening ceremony an energetic Lo To performance. Lo To, which resembles Bingo, is a popular game in Southern Vietnam. The most significant difference between Lo To and other types of Bingo is with the organizers of the game themselves, which, more often than not, are transgender women. In recent years, Lo To is becoming even more popular and professional, opening up promising scenarios for the livelihood of queer people in the industry.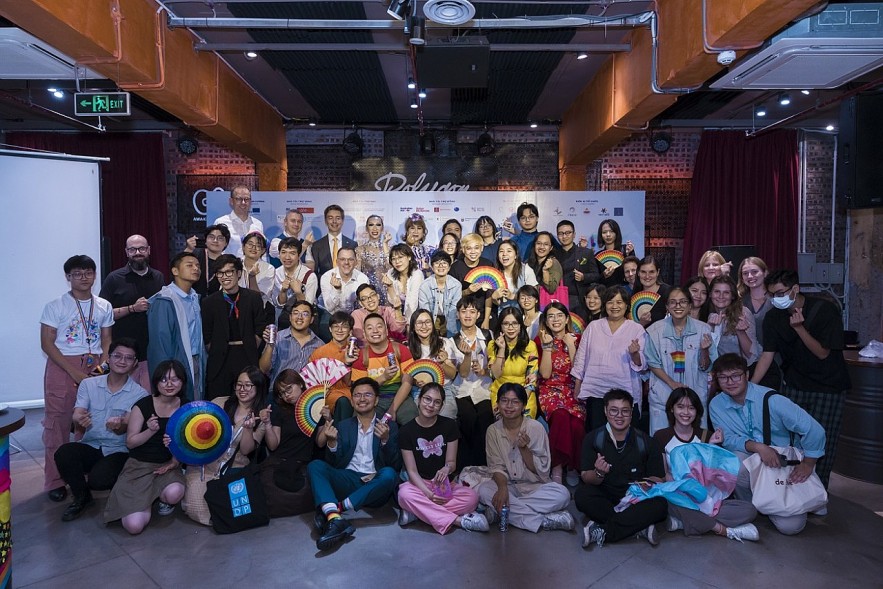 Hanoi Pride 2023 runs from September 15 to September 24, Hanoi Pride 2023.
Since the first celebration in 2012, Hanoi Pride has become an annual event calling for the elimination of prejudice and discrimination against the LGBTQI+ community in Vietnam. Through different forms and approaches, Hanoi Pride has created opportunities for the LGBTQI+ community to be more confident, contributing to promoting a Hanoi that celebrates diversity and equality and playing an important role in spreading pride to the LGBTQI+ community throughout Vietnam.