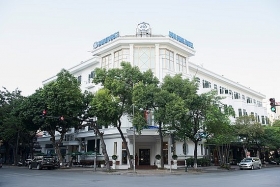 Hoa Binh Hotel on Ly Thuong Kiet street, Hoan Kiem District will be used as a quarantine zone for foreigners.
Accordingly, the facility will be used to accommodate foreigners with diplomatic visa waivers, experts, enterprise leaders and high-skilled workers, who have to pay fees for the isolation.
Hanoi had arranged some additional quarantine areas with capacity of over 10,000 people at dormitories in Phap Van – Tu Hiep (Hoang Mai District), My Ding II (Nam Tu Liem District), Vocational College High Technology Hanoi (Nam Tu Liem District), Vocational School No. 18 (Thanh Tri District).
The city is expected to receive as many as 20,000 returnees landed in Noi Bai International Airport in the next two weeks. As a result, the capital city is rushing to prepare enough facilities and equipment to track, classify and test those repatriate from overseas.
Vietnam's Ministry of Health on Monday afternoon (March 23) confirmed three new cases of Covid-19 infection in its southern Ho Chi Minh City, bringing the total confirmed cases in the country to 121. Hanoi alone has recorded 38 cases and is the first locality with two medical staff detected positive with Covid-19.
Many of active cases are Vietnamese nationals retuning from Europe and the U.S. and foreigners visiting from the same regions. Starting Sunday, in an unprecedented move, Vietnam has suspended entry for all foreign nationals, including those of Vietnamese origin and family members with visa waivers.
Translated by Lyan Vu