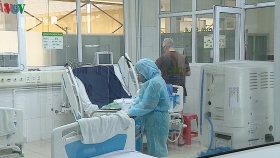 Illustrative photo.
By Wednesday, 90,000 doctors and 125,000 nurses nationwide had been positioned to be deployed in case Vietnam sees a spike in Covid-19 patients.
If necessary, medical students will also join the force to fight Covid-19, the illness caused by the novel coronavirus, officials say.
The country's major cities, Hanoi and Ho Chi Minh City, have got their medical infrastructure ready for the worst scenarios.
Nguyen Tan Binh, director of HCMC's Health Department, said the city has readied staff, facilities and equipment to respond to the Covid-19 epidemic even if it lasts longer than expected.
HCMC has turned the Can Gio District Hospital with 300 beds into a facility that will specialize in treating Covid-19 patients. Since Monday, the hospital has been receiving those with symptoms like cough and fever.
The field hospital in Cu Chi, with 300 beds, which was initially established as a centralized medical camp to quarantine those returning to Vietnam from stricken areas and those who have met with returnees, is now being used to treat infections as well.
The second campus of the HCMC Oncology Hospital will be ready for operation in June, and if the number of Covid-19 patients increases, this new campus will be used to treat them.
400 infectious disease specialists in the city are training other doctors to ensure that the city can be capable of treating up to 1,000-1,400 patients.
The city has got 20,000 test kits for next month and an equal number will be added in May and June.
"We're trying our best to test and classify all people entering Vietnam from stricken areas. This primary step will help us to completely prevent the epidemic from spreading further," Binh said.
Vietnam's COVID-19 tally has soared from 77 to 85, with 16 having fully recovered and been discharged from the hospital by February 16. No death has been reported so far.
Among the cases being treated, 22 are foreigners, including 13 Britons, one Irishman, two Germans, one from the Czech Republic, one Latvian, one U.S. citizen, and three French nationals.
| | | |
| --- | --- | --- |
| NO | Name of hospital | Address |
| 1 | Cho Ray | No. 201, Nguyen Chi Thanh Street, Ward 12, District 5 |
| 2 | University Medical Center | No. 215, Hong Bang Street, Ward 11, District 5 |
| 3 | Hospital for Tropical Diseases | No. 764, Vo Van Kiet Street, Ward 1, District 5 |
| 4 | Children's Hospital | No. 15, Vo Tran Chi Street, Tan Kien Commune, Binh Chanh District |
| 5 | 115 People's Hospital | No. 527, Su Van Hanh Street, Ward 12, District 10 |
| 6 | Gia Dinh People's Hospital | No. 1, No Trang Long Street, Ward 7, Binh Thanh District |
| 7 | Cu Chi General Hospital | No. 09, Nguyen Van Hoai Street, Tan An Hoi Commune, Cu Chi District |
| 8 | District 2 Hospital | No. 130, Le Van Thinh Street, Binh Trung Tay Ward, District 2 |
| 9 | Tu Du Hospital (pregnant) | No. 284, Cong Quynh Street, Pham Ngu Lao Ward, District 1 |
| 10 | Hung Vuong Hospital (pregnant) | No. 128, Hong Bang Street, Ward 12, District 5 |
| 11 | Pham Ngoc Thach Hospital | No. 120, Hong Bang Street, Ward 12, District 5 |
| 12 | Hoan My General Hospital | No. 60-60A, Phan Xich Long Street, Ward 1, Phu Nhuan District |
| 13 | FV Hospital | No. 6, Nguyen Luong Bang Street, Phu My Hung, District 7 |
| 14 | Vinmec Central Park Hospital | No. 208, Nguyen Huu Canh Street, Ward 22, Binh Thanh District |
VNF/Tuoitrenews/ Vietnaminsider/VGP