Hanoi Transformation in Photos: Liberation Day Celebration
Let's take a look at changes of the capital city of Vietnam, as it turned from a place ravaged by the war into a city of peace.
Hanoi, the capital of Vietnam, is an interesting blend of ancient history and chic modernity. Today saw a special occasion that celebrates an important event for Hanoi, the nation's capital in particular and Vietnam in general - the 68th anniversary of its Liberation Day.
This day 68 years ago, on the morning of October 10, 1954, thousands of Hanoians poured into the streets to greet the arrival of the victorious military forces of the Vietnam People's Army.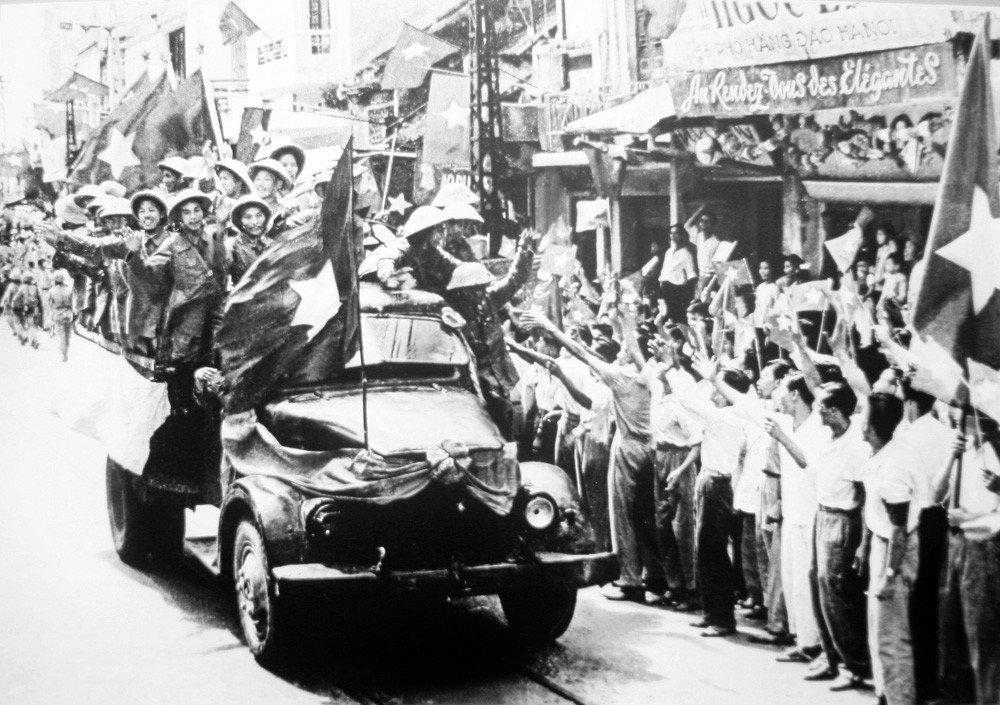 Hanoian people greet the soldiers on the morning of October 10, 1954. The day of October 10, 1954 became a historical milestone of the capital city. Photo: Vietnamnet.vn
Many years have gone since Hanoi was liberated from the French. The capital city has changed in a robust way, most visible in its appearance. While exploring the thousand-year-old city, you can experience the historical uniqueness on the go.
In the past, people at the capital city crowded the streets on significant celebrations such as Independence Day or Tet Holiday. Now, the weekends, at the areas in downtown Hanoi has become a cultural venue that attracts thousands of visitors during daytime and especially at nights.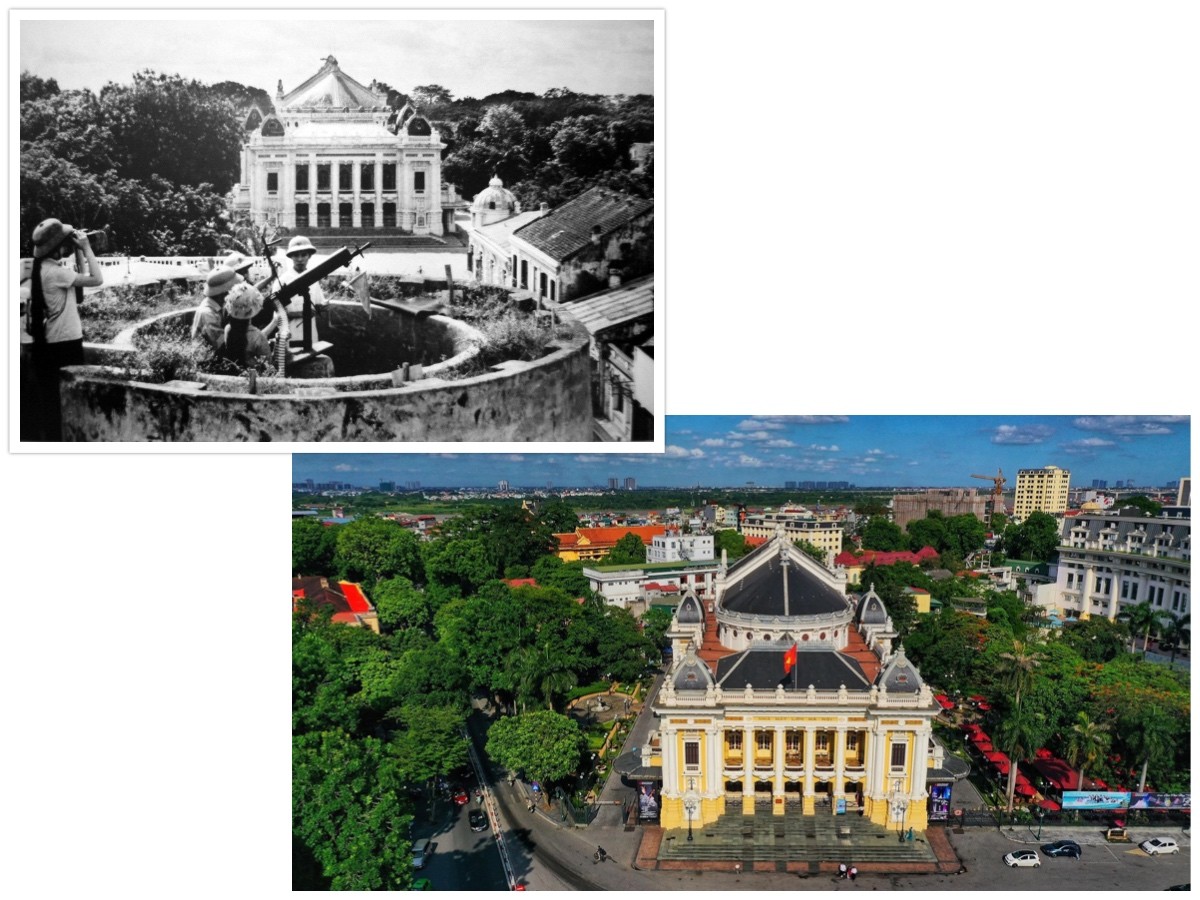 Top: Self-defense troop the Nhan Dan newspaper printing house (Vietnamnet.vn). Bottom: The Opera House square now (Ticotravel.com.vn).
The downtowwn area sees both domestic and foreign visitors with some 3,000-5,000 arrivals during daytime, and 15,000-20,000 at nights, contributing to creating a new lifestyle for Hanoi's people, and promoting the capital city's image - the City for Peace.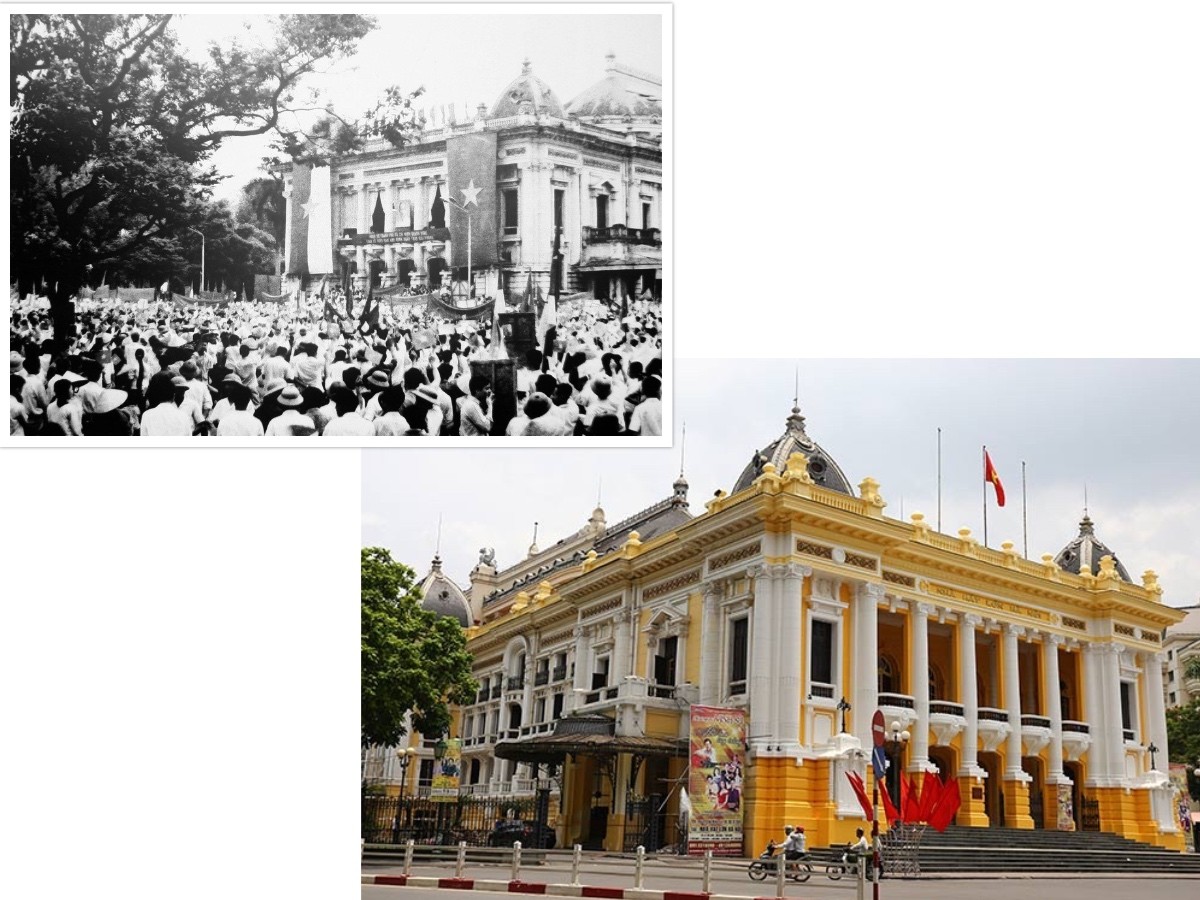 Celebration of the liberation of Saigon and national reunification at the Opera House square in 1975.
The Old Quarter, one of the most well-known districts, is a business centre and also a very prominent spot among tourists. The sidewalks teeming with people on foot, bicycles and now, scooters. You can see crowds of people scavenge markets and barter loudly with street vendors. This area welcomes tourists with lots of cafes, restaurants, boutiques, art galleries and bars even in this historical spot.
Hanoian people used to go into personal underground bunkers to evacuate in case of danger. This invention helped local families protect themselves from American bombs raining on parts of Hanoi.
Four decades have passed since the "Christmas Bombings" rocked parts of Vietnam's capital in December 1972. After the war ended three years later, the bunkers were sealed and all but they are always remembered by war survivors in Hanoi.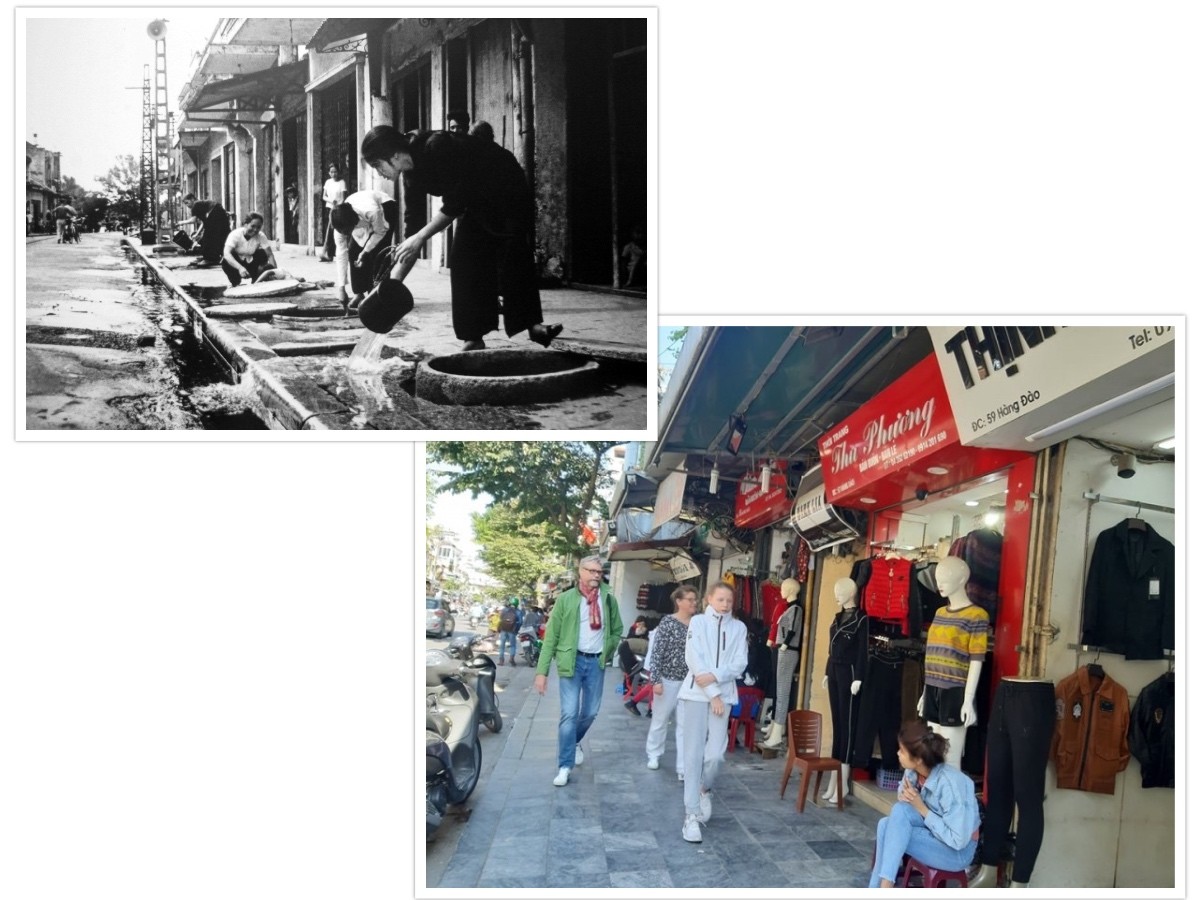 Top: People on Hang Dao street drought water from their personal bunker in 1972 (Vietnamnet.vn). Bottom: Foreign tourists walking on the Hang Dao street (Laodongthudo.vn)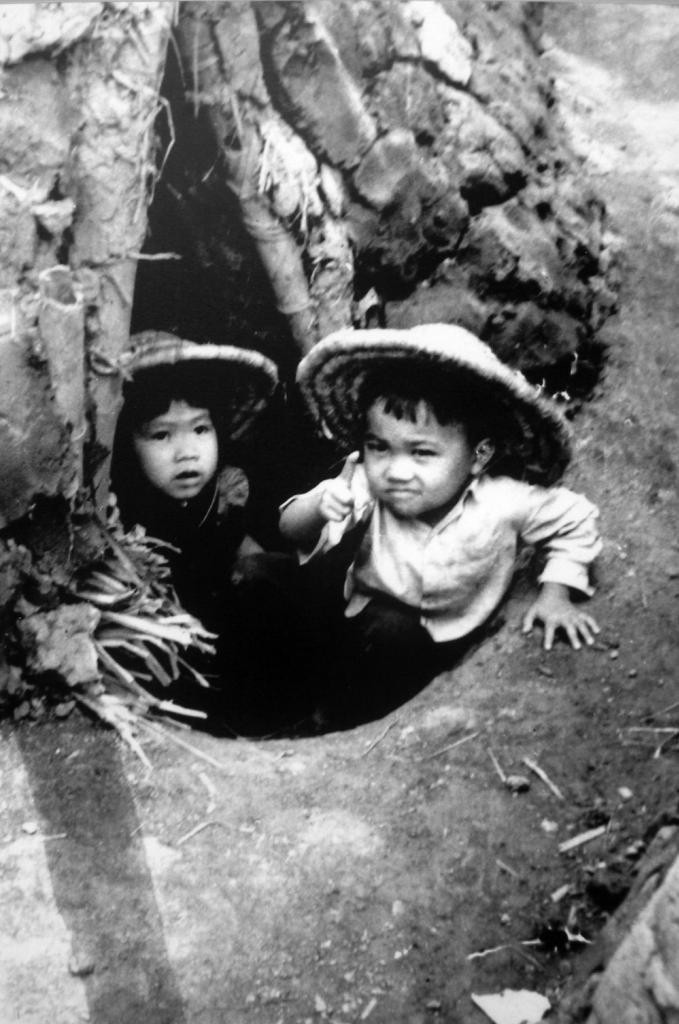 Primary school students in Hanoi in a bunker during wartime (Photo: Vietnamnet.vn).
Children of Hanoi had spent part of their childhood in the 50-70s in these bunkers. They are now elders who have children and grandchildren of their own. Despite the threat of the invaders, Vietnam's older generation continued with their studies and patriotic duties, giving them the skills they needed to help rebuild the country.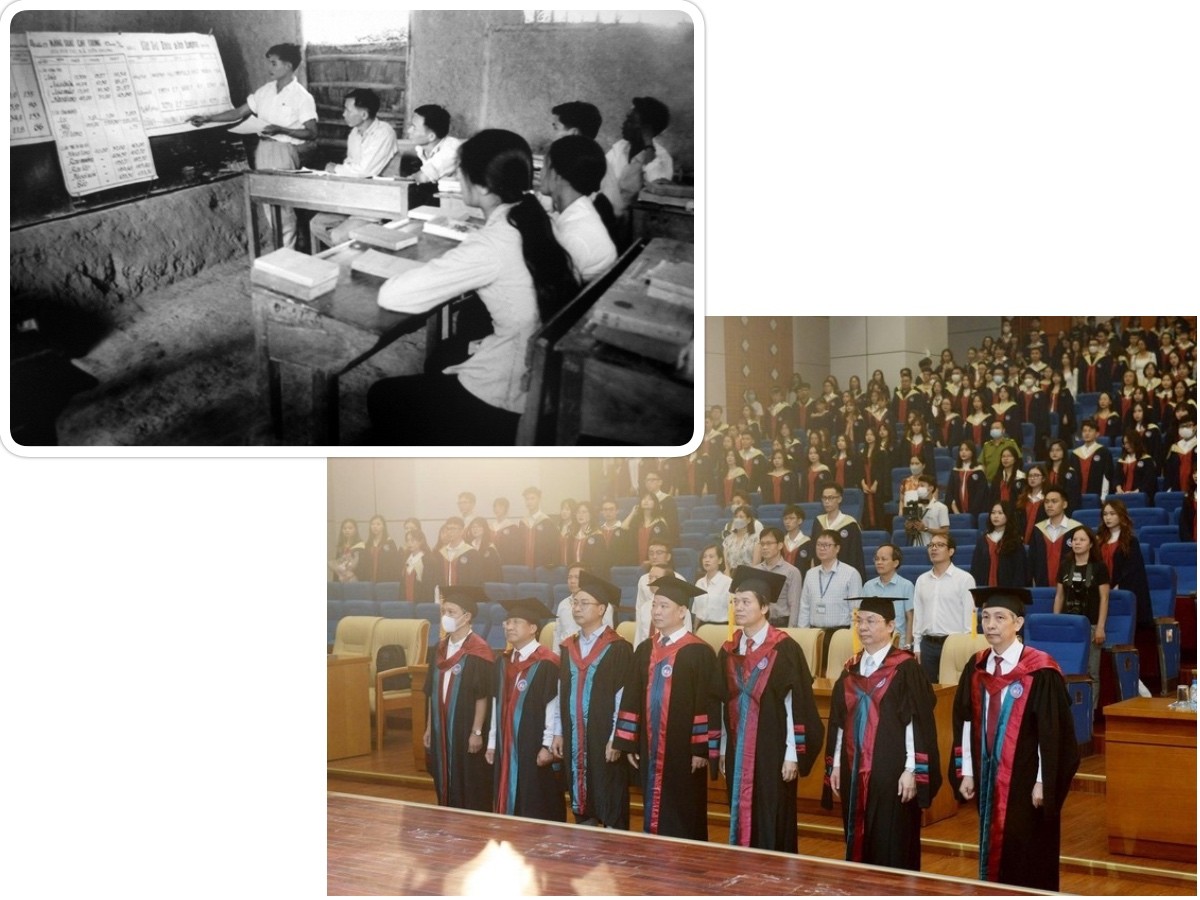 Top: Students of the University of Planning and Economics defend their graduation thesis in a bunker during wartime (Vietnamnet.vn). Bottom: The University of Planning and Economics is now University of National Economics, one of Vietnam's leading universities (Neu.edu.vn).
Top: Agricultural cooperation in Dong Anh district for the construction of socialism in Northern Vietnam (Vietnamnet.vn).Bottom: Agricultural products from Dong Anh district at the One Commune One Product (OCOP) Conference 2020-2025 (Tapchicongthuong.vn).
Vietnam gained its independence from France in 1954. Today, with Vietnam emerging as one of Asia's fastest growing economies, Hanoi is not only the center of education, culture but also of business, tourism and transportation.
Popular, must-visit destinations for foreign tourists visiting the city includes historical relics such as the Temple of Literature, the Thang Long-Hanoi Heritage Conservation Centre, the Imperial Citadel of Thang Long, Co Loa Ancient Citadel and Ngoc Son Temple. Some of them were temporarily closed during the Covid-19 pandemic but they are all in full-operation to welcome visitors.
Near Hoan Kiem Lake, the Dong Kinh Nghia Thuc square serves as a crossroads between the streets of Le Thai To, Hang Dao, Hang Gai, Dinh Tien Hoang and Cau Go. During the period of French colonial, this square was called Place du Général Négrier.
On weekend nights, the square leads to dusk, stalls and vendors for the night market, one of the must-try experience when in Hanoi.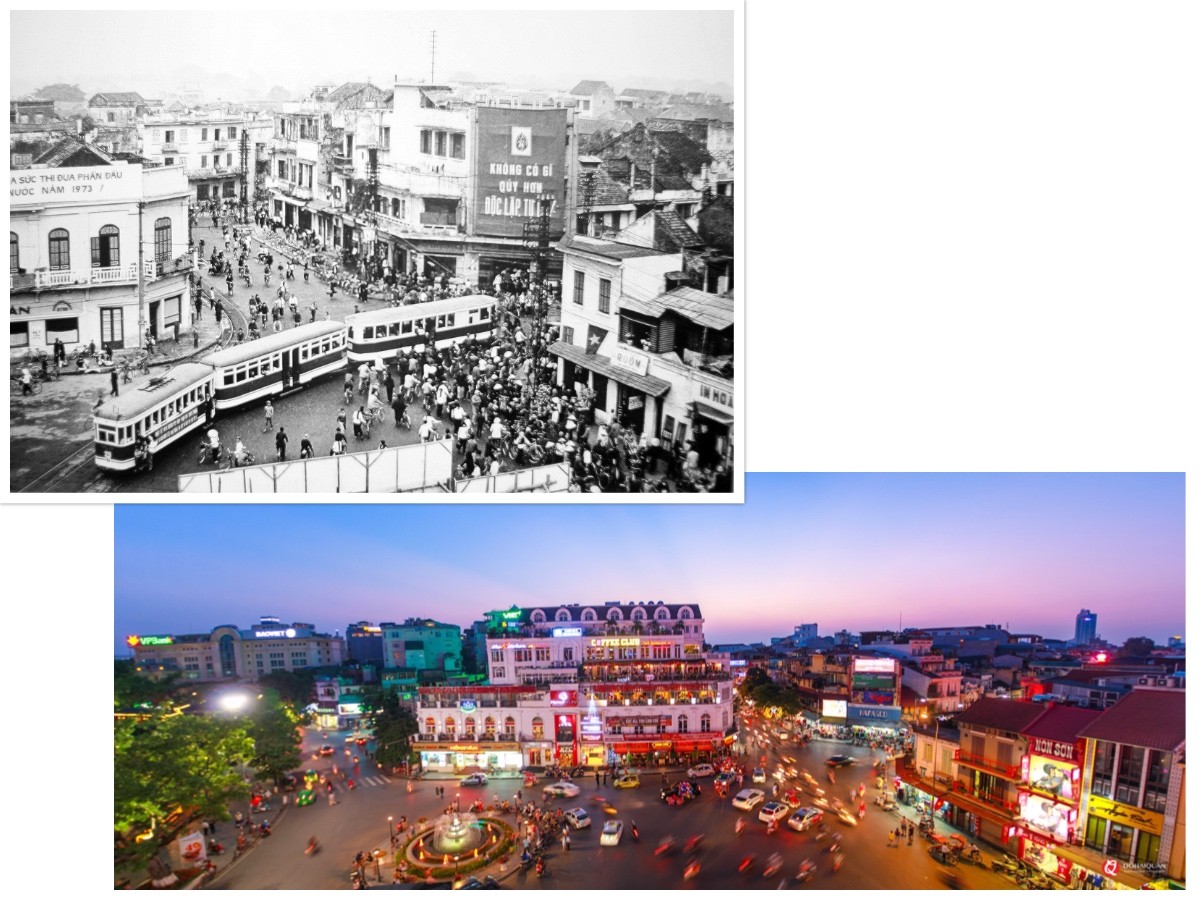 The crossroads on Hoan Kiem Lake in 1973, now is Dong Kinh Nghia Thuc Square. Photos: Vietnamnet.vn, Canhquan.net
Located at the heart of the city, the Hoan Kiem Lake is very popular among Hanoians as a gathering place for families, nature lovers, and hangouts.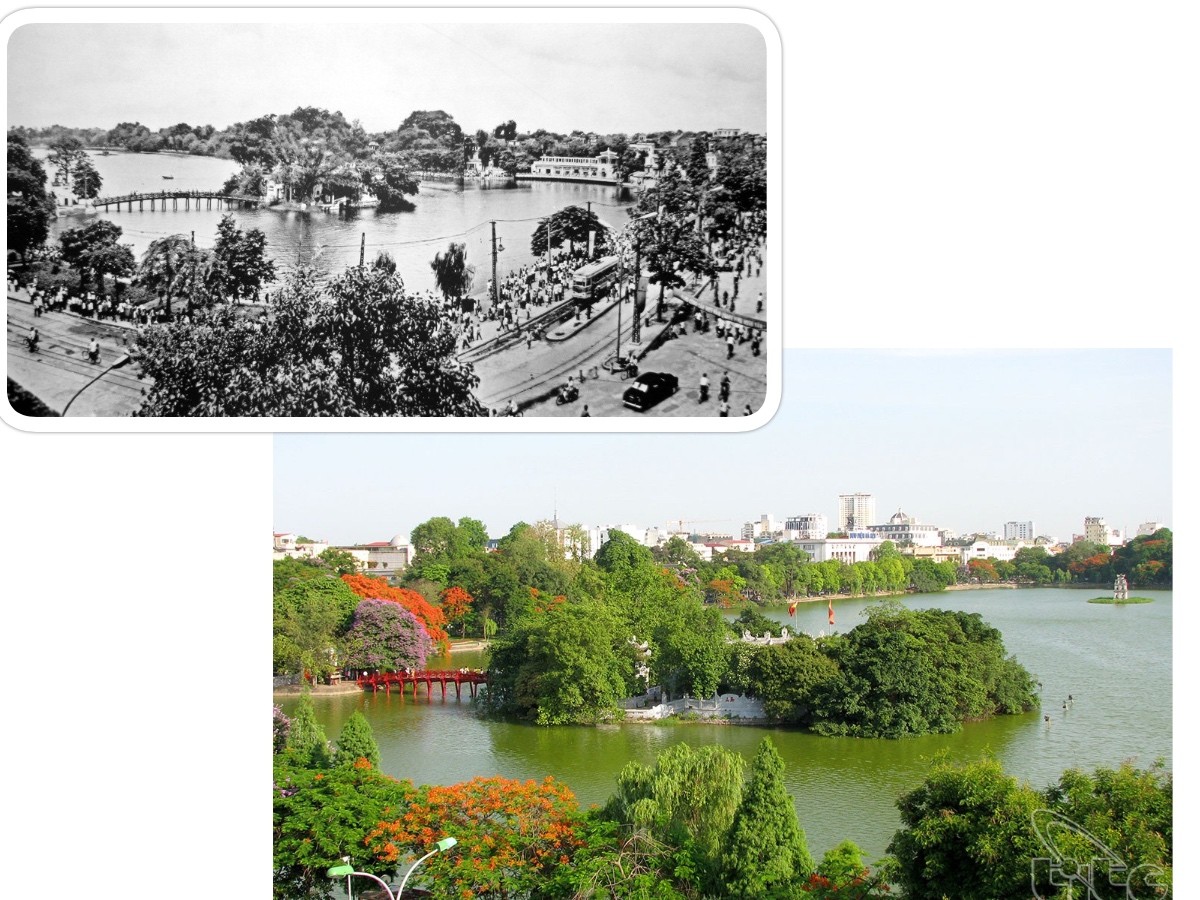 Hanoi's icon - The Sword Lake in 1954 and now. Photos; Vietnamnet.vn, Vietnamtourism.vn
Packed with French colonial architecture, pagodas and Buddhist temples that make you want to get lost in its streets. The streets of Old Quarter carry names of the business that were set up over 1,000 years ago.
Most of these businesses were craft shops. But today a lot of them turned into something more commercial and modern. Even now you can still find shops owned by the same families for centuries, selling original Vietnamese handcrafted products.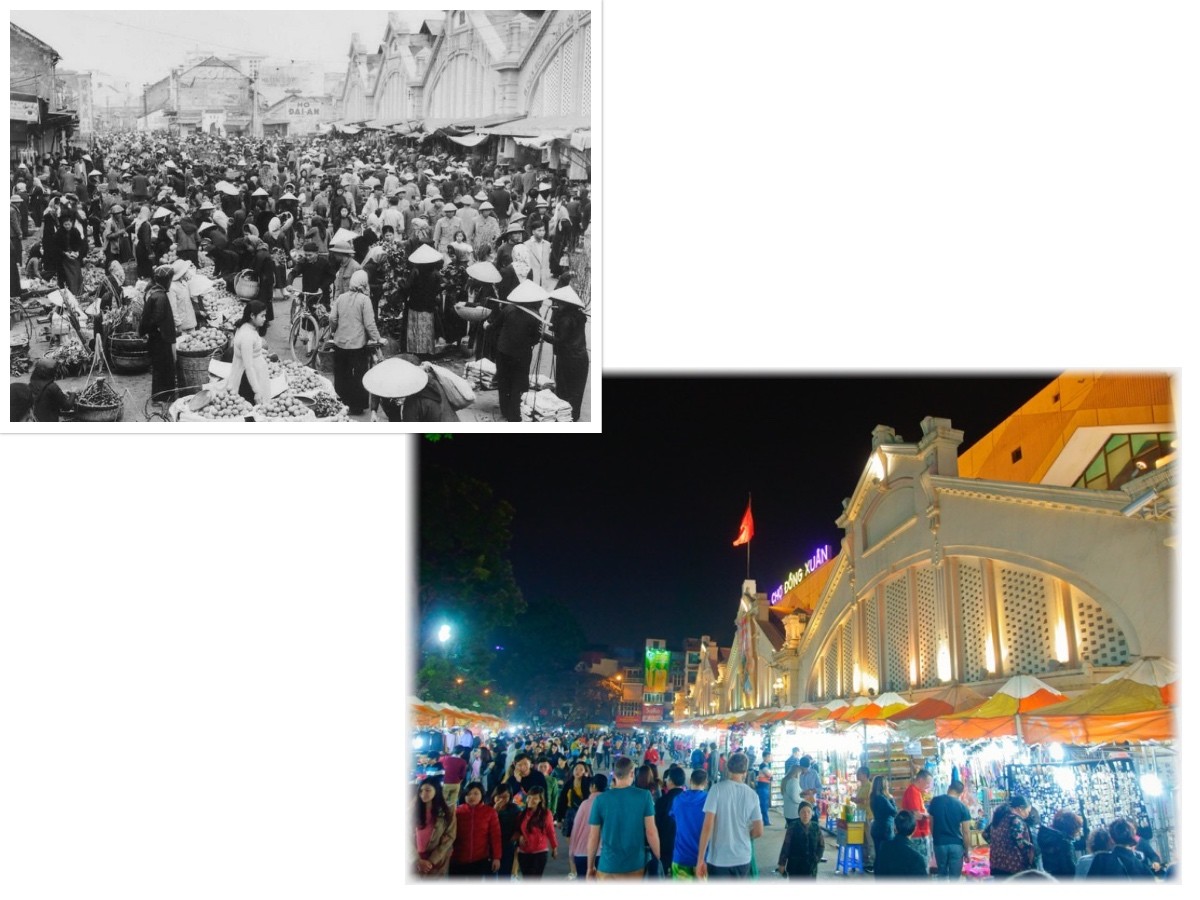 Dong Xuan market in 1955 and now. Photos: Vietnamnet.vn, Colinbrydon.net
Established in the late 19th century, the Dong Xuan Market can be found in a four-story communist styled building on the edge of the Old Quarter. Dong Xuan Market is the largest indoor market in Hanoi and one of the best things to do if you need to shop.
Whatever you're looking for whether it'd be some fresh local produce, souvenirs or in need of a laptop – chances are some vendor tucked away has it. This is where the locals gather every early morning to get the supplies, which then being transferred across the city to wet markets, stores and retailers, etc. Also, Dong Xuan Market has a market section specifically for meat, seafood, vegetables, and flowers from all across Vietnam.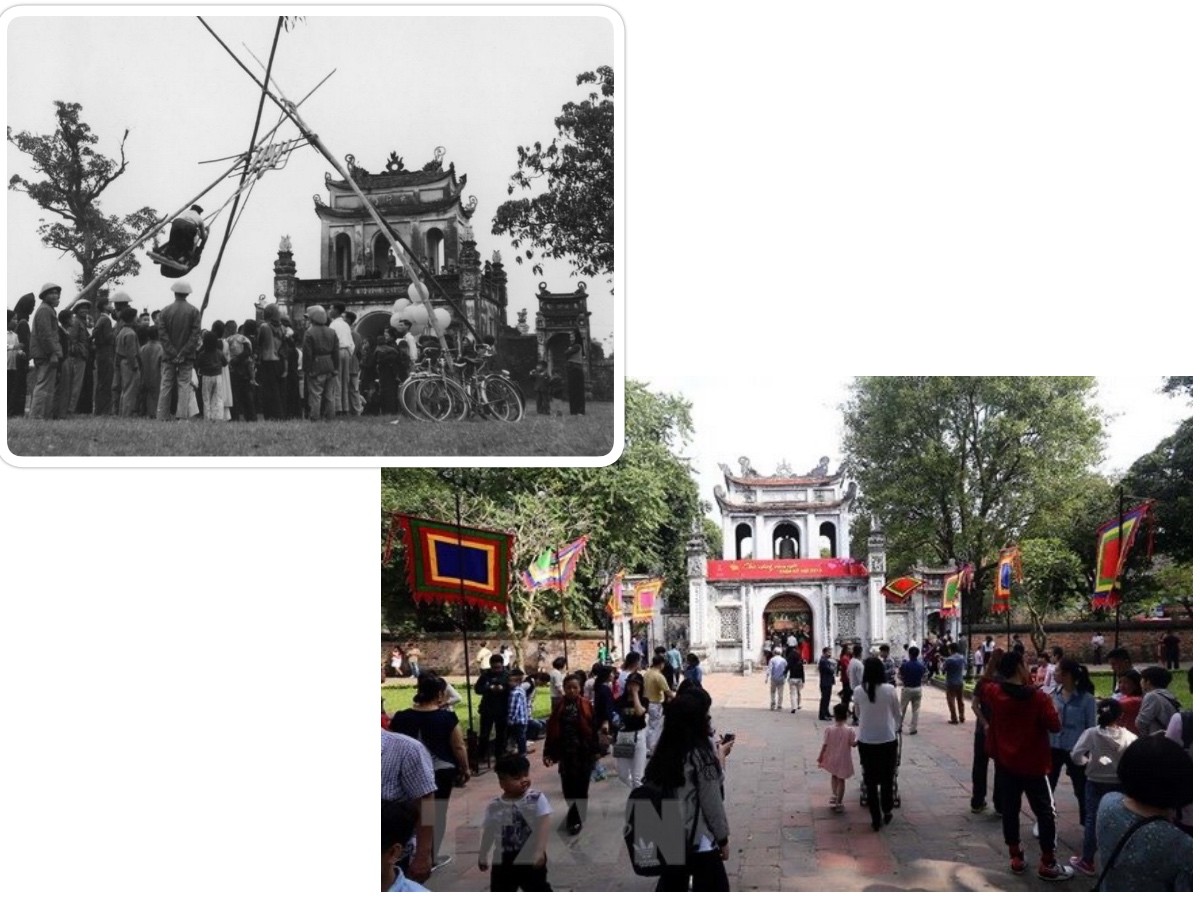 The Van Mieu - Quoc Tu Giam relic site during Tet 1955 and Tet 2019. Photos: Vietnamnet.vn, VNA.
Other than the outbreak of the global virus, there were some recent national disasters occurred in Vietnam, causing transportation to temporarily close for safety. The Vietnam Railway Corporation (VNR) has resumed North - South passenger train services from Sep 28, 2022 after typhoon Noru caused significant damage to rail infrastructure in affected localities.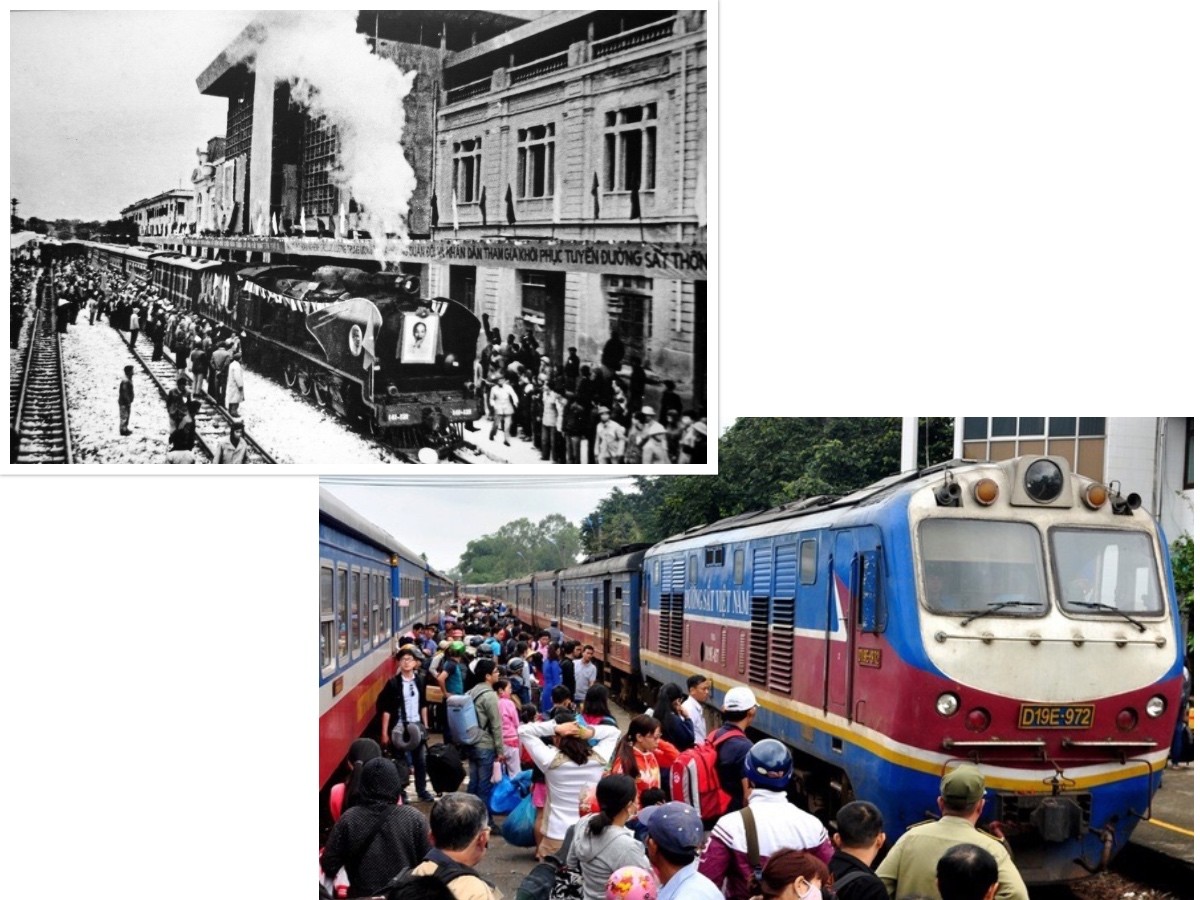 The North-South Thong Nhat railway line in 1976 and now. Photos: Vietnamnet.vn, Nhadautu.vn
The street, the relics and the market seethes with activities. On this historical day, they mix into the vibrant street brew that makes the capital city so delightful and unique.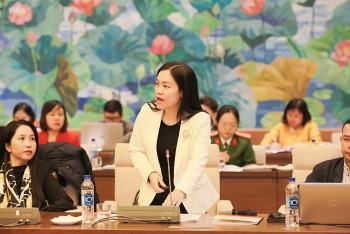 Friendship
Doan Thu Huyen, Vietnam Country Director for Campaign for Tobacco-Free Kids, made the statement at the "Child Downing Prevention" seminar.