Hanoi wishes to foster cooperative ties with Italian localities
Co-operative ties between Hanoi and Italian localities have enjoyed a strong period of development in recent times, Chu Ngoc Anh, Chairman of Hanoi People's Committee stated during a reception held on March 24 in Hanoi for Italian Ambassador to Vietnam Antonion Alessandro.
The municipal leader hailed the ever-closer relationship between the country and Italy across a wide range of fields, including politics, economy, diplomacy, national defense, science-technology, and education, VOV reported.
This comes after Italy has poured more than $43.9 million in investment capital into 28 projects throughout Hanoi, with the capital's exports to the European nation reaching approximately $142 million.
Most notable, a broad array of activities have been launched as a means of enhancing both cultural and economic exchanges towards enjoying common prosperity for both sides.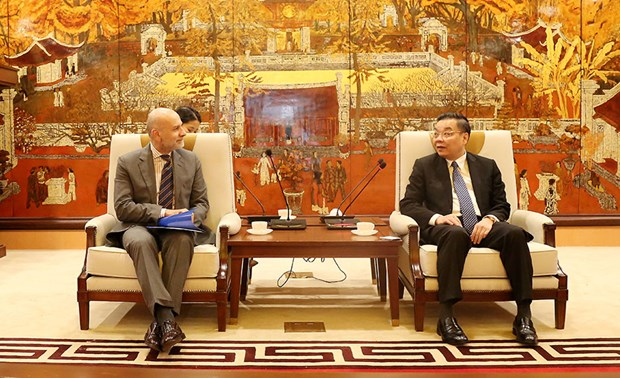 Chairman of the People's Committee of Hanoi Chu Ngoc Anh (R) hosts Italian Ambassador to Vietnam Antonion Alessandro. Photo: VNA
Moving forward, Hanoi will work closely with various departments and agencies to hold activities, especially for the opening and closing ceremonies of events, as part of the capital's efforts to organize a wide range of important functions this year, including the 31st Southeast Asian Games and the 11th ASEAN Para Games.
Anh also voiced his hopes that through its rich cultural history, Italy will share its experience in holding festivals and sports events with Hanoi, thereby assisting the capital with its thorough preparations in the buildup to SEA Games 31 and ASEAN Para Games 11.
In response, Ambassador Alessandro expressed his confidence that through a solid foundation, relations between both nations will further develop in the future.
He added that many Italian firms enjoy strengths in terms of holding large-scale events, thereby promising to introduce them to Hanoi in order to share experience in this regard in the near future.
The Italian diplomat added his desire to bolster collaboration with Hanoi, particularly in the fields of cultural exchanges, heritage preservation, and the speeding up of construction progress on urban metro No.3.
Vietnam and Italy have upgraded their tie to strategic partnership since 2013.
Earlier, in December last year, Vietnam and Italy agreed on plans for post-pandemic economic recovery and optimizing the benefits to be gained from the EU-Vietnam Free Trade Agreement (EVFTA), thus boosting economic ties between the two countries.
During the sixth meeting of the Joint Commission on Economic Cooperation, held online, the two sides also reviewed cooperation in economy and trade, especially in the fields of energy, industry, industrial machinery, garments and textiles, footwear, and mining, according to Vietnamplus.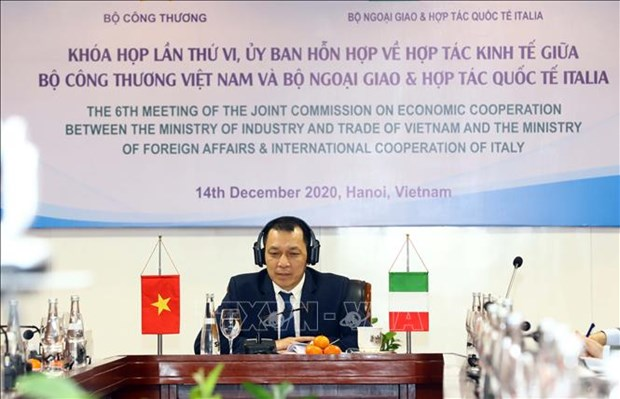 Deputy Minister of Industry and Trade Dang Hoang Anh speaks at the meeting. Photo: VNA
Deputy Minister of Industry and Trade Dang Hoang Anh said the traditional bilateral friendship and cooperation have been enhanced over recent times, adding that Vietnam acknowledges the attention it receives from Italy.
As the ASEAN Chair 2020, Vietnam congratulated Italy on its position as an ASEAN development partner, paving the way for closer cooperation between the country and member countries of the bloc, he said.
Italian Deputy Minister of Foreign Affairs and International Cooperation Manlio Di Stefano regarded Vietnam as a "bright spot" in economic growth amid the severe impact of the pandemic.
The next meeting will be held in Italy in 2021.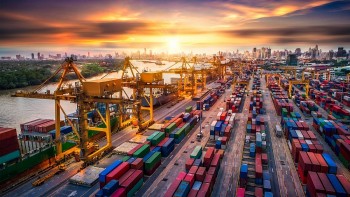 National
Vietnam, a rising star in the global supply chain, has the potential to become a new tiger in Asia, economist Brian Lee Shun Rong at Maybank - Malaysia's largest financial services group and the leading banking group in South East Asia – has reportedly said.