Hanoians and the nostalgia for street vendors' call
Though street calling is less common now than it used to be, you can still hear it from time to time on the streets in Hanoi.
Large eye-catching billboards, TV funny commercials, colorful flyers and brochures are types of modern advertising you see every day. But in Vietnam, people still save a special place in their hearts for one of the earliest forms of advertising: the distinctive call of the street vendor.
Illustrative photo (source: MASK online)
Early in the morning on the first day of a new lunar year, when most people are still sleeping, vendors in Hanoi's small alleys have already on their way of work, calling: "Anyone buy salt?",the calls echoing from alley to alley.
In Vietnam, street calling was very common before the French colonization period.
Prior to the presence of modern communications technology, a vendor's own voice was her most effective medium of advertising, according to journalist and cultural researcher Vu Ngoc Tien.
The calling is a sign to inform people that the vendor was on their street and the name of the stuff she was selling. The hearers could even sense the personality of the seller from their calls, too.
Many men might admire a female vendor just for her alluring street call. Tien told us "According to a Vietnamese folk poem, a female vendor selling alcohol often passed by a doctor's large house. Her call was so sweet that the doctor sent his servants to court her on his behalf. She lied and said that she had children already, but that didn't matter to the doctor. He asked the alcohol vendor to prepare to get married to a man of high social standing. It's an amusing story that illustrates how powerful a street call can be".
Street calls were beloved in the 1950s, when they evolved into "luc bat" poems, a verse form that begins with a six-syllable line and ends with an eight-syllable line.
Street vendors were featured in paintings by To Ngoc Van, Tran Phenh, and other renowned painters of the first generation of the Indochina Fine Arts College.
Illustrative photo (source: MASK online)
These artists produced pictures of vendors selling strawberries, rice cakes, ice cream, tofu, pottery, and spring rolls with descriptive captions and their calls transcribed into music.
Tien said he recognized some of the calls when he played them on a musical instrument.
Every evening, 72-year-old Nguyen Thi Lan ties a basket of bread to her bicycle's back seat and travels through small streets and alleys of Hanoi.
She loves to make the street call by herself rather than recording and repeating it using a loud speaker. Lan said "I just simply sing "Anyone want bread?" I think my own voice does carry my own emotion, which is far better than using a loud speaker. It will evoke the sympathetic feeling in buyers for my difficult situations, and they will consider to buy 2 instead of 1 loaf of bread as their initial intention. That's what makes me happy".
Street calls are invented and sung by the vendors themselves, and therefore reflect the culture of different regions.
Nguyen Van Tinh, a Hanoi resident, said "It is very cold in winter in the north, so people want something hot. That's why you can hear bread vendors say, "Who wants hot, crispy bread?"
In the south, people love sweet food. There the bread vendors ask, "Who wants rich buttery bread?" I'm thrilled to hear these bread calls at 5pm when I'm tired after a hard day's work".
Sometimes a call is not so much a "call" as just a signature sound. Tinh recalled "My friends and I, who were born in the 1980s, have great memories of the street calls, which are often the topic of our casual chat. We played marbles in the shade of the trees on a hot summer afternoon."
When we heard "pep pep", the signature sound of the ice cream vendors, the game was interrupted as the players all ran back home to ask for money from parents to buy ice cream. An ice cream in those days costed only VND500. Some of us had to share one ice cream but words are not enough to describe how happy we were," he recalled the childhood memories.
The food was great, however but the excitement of hearing the signature sound of the seller was something beyond the ice-cream taste.
Another resident of Hanoi, Vi Hoang Giang said: "When I was small, I used to live with my grandparents. In the afternoon, some other kids and I played together in a small alley until 4pm when the bean curd vendor arrived. When we heard her call, we immediately stopped the game, collected our money, and waited until she reached us."
"When she opened her container, how great it was to see the white fragrant bean curd. The woman scooped thin layers of the dish and put it into a small bowl full of sugar water. I'm nostalgic for that sweetness. Nowadays, I still buy bean curd from street vendors, but without the call of the street vendors, the feeling is not the same as in the past." Giang added.
"I think the street calls brightened my mood, melt away my tiredness, and bring me a genuine excitement. That feeling still lingers on," he said.
Street calls are now considered an outdated advertising method. But according to lecturer Nguyen Cong Dung, Head of the Media and Marketing department in the Vietnam's National Economics University, it is still relevant in today's society.
"The core purpose of advertising is to attract customers. Vendors deliver their message and emotion through their own voice. It's simple, but it it more engaging to the buyers. In my opinion, street calls can be even more effective than most modern advertising"./.
( VNF/VOV5 )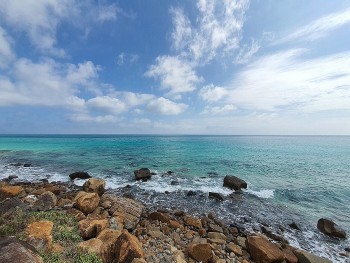 Viet's Home
Con Dao, a historical and famous island situating in the southern province of Ba Ria - Vung Tau, has been named among the top 16 best island vacations in the world, as compiled by tourism magazine Condé Nast Traveler (CNTraveler) of the United States.