Hanoi's Old Quarter Offers Delicious Food Tour
Within three hours, the tour guide will accompany guests on a 5-7 kilometre walk and to several dining locations, giving tourists an authentic Vietnamese experience.
Do Minh, a 23 years old tour guide arrived at the meeting location at 6 PM, to pick up seven clients for a cuisine tour of Hanoi's old neighborhood. They are visiting from the Netherlands, Finland, Australia, and Belgium, and this is their first time in Hanoi, Vietnam.
Minh had already devised a system of roads and eateries to ensure that the journey's conclusion was close to the guest's hotel.
Within three hours, he had brought the visitors to alley businesses selling bread, papaya salad, bánh gối (a Vietnamese regional dumpling), fish vermicelli, and mixed chicken noodle soup, among other items.
Each dish is prepared in tiny portions so that everyone can try a little bit of everything.
Minh introduces Vietnamese culture and traditions to the guests at the same time he makes the conversation goes smoothly by learning about their country's quirks through pure interactions.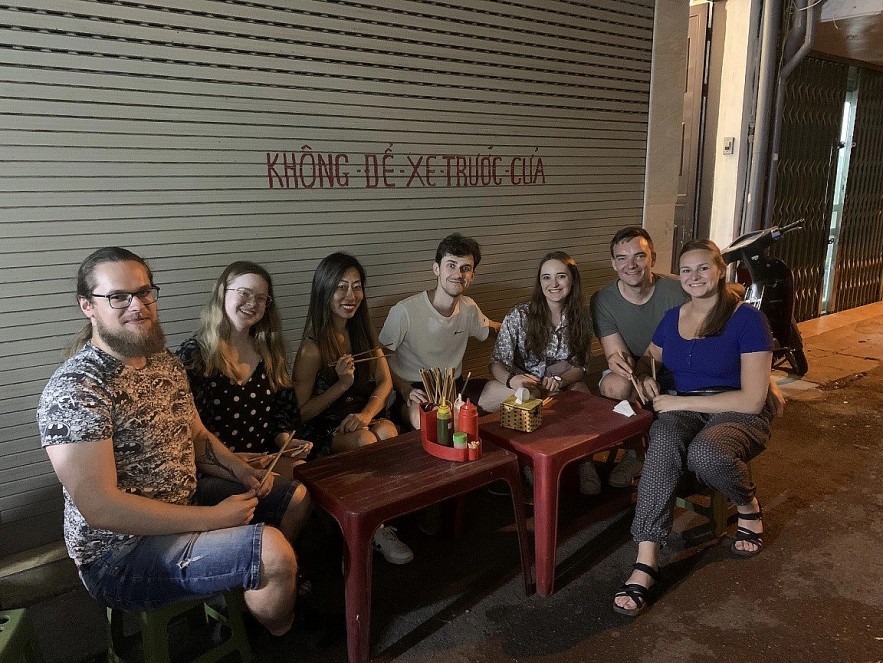 The guests were excited to enjoy Vietnamese street food for the first time. They are most impressed with the egg coffee.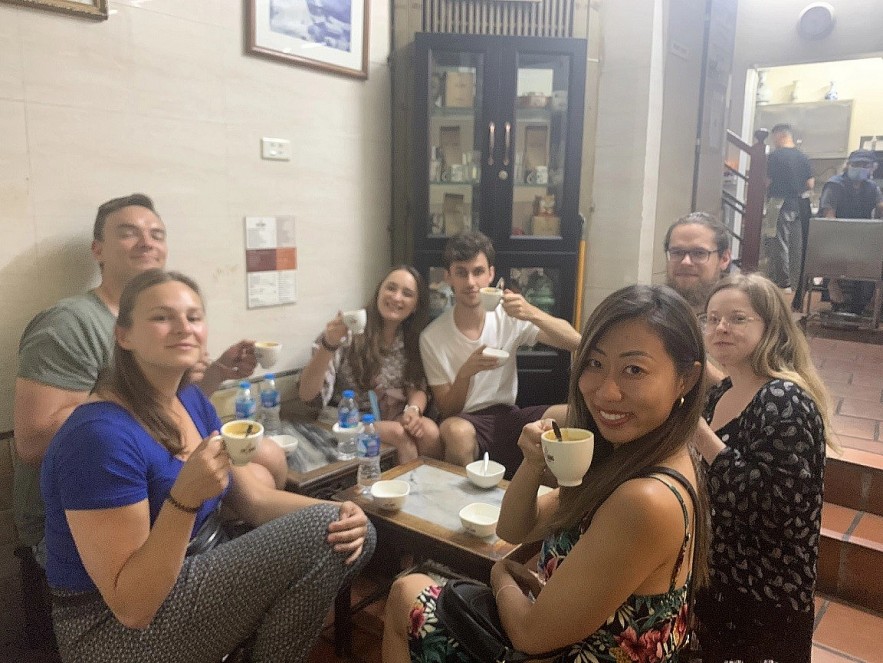 The guests were excited to enjoy Vietnamese street food for the first time. They are most impressed with the egg coffee.
"I also pay attention to the visitors and let them choose from street food or restaurants so that everyone has an actual local experience but also gets to try special dishes in a more luxurious place," Minh told Zing.
At the end of the tour, the guests left with cheerful and happy memories.
"I am impressed with egg coffee because I have never enjoyed such a special drink. Many dishes are very new and have Vietnamese identity, not just phở or bún chả," a visitor experienced the tour shared.
Just like a walk
After Vietnam opened up to international tourism, Minh was glad that he has his job back.
"When I went on the first tour after 2 years of the epidemic, I felt 'goosebumps' and touched because I finally found Ta Hien street crowded and bustling. Going back to the food places, people still remember me. Everyone was happy when the number of guests gradually increased," he said.
In addition to food tours, the company that Minh is working for provides a number of other tours such as exploring Hanoi by motorbike or visiting markets in Hanoi's old quarter in the morning.
According to Minh, there are 2 types of food tours: for groups of 4-6 people or for individuals (to have a better service).
"I consider each trip as an opportunity to meet and interact with new friends and a new culture. On the way, we can eat and chat comfortably together. For me, it's like a walk, so it's very interesting," he said.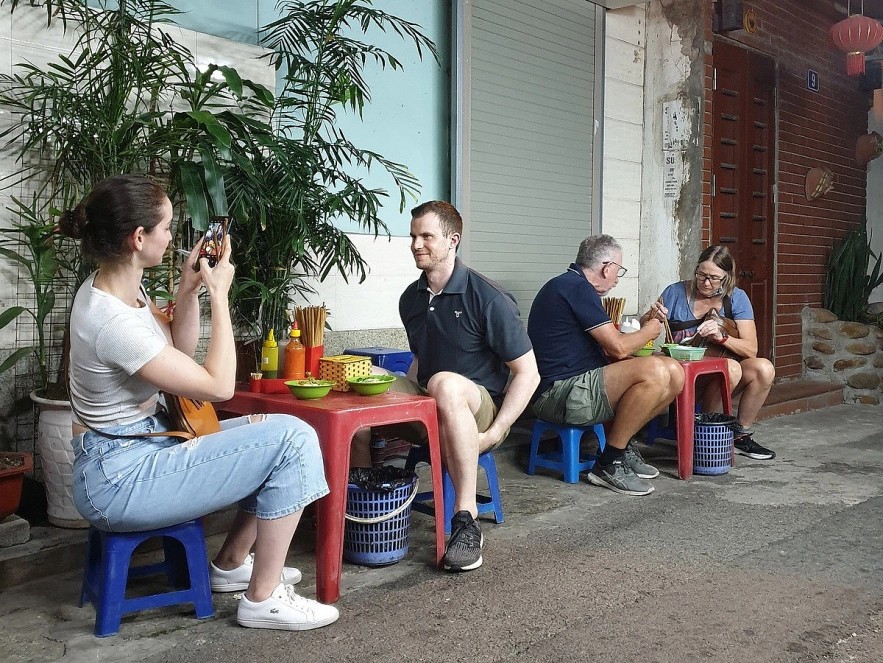 For Minh, a food tour is like a walk between friends.
Minh has previously led tours of coffee shops, Vietnamese temples, and museums. However, he still considers the culinary trip to be the most memorable.
Minh graduated from the Department of International Languages and Cultures, University of Culture, and he finds that the knowledge and lessons he received in school can be practical for the job.
He also works on improving his English communication skills and taking foreign language certification examinations, as this is a key component when guiding tours for international visitors.
"Vietnamese cuisine has a balance in nutrition, so my guests always left the tour in a good mood. That is a great motivation for me not to quit my job despite going through the difficult time of the COVID-19 pandemic," Minh shared.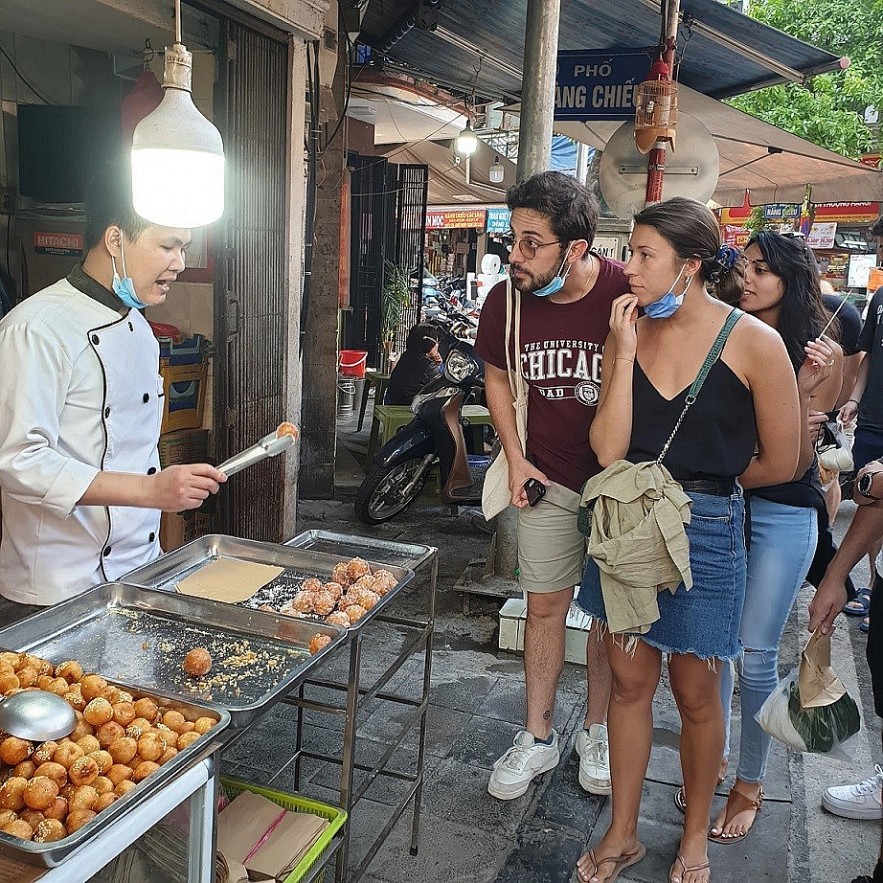 The tour guide introduces visitors to Vietnamese cuisine.
The tour guide introduces visitors to Vietnamese cuisine.
Understanding Vietnamese cuisine
Nguyen Ngoc Ha, the founder of HA Food Tour, said that his company currently offers short tour products about food.
As a seasonal tour guide, Ha understands that, in addition to the natural beauty of the area, tourists are drawn to the local cuisine. In Hanoi's Old Quarter, he was the first to design a cuisine tour.
Ha recruits young tour guides and develops their abilities and knowledge so that they can specialize in food excursions.
"Everyone in the group has a strong foreign language foundation, with an IELTS score of 6.5. Because this is a local trip, the basic requirements are that you must be local and have a better understanding of local navigation. We had about ten members before the pandemic, but now we have 4-5 members," he stated.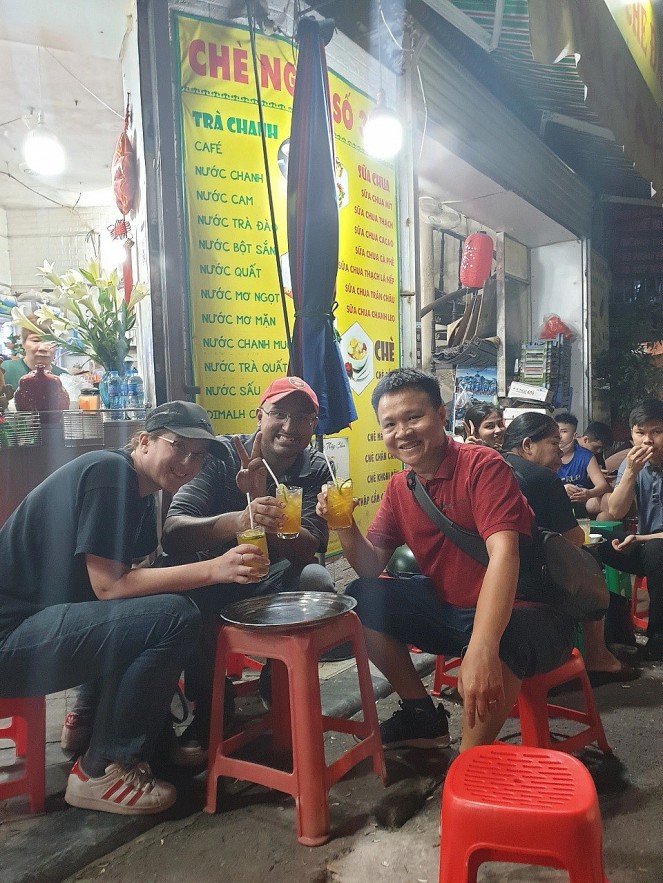 Nguyen Ngoc Ha is the first person to design a food tour in Hanoi's Old Quarter.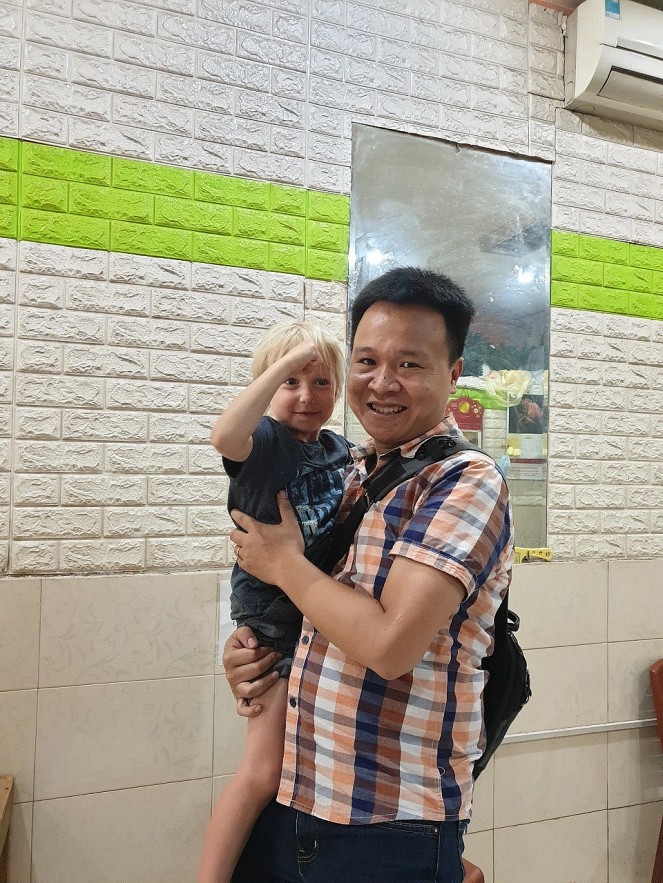 Nguyen Ngoc Ha is the first person to design a food tour in Hanoi's Old Quarter.
According to Ha, a number of units currently offer cuisine trips. However, when it comes to planning and attracting tourists visiting Vietnam, his company is one of the few.
"Not your typical street tour," he explained, "we focus on a small group of 4-6 guests, flexibly pick spots based on their preferences, and regularly find new foods for first-time visitors to Vietnam or alter with returning guests."
In addition to the cuisine, the tour guide will provide cultural, architectural, and historical information based on the interests of the participants. That's the beauty of culinary tours: they create value based on the customer, and the tour leader becomes a buddy with whom they can eat and converse.
The majority of Ha's consumers are from Australia and the United States. The most popular trip is the walking tour, which costs 25 USD.
"Vietnamese cuisine is quite rich, and the flavor is highly appealing to customers, particularly in Hanoi. As an experienced tour guide, we know which foods people appreciate the first time they try them and which dishes they will enjoy again and again. In addition, I was one of the first tour guides to incorporate egg coffee into the itinerary. I'm overjoyed that this dish is becoming famous, and that the food tour is expanding," Ha added.
From March 15, Vietnam reopened all tourism activities statewide and eliminated all restrictions, entirely reinstating international flight lines.
In March, the government also promised to restore the entire visa and immigration policy to what it was before the implementation of restrictive measures to prevent and control the pandemic in 2020.
According to the Vietnam National Administration of Tourism, 15,000 international tourists visited Vietnam in March this year, with 80,000 arriving in April. In total, over 102,300 people visited the country in the first four months of this year. Meanwhile, by 2022, the goal is to welcome 5 million international visitors around the country.
Zing