American Collects Vietnamese Relics: 'Vietnamese people make me love this country'
Mark Rapoport donated nearly 500 artifacts from his vast collection of Vietnamese history.
On May 17th, the Vietnamese Women's Museum organized a ceremony to receive artifacts and exchange cultural relations with the theme Museum – A place to connect heritage love, in Hanoi.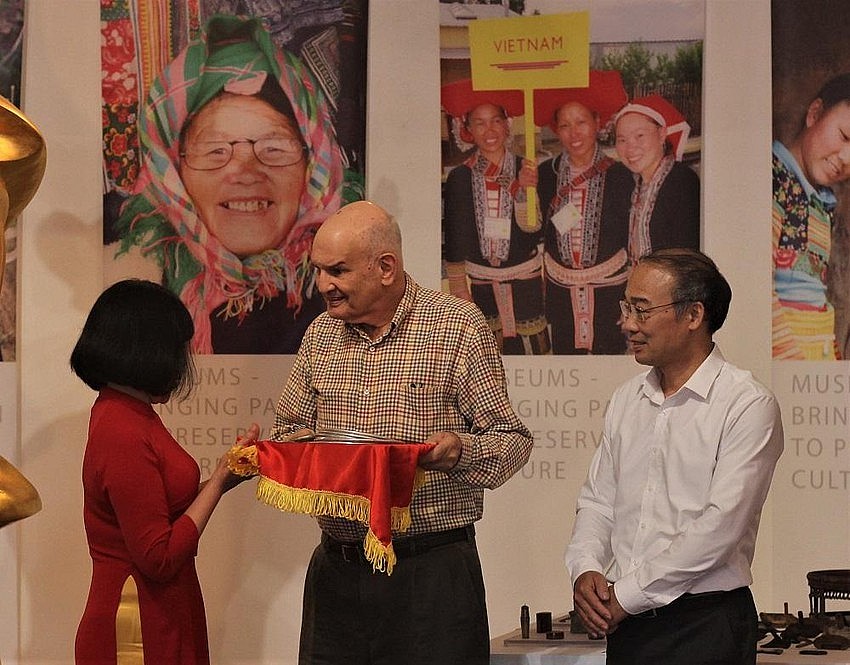 Mark Rapoport (centre) presents the artifacts at the event. Photo: VT
Mark Rapoport donated approximately 500 exhibits from his over-650-piece collection on Vietnamese culture and ethnic minorities for the event.
The highlights of the collection include tools used in agriculture and kitchen, betel nut sets, jewelry, clothes and weaved garment, carved sculptures, etc.
The American had a long-lasting passion for Vietnamese culture. In 2001, Mark Rapoport and his family moved to Hanoi. During a 20-year period, he has collected more than 10,000 cultural artifacts representing the culture of the ethnic groups in Vietnam.
Mark Rapoport looks at each historical item fondly, remembering a different adventure and encounter with Vietnamese culture.
For example, pictured below is a 3-compartment dosser - one of the first two artifacts he bought when he first came to Vietnam in 1969 from ethnic minority women in Quang Nam province. He also obtained a collection of Nung knife cases made of wood with inscriptions and images engraved around and inside the bag expressing the love and romance of the Nung people, a Vietnamese ethnic group.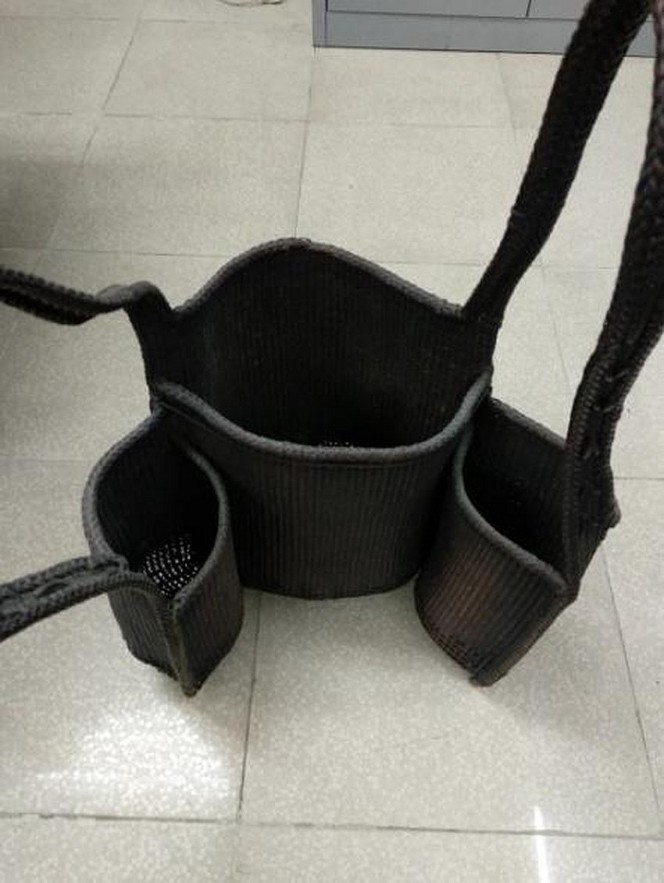 a 3-compartment dosser - one of the first two artifacts in Mark Rapoport's Vietnam collection. Photo: BT
What is unique, strange and wondrous among the artifacts presented to the Vietnam Women's Museum this time are 20 Taoist paintings of Goddesses such as Cô Chín, Bà Mụ, in the spiritual belief of the ethnic minorities living in the mountainous region in the North of Vietnam.
Unique, strange and wondrous among the artifacts presented to the Vietnam Women's Museum this time are 20 Taoist paintings of goddesses in the spiritual life of ethnic minorities in the northern mountainous region
This specific aspect has provoked Mark Rapoport's interest and opened a passion for collecting and researching the media culture of ethnic minorities in Vietnam.
Mark Rapoport first visited Vietnam in 1969, when he was a medical student. He was sent by the U.S Medical Association, to work as a medical volunteer, mostly at the hospital in Da Nang city and in ethnic minority villages in Quang Ngai province. Since then, Mark collects heritage exhibits of Vietnamese culture.
After that, Mark returned to New York City, U.S.A, and worked for 25 years at medical schools, hospitals, and the States government. In 2001, he moved to Hanoi to conduct a large study on the effects of Agent Orange on the incidence of birth defects in infants.
At the exchange cultural relations event with the audience, Mark Rapoport said: "My love for the country and people of Vietnam was given by my wife and two children in the book '101 Reasons Why It's Worth Living in Hanoi'. If I had to say one word about that book, I would say the Vietnamese people made me fall in love with this country."
Phu Quoc Awakens, Americans are Arriving

As Vietnam's international tourism slowly resumes, American expats reflect on the state of the post-Covid world from the quiet shores of an awakening Phu Quoc.
Pháp Luật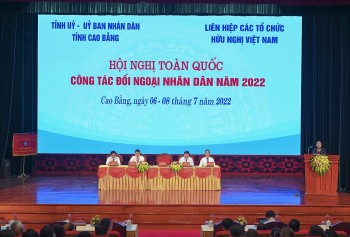 Friendship
During the event, many important issues will be discussed, and constructive suggestions and solutions will be provided to promote more effective people-to-people diplomacy operations.