Harvest season in Vietnam's Northern Province
Vietnam's stunning terraced rice fields bloomed early this year.
(VNF) - Vietnam's stunning terraced rice fields bloomed early this year.
Hoang Su Phi District offers one of the most beautiful and remote destinations in the northernmost province of Ha Giang. This year, the district's famed terraced rice fields began to brighten in the middle of September, signaling the start to a month-long harvest.
In 2012, the terraced rice fields of Hoang Su Phi District in the northern border province of Ha Giang have been recognized as a national heritage site by the Ministry of Culture, Sports and Tourism.
Established hundreds of years ago, the district is now home to more than 60,000 people representing 17 ethnic minority groups. They live mainly by growing rice and other subsidiary crops.
Hoang Su Phi District contains six picturesque ethnic minority communes that draw scores of tourists between September and October. (Photo: athena2307)
The district typically serves as the final stop on harvest season tours through the northern mountainous provinces since the paddies here are often the last to turn. This year, unusual weather brought the harvest early, carpeting the hillsides in a stunning greenish yellow.
According to experienced travelers, peak season in Hoang Su Phi starts now and continues through mid-October.
Seasoned travelers in the region say the way to Hoang Su Phi is unusually difficult, due to steep gradients and sharp curves. (Photo: 5beo)
There are two ways to get to Hoang Su Phi: one begins in Hanoi and cuts through Tuyen Quang Province, while the other snakes through Lao Cai Province. Both routes cover around 300-kilometers.
You can either brave the roads on a motorbike or catch a bus to Hoang Su Phi. (Photo: liemdang)
Most agree that the stunning views are worth the journey. Many groups of young travelers headed for Hoang Su Phi early, this year, to beat the crowds. (Photo: tomyasia)
Apart from taking in the scenery, visitors tend to flock to ethnic markets for local corn and cassava liquor.
The pristine site offers limited accommodation options and most travelers lodge at hotels in downtown Ha Giang that cost an average of VND250,000 (USD11) per night.
Visiting Hoang Su Phi District, visitors will not o­nly see the terraced fields that are very picturesque and as beautiful as a painting, but also learn about the lifestyles of several ethnic groups.
Scaling up into the heavens like steps of the giants. (Photo: travel.com.vn)
Minh Phuong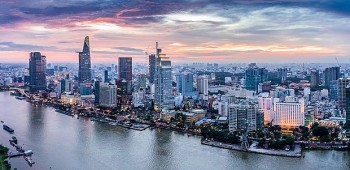 Economy
Japanese investors have been interested in the property market in Vietnam.