HCMC Creates 'Vaccine for the Mind' Program to Help Residents with Mental Health Issues
Ho Chi Minh City will launch the "Vaccine for the Mind" program to support people. of the Covid-19 pandemic.
The Covid-19 pandemic has increased the incidence of mental health problems worldwide, including depression, stress, anxiety disorders, and suicidal intentions.
A group of lecturers from the Department of Psychology, University of Social Sciences and Humanities under Vietnam National University in Ho Chi Minh City in August 2021 reported that during the lockdown period in Vietnam, many people face anxiety, depression, stress, boredom, irritability, loss of interest, loss of motivation, difficulty in concentrating, headaches, insomnia. Psychologically support is therefore highly needed.
Project's main contents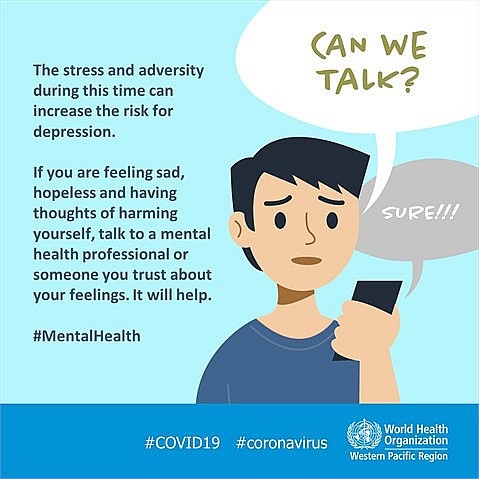 Photo: WHO
Assoc. Prof. Ngo Thi Phuong Lan - Headmaster of the University of Social Sciences and Humanities, said that the program to support mental health for people in Ho Chi Minh City started on September 5, and was expected to conclude at the end of 2022. 'Vaccine of the Mind' can be extended depending on the pandemic development. It will focus on three contents: general prevention and improvement of mental health, psychotherapy, post-pandemic reintegration.
Regarding general prevention and improvement of mental health, the program provides urgent consulting for people in low-risk groups who have signs of anxiety, stress, mild panic but have not reached the pathological level. The content's key activities include webinars, 'Overcome the pandemic with peaceful mind' podcast, direct consultation through portal 1022 (call 1022, press 5 then press 9).
The psychotherapy project is expected to meet about 15-20% of the demand of people with pathological symptoms such as anxiety, depression, risk of suicide, trauma due to Covid infection or loss of close acquaintances. The program cooperates with Ho Chi Minh City's Department of Health, Binh Dan hospital, and field hospital No. 12 to provide psychological counseling for patients being treated in the facilities.
The experts will also provide psychological counseling for people in need via hotline 0987 111 801. People with serious problems will be provided long-term consulting and therapy.
Post-pandemic reintegration helps people to recover after therapy, find resources to continue their lives, providing information on employment, self-development, study, career, government and city's support projects.
Advice from World Health Organization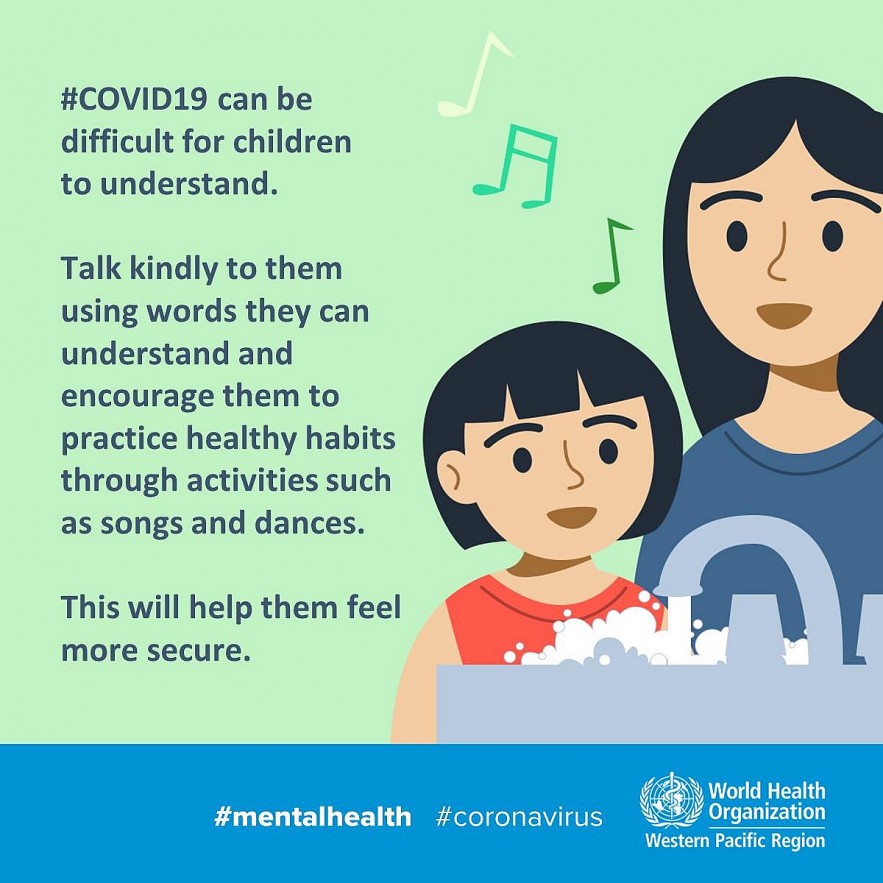 Photo: WHO
The World Health Organization (WHO) has recorded that Covid-19 leads mental health decline since October 2020. Accordingly, the organization believes that it is normal for people to feel anxious and stressed during the pandemic, that we all have a role to play in protecting our and other people's physical and mental health, aware of Covid fact,s and support a positive mental health state.
Warning that stress and difficult situations during this time can increase the risk of depression, WHO has come up with advice for different audiences, from children, the elderly, adults who are the main workforce, frontline medical force, to Covid patients.
According to WHO, protecting ourselves and our loved ones from pandemic-rooted mental problems is easy. All it takes are enhancing contact, spending time talking with loved ones in the family, colleagues, and if possible, with anyone having depression or intention to harm themselves that you know.
Constantly staying updated with the latest information about the pandemic can worsen your anxiety and boredom, therefore, WHO recommend focusing on changes that you can make and accept those out of your control, living up to your values when facing difficult situations
The organization suggests trying to find motivation in hobbies such as reading, playing the piano, listening to music, watching movies, drawing, exercising, meditating, gardening, or studying, which proves effective in boosting mental health.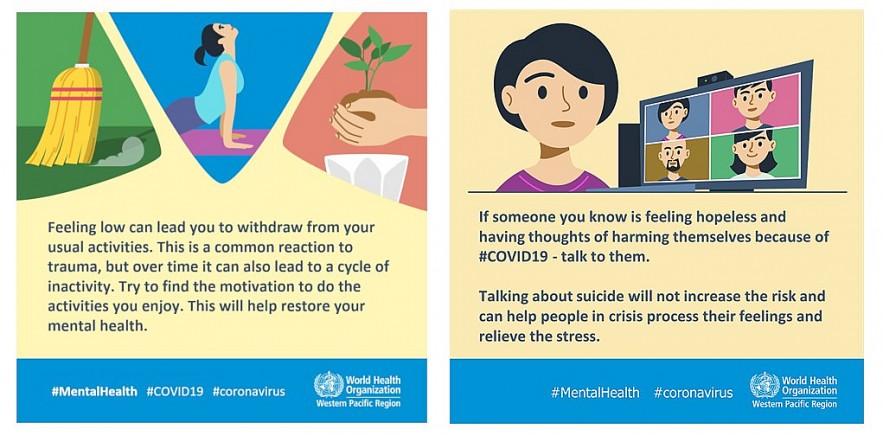 Photo: WHO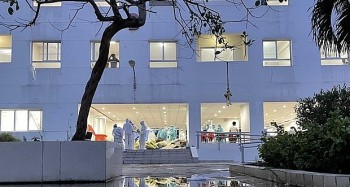 National
Vietnam News Today (Aug. 16): More than 251 million doses of Covid-19 vaccines administered in Vietnam; HCM City ready to reactivate Covid-19 treatment hospitals; Vietnam Airlines opens ticket sales for upcoming Tet Holiday; Demand for logistics real estate increases sharply: Savills Vietnam.