Covid-19 Vaccine Provided to 200 Vietnamese Workers in Malaysia
On September 4, the Vietnamese Embassy in Malaysia in cooperation with the Vietnam Women's Union and local authorities provided Covid-19 vaccines for 200 Vietnamese workers in the Malaysian capital Kuala Lumpur.
Covid-19 vaccines were provided to 200 Vietnamese workers
This is the second round of Covid inoculation for Vietnamese workers, following the first round in August 2021, during which over 500 Vietnamese were vaccinated.
Chargé d'Affaires of the Embassy of Vietnam in Malaysia Nguyen Hong Son underlined that vaccination was the first essential step toward the new normal. The vaccine helps to create antibodies, minimizing the risks of being infected with SAR-CoV-2, especially reducing serious cases. However, he cautioned that Vietnamese in Malaysia should still comply with Covid prevention measures such as wearing facemasks, washing hands, disinfecting and ensuring safe distance to increase protection against Covid.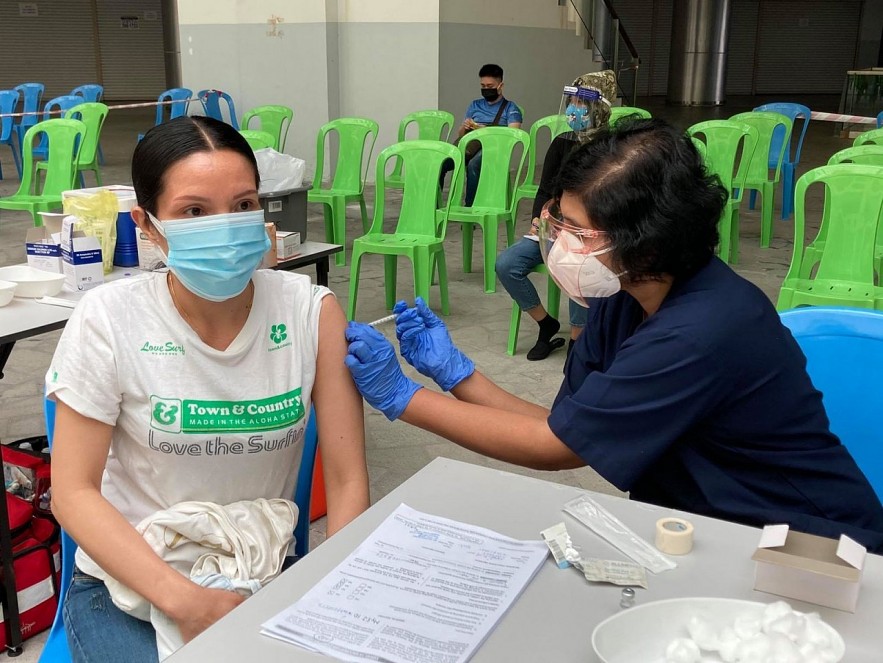 The second batch of Covid vaccines was reserved for Vietnamese laborers and their families aged 18 and above. Photo: Vietnam Times
Chargé d'Affaires Hong Son noted that the embassy would continue working with local authorities and mass organizations to provide inoculation for more Vietnamese living, studying and working in Malaysia. He added that the methods of vaccination had been diversified, including inoculation at fixed designated spots or mobile inoculation, the latter was especially suitable for people living in remote areas.
The Vietnamese community in Malaysia thanked the care of the embassy, Vietnamese mass organizations and local authorities. They expressed their relief to have been provided extra protection against Covid and hoped that more Vietnamese in Malaysia would soon get vaccinated.
Malaysia is aiming to achieve herd immunity via vaccination, especially in the capital Kuala Lumpur and Selangor state. Malaysia is using various types of Covid-19 vaccines in their national vaccination program, including Sinovac, Sinopharm, Pfizer-BioNTech, CoronaVac, Johnson & Johnson, AstraZeneca and Cansino.
Protecting the rights of Vietnamese workers facing the pandemic
Due to impacts from the Covid-19 pandemic, there have been more Vietnamese laborers in Malaysia who lost jobs or could not find jobs and have been living with uncertainties. To address this issue, the Department of Overseas Labor under the Ministry of Labor, Invalid and Social Affairs has requested businesses assigning laborers to Malaysia to strengthen managing and protecting the legal benefits and rights of the Vietnamese workers in Malaysia. The Department has requested that Vietnamese businesses dispatching laborers abroad collect data and report on the working conditions of laborers working in Malaysian businesses. In addition, the department has required that necessary procedures and interventions be carried out promptly so laborers could enjoy supporting policies from local authorities and help to secure accommodation for laborers who have completed working contracts but are stranded abroad.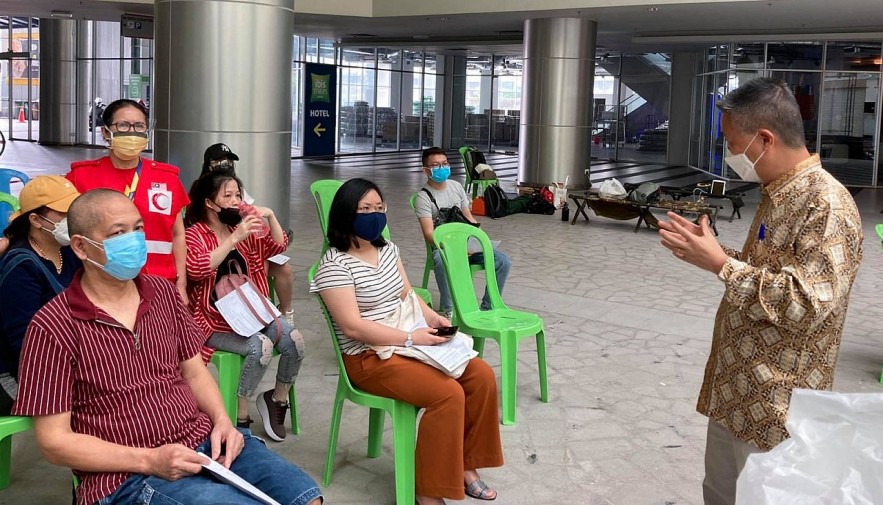 Chargé d'Affaires of the Embassy of Vietnam in Malaysia Nguyen Hong Son meeting the Vietnamese community in Malaysia who got vaccinated on September 4. Photo: Vietnam Times
The Department of Overseas Labor has also informed Vietnamese workers in Malaysia to call the hotline to support Vietnamese citizens and workers of the Embassy of Vietnam in Malaysia should they need support (01136682866 and 01123740453) or access the official website of the Vietnamese Embassy in Malaysia at https://vnembassy-kualalumpur.mofa.gov.vn to acquire detail guidance and information on consular, immigration, citizen protection and repatriation flight procedures.
The Department also recommended that Vietnamese workers in Malaysia download and access the app WFW (working for workers) to report and directly file complaints to Malaysia's Ministry of Human Resource on any laborer issues and the app MySejahtera to be updated on Covid-related matters, especially to register for Covid-19 vaccinations and monitor their health per the requirements of the Malaysian government.