HCMC Students Win International Robot Competition in Singapore
The competition focuses on the three main parts of assembling, controlling and programming robots to resolve issues related to environmental protection and green environment.
Chu Khanh Hung, 8th grade from Nguyen Binh Khiem school, Nha Be district, Ho Chi Minh City, won the the MYOR international competition held in Singapore.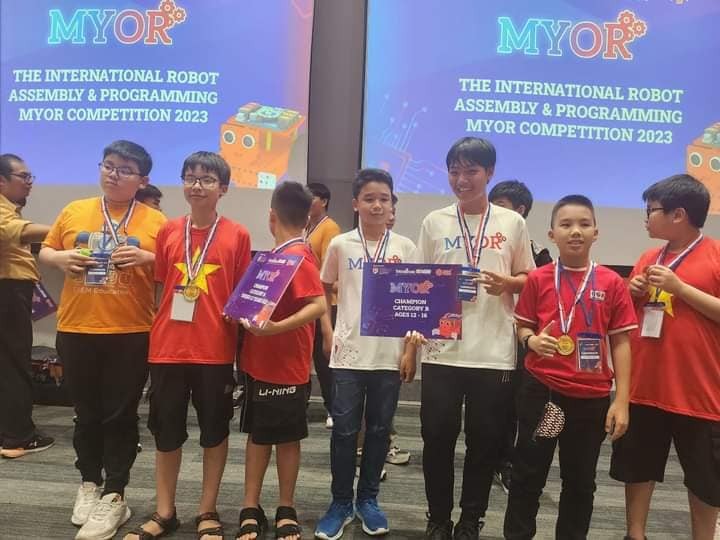 Khanh Hung and Trung Quan (white shirts) are happy with the final result.
According to information from Nguyen Thi Kim Trang, head of Nguyen Binh Khiem School Team, on July 1, at the MYOR 2023 Robot Assembling and Programming Competition in Singapore, 8th-grade Chu Khanh Hung, was won the championship in the category for 12-16 year old contestants.
Another student of the school, Trung Quan, also won a gold medal.
STEM (science, technology, engineering and mathematics) education is an interdisciplinary and applied approach, helping students develop comprehensively both physically and intellectually the essential skills needed to thrive in life generally.
Youth Maker is an international MYOR Robot learning and competition program organized by GaaraSTEM Education Technology Joint Stock Company, Transinex Company - the leading Educational Tourism Company in Vietnam, and the University of Technology Nanyang Technological University - a Top Technology University in the World and Asia.
The MYOR 2023 with the theme "Green environment" creates a fun and useful engineering and technology playground for students to improve their knowledge of STEAM Robotics, and promotes creativity, learning and research among them.
Hung is gifted in robotics with great passion. He has participated in the international Myor programming competition and won the high prize from 2021 to present. Most recently, in 2022, he won a gold medal in middle school's contest.
Khanh Hung said he has been interested in programming for a long time and find many opportunities to participate in competitions to experience. In the future, he wants to study Computer Science.
For Quan, it is also a good student for many years, has an boundless passion for programming. Currently, Quan is participating in Informatics and robotics clubs at the school.