Vietnamese Steamed Rice Rolls Voted Among 10 Must – Try Dishes In The World
Banh Cuon is the next representative to bring Vietnam into the world culinary field.
Thanks to the variety of ingredients and elaborate processing methods, many Vietnamese dishes such as pho, bun cha, banh mi, etc. have become familiar names on the international culinary map.
Australian magazine Traveller has named Banh Cuon (steamed rice paper rolls) one of the world's 10 best dishes to try along with Japan's sushi and Malaysia's Sarawak Laksa noodle soup.
"There's a certain magic to the way these big sheets of steamed rice noodles are made before they're wrapped around savory fillings and served with herbs and sauce," the magazine said about Vietnam's Banh Cuon.
Banh cuon is a traditional Vietnamese dish that is always overshadowed by the omnipresent banh mi or pho.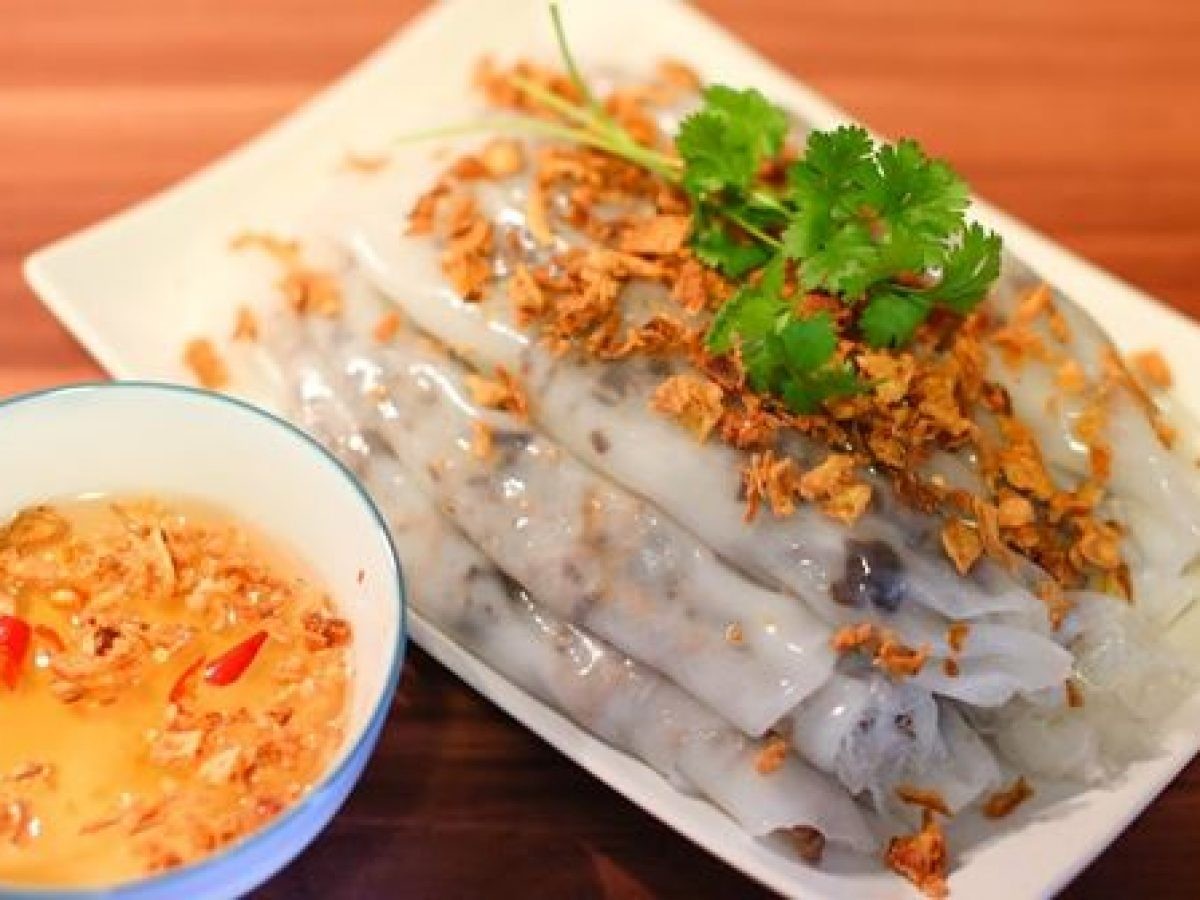 Photo: Bep Cua Toi
The main ingredients of Vietnamese steamed rice roll
Each Vietnamese has their favorite, go-to options for the first meal of the day. While some love a hot bowl of Pho, others are fans of "Xoi Xeo" (Vietnamese sticky rice), and many fancy sitting at a Banh Cuon stall to kick off their days.
Vietnamese steamed rice roll, as its name suggests, is made mainly from rice. Vietnam must be a huge fan of rice when its many specialties are made from this simple ingredient. The rice used for Banh Cuon must be of the best quality. It is important to pick rice that is not too soft or too hard for powder so that it will not be crushed and milled into powder liquid.
How to make Vietnamese steamed rice rolls?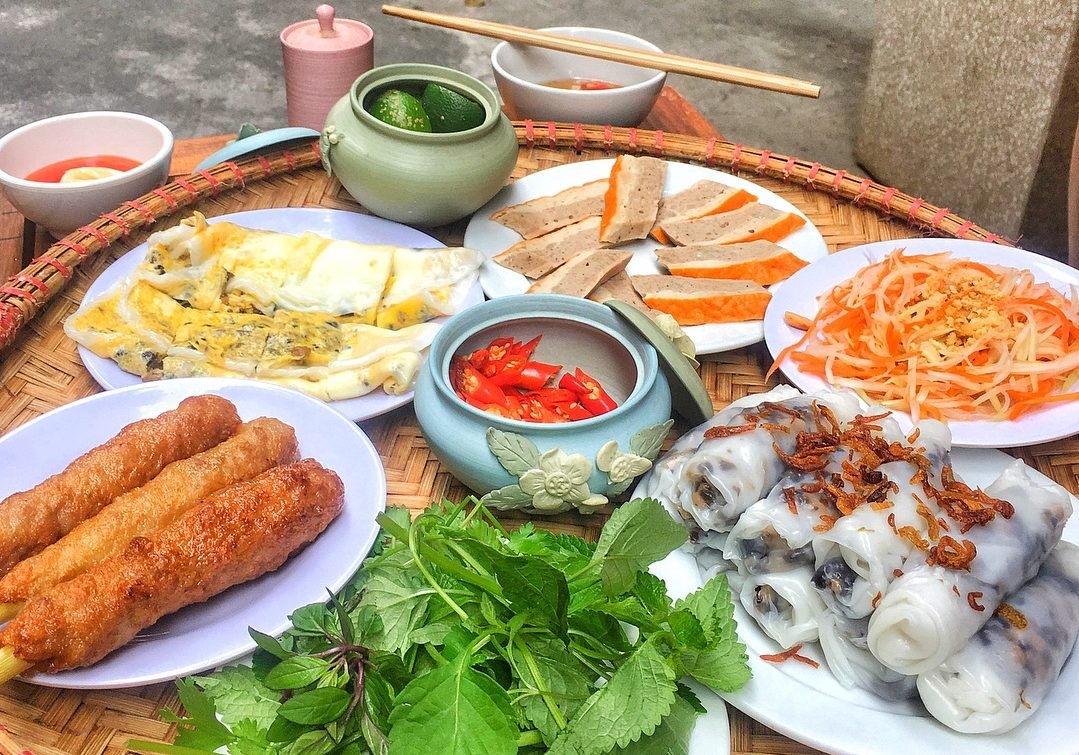 Photo: Emoi.vn
As mentioned above, there are different variations of Vietnamese steamed rice rolls throughout the country, and the detailed recipe of each variation is different. Below is the basic common process of making Vietnamese steamed rice rolls that most regions apply.
High-quality rice will be soaked in water for 2-3 hours before being put in a traditional gristmill. The Vietnamese believe that steamed rolls made from traditionally milled powder are much more delicious than the ones made by a modern machine. The Vietnamese steamed rice roll mix needs to be ground 2-3 times to make smooth and soft powder.
The mixture of rice flour and water is stored at room temperature for 2-3 hours before the rolling process. At local food stalls, there is always a water pot boiling at 100ºC to make sure it is ready to cook the rolls at any time. A thin layer of rice batter is poured onto a piece of cloth and evenly spread to create a thin coat. The cook needs to be quick because the whole process above lasts just about 3 seconds. Then, they steam the roll and carefully take it out of the cloth. The result should be a thin and almost transparent rice roll.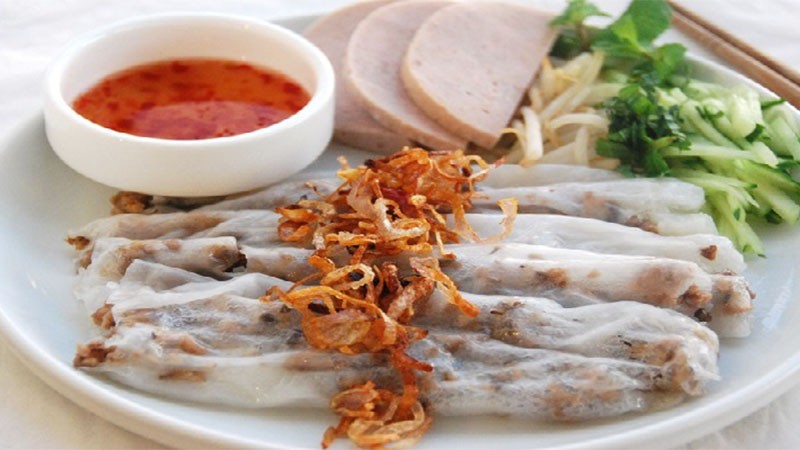 Photo: Bach hoa XANH
Often, the cook will add fillings to the roll after it is steamed. In Northern Vietnamese provinces, the fillings of Vietnamese steamed rice rolls often consist of pork and mushrooms.
Thanh Tri, Hanoi, has gained a huge reputation as the cradle of steamed rice roll Vietnamese. The most distinctive feature of this variation is the thin, chewy coat of the roll. The rolls are also covered with dried shallots. Thanh Tri steamed rice roll is often served with "cha que" (roasted cinnamon pork) and sweet and sour fish sauce with "ca cuong" - a special spice that brings an irresistible aroma to the dish.
Different from other kinds of Banh Cuon, Cao Bang steamed rice roll comes with a bottle of sweet bone broth instead of dipping fish sauce. The fillings usually do not contain wood-ear mushrooms and the cook will not add dried shallots onto the rolls, also. Instead, they will add chopped onions to the broth to make it more aromatic. A dish of Cao Bang steamed rice roll will have egg fillings. It tastes incredibly appetizing when dipped into the bone broth.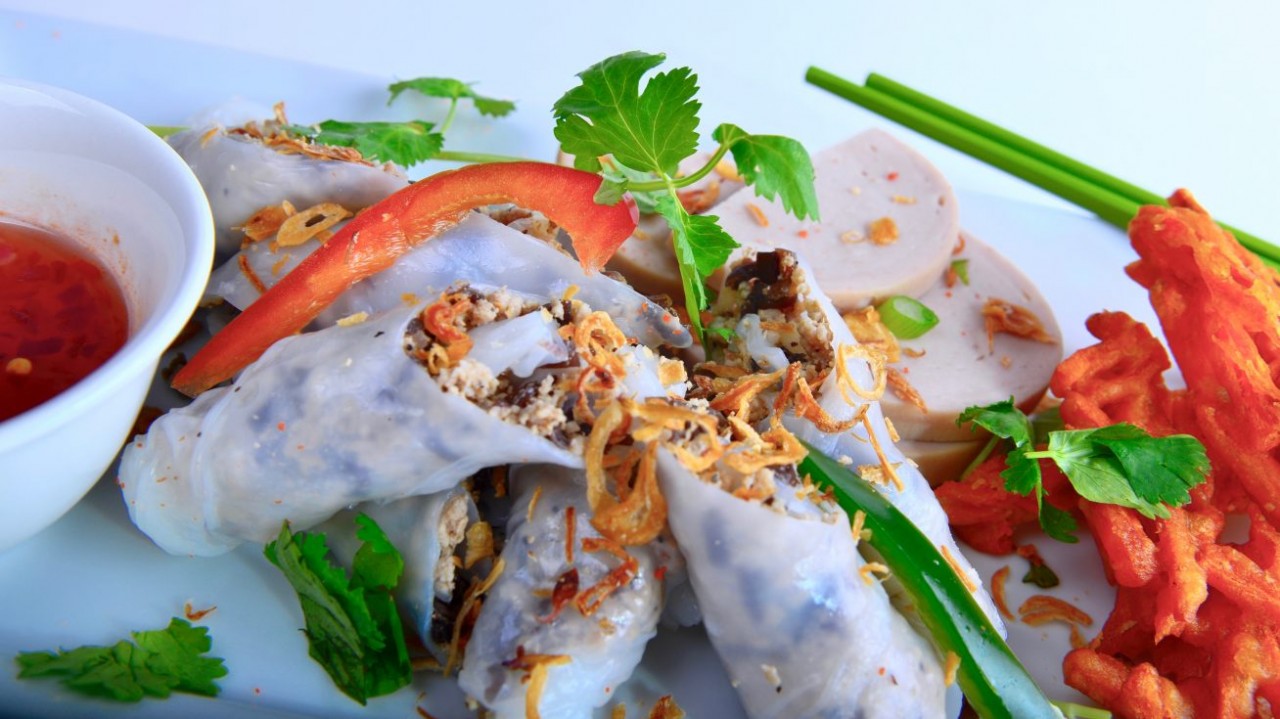 Photo: Tay Ho Food Company
Most 'Touch Your Heart' Roads in Vietnam

There are millions of different roads stretching across the S-shaped land which are surprisingly beautiful and making anyone passing by irresistibly stop to enjoy and ...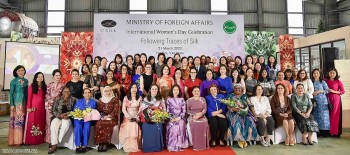 Friendship
Female ambassadors, representatives from diplomatic corps and international organizations, along with spouses of diplomats in Vietnam gathered together to find about more about silk weaving and silk products in Vietnam.