Robot Talent Contest for Students Held Nationwide for The First Time
Denmark supports Vietnam in developing STEAM Robotic education for students with a world-class playground
The World Robot Competition ROBOTACON - WORD ROBOT OLYMPIAD (WRO) 2023 in Vietnam was officially launched on April 15 at Hanoi-based Phenikaa University - one of the schools that have been applying STEAM education to the teaching and learning program.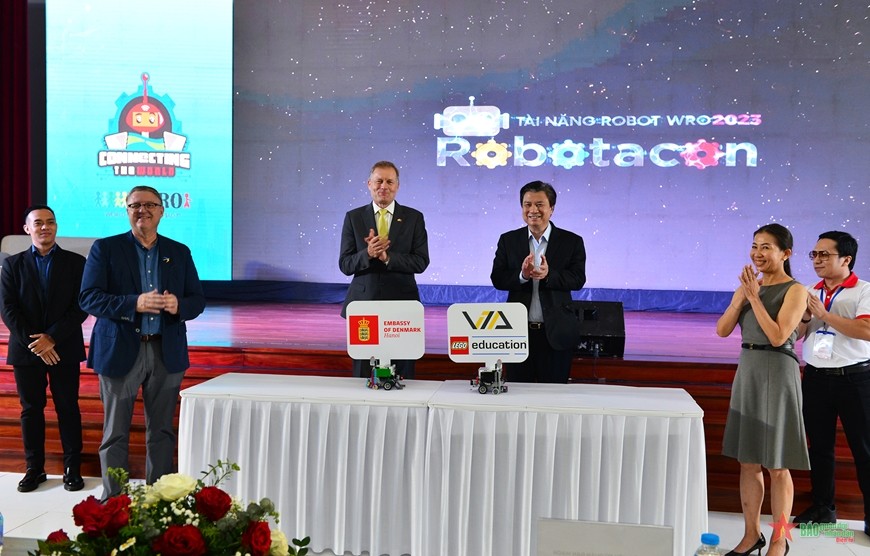 Robotacon Wro 2023 is a prestigious educational contest for youngsters from 6-19 years old.
The event welcomed attendance of representatives of the Ministry of Education and Training, the Embassy of Denmark in Vietnam, Hanoi's Departments of Education and Training and other Northern provinces and representatives of public, private and international schools in Hanoi and neighboring provinces.
Under the theme 'CONNECTING THE WORLD', the ROBOTACON - WRO 2023 competition is co-organized by the Embassy of Denmark and Viet Tinh Anh Joint Stock Company– LEGO® Education.
This year, the teams participating in the contest will be divided into groups with tasks under various topics of current interests around the world and Vietnam such as marine life conservation, underwater infrastructure, port automation.
The competition in Vietnam will have two qualifying rounds in Ho Chi Minh City with an expected 300 teams from the South and in Hai Phong with an expected 200 teams from the North.
The final round to find the best teams and contestants representing Vietnam in the World Final in Panama will take place in Hanoi in August 2023.
At the launching ceremony, Danish Ambassador Nicolai Prytz expressed his proud that the Embassy of Denmark is one of the co-organizers of ROBOTACON - WRO 2023.
ROBOTACON-WRO, first held in 2004, has so far attracted more than 22,000 contestants, ranging from 6 - 19 years old from more than 60 countries.
Since 2016, Vietnamese teams have achieved many impressive achievements at World WRO competitions, including three silver and eight bronze medals.
He believes that this will be an amazing playground for young Vietnamese people to learn necessary skills needed for the 21st century such as critical thinking, teamwork, problem solving, and mastering technology. The competition also provides an opportunity for students to innovate and discover and thereby contribute to nurturing a generation who is ready to face and solve problems and challenges of the future.
At WRO, one of the biggest robot competitions in the world for students aged 6 -19 years, students from different countries will compete and demonstrate their thinking and problem-solving abilities through competitions and challenges in robotics as well as create new projects.
Sharing this view, a LEGO® Education representative said that the ultimate goal of education is not to increase the amount of knowledge but to help students develop to their full potential as well as developing team skills through practice and learning in a fun and engaging way.
He hopes that ROBOCON - WRO competition in Vietnam will continue to help find the best teams representing Vietnam to compete in the world competition held in Panama in November this year.
Dang Ngoc, general director of Viet Tinh Anh Joint Stock Company, which holds the copyright of ROBOCON WRO competition in Vietnam, was delighted with this year's contest being held countrywide for the first time.
"Being expanded nationwide this year, this competition will definitely increase the chance to select more talented Vietnamese teams and students in robotics...We believe that an educational approach that emphasizes the role of practical lessons will help students become more confident, quickly grasp as well as retain the knowledge they have learned for a longer time," he said.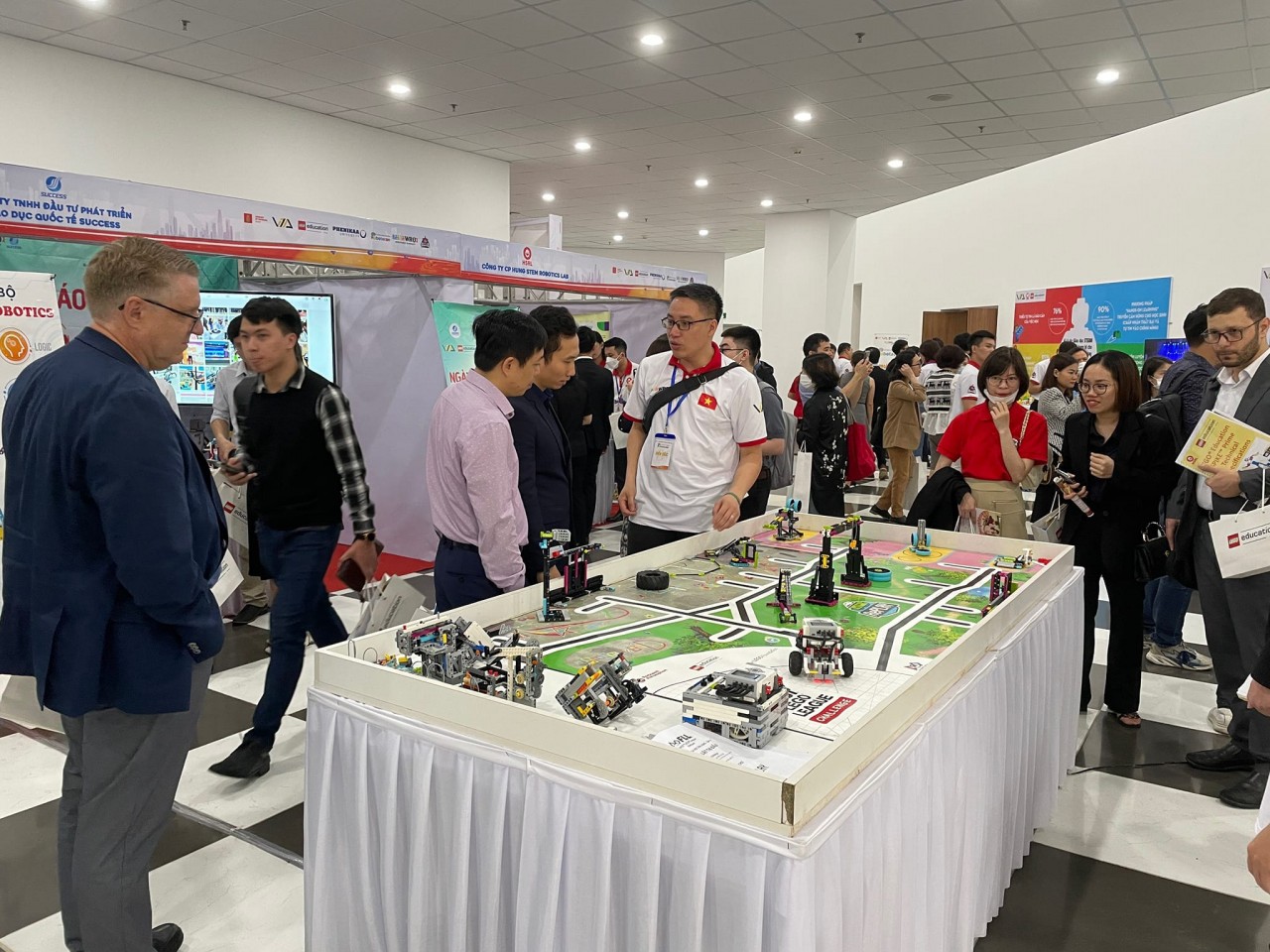 At the exhibition of STEAM Robot LEGO® Education experiential learning models.
At the launching ceremony of the ROBOTACON-WRO 2023, the co-organizers also arranged an exhibition of STEAM Robot LEGO® Education experiential learning models. Participants will get the chance to experience STEAM Robot with LEGO equipment and technology tools under the guidance of Viet Tinh Anh Company – LEGO Education experts.
Denmark and Vietnam have been cooperating closely within the education sector since 2005, where a 10-year programme to support Vietnam in introducing a new learner-centered art education and developing a new art curriculum for primary schools was introduced.
Under the Comprehensive Partnership Agreement signed between the two countries in September 2013, education continues to be one of the priority sectors for cooperation. In recent years, Denmark has supported Vietnam in the areas of vocational training and life-long learning. For the past 5 years, Denmark has provided short-term scholarships for 700 Vietnamese government officials to attend short terms study courses in Denmark in the fields of food safety, public health, and agriculture.
STEAM (Science, Technology, Engineering, and Arts and Mathematics) education is helping students to create and pursue a passion for programming. 20 teams have outperformed 149 other teams from primary and secondary schools across Vietnam to qualify for the 2023 VEX Robotics World Championship in May in the US.
The national tournament concluded on February 25 after two days of competition which drew 2,000 spectators to the Hanoi University of Science and Technology and 7,500 more, who watched online.
The tournament was organized by STEAM for Vietnam, a US non-profit organization founded and operated by Vietnamese around the world, the US Embassy in Vietnam, and Hanoi University of Science and Technology.