Health Minister calls for medical students to assist Bac Giang, Bac Ninh in Covid-19 fight
Minister of Health Nguyen Thanh Long has called for students at medical and pharmaceutical universities and colleges nationwide to help Bac Ninh and Bac Giang provinces in their Covid-19 fight.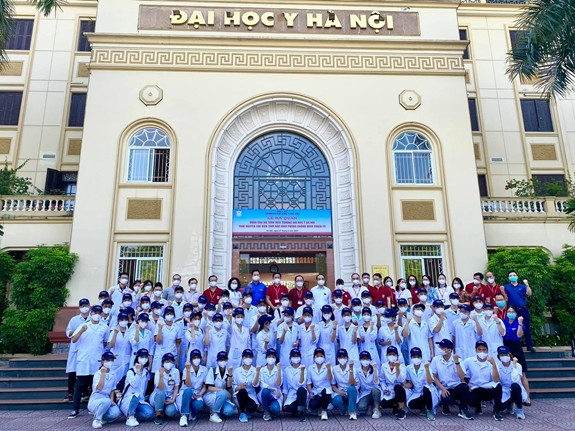 Officers and students at the Hanoi Medical University leave for Bac Ninh to help the province in its Covid-19 fight. Photo: People's Army Newspaper
"The complex Covid-19 situation requires great efforts from the health sector. Therefore, I appeal for medical and pharmaceutical universities and colleges nationwide to organize training for officers and students on giving vaccines; taking samples and testing; treating and preventing cross-infection. The Health Ministry will mobilize human resources to support pandemic-hit localities, especially Bac Giang and Bac Ninh," Long said.
Earlier, 375 people including medical officers, lecturers, trainees and students arrived in Bac Giang and Bac Ninh to support them in fighting against the novel coronavirus.
A total of 1,976 medical staff and students from 15 universities and colleges are currently participating in Covid-19 prevention and control in localities such as Bac Giang, Bac Ninh, Hanoi, Ho Chi Minh City, Hai Phong, Nam Dinh, Thai Nguyen and Can Tho.
As of May 27, as many as 34 medical universities and colleges with 23.888 people have registered to volunteer to join the Covid-19 battle.
Health Minister Long on May 27 also awarded certificates of merit to 398 individuals who have significant contributions to preventing and controlling the pandemic in Bac Ninh and Bac Giang. 300 of them are students who have braced the scorching heat to devote themselves to the battle.
Vietnam entered its fourth wave of Covid-19 community transmission on April 27 and since then, 3,335 infections have been registered in 31 cities and provinces.
Bac Giang and Bac Ninh still lead the nation with the highest number of infections, at 1,701 and 689 respectively, owing to their large-scale industrial parks which employ thousands of workers.