Homegrown Covid-19 vaccine to enter last human trials next week
If everything goes as planned, Vietnam can produce its first domestic coronavirus vaccine in late September.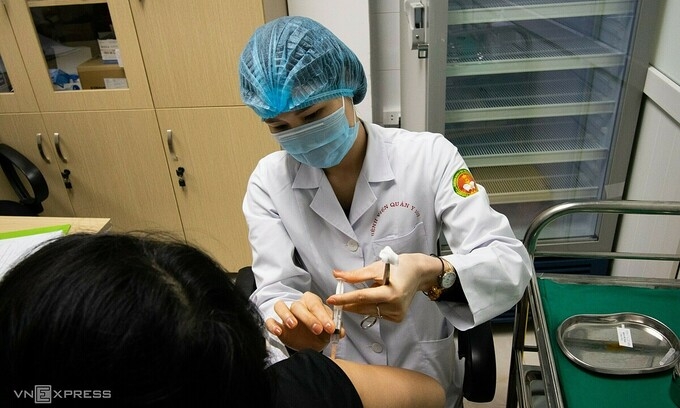 Medical staff infecting one volunteer in the second phase (Photo: VNE)
Made-in-Vietnam Nanocovax vaccine is set to enter the third phase of human trials at the beginning of June on 13,000 volunteers across the country. Once researchers complete the last phase, expected in late September, the candidate can be mass-produced for vaccine rollout, the Medical Ethics Committee announced Wednesday.
The last stage will trialed in the Hanoi-based Military Medical Academy, Pasteur Institute in Ho Chi Minh City, as well as medical centers in other localities, including Hung Yen, Long An. Authorities will recruit more voluntary recipients while injecting the 800 registered volunteers.
Nanocovax was studied and developed by Nanogen biopharmaceutical company. It requires two doses, 28 days apart to generate maximum antibodies. Results of the last trial phases show the vaccine yields immunity in 100% of volunteers and are effective against the new coronavirus variants from the UK and South Africa.
After the second jab, the antibody levels in some volunteers have reportedly increased by over 60 times compared with after the first injection. Mild post-inoculations such as fever, soreness at injection sites were confirmed, however, all symptoms wore off within hours. There have been no serious side effects.
Deputy Prime Minister Vu Duc Dam, head of the National Steering Committee for COVID-19 Prevention and Control, said he was in stable health condition after receiving the second jab of Nanocovax on March 26.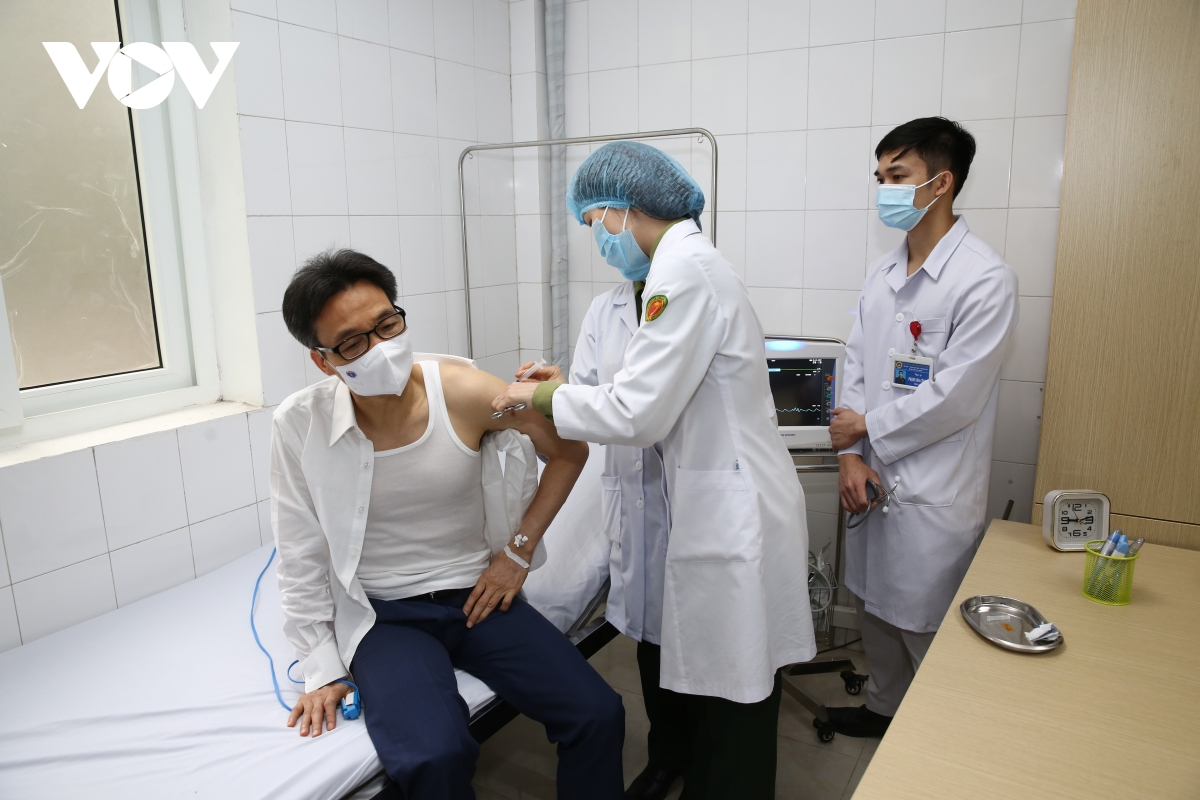 Deputy Prime Minister Vu Duc Dam gets the second shot of made-in-Vietnam NanoCovax COVID-19 vaccine. (Photo: VOV)
Nanocovax is priced at 5.17 U.S. dollars per dose. Along with injections, it will be developed in the form of eye-drop and nasal sprays for special subjects.
Meanwhile, Covivac, the second indigenous vaccine to enter human trials has completed its first phase and might start the next phase in Thai Binh province, northern Vietnam in late June. IVAC earlier announced one dose of Covivac cost 2.6 U.S. dollars.
Vabiotech's vaccine is in preclinical testing while Polyvac is studying its candidate in the lab.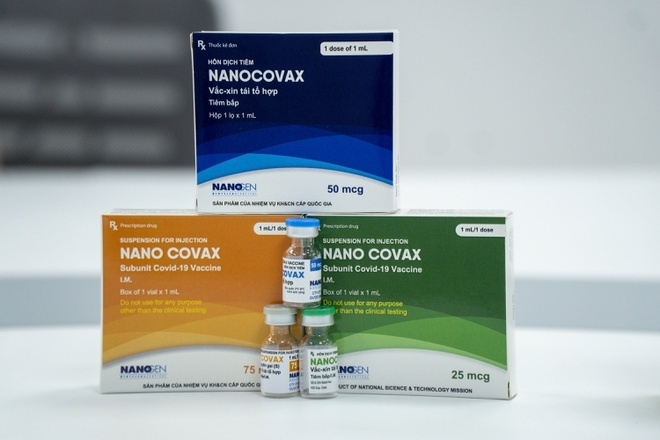 Boxes of Nanocovax vaccine (Photo: NanogenPharma)
Vietnam kicked off the nationwide vaccine rollout with British-Swedish AstraZeneca vaccine on March 8. It has received nearly 2.9 million doses, 464,000 through commercial contracts, and the rest through Covax, and vaccinated over a million people so far.
The ministry has deals to buy 30 million doses and obtain 38.9 million doses through the global Covax mechanism. It has also registered to buy 10 million additional doses through Covax under a cost-sharing scheme to benefit from lower prices.
Besides, it has inked a deal to buy 31 million doses of Pfizer's vaccine this year.
On May 26, the government approved the establishment of a Covid-19 vaccine fund to raise contributions from various sources and ease the burden on its resources. The fund would accept contributions in form of cash and vaccines from benefactors in Vietnam and abroad.
It will be audited by the State Audit Office of Vietnam and the Vietnam Fatherland Front, an umbrella organization of all political and social groups in the country.
In the fourth Covid wave that began a month ago, Vietnam has recorded 3,105 cases in 30 cities and provinces. Bac Giang continues to lead in the number of infections at 1,564, while its neighbor Bac Ninh comes second at 654. Most of the patients are workers in industrial parks.
The country earlier recorded 36 deaths from the second wave in Da Nang in July and August last year.