Coronavirus-hit Bac Giang, Bac Ninh Provinces to receive 300.000 vaccine doses
The Ministry of Health will allocate for Bac Giang and Bac Ninh Provinces, Vietnam's current coronavirus hotspots each 150.000 Covid-19 vaccine doses to inoculate within 1-2 weeks.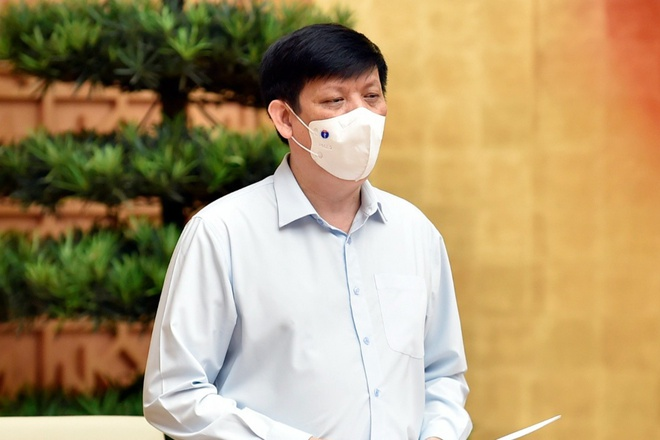 Minister of Health Nguyen Thanh Long at the meeting. Photo: VGP
At an urgent Wednesday meeting with Bac Giang and Bac Ninh chaired by Prime Minister Pham Minh Chinh, Minister of Health Nguyen Thanh Long informed about the pandemic situation in these two provinces, Zing News reported.
The health minister has requested Bac Giang to quickly stamp out the pandemic in industrial zones, while, Bac Ninh was ordered to curb the outbreaks in the community to prevent them from spreading to the industrial parks.
He has also required to ramp up the inspection and strictly handle violators of regulations on Covid-19 prevention and control.
He added that under the Prime Minister's direction, the ministry would allocate for each province 150,000 Covid-19 vaccine doses to inoculate within 1-2 weeks.
Deputy Prime Minister Vu Duc Dam praised the efforts and creative measures of Bac Ninh and Bac Giang in preventing and controlling the pandemic.
He has asked the two localities to prepare enough medical equipment and supplies, especially biological products for testing to soon stem the spread of Covid-19 at high-risk areas.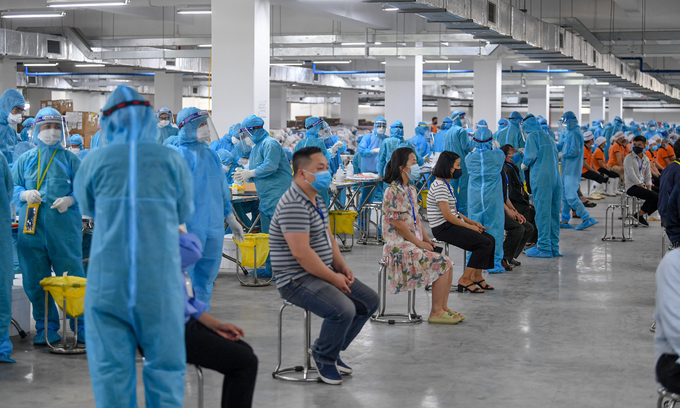 Workers at the Quang Chau industrial park in Bac Giang Province are tested for Covid-19. Photo: VnExpres
Chairman of Bac Giang People's Committee Le Anh Duong said the province had contact traced 1.399 F0 cases, all in centralized quarantined facilities. The province has also made efforts to provide support for 60.000 workers living in blockaded areas.
He added that the province had planned to gradually resume the operation at several industrial parks.
Bac Ninh Party Secretary Dao Hong Lan said the province had focused the Covid-19 prevention and control in four areas including Mao Dien Commune (where the first outbreak was detected on May 5); industrial zones; quarantined and medical facilities; about 30.000 Bac Giang people working in Bac Ninh and 3.600 Bac Ninh people working in Bac Giang.
Bac Ninh has also adopted anti-pandemic measures at workers' place of residence, she said.
In the latest Covid-19 wave sweeping through the country on April 27, Vietnam has reported 3.051 community transmissions.