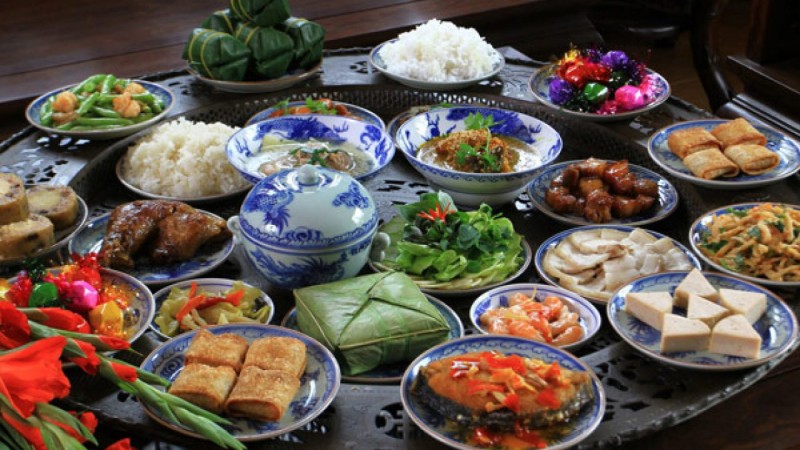 Enjoying traditional dishes is what makes the Lunar New Year special. Photo: Internet
Aside from weight gain, the high sugar content in Lunar New Year goodies may cause a spike in blood sugar levels, reminded Dr Ian Phoon, a family physician at Singapore-based SingHealth Polyclinics Pasir Ris and the chairman of the Cardiovascular Disease Workgroup Committee at SingHealth Polyclinics.
But it's all about balance – here are some tips so you can still have your festive treats and not break your weighing machine (and maybe keep those blood sugar levels down too).
EXERCISE PORTION CONTROL AT YOUR REUNION DINNER
When filling your plate at the restaurant or at home, select larger portions of healthy dishes such as vegetables and lean meat (choose white meat), said Lim Siew Choo, a senior dietitian from SingHealth Polyclinics. Keep processed meat and food to the minimum, she added.
USE A SMALL PLATE AND LIMIT IT TO ONE
If your family is having a buffet, Dr Phoon recommended limiting your food intake to one plate as much as possible. "Stop eating if you're full, rather than worry about wasting food," he said.
Meanwhile, Lim also pointed out that people tend to consume larger portions from big plates, which may lead to overeating. So if you're sitting down to a hotpot dinner, ask for "a smaller plate to control portion size as it gives an illusion of a fuller plate, making you take less," she said.
PRACTISE MINDFUL EATING
Studies have shown that people who are distracted while eating are more likely to overeat, said Lim. This is because they are unable to pay attention to the body's fullness. "One way to practise mindful eating is to recognise your body's fullness signals by chewing your food thoroughly. Also, focus on the senses such as smell, taste and texture as you chew rather than go for quantity," she said.
PLAN AHEAD AND EAT BEFORE VISITING FAMILY AND FRIENDS
The biggest mistake is to save your calories prior to a gathering, said Lim. "Avoid fasting or visiting on an empty stomach as you may end up overeating." Instead, have a snack that is rich in fibre to keep you full before you binge-eat, she said. During this time of the year, high-fibre mandarin oranges as well as legumes such as soybeans and peanuts are readily available to help keep you fuller for longer.
LIMIT YOUR SWEETS INTAKE
Trying out different kinds of Lunar New Year cookies, cakes, and sweets may often lead to excessive sugar consumption, a common cause of weight gain, said Lim. "If you have a sweet tooth, a good idea is to stick to one type of treats," she said. Dr Phoon recommended taking only one helping of pastry per house you visit.
DIVERT YOUR ATTENTION TO SOCIALISING
Avoid standing around the food table and stay out of the kitchen. "To take your mind off the food, focus your energy on conversation with others," said Lim.
LIMIT LIQUID CALORIES
"Alcohol and soft drinks contribute a significant amount of sugar and calories to your diet, which can cause weight gain," said Lim. Furthermore, alcohol consumption is often linked to increased appetite, she added.
Skip the sugary mixes, especially syrups and juices. If there are alcoholic beverages, Lim suggested diluting them with soda or sparkling water. And remember to keep to two standard alcoholic drinks for men, and one for women a day, according to the Health Promotion Board. A standard alcoholic drink is defined as a can (330ml) of regular beer, half a glass (100ml) of wine, or a nip (30ml) of spirit or hard liquor.
STAY HYDRATED
"Often, we mistake thirst for hunger. Drinking more water can help to make you feel fuller for a longer period of time, and curb you from overeating," said Lim.
VNF/CNA