High Return of International Flights to Noi Bai Airport, Passengers Asked to Arrive 3 Hours Early
With the COVID-19 epidemic being controlled in many countries, the recovery of international flights to and from Vietnam saw an amount of 75% compared to the peak of the Lunar New Year 2020.
On the busiest day, there were 186 international flights, more than 27 thousand arrivals and departures on international flights via Noi Bai airport, reaching about 75% compared to the peak of Tet 2020 (before the COVID-19 epidemic), cited from Nguoi Lao Dong. This is the result of the corona virus being well controlled in many countries, the number of infected cases of gradually easing and strict epidemic prevention measures removed.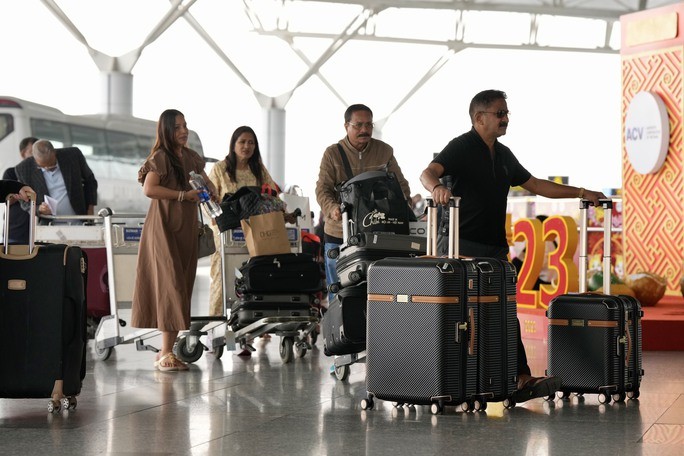 High Return of International Flights to Noi Bai Airport (Photo: Nguoi Lao Dong).
For example, at Noi Bai airport, currently, the flight routes connecting Asia are recorded to be most crowded with about 3.5 thousand and departures per day of the Vietnam - South Korea route; 3.3 thousand departures per day of the Vietnam - Taiwan (China) route. Placed third is the Vietnam-Thailand route with 3.1 thousand arrivals and departures per day and fourth place is the Vietnam - Japan route, reaching about 2.7 thousand arrivals and departures per day.
In the coming time, when China continues to relax the virus prevention measures, creating favorable conditions for the resumption of foreign tourism activities for Chinese citizens, the number of visitors coming from China and other territories will certainly increase.
The Civil Aviation Authority of Vietnam said that by the end of 2022, the domestic aviation market has fully recovered, with high growth compared to the period of 2019. The international market is gradually recovering and is forecast to reach the level before the COVID-19 epidemic (in 2019) by the end of 2023.
In particular, the total air transport market of Vietnam in 2023 will possibly reach a number of 80 million passengers and 1.44 million tons of cargo. There will be an increase of 45.4% in passengers and 15% in cargo respectively compared to 2022.
Compared to the same period before the COVID-19 epidemic (in 2019), there will be an increase of approximately 1% in passengers and 14.8% in cargo. In which, domestic transportation reached 45.5 million passengers, up 5% compared to 2022 and 22% compared to 2019; transporting 2.3 hundred thousand tons of goods, up 55% compared to 2022 and 85% compared to 2019.
International transportation is predicted to reach 34 million passengers, tripled the number in 2022 and 83.5% compared to 2019; transporting 1.23 million tons of goods, up 10% compared to 2022 and 22.4% compared to 2019.
According to the Civil Aviation Administration of Vietnam, the recovery of other key passenger markets of Vietnam such as South Korea and Japan will take place only slowly due to internal difficulties (e.g. fear of the disease returning, economic difficulties, etc.) Therefore, the main travel demand in the coming period will still be business trips, visiting relatives trip and international student arrival. The Vietnam-China aviation market is not yet to recover.
High Return of International Flights to Noi Bai Airport, Passengers Asked to Arrive 3 hours Early
Check-in procedure
Passengers need to arrive at the airport at least 3 hours before departure time to do check-in procedures. After successful check-in procedures, it is necessary to quickly move into a restricted area to quickly complete many follow-up procedures such as: security screening and customs inspection.
Passengers are advised to follow the instructions of security staff at the airport. Be attentive to personal belongings, make sure not to leave them in the security screening area.
Limite the number of escorts reduce pressure at the station. All passengers and their escorts need to follow the instructions to pick up and see off in the correct area, ensuring security at the airport. Note that at peak hours, especially in the evening hours, the port flexibly applies a plan to restrict drop-off people, so escorts will not be allowed to enter the procedure area.
Passengers are encouraged to download and use iNIA application on smart devices to track information about flight and updates for change of flight information.
Connecting passengers need to move between the 2 terminals, note that Noi Bai airport arranges a free connecting bus, operating every 15 minute during the day and every 30 minutes at night, the pick-up location is at wing A, floor 1 of Passenger Terminal T1, and column 16 - 18 of Passenger Terminal T2.
Boarding
Passengers need to prepare full identification when boarding the airport.
- Passport: For international flights, according to regulations, every passenger needs to carry a passport. Passport must be valid for at least 6 months.
- Visa: Passengers need to find out in advance the destination country to see if they need to prepare a visa. In addition, if you are on a flight that transits at an airport of a third country, you may also need an additional transit visa (this depends on the transit time and the requirements of each country).
Note that passengers flying with children without their parents, need to ask the airline about the procedure of authorization letter from the local government according to the prescribed form.
Passengers need to look up dangerous items that are restricted from carrying people or luggage on board (see link https://www.vietnamairport.vn/tin-tuc/huong-dan-thu-tuc-di-may-bay/cac) -vat-pham-nguy-hiem-han-che-mang-follow-people-hanh-ly-len-tau-bay). Limit liquids on international flights, comply with each destination's regulatory checks on allowed liquids. Note that for fresh luggage, animals and plants need to comply with the prescribed animal and plant quarantine requirements.
Add baggage identification signs such as putting a name tag, writing your name, phone number or recognizable signs on luggage, foam boxes, and cartons for easy retrieval, and at the same time avoid mishandled or lost by another guest. In case of loss or damage to luggage, passengers should immediately notify the airline's staff for timely coordination in handling.
Regulations on prevention of COVID-19 and quarantine requirements
Passengers need to find out information about the entry regulations of the host country, especially the regulations on prevention of COVID-19 such as: Certificate of vaccination, Sars CoV-2 PCR test results, medical declaration ... before or after entry.