Vietnam News Today (Sep. 23): Vietnam - Powerful Magnet For Foreign Direct Investment
Vietnam News Today (Sep. 23): Promoting Vietnam – Saudi Arabia relations; Vietnam attends IAEA Board of Governors meeting; Top Cuban legislator Esteban Lazo Hernandez to visit Vietnam in September; Vietnam – powerful magnet for foreign direct investment.
Vietnam News Today (Sep. 23) notable headlines
Promoting Vietnam – Saudi Arabia relations
Vietnam attends IAEA Board of Governors meeting
Top Cuban legislator Esteban Lazo Hernandez to visit Vietnam in September
Vietnam – powerful magnet for foreign direct investment
Vietnam named as top int'l travel flight destination for global tourists
Quang Binh province promotes investment in Japan
Japanese Crown Prince, Crown Princess watch new opera commemorating diplomatic ties
President visits families affected by flash flood in Lao Cai province
Seminar honors Vietnam-Cuba special fraternal solidarity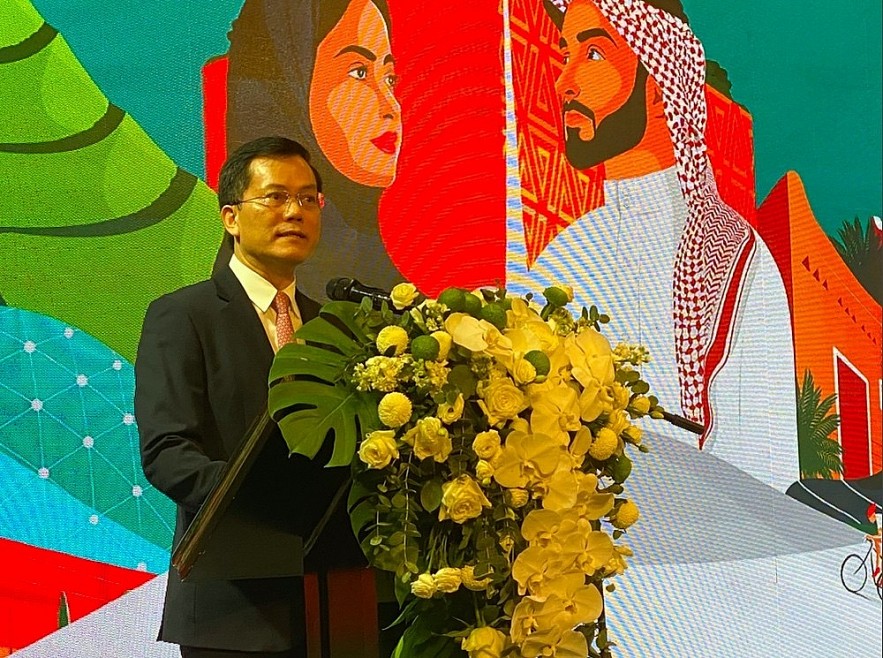 Deputy Minister of Foreign Affairs of Vietnam Ha Kim Ngoc speaks at the function, believing that Saudi Arabia will realize its Saudi Vision 2030. (Photo: TPO)
Promoting Vietnam – Saudi Arabia relations
The Embassy of Saudi Arabia hosted a ceremony in Hanoi on September 22 evening to mark Saudi Arabia's 93rd National Day (September 23).
In his speech, Deputy Minister of Foreign Affairs of Vietnam Ha Kim Ngoc congratulated Saudi Arabia on its tremendous development achievements over the years, and affirmed that Vietnam wishes to forge multifaceted cooperation with Saudi Arabia.
He said Vietnam – Audi Arabia relations have developed strongly in recent times through reciprocal visits and existing cooperation mechanisms.
Two-way trade turnover between Vietnam and Saudi Arabia reached US$2.7 billion in 2022, representing a year-on-year rise of 32.4%. Despite the global economic fallout, the first seven months of 2023 alone also saw bilateral trade rise 7.4% year on year to US$1.6 billion, cited VOV.
Recently, the Vietnam - Saudi Arabia Business Forum was organized, attracting the participation of more than 750 businesses from both sides.
Ngoc said the two countries will celebrate the 25th anniversary of diplomatic ties in 2024 – a major milestone in bilateral relations. He expressed his belief that bilateral cooperation would be enhanced in all areas, from politics-diplomacy to economy, trade, investment, culture, and people-to-people exchanges in the coming time.
For his part, Ambassador Mohammed Ismaeil A. Dahlwy reviewed the achievements that Saudi Arabia has recorded over the years, as well as its efforts to realize the Saudi Vision 2030.
He affirmed that both Saudi Arabia have over the past 24 years treasured their close bond which is now growing stronger through increased cooperation in many different fields as well as effective coordination at international forums.
The ambassador wished the Government and people of Vietnam more and more success and greater achievements in national development and international integration. He expected that bilateral relations would continue to develop strongly and reach new heights in the coming years.
Vietnam attends IAEA Board of Governors meeting
A Vietnamese delegation led by Ambassador Nguyen Trung Kien, Governor - Permanent Representative of Vietnam to the International Atomic Energy Agency (IAEA), has attended a regular meeting of the IAEA Board of Governors.
The meeting, from September 11-15, reviewed the IAEA's annual reports, which will be submitted to the 67th Regular Session of the IAEA General Conference, scheduled to take place from September 25-29 in Vienna, Austria, and looked into other issues.
In his remarks, Kien affirmed Vietnam's consistent stance on supporting non-proliferation, towards the complete and thorough disarmament of nuclear weapons, and stressed the need to ensure the balance among the three pillars of the Treaty on the Non-Proliferation of Nuclear Weapons (NPT).
Vietnam always supports the role of the IAEA, he said, speaking highly of technical cooperation programs, especially the ongoing ones, between Vietnam and the IAEA such as the Zoonotic Disease Integrated Action (ZODIAC), according to VNA.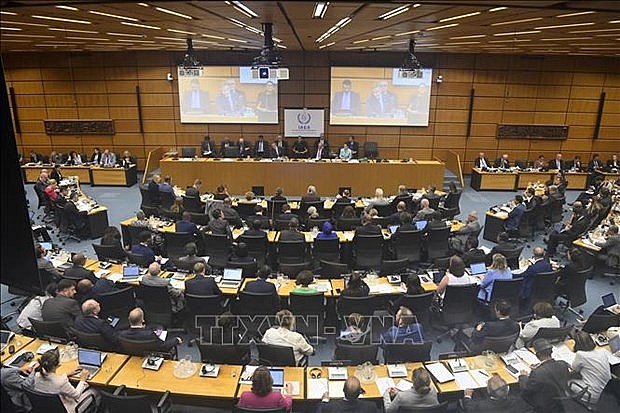 At the regular meeting of the IAEA Board of Governors. (Photo: VNA)
He called on the IAEA to step up its technical support and cooperation with Vietnam in the areas of shared concern.
On the sidelines of the meeting, the Vietnamese delegation hosted a party to thank international friends for their support and cooperation during its 2021-2023 membership of the Board of Governors, which is expected to end after the board's October meeting.
Top Cuban legislator Esteban Lazo Hernandez to visit Vietnam in September
The President of the National Assembly of People's Power of Cuba, Esteban Lazo Hernandez, will pay an official visit to Vietnam from September 24 to 29, according to the Ministry of Foreign Affairs of Vietnam.
The visit has been made at the invitation of the Vietnamese Party and State leaders, the ministry said in its announcement released on September 22.
During his stay, Esteban Lazo Hernandez will attend a ceremony to mark 50 years of leader Fidel Castro's trip to the liberated zone in Southern Vietnam.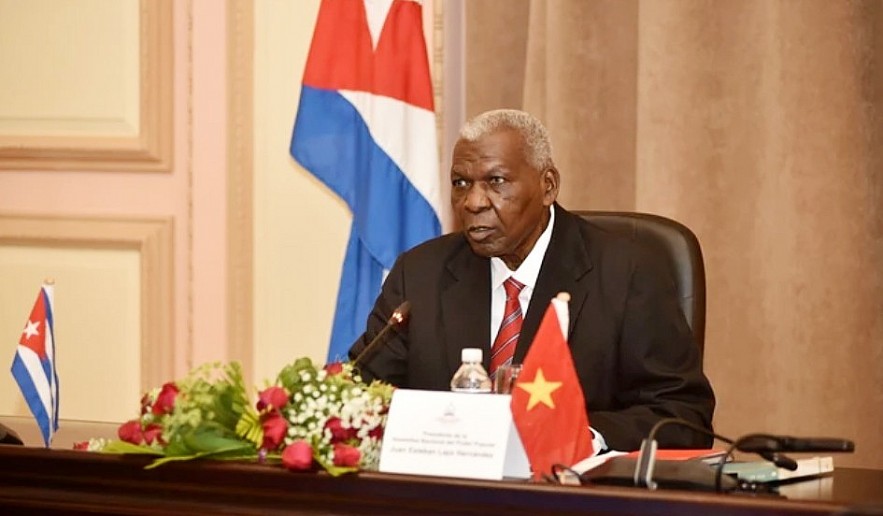 Esteban Lazo Hernandez - president of the National Assembly of People's Power of Cuba,
During a meeting with Cuban President Miguel Díaz-Canel in New York on the sidelines of the ongoing 78th UN General Assembly, Prime Minister Pham Minh Chinh affirmed the Party, State, Government, National Assembly and people of Vietnam will never forget Cuba's wholehearted support for Vietnam's national liberation struggle in the past.
Chinh also said Vietnam is determined to deepen the traditional friendship and multifaceted cooperation with Cuba, as well as to support the just revolutionary cause of the Cuban people, reported VOV.
President Miguel Díaz-Canel affirmed that the Cuba-Vietnam relationship is a noble symbol of comradeship and close friendship, founded by President Fidel Castro of Cuba and President Ho Chi Minh of Vietnam, and cultivated by generations of leaders of the two countries over the past decades.
He also thanked the Government and people of Vietnam for their support to help Cuba overcome difficulties caused by western sanctions.
Vietnam – powerful magnet for foreign direct investment
Vietnam has become one of the leading countries in Southeast Asia in attracting foreign direct investment (FDI), according to an article published on September 21 on the website gfmag.com of Global Finance Magazine.
The writing attributes it to a range of advantages of the country, including its favorable demographics as 40% of Vietnam's population of 100 million are under 25. In addition, it has tariff-free access to the Southeast Asia region with 800 million people thanks to being a member of the Association of Southeast Asian Nations (ASEAN).
According to Thierry Mermet, CEO of Source Of Asia (SOA), a consultant to companies looking for business opportunities in Vietnam and ASEAN, the 2023 outlook for the business environment in Vietnam shows promising signs of improvement. He cited foreign direct investment capital reaching about US$10 billion in the first quarter of 2023, an increase of 0.5% over the same period last year. Mermet predicted that this trend will continue in the near future.
The expert said that in the long term, Vietnam is really strengthening its position as one of the top three locations where European business leaders want to invest. According to the Business Confidence Index report conducted by the European Chamber of Commerce in Vietnam (EuroCham), 3% more leaders have picked Vietnam as one of the top three investment choices.
The article said that 90 countries and territories invested in Vietnam in the first half of this year; the top five are Asian countries. with the Republic of Korea in first place, accounting for US$81 billion. It was followed by Singapore and Japan with US$72 billion and nearly US$70 billion committed, respectively. Notably, while the US stood in the 7th position in terms of investment capital, it is Vietnam's first key export partner.
Another indicator of Vietnam's attraction is homegrown electric vehicle (EV) manufacturer VinFast, which recently became the world's third-largest automaker by market capitalization, behind Tesla and Toyota.
According to Barry Elliott, Vice President of Tomkins Ventures and a supply chain guru long active in Vietnam, this not only signals a promising future for the EV industry in Southeast Asia in general, but also exemplifies Vietnam's emerging prowess in manufacturing.
Photo: VNN
Meanwhile, S&P Global said that Vietnam's robust economic growth is also a factor that helps attract foreign investors to the country. Although its economic growth slowed to 3.7% in the first half from 8% in 2022, the World Bank predicts a rebound in the second half of this year.
The S&P Global forecast an increase in mergers and acquisitions in Vietnam's banking sector over the next two years as lenders seek to bolster their capital.
Thailand's Kasikornbank PCL is reportedly in talks to acquire consumer finance provider Home Credit Vietnam in a deal valued at about US$1 billion. If successful, this would be the second-largest deal in Vietnam in 2023, following Sumitomo Mitsui Banking Corp.'s acquisition of a 15% stake in Vietnam Prosperity Joint Stock Commercial Bank in March.
According to Mukuru Kato, managing director and head of frontier markets research at EFG Hermes Research said deals will likely surge between 2023 and 2024, including among state-owned commercial banks (SOCBs), as the State Bank of Vietnam is keen to have a Vietnamese bank rank among the top 100 in Asia.
Ivan Tan, an analyst at S&P Global Ratings, said that acquiring a strategic stake in Vietnamese banks provides an opportunity for foreign investors to participate in the growth and tap the country's favourable demographics via retail lending, particularly via digital channels.
Vietnam named as top int'l travel flight destination for global tourists
The country has been named as a leading travel destination for international tourists, according to a list compiled by digital travel platform Agoda.
Agoda's flight bookings from the first half of this year highlight the burgeoning interest among travelers, particularly those from Thailand, Australia, the Republic of Korea (RoK), and Singapore.
The agency's latest findings indicate that Vietnam has solidified its position as a popular getaway for global travelers.
"Thai tourists, in particular, have demonstrated a keen interest, with Vietnam claiming the top three spots in their international travel preferences," says Agoda.
It also notes that places such as Da Nang, Hanoi, and Ho Chi Minh City have emerged as the most sought-after cities for travelers from the Land of Smiles.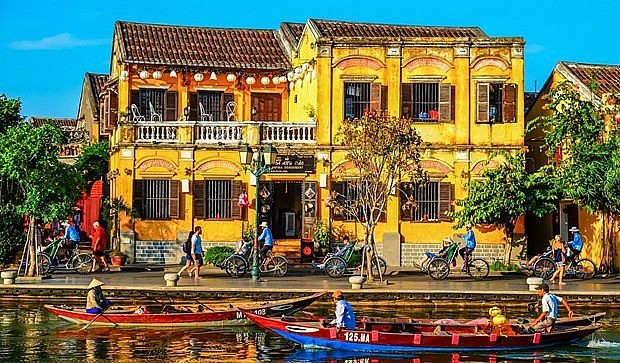 Photo: baobinhduong
Furthermore, tourists from the RoK have long exhibited an exceptional fondness for visiting the country, ranking it as the pinnacle of their international travel choices. As such, the coastal city of Da Nang has proven to be one of the favourite travel destinations of Koreans.
Meanwhile, Agoda maintains that Ho Chi Minh City has come third for travelers from the RoK, showcasing the diverse offerings available when visiting Vietnam which has captivated a diverse range of travelers.
"For Australians, Vietnam has swiftly risen to prominence, securing the second spot after perennial Aussie favorite Bali, underscoring the country's immense appeal and allure for the Australian travelers seeking unique experiences and adventures within Southeast Asia," stresses the digital travel platform.
Agoda also shares that Singaporean travelers, known for their discerning taste, have also recognized Vietnam's allure, making Ho Chi Minh City the third most booked flight destination in their travel itineraries.
"This surge in international interest can be attributed to Vietnam's fascinating blend of ancient traditions and modern progress, its delectable cuisine, awe-inspiring natural beauty, and warm and welcoming locals," says Agoda.
"The country has set a target of 8 million international visitors for 2023, and as at the end of July, had already logged over 6.6 million, seeing the nation well on track to exceed its yearly goal," adds Agoda.
Lam Vu, country director for Vietnam and Indochina at Agoda, expressed excitement about the increasing enthusiasm for the country as a top-notch travel destination.
"Vietnam has an incredible ability to appeal to a wide range of travelers, offering a unique and authentic experience. Its diverse cultural tapestry, breathtaking landscapes, and exceptional hospitality are truly captivating, and its tremendous to see Vietnam's increasing appeal to visitors from all around Asia Pacific reflected in Agoda's flight booking data," he concludes.