Ho Chi Minh City among The List of World's Wealthiest Cities 2023
The list was dominated by cities in the United States and China, however, not one European city featuring in the top 10.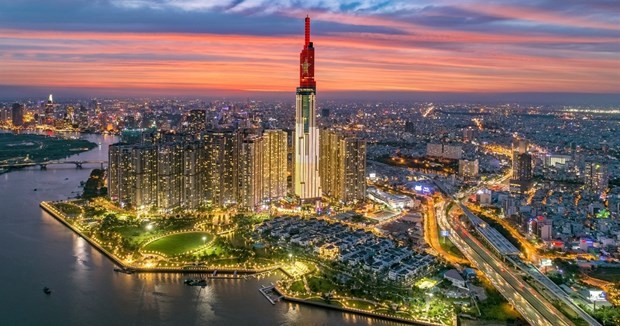 A view of Ho Chi Minh City from above. Photo: VNA
Ho Chi Minh City, the largest financial hub in Vietnam, has been named among the top wealthiest cities in the world for this year, announced Henley & Partners, the global leader in residence and citizenship by investment, in partnership with wealth intelligence firm New World Wealth.
The World's Wealthiest Cities Report 2023 covered 97 cities across the world, using data from wealth intelligence firm, New World Wealth, which tracks the movements and spending habits of high-net-worth individuals with the work titles like Founder, Chairperson, CEO, and Director. It also considered the number of highly-priced homes in the area, said Henley & Partners, on their website.
The southern city of Vietnam is emerging as Asia's next big millionaire hotspot represented by rapidly expanding sectors such as financial services, textiles, technology, electronics, telecoms, chemicals, and tourism, according to the report.
The top wealthiest cities in the world are ranked in terms of their number of resident millionaires. All figures are from over the past decade starting from 2012 and ending in 2022.
'Millionaires' or 'high-net-worth individuals' refer to individuals with investable wealth of USD 1 million or more.
New York City topped the new list of the world's wealthiest cities in 2023, with Japan's Tokyo and Silicon Valley's Bay Area claiming the second and third spots.
Topping the list is New York City which is home to 340,000 millionaires, 724 centi-millionaires, and 58 billionaires. It is the financial centre of the US and the wealthiest city in the world.
Tokyo in Japan ranks second, which is home to 290,300 resident millionaires, 250 centi-millionaires, and 14 billionaires.
Third position goes to the Bay Area, which includes the City of San Francisco and Silicon Valley, which is home to 285,000 millionaires, as well as 629 centi-millionaires, and a high number of billionaires at 63.
In 2000, London was the top city in the world for millionaires, but it has slipped down the list over the past 20 years, it is now placed in fourth position.
Apart from HCM City, Singapore is the only other Southeast Asian representative to make the list as it is currently home to 240,100 millionaires, 329 centi-millionaires, and 27 billionaires, thereby ranking fifth in the top 10.